March 73B car-by-car histories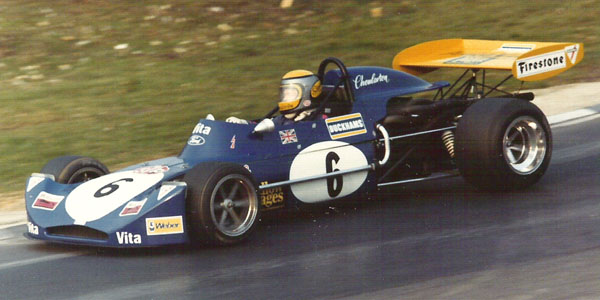 March's 1973 Formula Atlantic car, the March 73B, was based on the Formula 2 732 and was marketed in the US as a 732. It sold in large numbers and won races in both the British and Canadian series.
The 73B differed from the previous Formula Atlantic/Formula B model, the March 722, by having a full-width nose housing the main radiator, a change from the chisel nose and side radiators of the March 722. As the 73B was a step on the evolution of March's production car design from the 712M all the way to the 77B, it was quite straightforward to update older 712Ms and 722s to 73B specification, and then to update 73Bs with the longer nose of the 742 and its return to side radiators. One of the key distinguishing features of the 73B and all the March models than came after it is the braces that run down from the rollhoop into the cockpit. Older cars did not have these braces, and typically did not have them added even if the car was upgraded to later bodywork. Under the skin, the 73B had a longer sloping section at the front of the monocoque; a change to the flat tub of the 71BM and the short slope at the front of the 722 monocoque. This longer sloping section required the damper support cross tube to be lower, and this got in the way of some drivers' feet. The 74B tub was much the same, but later tubs, such as the 75B, returned to the 722's shape with its higher damper support cross tube. As the bodywork originally sold with the 74B is very similar to the 73B, it is worth noting a couple of key differences. The most immediately obvious one is that the 74B rollhoop is enclosed by the bodywork, but this of course could be updated. A more reliable differentiator is the position of the oil tank, which was directly behind the gearbox on the 73B, but to the side of the gearbox on the 74B, a move dictated by a change to FIA regulations for F2.
In the UK, Colin Vandervell won the Yellow Pages Championship in his 73B, and also finished second in the BP championship, winning four races in total. Geoff Friswell won two races in his late-season 73B and was third overall in the Yellow Pages series, and Steve Choularton was also a race winner in his Autovita Developments 73B. In Canada, Roy Folland won at Sanair in his Roman Brio 73B, and Eppie Wietzes drove Folland's car to second place in the Columbo Yogurt Formula B Challenge Cup that supported the F1 Grand Prix at Watkins Glen.
On both sides of the Atlantic, March had taken over from Brabham as the leading Formula Atlantic constructor. Of the 426 starts in British Formula Atlantic championships races, March had a dominant "share of grid" with 192, well ahead of a crowd of contenders led by Brabham on 40, Surtees on 29, Chevron and Lyncar both on 24, Ensign on 20, GRD on 16, and others including Huron, Martin, Rondel, Royale, Tui and Wimhurst. Of those 426 starts, 197 (46%) were in brand new equipment, and the March 73B led the way with 76 starts, followed by the Brabham BT40 on 28, Surtees TS15 on 26, and Chevron B25 on 24. The number of upgraded 712Ms and 722s represented over 25% of the grids in Britain. Of 296 race starts in the major Formula B races in North America, 109 (37%) were in Marches, compared with 97 in Brabhams (33%), 37 in Lotuses (13%) and 33 in Chevrons (11%). GRD and Lola were the only other constructors with more than one representative. In those race starts, 90 (30%) were in cars new for 1973, and the March 73B (45 starts) had a narrow lead over Brabham's BT40 (39), with the Chevron B25, Crosslé 28F and GRD B73 having little impact. As Canada would adopt Formula Atlantic for 1974, this would be the last time the British season was statistically more competitive than North America's.
A total of 22 March 73Bs were produced, but a lack of complete production records means that we do not know the first owner of all of those. As far as can be determined, only 20 73Bs raced during 1973, with a 21st appearing at the start of 1974, so the early career of one 73B remains a mystery. It is quite possible it was sold to an SCCA Formula B driver who did not appear in the end-of-season points tables. After 1973, it is then possible to trace the 21 known cars through 1973, 1974 and 1975. Despite numerous accidents, all the cars were rebuilt in some form, even if some of the rebuilds can be regarded as new "bitzas". As well as racing in Britain, Canada and the US, 73Bs also competed in Macau, Malaysia, Australia and even Jamaica. A relatively small number are known to exist today, with a good number having been retubbed into something else, or rebuilt into more fashionable forms for historic racing, such as 712Ms and 732s.
If you can add to our understanding of these cars, or have photographs that we can use, please email Allen at allen@oldracingcars.com.
Chassis
History
Current owner
Unidentified March 73Bs in 1973
Through a variety of methods, the first owners of 14 of the 22 cars have been identified. These are Stephen Choularton's 73B/1, Richard Paul's 73B/2, Mike Rand's 73B/3, Warren Ogden's 73B/4, Ron Cohn's 73B/7, Colin Vandervell's 73B/8, James King's 73B/10, Frank DelVecchio's 73B/12, Grant Swartz' 73B/13, Bruce MacInnes's 73B/17, Geoff Friswell's mid-season 73B/18, Charles Lucas's 73B/20, Stan Mathews' 73B/21 and Harry Stiller's 73B/22.
However, this leaves another eight where little is known. These are 73B/5, 73B/6 and 73B/9 where nothing is known; and 73B/11, 73B/14, 73B/15, 73B/16 and 73B/19 where we have a few clues.
The eight unidentified cars will be explained by the cars driven by Roy Folland, Gary Magwood and Tom Outcault in North America, all of whom had raced by 3 June; by Max Callicott who appeared in July; by the Dale Lang/Joe Grimaldi car that appeared in August or September; and by Sonny Rajah in the Far East. However, that is only six, leaving another two cars that are completely unexplained. Jas Patterson appears to have replaced his 722/73B with a pukka 73B at some point, so that explains one of them. The final car may have gone straight into the depths in SCCA Divisional racing, even though all the Marches that scored points in 1973 have been identified, at least in terms of their model. It is also possible that one did not race until 1974, and the car of John Gillmeister may be one of these. However, Gillmeister's may have been built from parts and as such not be part of March's official production.
Chassis
History
Current owner
March 73Bs in 1974
All the 14 cars that have been identified in 1973 can be traced into 1974. Stephen Choularton retained 73B/1, Richard Paul kept what was left of 73B/2, Mike Rand's 73B/3 went to E. Jay Erickson, Warren Ogden retained 73B/4, Ron Cohn retained 73B/7, Colin Vandervell's 73B/8 went to Des Donnelly, James King kept 73B/10 as a hire car, Frank DelVecchio retained 73B/12, Grant Swartz kept 73B/13, Bruce MacInnes's 73B/17 went to Joe Ostrowski, Geoff Friswell retained 73B/18, Charles Lucas's 73B/20 went to Ken Bailey and then Andy Rouse, Stan Mathews' 73B/21 went to Chris Oates and then Val Musetti, and Harry Stiller's 73B/22 was rebuilt as a 74B for Bev Bond.
Of the six unidentified cars, five can be traced into 1974: Gary Magwood, Sonny Rajah and Dale Lang/Joe Grimaldi all retained their cars; Roy Folland's went to Tim Cooper; and Tom Outcault's had been wrecked. Only Max Callicott's is a mystery, and this may have been a hire car or a typo anyway.
To this must be added the 73B of David Purley, which started life as an F2 March 722 but photographs show had been fully rebuilt with a 1973 monocoque as well as 1973 bodywork by July 1973. This car was last seen in Macau in November 1973, and it is possible that it was the "732" that Joey Bundalian drove at Macau in 1974. Bundalian continued to drive a March "732", "752", or "722" at races through to 1981.
Just one further car appeared in 1974, for John Gillmeister in Britain, which was built up for him by Ralph Hume for the 1974 season. We also have the puzzle of the car raced by Jas Patterson at Watkins Glen in October 1974. He sold his March 722/73B in the UK, so his Watkins Glen car, which was sold in the US, must have been an extra car. It may date back to July 1973, when Patterson was said to have a new 73B, but as his previous 722 was updated to 73B specification, it is hard to know when the new car appeared.
Chassis
History
Current owner
March 73Bs in 1975
Of the 14 cars that were identified in 1973 and were all traced into 1974, Richard Paul's 73B/2 and Andy Rouse's 73B/20 had been crashed, but all the other ten can be traced again into 1975: Stephen Choularton retained 73B/1 again, E. Jay Erickson retained 73B/3, Warren Ogden sold 73B/4 to Bobby Reen, Ron Cohn sold 73B/7 to Eric Kerman, Des Donnelly retained 73B/8, James King retained and rebuilt 73B/10, Frank DelVecchio retained 73B/12, Grant Swartz retained 73B/13, Joe Ostrowski retained 73B/17, Geoff Friswell sold 73B/18 to Andy Barton, Val Musetti retained 73B/21, and Harry Stiller's 73B/22, now a 74B, was sold to Ireland.
Of the six unidentified cars, Tom Outcault's had been wrecked, but four of the other five that were traced into 1974 can be traced a year further into 1975: Gary Magwood and Sonny Rajah both retained their cars for another season; the Dale Lang/Joe Grimaldi car was rebuilt by Doug Shierson Racing as a 75B for Price Cobb; and Tim Cooper retained the ex-Roy Folland car while driving a new 75B hire car for the Shierson team. Only Max Callicott's car, always a mystery, continues to be. John Gillmeister's car, built for 1974, appears to have gone to the US with Wes Dawn and was retained by him for several years. The ex-David Purley 73B that started life as a 722 had last been seen in Macau in November 1973.
Diana Black acquired a 73B for 1975 that was in the same livery used by her near neighbour Jas Patterson when he raced his mystery 73B at Watkins Glen in October 1974. That becomes one of five 73B in a relatively small geographical area over the next two years: Eric Kerman, owner of 73B/7, who was less than 15 miles away in Hempstead, NY; Joe Ostrowski who owned 73B/17 was 80 miles south in Trenton, NJ; Frank Del Vecchio was just 60 miles northeast in Trumbull, CT; and Bobby Reen was 135 miles away in Springfield, MA. As all these cars overlap in some way, we must conclude that Patterson's car was new to the US, so probably brought back with him from England. That in turn implies that Patterson had two cars during 1973 and 1974, the Formula Atlantic March 722-based car that stayed in England and was sold to Roy Baker, and a newer 73B that he brought to the US.
Meanwhile in Southeast Asia, there were as many as six cars now in 1973 bodywork, the March 73Bs sold new to Sonny Rajah and Grant Swartz, Rajah's earlier 712M which had now been rebuilt, Teddy Yip's ex-Vern Schuppan March 722 which had swapped its Falconer bodywork for 732 bodywork during 1974, a March 723 that had also been bought by the Malaysian Rothmans team, and perhaps also the ex-David Purley March 722/73B. It is proving difficult to determine how they were used later in the 1970s.
Chassis
History
Current owner
Harvey Yap raced a Team Rothmans March 732 in the three main Malaysian races in 1975 (the Grands Prix of Malaysia, Penang and Selangor). The car was entered as #1 in all three races. Singapore GP historian Eli Solomon reports that it was the upgraded ex-Vern Schuppan March 722. Nothing more known.
Driven by: Harvey Yap. First race: Batu Tiga, 30 Mar 1975. Total of 3 recorded races.
Unknown
March 73Bs in 1976
There had been seven March 73Bs in the UK: Stephen Choularton's 73B/1 which he kept until 1977 and which ended up in Jamaica in 1978; Choularton's second, ex-Crawford 73B that had been wrecked by Derek Cook in 1975; the ex-Vandervell 73B/8 which had gone to Ireland; Geoff Friswell's 73B/18 which went to Andy Barton and was still being thrashed round Croft in 1976 and 1977; Andy Rouse's 73B/20 which had been crashed in 1974; Val Musetti's crashed and rebuilt 73B/21 which continued in service for many more years; and Harry Stiller's 73B/22 which became a 74B and was racing in Ireland in 1976 and 1977.
In October 1976, Rob Moffat appeared with a 73B/74B, and there are not many of the seven that it can be. It can't be 73B/1 as Choularton kept that until 1977, and Barton's 73B/18, Musetti's 73B/21, and the ex-Stiller 73B/22 were all still racing. It seems very unlikely that 73B/8 would leave Ireland for two seasons and then go back, still in its 73B bodywork. If Andy Rouse's 73B/20 really did die in 1974, and if the ex-Crawford 'SDC1' had died in 1975, that suggests the Moffat car was something older. One distinct possibility is the ex-Bill Gubelmann/Jas Patterson March 722/73B that Roy Baker had raced in Formula Atlantic in 1975 but then disappeared.
Turning back to the US, Bill Marlowe acquired a 73B in 1976, and recalls it coming from somewhere "outside Boston", so that is a fairly close match for Bobby Reen's 73B/4, sold "to a guy in New Jersey or Maryland" in early 1976.
Harry Greenwood's March, shown on previous versions of this page as a mystery "73B", has now been identified as a March 71BM with Falconer bodywork.
Chassis
History
Current owner
March 73Bs from 1977 onwards
Of the roughly 22 March 73Bs that we know about, 14 ended up in North America. Steve Choularton's 73B/1 had gone to Jamaica in 1979; Richard Paul's 73B/2 was last seen in southern California; the ex-Mike Rand 73B/3 went to Kansas City, where it remains today; Warren Ogden's 73B/4 was last seen going to New Jersey or Maryland; Ron Cohn's 73B/7 was last seen in New York state; the ex-James King 73B/10 was last seen in Arkansas; Frank Del Vecchio's 73B/12 was last seen in New York state; 73B/17 went to Canada, and has stayed there; Roy Folland's was last seen in the Midwest; Gary Magwood's was last seen in Canada in 1977; Tom Outcault's was rebuilt as a 74B in New Jersey; Dale Lang's was rebuilt as a 75B and was last seen with Doug Shierson; Wes Dawn's was in California throughout the 1980s; and Jas Patterson's was last seen in Maine. Max Callicott may have had a 73B, but it's hard to know. Of the cars that did not go to the Americas: 73B/8, 73B/13 and 73B/22 went to Australia; 73B/18 was in Scotland in the mid-1980s; 73B/20 was last seen in Warwickshire; 73B/21 survived until it was repurposed for historic racing; Steve Choularton's second 73B was wrecked in 1975; and Sonny Rajah's car has remained on the other side of the planet.
Of all these cars, only two had made their homes west of the Rockies: Richard Paul's significantly reworked 73B/2 and Wes Dawn's ex-John Gillmeister "bitza". One mystery car emerged in southern California in 1985, owned by Mort Haaz, and as Wes Dawn still had his car when he died five years after this, the ex-Richard Paul car is the favourite to have become the Haaz car. Paul's car had been very significantly rebuilt, and this may have become the "742" that Ozzie Pohl ran in late 1975 and early 1976, and maybe then the 75B-ish car that Wally Farrell used in 1977 and 1978. Next favourite would be the ex-Roy Folland car which Californian Wilbur Bunce had rebuilt for Tim Cooper in 1976 and - as Cooper bought a new 77B for 1977 - could have been sold in California.
During this period, three 1973/74 Marches were running in Caribbean racing, the ex-Bobby Brown March 74B raced by Peter Moodie in Jamaica, a March 73B raced in Trinidad by Gordon Gonsalves and a 73B or 74B with Jimmy Fifi also in Trinidad. One of those 73Bs will be the ex-Choularton/Crawford 73B/1 but the identity of the other car remains unknown.
Chassis
History
Current owner
Acknowledgements
This has been a huge piece of work, and much of the credit for our knowledge of car movements must go to Chris Townsend. Thanks also to Bryan Miller, Ted Walker, Alan Brown, Michael Ferner, Philippe Demeyer, Steve Bay, Ralph Hume, Kevin McLurg and Eli Solomon; to Wilbur Bunce for explaining the updated 73B he ran for Tim Cooper during 1976; and to period 73B owners Bobby Reen, Seann Burgess, Frank Del Vecchio, Mike Winn, Richard Paul, David Laemmle, Al Gambetti, Gordon Gonsalves and Warren Ogden. Also to Brian Williams, whose photograph of David Loring's car triggered a rethink about the Dale Lang/Joe Grimaldi car in 1974, to Jack Pavone, who found customs paperwork showing Frank DelVecchio's car was chassis 12, and to Kevin McLurg again, who interviewed Joe Grimaldi in April 2020 and added significantly to our knowledge of this subject.
Thanks also to Pepper Bowe, Richard Bunyan, Seann Burgess, Ron Cohn, Frank Cornell, Alan Cox, Frank DelVecchio, Al Gambetti, Gordon Gonsalves, Rich Harman, Mark Jaremko, Kurt Oblinger, David Mark Pesce, Bobby Reen, Roger Riekenberg, Kevin Skinner and Bill Wagenblatt for the use of their pictures.
If you can add to our understanding of these cars, or have photographs that we can use, please email Allen at allen@oldracingcars.com.
These histories last updated on .