March 71BM car-by-car histories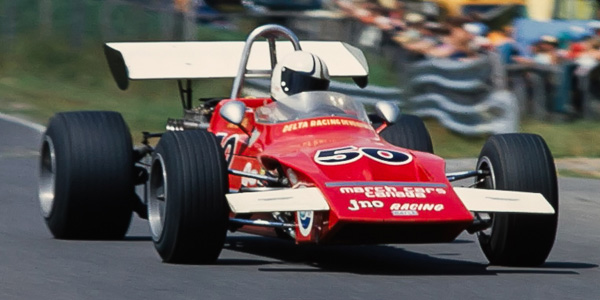 The March 71BM was a derivative of March's new monocoque Formula 2 car designed for the SCCA's Formula B. It sold very well in Canada and in the US, and Bob Lazier won the SCCA Runoffs in his 71BM.
Since the run of Formula B March 705s in May and June 1970, there had been a disagreement between Graham Coaker, who was in charge of the production side of March, and his partners, who were more concerned with F1. Coaker left March in September 1970, and his position was taken by Bill Stone, with Dave Reeves stepping up into Stone's role. With the factory at Bicester now fully operational, the 1971 range of cars was ready to show to the press in November 1970. Robin Herd had designed a new monocoque for Formula 2, and this was also available in Formula B and Formula 3 specification, although a spaceframe option was also available for F3. The bodywork was all new, but the general layout of the car was the same as 1970, with only detail differences such as narrower wishbones and the foam-filled bag tanks that were now required. According to Bill Gubelmann, who had one of the first 71BMs, some of these were built virtually to Formula 2 712M specification, just with smaller fuel capacity, and of course a twin-cam engine instead of the Cosworth FVA used in F2.
March summary records say that 13 71BMs were built, but 14 are then shown as having been produced. Chassis numbers used went up to 71BM-17, but with 71BM-6, 71BM-7 and 71BM-13 apparently not built. Four are shown as having gone to Canadian dealer Gordon Dewar, and another nine went through US dealer Joe Grimaldi. The final car, 71BM-17, was shown as having gone to Belgium via Montreal!
The key person in the history of the 71BMs was Joe Grimaldi, previously one of the three principals of Springdel Racing Corp in Elmsford, New York, with partners Chuck Schredel and Don Springmeyer. In early 1971, Grimaldi and and Wayne Ricciardi opened their new business "The Raceshop" on Greenwood Ave, Midland Park, NJ, and were awarded the US agency for March. They would import dozens of March 71BMs, 722s, 73B and 74Bs over the next four years. North of the border, Ottawa's Gordon Dewar had acquired the ex-Chris Amon March 707 Can-Am car, and had also taken the Canadian distributorship for March.
If you can add anything to these histories, please contact Allen Brown (allen@oldracingcars.com).
Chassis
History
Current owner
March 71BMs in 1971
Establishing the chassis numbers of the 71BMs sold into North America has proved very difficult, a theme that will recur through the 722s, 73B and later Formula Atlantic Marchs. The simplest way to approach the task is to look at Canada and US sales separately.
Canada
The four cars sold to Canada via Dewar (71BM-1, 71BM-5, 71BM-8 and 71BM-10) were for a group of Quebecois drivers: Wilson Southam in Montréal who bought two for himself and Randy Fraser of Piedmont, and two more Montréal drivers, Ian Coristine and George Brocklehurst. Trying to identify these by colour is difficult, as three of Dewar's four cars were red. Ian Coristine recalls that his car was the Dewar's first, which would identify it as 71BM-1. This is supported by Coristine's car being red, matching the recorded colour of 71BM-1. The two Wilson Southam cars were reported to be red-and-white, so this best matches 71BM-8 and 71BM-10 which were recorded by March as red. That leaves George Brocklehurst's car as 71BM-5, although Brocklehurst's car was reportedly silver, and 71BM-5 was blue.
USA
Of the nine cars that went via Grimaldi into the US, it has been possible to identify the first drivers of only three with a reasonable degree of confidence: Bill Gubelmann had 71BM-2; CRW Racing had 71BM-3 for Max Mizejewski and later Ron Dykes, and Mike Rand bought 71BM-15 late in the season. Apart from these drivers, three other drivers appeared regularly in 71BMs in 1971: Bob Lazier and John Girdler in their own cars, and the car shared by Dale Lang and Joe Grimaldi. That brings the total so far to six, still leaving three 71BMs unaccounted for, and two of these could be the 71BMs bought by Geoffrey Freeman (Yellow Springs, OH), who sold one of them to Peter Nye and raced the other, very briefly, himself before selling it to Tom Sokoly in Racine, Wisconsin.
The ninth and final 71BM might be explained by Bob Criss, who appears in Midwest Division records as having raced a March at the Fort Sumner SCCA National at the end of the Midwest Division season. Competition Press reported Criss to be driving a Brabham, as he had earlier in the season, so this may be a record-keeping error or possibly Criss rented a March at the last minute and reporter Jim McClary did not notice. Although a member of Colorado Region, Criss was racing on the west coast by this time, so the CRW Racing 71BM-3 is one possibility, and the car of fellow Colorado Region member Bob Lazier is another.
At the end of 1971, Chuck Dietrich raced a 71BM in the SCCA Runoffs, but he never used it again as he bought a new 722 for 1972, so this is assumed to have been a hire car, most likely the Dale Lang/Joe Grimaldi 71BM. Note that Dr Steve Mandy was recorded as scoring points in both NEDiv and SEDiv in a March of some description, but he says his only Formula B car was a 1969 Chevron B15b, so this was some sort of administrative error.
The 71BMs that went to Grimaldi that do not have a first owner known were: 71BM-4 (white); 71BM-9 (black, so probably Bob Lazier's car); 71BM-11 (white); 71BM-14 (colour unknown); and 71BM-16 (white). However, 71BM-12 was also supplied via Grimaldi for Matt Spitzley with blue bodywork but no record has yet been found of him racing it.
The missing 71BM-6, 71BM-7 and 71BM-13
It is unusual for a racing car constructor to miss out chassis numbers. In Lola's summaries, it can happen because a car was used by Lola's works team and the summaries were produced from invoice records. In the case of these Marchs, there was no works FB team, so it is more likely that they were allocated numbers when an order was placed, but the order felll through and the car sitting on the jig was repurposed to fulfill a F2 or F3 order. An analysis of the Arch Motors frame numbers used during 1971 does not indicate that there are any cars missing from the record so we must assume that these three 71BMs never existed.
Chassis
History
Current owner
March 71BMs in 1972
For the purpose of exploring the likely ownership histories of these cars, we'll start from the assumption that the four Canadian cars stayed in Canada.
Canada
George Brocklehurst's car (71BM-5?) had been written off at Trois-Rivières in 1971, leaving three in Canada. Ian Coristine's car (71BM-1?) went to Reg Scullion; Wilson Southam's car is believed to have gone to Ecurie Canada for Coristine to drive, and Randy Fraser's went to Gilles Léger.
USA
The cars that were identified as running in 1971 in the US were those of Bill Gubelmann (71BM-2), Max Mizejewski and Ron Dykes (71BM-3), Mike Rand (71BM-15), Bob Lazier, John Girdler, the car shared by Dale Lang and Joe Grimaldi, and the two cars of Geoff Freeman. Of these eight cars, Gubelmann's went to Frank Del Vecchio for 1972; the ex-Mizejewski car to Bob Newton; Rand's was retained; Lazier's went to James King; and the car of John Girdler went missing. Freeman's cars are complicated as he sold one to Peter Nye for 1972, but the other to Tom Sokoly some time later. The car shared by Dale Lang and Joe Grimaldi was only seen at Bogotá in February and March, so had probably been sold on by the start of the SCCA season.
There are no other unexplained March 71BM drivers in 1972 at present, but as we acquire more results from SCCA Nationals, especially in NEDiv and Central Division, we are likely to find outwhat happened to the Girdler and Lang/Grimaldi cars.
Chassis
History
Current owner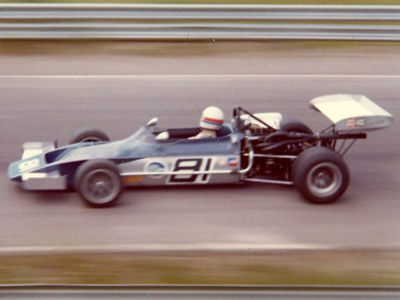 Raced by Geoff Freeman (Yellow Springs, OH) in SCCA events in Central Division in 1971 but this 71BM did not appear in Pro events until bought by Peter Nye (Fostoria, OH) for the 1972 season. It may be the "ex-works 712 FB" advertised by 'Forward March' of Yellow Springs in February 1972. Nye crashed the car early in the season but rebuilt it on a new tub supplied by March and raced through 1972 and 1973 in Pro events and in SCCA. After relocating to Texas, Nye scored points in Southwest Division in 1974 and won his class in the Texas Region National in September 1975. Nye also loaned the car to Galen Lyons (Austin, TX) and he raced it in one or two SCCA Nationals before it was sold to the Northwest US where its new owners planned to rebuild it as a sports car.
Driven by: Peter W Nye and Galen Lyons. First race: Bryar Motorsport Park (R2), 29 May 1972. Total of 9 recorded races.
Unknown
Geoff Freeman (Yellow Springs, OH) raced a March 71BM in the latter part of the 1971 SCCA season, first appearing in a National at Blackhawk Farms in August, and later winning a couple of Regionals. He also raced at Blackhawk Farms and Nelson Ledges in July 1972. It was sold by Freeman to brothers Tom and Ted Sokoly updated with Falconer bodywork, and was raced by Tom Sokoly (Racine, WI) in various incarnations from 1973 to 1976. Sokoly advertised it at the end of 1975 as a Falconer March 712/732 with Traylor BDD, and replaced it for 1976 with a 75B. Sold to Harry E. Greenwood (Fanwood, NJ, later Warren, NJ), who raced it in SCCA Formula B from 1976 to 1978. He entered it at Lime Rock in July 1976 as a March "732", advertised it as a "73B" in October 1976, and as a "1973 chassis with 1974 coachwork" in September 1978. A photograph of the car in July 1978 shows it still wearing 1973 Falconer bodywork, and with the Sokoly's very distinctive rollhoop. Subsequent history unknown.
Driven by: Geoffrey Freeman, Thomas Sokoly and Harry Greenwood. First race: Blackhawk Farms, 22 Aug 1971. Total of 16 recorded races.
Unknown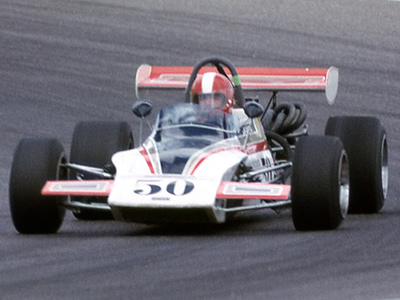 The talented but cash-strapped Ian Coristine (Montréal, Quebec) had run his own March 71BM in 1971, but for 1972 rented an updated car from Ecurie Canada. The 71BM, probably Wilson Southam's old car, was updated to side-radiator 722 specification by team mechanic Tom Greatorex. Coristine stayed with the team for 1973 but the car was put back to 71BM specification. The team almost ran out of money mid-summer, but were rescued by a sponsorship deal with Schweppes. The 71BM was then sold to Mauro Lanaro (Montréal, Quebec) and used in Canadian Formula Atlantic in 1974. Coristine recalls that this car was destroyed in a transporter fire on its way to a race at Debert, but the exact date of this has yet to be determined. Lanaro then bought another 71BM to replace it.
Driven by: Ian Coristine and Mauro Lanaro. First race: Sanair, 4 Jun 1972. Total of 16 recorded races.
Destroyed 1974
March 71BMs in 1973
As we move into 1973, the four original Canadian cars have been reduced to three to an accident, but are joined by a further car from the US.
Canada
Of the four 71BMs sold into Canada, George Brocklehurst's car (71BM-5?) had been written off, leaving three. Reg Scullion retained his ex-Coristine car (71BM-1?) for another year; Ecurie Canada retained the ex-Wilson Southam for Ian Coristine to drive for another year; and Gilles Léger's ex-Randy Fraser car went to Patricia Smith. However, at least one more 71BM had by now arrived in Canada, as Ken Huband of Ottawa raced a 71BM all season, so that is probably the ex-Frank Del Vecchio 71BM-2 that Frank recalls was sold into Canada for 1973. Also Richard Doran of Montréal raced a 71BM at Trois-Rivières in September, having raced the ex-David McConnell GRD the rest of the year. Scullion, Coristine and Huband all started that race, but it's possible Doran had hired Pat Smith's car after problems with the GRD.
USA
Of the eight 71BMs that were identified as running in 1972 in the US: Frank Del Vecchio's ex-Bill Gubelmann 71BM-2 had been sold to Canada; Bob Newton retained his ex-Max Mizejewski 71BM-3; Mike Rand's 71BM-15 went to Chuck Gibson; James King's ex-Bob Lazier car disappears; John Girdler's car had not been seen since 1971; the Dale Lang/Joe Grimaldi was last seen at the Bogotá FB races in March 1972; and both Peter Nye and Tom Sokoly retained their ex-Freeman cars.
Of the three 71BMs that had disappeared by this time: James King's would have been in Illinois but could have gone back to March dealer Joe Grimaldi when King bought his new March 73B; John Girdler's was last seen in the New York area; and the Lang/Grimaldi car is also most likely to have stayed in the US northeast. Either the James King car or the Lang/Grimaldi car could be the "712" bought from Grimaldi by Richard Hudgins and Kevin Clower for 1973.
When trying to track the 71BMs, we have to remain mindful of the handful of March 712Ms that had moved to North America: Warren Ogden's 712M-15, last seen when traded back to Joe Grimaldi's The Race Shop in February 1973 and therefore another contender to be the Richard Hudgins/Kevin Clower car; Allen Karlberg's 712M-17 in Seattle, WA, although this car can be safely tracked through to its destruction in 1978; and the "ex-[Carlos] Pace" 712M bought from Fred Opert via Doug Shierson by Mike Cambern in Dearborn, Michigan in 1973 or 1974, after which it can be tracked to 1977. It is unclear where this "ex-Pace" car would have been in 1972 and 1973.
Chassis
History
Current owner
Ken Huband (Ottawa, Ontario) raced a #9/#8 red-and-white March 71BM in Canadian Formula B in 1973, with support from Tangent Travel Ltd. When Huband advertised the March, together with his older Brabham BT29, in CMB in September 1973, he said it had five races from new. Sold to Norm Joy (Montréal, Quebec) for 1974, with support from T.G.Yachts of Canada Ltd, but he failed to qualify at the opening race, and then skipped the second round. Then to David Westgate (Sainte-Thérèse, Quebec) for the Grand Prix de Trois-Rivières. Subsequent history unknown.
Driven by: Ken Huband, Norm Joy and David Westgate. First race: Westwood (R1), 27 May 1973. Total of 6 recorded races.
Unknown
Richard Hudgins, originally from Surrey in England, and Kevin Clower (Nashville, TN) acquired a March "712" from dealer Joe Grimaldi in 1973, trading in the Chevron B18 that Hudgins had previously acquired from Grimaldi for his racing school based at Virginia International Raceway. Hudgins and Clower raced the March for a while around June/July 1973 before trading again with Grimaldi for a March 722. Nothing more known.
Driven by: Kevin Clower and Richard Hudgins. First race: Summit Point, 10 Jun 1973. Total of 2 recorded races.
Unknown
March 71BMs from 1974 onwards
By the start of the 1974 season, six 71BMs were still in use. In Canada, Mauro Lanaro was running the ex-Ian Coristine car; and Norm Joy had the ex-Ken Huband car, both in Montréal, Quebec. In the US, Bob Newton and Craig Fraser were racing 71BM-3 on the west coast; Charlie Gibson had the ex-Rand 71BM-15 in the New York area; and Peter Nye and Tom Sokoly were still racing their ex-Freeman cars in Ohio and Wisconsin respectively. Also George Brocklehurst's car (71BM-5?) had been written off, so a total of seven can be accounted for. It appears that 13 had originally gone to North America, so another six remain to be discovered, including the cars last raced by Reg Scullion, Patricia Smith, James King, and John Girdler; and the Lang/Grimaldi car.
The only unexplained newcomer was Dennis Krueger who had an unidentified 71BM with Falconer bodywork at the Westwood Pro race. Krueger was from Washington state, so if this was a 71BM, it had travelled quite a distance. One possibility is that it was Allen Karlberg's ex-Formula 2 March 712M, which had been brought back to Karlberg's home town of Seattle, Washington, after Karlberg raced it in Britain in 1973. Next time that 712M was seen, it was in Falconer bodywork, so it could well be Krueger's car. Another possibility is 'the Freeman/Nye car', which was sold to somebody in the US Northwest around 1975, but that that car now appears to have remained in Texas until 1977.
Chassis
History
Current owner
In addition to the above, unknown March 71BMs were driven by Chuck Dietrich, Richard Doran and Dick Renard.
Acknowledgements
First and foremost, thanks to Chris Townsend for his hard work trying to make sense of an intensely difficult subject. Thanks to Adam Ferrington and Ted Walker for information from their archives, and to Simon Hadfield for technical information about these cars. Thanks also to former owners Bill Gubelmann, Peter Nye, Bill Hill, Frank Del Vecchio and Tom Sokoly for their recollections, to ex-Wilbur Bunce crew member Alan Degasis, to Rocky Entriken for his archive of Midwest Division Formula B resuts, and to Kevan McLurg for his insights.
If you can add anything to these histories, please contact Allen Brown (allen@oldracingcars.com).
These histories last updated on .