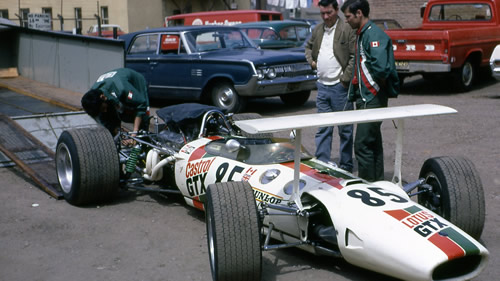 1969 Canadian Formula A/Formula B
The season started as a three-way fight between Bill Brack, George Eaton and Eppie Wietzes but after opening a narrow championship lead, Eaton dropped out to focus on the Can-Am Championship. Once Wietzes had fixed his problem with rear wing failures, the Thornhill driver won the next three races on the series' western tour but Horst Kroll lifted himself into contention with a succession of second placed finishes. After Wietzes retired from the Harewood Acres races, Kroll was just one point behind him with Brack, who had limped to victory with a broken suspension arm, a further eight points behind.
Brack then crashed in a US Formula A race at Lime Rock, badly damaging his Lotus 42B and he had to hire Al Pease's Lola T140 for the rest of the Canadian series. Kroll led from the start at Trois-Rivières but he crashed and when Wietzes' engine started to overheat, Brack took the lead. Again his suspension broke and Rex Ramsey took over to win fortuitously in his LeGrand Mk 11. Brack took pole in the penultimate race but spun, handing the lead to Wietzes. Brack managed second but Kroll fell back with overheating, leaving Wietzes with an almost unassailable points lead. Wietzes won again at Mosport in the final race to take a deserved title.
The races
18 May 1969 > Dunlop Challenge Trophy at Mosport Park
25 May 1969 > Mont-Tremblant
22 Jun 1969 > Edmonton
29 Jun 1969 > Westwood
13 Jul 1969 > MacDonald Airport
17 Aug 1969 > Harewood Acres
14 Sep 1969 > Grand Prix de Trois-Rivières
27 Sep 1969 > Harewood Acres
13 Oct 1969 > William Cleland Memorial Trophy Race at Mosport Park
1969 Gulf Canadian Road Racing Championship table
1
Eppie Wietzes
Lola T142 - Chevrolet V8
49 pts
5 wins
2
Horst Kroll
Bosch Lola T142 - Chevrolet V8
38 pts
3
Bill Brack
Castrol GTX Lotus 42B - Chevrolet V8
Lola T140 - Chevrolet V8
32 pts
2 wins
4
Craig Hill
(Formula B) Lotus 61-Ford twin cam
17 pts
5
George Eaton
McLaren M10A - Chevrolet V8
15 pts
1 win
6
Don Merriman
(Formula B) Lotus 59 - Ford twin cam
13 pts
7
Dave Ogilvy
(Formula B) Lotus 35 - Ford twin cam
10 pts
8
Rex Ramsey
LeGrand Mk 11 - Chevrolet V8
9 pts
9
Al Justason
(Formula B) Brabham BT21 - Ford twin cam
8 pts
10
Tony Simms
Kiki Mk 6 - Chevrolet V8
6 pts
The series was help over nine races and used a 9-6-4-3-2-1 points system. Points table from Track & Traffic December 1969 p41. The points table denoted Craig Hill, Don Merriman and Al Justason (but curiously not Dave Ogilvy) as "Formula B Championship", implying that a separate championship was being held for the junior class. .
As well as Brack's Lotus, Eaton's McLaren and the Lola T142s and T140s of Wietzes, Kroll and Pease, five Canadian-built Formula As also appeared in 1969. The Chinook company built three cars for Nat Adams, Brian Weightman and Alfred Ruys de Perez; a Kiki Mk 6 appeared in the hands of Tony Simms and Frank Salem drove a Ferret Mk 2, based on a McLaren M1A Can-Am car.