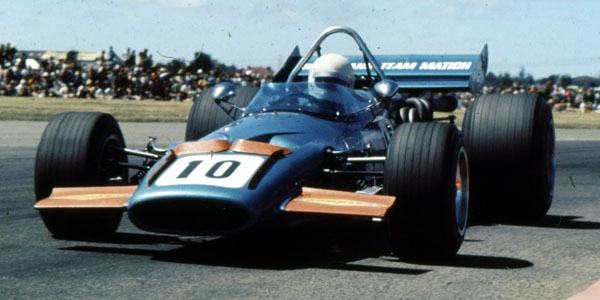 Tasman Cup Formula 5000 1971
The worldwide domination of the McLaren M10B in F5000 racing continued into the 1971 Tasman Cup, as the front three runners, Kiwi Graham McRae and Australians Niel Allen and Frank Matich were all aboard M10Bs. The overseas challenge was headed by a group of five cars coming from the US, all managed by Ken Holden. As well as reigning Formula A champion John Cannon in the Hogan-Starr McLaren M10B, he also brought out reigning Formula B champion Mike Eyerly in a new Surtees TS8, and three Lola T190 drivers. Other overseas runners included leading British contender Frank Gardner in the development Lola T192, Chris Amon in the lavishly backed STP team who had chosen a March 701 with Cosworth DFW engine, and Keith Holland in the ex-Peter Gethin M10B. Locals also expected to be in contention included Dave Oxton in Lotus Components' Ford-powered Lotus 70, Kevin Bartlett in the new Len Bailey/Frank Gardner creation, now called a Mildren, and reigning champion Graeme Lawrence in his Ferrari.
Graham McRae, whose lengthened M10B had won one race in Britain in 1970, set the early pace and won at Levin and Wigram, but was matched by Allen who also won two New Zealand races, and Matich, who finished second three times in his Repco-Holden powered car. Such was the improvement in the power of the fuel-injected Chevrolet engines over the preceding year, Amon found the March could not compete, so STP bought Oxton's Lotus 70 for him. When the series moved to Australia, Gardner led from start to finish to win but it was back to a McRae, Allen, Matich battle at Sandown Park. Allen led until his engine failed, then McRae took over the lead until Matich went past as McRae's engine startedto overheat. Matich held the lead until the very last lap when his engine coudn't pick up the last of its fuel and McRae swept past to win. Matich finally took a deserved win in a dominant display at Surfers Paradise, but "Cassius" McRae's third place was enough to clinch the title.
The races
02 Jan 1971 > Levin International
09 Jan 1971 > New Zealand Grand Prix at Pukekohe
16 Jan 1971 > Lady Wigram Trophy
24 Jan 1971 > Teretonga International at Teretonga Park
14 Feb 1971 > Warwick Farm "100"
21 Feb 1971 > Sandown Park Cup
28 Feb 1971 > Surfers Paradise '100'
1971 Tasman Cup table
1
Graham McRae
McLaren M10B - Chevrolet
35 pts
3 wins
2
Frank Matich
McLaren M10B - Holden Repco
31 pts
1 win
3
Niel Allen
McLaren M10B - Chevrolet
27 pts
2 wins
4
Frank Gardner
Lola T192 - Chevrolet
18 pts
1 win
5
Chris Amon
March 701 - Cosworth DFW
Lotus 70 - Ford
15 pts
6
Teddy Pilette
McLaren M10B - Chevrolet
13 pts
7
Graeme Lawrence
Ferrari Dino 246T
9 pts
8
Kevin Bartlett
Mildren - Chevrolet
7 pts
9
John Cannon
McLaren M10B - Chevrolet
Lotus 70 - Ford
4 pts
10
Mike Eyerly
Surtees TS8 - Chevrolet
4 pts
11
Malcolm Guthrie
Lola T192 - Chevrolet
4 pts
12=
David Oxton
Lotus 70 - Ford
3 pts
12=
Bob Muir
Mildren - Waggott TC4V
3 pts
14
Keith Holland
McLaren M10B - Chevrolet
2 pts
15
Leo Geoghegan
Lotus 59 - Waggott TC4V
1 pt
Points table from Autosport 11 March 1971 p24.
Such was the speed of the three local stars, the overseas challenge was shown up rather badly. That US champion Cannon was uncompetitive was a surprise, but the inability of the Ford-engined Lotus 70 to shine was a lot more predicatable. Mike Eyerly had such a bad time in the Surtees TS8 that it seriously set back his career, and Keith Holland achieved nothing in the car that had so dominated the British series in 1970. The three Lola T190s expected to arrive had a terrible tine. Mike Brockman never appeared, and both Rich Galloway and Bob Brown crashed their cars.
None of the 2.5-litre entries were competitive: not just Lawrence's Ferrari 246T/69 but also the Australian Mildren-Waggotts and Canadian Dave McConnell's Lotus 59/69 with Cosworth FVC engine. The other flop was the former Franklen, now renamed as a Mildren, which proved as useless with a Chevrolet engine as it had proved in testing with a Ford.