Lotus 70 car-by-car histories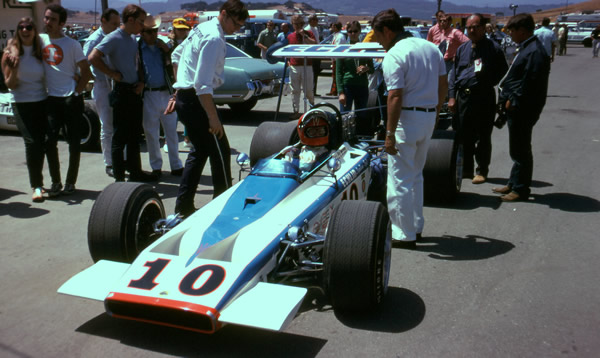 The Lotus 70, initially known as the Lotus 68, launched Lotus into Formula 5000 at the end of 1969. George Follmer and Bill Brack both won races during 1970.
Old Lotuses, mainly of F1 or Indy origins, were plentiful in the early days of FA and F5000 but the Lotus's purpose-built Formula A design did not appear until the very end of the 1969 season. Colin Chapman had commissioned the car in June, designed by Martin Waide, and to be produced for customers by Lotus's customer car operation, Lotus Components. The prototype car, dubbed the Lotus 68 at first, followed the prevailing Lotus "wedge" design and was fitted with a Shelby-tuned 302ci Ford Boss V8 engine. Customer cars were expected to use Chevrolet engines.
The car was tested in England but missed its intended debut at the Riverside Formula A event in September, instead being sold to Koshland Competition for Mario Andretti to race at the Sebring FA race on 28 December. Waide and Lotus Components boss Mike Warner both travelled out to the US to look after the car, and Andretti led the first heat comfortably before the engine blew after just 12 laps. The impressive performance generated what Warner described as five orders, and he approved the production of parts for an initial batch of ten cars. However, only three orders were actually placed from the US, and only six Lotus 70s were produced in total. The remaining unused components were used to produce a revised car, the Lotus 70B, for 1971, but this did not sell well either. Lotus Components was renamed Lotus Racing Ltd for 1971, and that summer Chapman sacked Warner and moved to wind up Lotus Racing Ltd. Warner and a number of his key staff, including Gordon Huckle and Derek Wild, started a new company, GRD, together with ex-McLaren designer Jo Marquart. Both Martin Waide and his fellow designer Dave Baldwin remained with Lotus, at least for a while.
All and any help would be gratefully received, especially anyone who is in touch with - or crewed for - Max Mizejewski (Santa Ana, CA), Mark Dillon (Minneapolis, MN), Mike Rounds (South Richfield, MN), Ed Hinchcliff (Ypsilanti, MI), Tim Duke (Lewisville, TX), Tony Nawrocki (Sardinia, NY) or Bruce Davis. Please email Allen at allen@oldracingcars.com if you can help.
Chassis
History
Current owner
The mystery cars
The two mysteries that remain are the cars of Bruce Davis and Roger Cowman. Now that more of the histories are complete, it is worth looking at what they might have had. Bruce Davis could have had 70/04 or 70/05 in 1978/79, but the roll cage on his car hints strongly in the direction of 70/04. Roger Cowman's car is more of a puzzle as only the Minneapolis car, 70/03, can possibly fit, unless Cowman's turns out to be an extra car built on an unused tub. Another intriguing possibility is that 70/04 has been misidentified and it is actually 70/03; this would leave 70/04 as the "ex-Brack" car that Cowman acquired. Note that none of the 70Bs have significant gaps in their histories. The other thing to consider is an advert placed by Bobby Howlings of AMCO Motorsport (Alderley Edge, Cheshire) in late 1988 and 1989. This could be an indication that a car returned to Britain in the late 1980s, meaning it could be the car Cowman had a few years later.
Chassis
History
Current owner
Bruce Davis (Sterling Hts, Michigan) ran a #44 Lotus in the 'F51' series at Nelson Ledges in 1978, and also in an SCCA Regional at Grattan in July 1978. From a photograph in Road Racers Magazine Dec 1978 p45, this appears to be a Lotus 70 with a roll cage. Curiously, a Bruce Davis then appeared in an SCCA San Francisco Region race at Laguna Seca in June 1979, a very long way from Nelson Ledges. Nothing more known but the roll cage suggests this was 70/04.
Driven by: Bruce Davis. First race: Nelson Ledges, 28 May 1978. Total of 3 recorded races.
Unknown
First known when sold by UK racing car dealer Roger Cowman (Belper, Derbyshire) to Helmut Dango (Munich, Germany) in 1993. Documents with the car show that it was owned by Mark Williams in 1991, and James Denty believes Williams and his father Ted bought the car from Roy Lane. The car bears a reproduction chassis plate "70-F5/001". Dango was told it was ex-Brack, indicating chassis 70/04, but the history of that car seems clear. Raced by Dango in historic racing in Europe for some years. Sold to Lotus collector Olav Glasius (Holland) 2005. Damaged in an accident at a Bavarian street event in 2010 when another car spun into it. The Glasius Lotus Collection was auctioned by Bonhams at the 2012 Goodwood Festival of Speed but the Lotus 70 was not mentioned. Still with Olav in February 2017.
Olav Glasius (Netherlands) 2017
Other adverts for Lotus 70s were placed by Lotus Racing East (Millerton, NY) "1971 Lotus type 70 ... as new condition ... including 2 Ford engines ... in storage in California" on 23 Oct 1972, "Gary" (Los Angeles) "complete with spare engine" on 24 Feb 1973, "Steve" (Minneapolis, MN) 16 Mar 1974, "The Book - Motor Racing Equipment (St Paul, MN) on 22 Mar 1975 and Bobby Howlings' AMCO Motorsport (Manchester, England) late 1988/early 1989. Robert Thompson advertised a "Lotus Formula/A", presumably a 70, from a Cleveland, Ohio number on 8 Nov 1975.
The Lotus 70-ish Chinook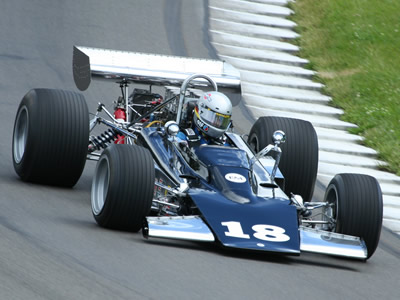 Also relevant here is a Chinook that looks a lot like a Lotus 70. This car was reputedly a USAC-legal car and had a full-length slab-sided monocoque reminiscent of the Lola T190/192 design. It had suspension based broadly on a Lotus 38 but symmetrical and was powered by a 289 ci Ford V8. It is thought to be the Ford-engined Chinook Mk 12 that was reported in 1971 to have been built for George Eaton to use in USAC's planned road racing championship but was abandoned when the series didn't go ahead. In July 1971, Eaton was expected to appear with this car in a F5000 race at Mid-Ohio but his plans changed and the Fejers bought a second-hand Colt Indycar instead. In 1972, this car was owned by Denny Reed (New York State) and he loaned it to Wayne "Bing" Sherer (Buffalo, NY) and Ralph Locurcio who entered it for a SCCA National at Mid Ohio for Sherer to drive. It was damaged in the race and a planned entry for the Lime Rock Continental Championship race on 4 Sep 1972 did not go ahead. Reed advertised a "Lotus T70 F/A" said to be to "USAC specs" on 11 May 1974 which may be this car.
The car was then sold to Tony Nawrocki (Sardinia, NY) and would be the Chinook that he entered for SCCA events at Bryar Motorsports Park in 1974. The Northeast Division Formula A points table for 1974 listed Nawrocki in second place in the Chinook, with 15 points, implying a win and a second place in class. He entered the car for the 1974 Runoffs, but is listed as a DNS. Just before the Runoffs, he advertised the car on 12 Oct 1974 as a "Lotus 70-F/A" saying that it had "GT40 Cobra power" and had finished second in NEDiv (and maybe again at the end of 1975). Curiously, a "Lotus 72 type Chinook F5000" was advertised by Dennis Reed (Irving, NY) in 1976. Irving is 30 miles west of Buffalo, and both are about 30 miles from Sardinia, so the car had not moved far.
The car then disappears for more than a decade until it was bought by Mike Knittel (Chittenango, NY) in November 1986 from an unknown seller in Buffalo, NY. It was then fitted with a Ford Boss 302 engine. Knittel restored the car over the next two years but it is unclear when some of the car's features, notably the side radiators, were added. Nawrocki's car had a nose radiator. Also, Knittel's car has outboard front suspension, like a Lotus 70, not the Lotus 38-style rocker arm suspension which was visible in Nawrocki's advert. There has to be some doubt whether Knittel's car is actually the ex-Nawrocki car. If it is, then it has been rebuilt to a very different specification, apparently using Lotus 70 components.
Knittel's first known race in the car was at the SVRA Watkins Glen event in September 1991. The Chinook is a regular at Watkins Glen vintage racing, appearing in Knittel's hands at the Jul 2001, Sep 2002, Sep 2004, Oct 2004, Jun 2005, Sep 2005, Sep 2009 and Jun 2010 events. Knittel also raced the car at Mid-Ohio in the mid-1990s, at Road America from 2008 to 2013, and in other historic F5000 events in 2018 and 2021. .
Sources
James Bennett researched these cars in detail and was able to trace almost the complete racing record of each car. Added to the results of James' research are the research and recollections of Wolfgang Klopfer, Gerr Measures, Pete Brock, David McKinney, Helmut Dango, Jim Crawford, Edwin Lindsay, Michael Oliver, Bruce Trenery and James Faulknor. Wolfgang Klopfer has located advertisements in the classified columns of Autoweek between 1970 and 1976 and Gerr Measures has added other advertisements from the late 1980's and early 1990's. In more recent years, Mike Pattison has continued to research these cars and has provided a wealth of further information.
Thanks also to Ted Walker, Alan Cox, Jeremy Jackson, Mark Manroe, Norbert Vogel, Chuck Ritz and others for the photographs used.
These histories last updated on .