Lotus 70B car-by-car histories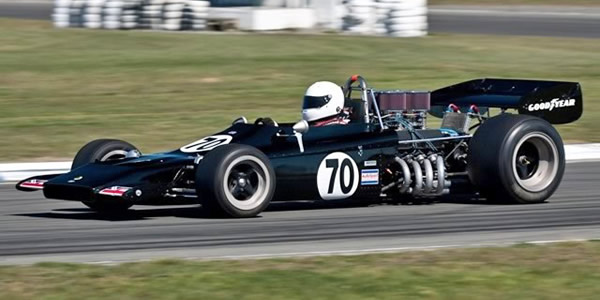 A refinement of the Lotus 70 was built for the 1971 season but only the first car was sold by Lotus Components. Another two were sold in kit form in 1972. This ended Lotus's interest in F5000.
The Lotus 70 had been successful in George Follmer's hands in the US Formula A series but a simple refinement would not address the advantage already held by the rival designs from McLaren, Lola and Surtees. The first 70B was on display at the London Racing Car Show and was intended for Bill Brack, but when his sponsorship deal fell through, the car was refitted with a Ford engine and run for Lotus by Bruce Burness for Follmer at the Questor Grand Prix before being put to one side. It was sold to Pete Brock for 1972 for John Morton to drive, and two more cars appeared that season. A Boss Ford engined car was sold to Jefferson Racing Enterprises but did not appear until later in the year. A third car was sold to Ford specialists Kerry and Charlie Agapiou who fitted it with a Bartz Ford V8 and entered it for Follmer, with financial support coming from Roy Woods. The now aged design stood up well against the latest Lola T300 thanks to impressive driving performances from road racing experts Morton and Follmer, but Brock's car was destroyed and the Agapious' soon retired.
If you can add or correct anything, please contact Allen Brown (allen@oldracingcars.com).
Chassis
History
Current owner
Intended for Bill Brack but his deal fell through. Run by Bruce Burness for George Follmer to drive in the Questor GP at Ontario in March 1971. To Pete Brock of BRE (El Segundo, CA) for John Morton in the 1972 US series, starting at R4 Road America in July. Very heavily damaged on the slowing down lap after finishing fourth at Road Atlanta when Morton hit a flooded area of track. Brock did not have the funds to repair the car and advertised its remains in 1974. Bought by Bob Dunlop to keep his Lotus 70 running. The rest of the car was stored by Dunlop and his partner Stephen Rich. Still with Stephen Rich in July 2015.
Driven by: George Follmer and John Morton. First race: Ontario Motor Speedway, 28 Mar 1971. Total of 4 recorded races.
Stephen Rich (USA) 2015
Jefferson Racing Enterprises (from Lotus in kit form) for Bob West, one of a small number of African American drivers in road racing at that time: US 1972 (Boss Ford): R6 Road Atlanta 20 Aug 1972 (Q24) and R8 Riverside 24 Sep 1972 (Q19). Crashed on the second lap at Riverside, hitting Lunger's Lola and damaging the front left suspension and tub. Advertised by Roland Jefferson (Los Angeles, CA) Autoweek 28 Oct 1972: "damaged at Riverside". To Bruce Russell (Estacada, OR): racing history unknown except for an SCCA Regional at Riverside 26 May 1974. Advertised by Russell "70B - Boss 302" on 16 Oct 1976. Sold to Dave Edgar (Eugene, OR) late 1970s. To Dave Swigler (Panama City, FL) 1988: raced at the Walter Mitty event in April 1988 and then regularly to the end of the 1993 season after which it was unused for five seasons. Raced again by Swigler from 1999 up to Mitty 02 in July 2002. Retained by Swigler until sold, together with Swigler's Shadow and Surtees F1 cars, to Harin De Silva and sold on by him to David Arrowsmith (Christchurch, New Zealand) in July 2011. Raced in the 2011-12 Tasman Revival series in NZ and David is planning to compete again in the 2013-14 season. Raced again in the 2014-15 series. Raced at the Monterey Pre-Reunion in August 2015. Raced at VHRR Phillip Island Classic 11 March 2018.
Driven by: Bob West and Bruce Russell. First race: Road Atlanta (US R6), 20 Aug 1972. Total of 6 recorded races.
David Arrowsmith (New Zealand) 2018
Kerry & Charlie Agapiou (from Lotus in partial kit form) fitted with Bartz Ford V8: financed by Roy Woods for George Follmer US 1972 (from R4 Road America 16 Jul 1972 to end of season). The brothers had previously run Follmer in Can-Am in a Lola and then in the Ford G7A. The Lotus was still at Woods' garage September 1973. In or around 1992, G&G Motorsport (Indianapolis, IN) advertised "1970 Lotus 70B, Chassis #03, Bartz/spares, restored to original AGAPIOU livery with race #16 (photo has #58), ex George Follmer." This may have been advertised on behalf of the Agapiou brothers as the car was reported to still be owned by Kerry Agapiou January 2002. Still owned by Kerry Agapiou in 2015.

The car was offered for sale by Phillip Agapiou in 2019.
Driven by: George Follmer. First race: Road America (US R4), 16 Jul 1972. Total of 5 recorded races.
Agapiou family (USA) 2019
Acknowledgements
James Bennett has researched these cars in detail and has been able to trace almost the complete racing record of each car. Added to the results of James' research are the research and recollections of Wolfgang Klopfer, Gerr Measures, Pete Brock, David McKinney, Helmut Dango, Jim Crawford, Edwin Lindsay, Michael Oliver, Bruce Trenery and James Faulknor. Wolfgang Klopfer has located advertisements in the classified columns of Autoweek between 1970 and 1976 and Gerr Measures has added other advertisements from the late 1980's and early 1990's.
Thanks also to "RoadsterGB" for passing on Pete Brock's comments on the end of 70B/1; to Ted Walker, Alan Cox, Jeremy Jackson, Mark Manroe, Norbert Vogel and others for the photographs used; and to 70B/2 owner David Arrowsmith for his updates.
A note on chassis number identification
The chassis numbers above are not the numbers that necessarily appeared on the cars at the time but are derived from Lotus build records. The actual numbers on the build sheets are shown below.
| Number | Lotus build sheet |
| --- | --- |
| 70B-01 | 7170/F5/F1 |
| 70B-02 | 7170/F5/F2 |
| 70B-03 | 7170/F5/F3 |
These histories last updated on .