Surtees TS8 car-by-car histories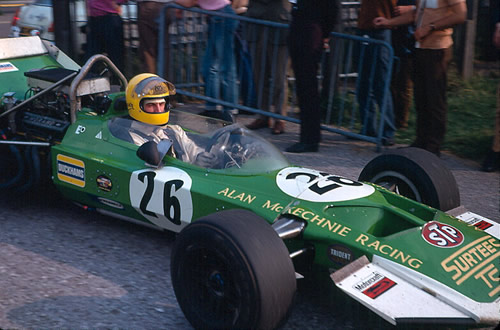 The Surtees TS8 was the second Surtees F5000 design and was based on the team's Surtees TS7 Formula 1 car. It sold well and won races in Mike Hailwood's hands, but engine problems prevented him winning the 1971 British series.
After the success of the TS5, Surtees seem to have been in two minds for 1971. The TS5 design continued, now in TS5B form, presumably to use up left-over tubs, and a new FA/F5000 TS8 design was produced, based very closely on the 1970 F1 TS7 design. Built on the same jigs as the TS7, it had the same suspension, wheels and brakes but used a Hewland DG300 gearbox and the wheelbase was 3 in longer due to the longer bellhousing. Like the Cosworth DFV, the Chevy V8 was fully stressed but the mounting of the rear radius rods was repositioned on the rear bulkhead.
The TS8 started poorly, with Mike Eyerly in the prototype well behind the McLaren M10Bs during the 1971 Tasman, but did better in Europe, with Hailwood taking two wins and three poles from his first four races. Two more wins followed but then Frank Gardner got his works Lola T300 and, with Hailwood suffering endless engine trouble, the Lola dominated the last six races. Only one other TS8 was sold in the UK. In the US, Sam Posey won at Mid-Ohio and took two further second places but he couldn't match the Hogan McLaren M10B of David Hobbs. Both Posey and Hailwood finished second in their respective championships but TS8 sales were very limited.
The TS8 histories are confused by Posey and Hailwood appearing to have had two cars each and it has been difficult to figure out which car went where. All and any help would be gratefully received. Please e-mail Allen at allen@oldracingcars.com if you can add anything.
Chassis
History
Current owner
Built for 1971 season. Announced late October 1970. Bonphil Racing for Mike Eyerly Tasman 1971 (where David McKinney observed the chassis number to be '001'). Crashed badly in practice at Warwick Farm and said by Motoring News to be "written off". Returned to the factory for repairs. The rest of the team returned to the US but had hit financial problems and everything was siezed as they came through customs. The equipment, including two Bartz engines but less the missing monocoque, was sold to Phil Palm and Ron Pohl. Although the tub may have been repaired, TS8/01 cannot be considered to exist after the Warwick Farm crash.
Driven by: Mike Eyerly. First race: Levin (Tasman R1), 2 Jan 1971. Total of 3 recorded races.
Crashed and not rebuilt 1971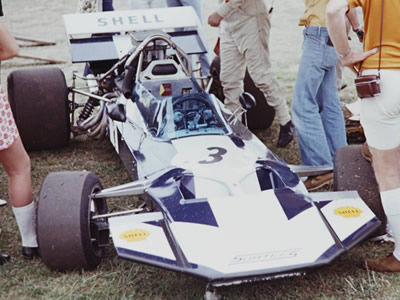 Built for 1971 season. Believed to be one of two cars used by Mike Hailwood for Team Surtees in the 1971 British series. This chassis number was on the TS9/TS8 used by John Surtees at the November 1971 Australian GP, after the prototype TS11 had been destroyed in a testing accident. Then raced by Hailwood in the January 1972 Tasman races in New Zealand until it was destroyed in an accident at Teretonga Park. Surviving components were used to build up a new Surtees TS11 in time for the Australian races.
Destroyed 1972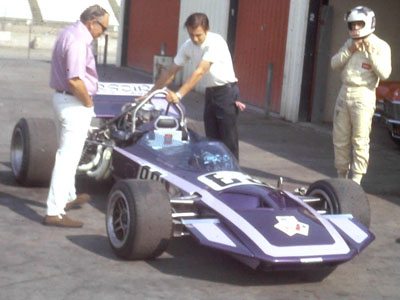 New for Bob Griffin's Corsair Racing Team (San Antonio, TX) June 1971 for Clive Baker to race in the US series (from Edmonton 1 Aug 1971). The TS8 was retained for Baker for 1972 as teammate to Ron Grable in a new TS11, but the team did not reappear after Grable crashed his TS11 at Edmonton on 4 Jun 1972 and went bust at some point during the year. Both cars were sold to Gus Hutchison (Dallas, TX), and the TS8 was entered by Hutchison's HRE (Dallas, TX) for Syd Demovsky (Chicago, IL) throughout the 1973 US series, with a best finish of ninth in the final race. The TS8 was advertised by Hutchison in Autoweek 22 Sep 1973 and later 7 Dec 1974 as "ready to race". Also in the advert was a TS11 which was said to have a new tub and a further new spare tub. Subsequent history unknown.
Driven by: Clive Baker and Syd Demovsky. First race: Edmonton (US R6), 1 Aug 1971. Total of 13 recorded races.
Unknown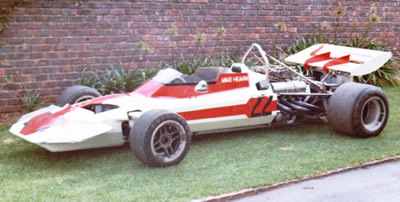 Built for 1971 season. Willie Ferguson (SA) 1971; driven by Paddy Driver (SA) opening races of 1972; back to Ferguson for Kyalami 3 June 1972 but crashed in practice when the engine blew and DNS. The car was not badly damaged and Driver spent the rest of 1972, on and off, trying to fit a Ford V8 but did not finish it. To the best of his memory, he sold it to Alex Blignaut who had sold his two TS5s. Raced by Nols Neiman (SA) 1973 until his F1 TS9B arrived - Fred Cowell (SA) Sep 1973 - Mike Hearn (SA) 1974 (only appeared at Goldfields 19 October 1974) - Dave Hart (SA) 1975. Advertised by Hart (Melville, Johannesburg) Sep 1975 and sold mid-1976 to Willie Hepburn who used some parts on a modified Escort and cut the tub in half to get the bag tanks out. It would appear that there is nothing left of this car.
Driven by: Willie Ferguson, Paddy Driver, Nols Nieman, Mike Hearn and Dave Hart. First race: Roy Hesketh (R3), 12 Apr 1971. Total of 21 recorded races.
Broken up 1976
Built for 1971 season. Team Surtees (UK) 1971: raced by Mike Hailwood (won on debut; F1 Register also identify this as Hailwood's 1972 Tasman car - Herve Bayard (Belgium) 1972 with works spare car: raced in early UK F5000 races only; used in European Hill Climb Championship and converted one car to Cosworth DFV engine after opening round (finished second overall in championship). Bayard practiced 05 with a DFV at the Rothmans 50,000 on 28 August 1972 but was far too slow to qualify. Subsequent history unknown but possibly the Robin Darlington car in 1973. May have been owned by Alex Seldon at some point. Next seen when acquired by John Foulston in 1989. After Foulston's death, the TS8 passed to Noel Butler 1998. Appeared at Silverstone July 1998. Bought at auction by Robin Darlington 1999. To Mike Wrigley (Ashbourne, Derbyshire) 2002 and then sold to Dr John Monson (Hull) in 2004. Raced by Monson in the HSCC's Derek Bell Trophy (DBT) events in 2005 and 2006. To Stephen Gibson Mar 2007 and raced in DBT in 2008, 2009 and 2010. The car returned to the DBT in 2014 when owned by Chris Atkinson. Raced by Christopher Atkinson in the Derek Bell Trophy race at Silverstone October 2014 and at Thruxton April 2015. Raced by Atkinson in the New Zealand F5000 Tasman Revival in 2017.
Driven by: Mike Hailwood and Hervé Bayard. First race: Mallory Park (UK R1), 28 Mar 1971. Total of 28 recorded races.
Christopher Atkinson (UK) 2017
One of two cars owned by Doug Champlin and Fred Carillo of Champ Carr (Capistrano, CA). These cars were run for Sam Posey US 1971 and Rocky Moran US 1972. One wrecked in practice at R4 Elkhart Lake 16 Jul 1972; a second only seen at R5 Brainerd 29 Jul 1972. A TS8 was advertised by Champ Carr Autoweek 21 Oct 1972. Two "ex-Posey" TS8s appeared in the US in 1973: as TS8/008 was driven by Phil Palm, TS8/006 must be the car raced by Len Guneau (Hermosa Beach, CA) US 1973. Qual 38th at R1 Riverside and finished 12th in Heat 2. Later qualified for final at R9 Seattle but retired. Not seen in the 'Pro' series in 1974 but finished 3rd in a SCCA National at Riverside on 27 May 1974. Advertised by Cheryl Guneau and Jim Dittemore in Finish Line June 1975 as "ex-Posey" and "with deformable structures". Advertised again by Cheryl Guneau (Hermosa Beach, CA) again in Autoweek in October 1975. Next seen with Dick Ferguson (Los Angeles, CA) 1976: retired at Elkhart Lake 29 Aug 1976, crashed in Heat 2 at Riverside 17 Oct 1976.
Then unknown until "TS8/06" with Chuck Haines (St Louis, MO) of Can-Am Cars Ltd for sale as "project" March 1990 with TS5 and TS11 tubs. The TS8 had been stripped and the tub used in the rebuild of a TS7 leaving the rest of the car as "a project". The project was bought by John Bladon (Castor, Cambridgeshire) from Chuck Haines some time around early 2001. John found it consisted of:
'virtually a full car less engine and chassis. The rear end was completely assembled including original rear transaxle chassis crossmember,rear axles drive shafts, brakes and wheels, 2 front corners fully assembled including steering rack tank cover with the chassis and SCCA tags attached.'
John, in a masterly piece of understatement, says "all I have to do is bolt it all to an ex factory chassis and fit an engine and we'll be off"! To Tim Slack (Mowsley, Leicestershire) early 2006. The car was then said to be nearly ready meaning a tub had been sourced from somewhere or fabricated. According to a later Silverstone Auctions catalogue, Slack raced the car in a Grand Prix Masters event at Spa in 2006, but it then remained in storage until it was auctioned in July 2016. The catalogue made no mention of the source of its monocoque. It was bought at the auction by Carlo Del Conte (Milan, Italy). Still with Carlo in March 2017.
Driven by: Sam Posey, Rocky Moran, Len Guneau and Dick Ferguson. First race: Ontario Motor Speedway, 28 Mar 1971. Total of 9 recorded races.
Carlo Del Conte (Italy) 2017
Built for 1971 season. Peter Revson's car at the Questor GP. Was intended to be Surtees works car in the US but later returned to UK. Alan Rollinson (UK) 1971 from R9 (Mallory Park 4 Jul 1971) - Alan Brodie (UK) 1972: raced by Brodie and Steve Thompson; Thompson won libre at Mallory Park Boxing Day 1972. Servis Appliances Racing Team (UK) 1973: raced by Ray Allan. Not seen after International Trophy 8 Apr 1973 ... possibly the Robin Darlington car in Sep 1973 ... Colin Andrews (Banbury, Oxfordshire) and used in the F5000 series then to Stephen Cuff (Frome, Somerset) and hillclimbed in 1975 (at Shelsley Walsh 8 Jun 1975; 7th at Pontypool Park 13 Jul 1975 and 8th at Shelsley Walsh 17 Aug 1975) - Alan Richards (Cheltenham, Gloucestershire) end of 1975: used in sprints and occasional hill climbs (in Cheltenham Cameras colours) in 1976 and 1977 - Bob Clapham for sprints and occasional hill climbs: British Sprint Championship 1978 (4th at RAC Curborough 30 Apr; 6th at Wellesbourne 5 Aug and 9th at Weston 7 Oct; also driven by Richards to 4th at Brighton 9 Sep and 4th at Weston 7 Oct); British Sprint Championship 1979 (9th at Curborough 29 Apr; 5th at St Eval 8 Jul); British Sprint Championship 1980 (3rd at Weston 4 Oct) ...
Subsequent history unknown until bought from Brian Redman by Dave Swigler (Panama City, FL) in 1986. Dave believes Brian got it from Richard Attwood about two years earlier. This car, together with a F1 Shadow DN3 and a F5000 Lotus 70B, were sold by Swigler in 2009 to Harin De Silva (Palos Verdes Estates, CA). The Surtees was restored by Virtuoso Performance and first raced at Laguna Seca in August 2011. Also raced in New Zealand in the 2011/12 Tasman Revival series and at the Phillip Island Classic in March 2013. Raced at the Monterey Pre-Reunion in August 2015. Later to Hans Glaser (Dan Diego, CA) but he did not use it. To Dave Swigler again in May 2019.
Driven by: Peter Revson, Alan Rollinson, Alan Brodie, Steve Thompson, Ray Allen, Colin Andrews, Stephen Cuff, Alan Richards and Bob Clapham. First race: Ontario Motor Speedway, 28 Mar 1971. Total of 62 recorded races.
Dave Swigler (USA) 2019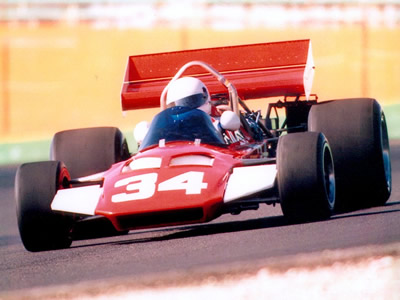 One of two cars owned by Champ Carr (Capistrano, CA). These cars were run for Sam Posey US 1971 and Rocky Moran US 1972 but exactly how they were used is not known. One wrecked by Moran in practice at R4 Elkhart Lake 16 Jul 1972; a second only seen at R5 Brainerd 29 Jul 1972. A TS8 was advertised by Champ Carr Autoweek 21 Oct 1972. Two "ex-Posey" TS8s appeared in the US in 1973: Phil Palm's TS8/08 and Len Guneau's - presumably TS8/06. TS8/08 then to Phil Palm (Anaheim, CA) for 1973 US season. As well as the Bonphil Racing engines and spares, Phil Palm and Ron Pohl also bought a Surtees TS8 chassis from Fred Carrillo of Champ Carr - "the crashed Posey chassis". Palm was Carillo's cousin. They spent several months rebuilding it and entered for R1 Riverside at the start of the 1973 season but did not practice or start for reasons that Ron cannot recall. Palm drove the car in a regional race at Riverside but had brake problems. Sold to Stuart Forbes-Robinson (Huntington Beach, CA) and used in three late-season Pro races: Ontario 2 Sep 1974 (nptr, DNS), Laguna Seca (not seen in practice; dna?) and Riverside (qual 39th, retired in Heat 1). Palm's invoice to SFR bears the number "TS8/008". Then unknown until bought from a shop in Glendale, CA, in 1977 by Mike Cherry (Vacaville, CA) who planned to convert it to run in Can-Am. Cherry was distracted by a restoration and eventually sold the car and its spare tub to Al Moore who had also raced Cherry's Formula Vee. It came to Moore with an original #34 Posey nose but also with a TS11 tub and #88 (Grable) sidepods. Moore believed it to be the ex-Posey car and had it restored in Posey's livery. Traded by Moore to dealer Chuck Haines (St Louis, MO) for a Corvette in 2013 and then sold by Chuck to Road America track president George Bruggenthies (Plymouth, WI) in January 2015. Raced at Road America in July 2015, July 2016 and July 2017. Raced at VARAC Mosport Park 16-17 June 2018, and the WeatherTech International Challenge at Road America in July 2018.
Driven by: Sam Posey, Rocky Moran, Phil Palm and Stuart Forbes-Robinson. First race: Riverside (US R1), 25 Apr 1971. Total of 15 recorded races.
George Bruggenthies (USA) 2018
The mystery cars
Of the TS8s that appeared in 1971, all have now been identified. The first puzzle arrived in 1973 when John Campbell briefly raced a new TS8. That car today wears a chassis plate 'TS8-014' and while the car is undoubtedly genuine, its history cannot really be said to be entirely understood. Only eight TS8s were built in 1971, but Bob Egginton recalls that Peter Revson's car at the Questor GP was numbered '011' because John Surtees "was keen for people to think we had built more than we had", so it is not impossible that an '014' chassis plate may have existed.
Chassis
History
Current owner
Surtees TS8
'014'
John Campbell UK 1973: Motoring News describes this as a brand new car when it first appears in a libre race at Silverstone in March 1973: 'Having his first outing in a brand new Surtees TS8B with Bartz Chevy installed ... was John Campbell ...'. Won a libre race at Oulton Park 24 Mar. A TS8B was advertised in August described as "'immaculate, two club races and two practice sessions from new, Bartz engine." The two club races would be the two libre races, and the two practices the F5000 races where it failed to qualify. It was described as having a new Bartz at one of those races. The car was readvertised in November 1973.
Sold to Nick Overall (Midhurst, West Sussex) for libre racing in 1974 (4th in in "ex-John Campbell TS8" at Jaybrand Racewear Libre Championship round at Silverstone 16 Mar 1974). In a letter to Rick Hall (Bourne, Lincolnshire) in 1990, Overall recalled that he bought the car from "John Campbell of Team Surtees" in late 1973 and that he later crashed the car at Copse corner at Silverstone, after which it was completely rebuilt and sold to somebody in Wales for sprinting. From Overall to Alan Shaw (Monmouth) who set fastest lap in a libre race at Llandow at the very end of the 1974 season in a Surtees TS8B but did not feature in the race. He had bought the car for his wife Georgie to drive and it was fitted with an ex-McKechnie Racing Boltoff Chevrolet. However, the car only had a couple of outings and some tests at Silverstone. Shaw sold it to Jim West who ran it in sprints and hill climbs in 1976. To Ian Higgins (Boston, Lincolnshire) 1986 and then to Rick Hall of Hall & Fowler (Folkingham, Sleaford, Lincolnshire) 1989. It was sold to Mike Whatley (Holmfirth, West Yorkshire) about 1992 for historic racing. Mike still owned the car in July 2013 though it was then based in New Zealand where he has raced it for the previous four seasons. Sold in December 2016 to Jolyon Harrison (York).
Driven by: John Campbell and Nick Overall. First race: Silverstone (R1), 18 Mar 1973. Total of 4 recorded races.
Jolyon Harrison (UK) 2017
The later mystery cars
By the end of 1973, TS8/001 and TS8/002 has been wrecked, the ex-Team Corsair/Clive Baker TS8/003 was still running in the Pro series from a base in Texas; TS8/004 was still in South Africa; the ex-Bayard TS8/005 had gone missing; TS8/006 had last been seen in southern California; TS8/007 was hillclimbing in England; TS8/008 was also in southern California; and John Campbell still had his TS8/'014' in England. Over the next 20 years, TS8s would continue to pop up in southern California but with two cars already in that area and a third not far away, we cannot always be sure which was which. The same is true of the English cars: although John Campbell's '014' has a complete history, the other two are missing for a good part of the 1980s.
Chassis
History
Current owner
Surtees TS8
'the Ken Amick car'
Rich Amick (La Mesa, a suburb of San Diego, CA) raced a Formula A Surtees at Holtville Aerodrome in March 1976, and Kenneth R Amick (Spring Valley, CA) raced a Surtees TS8 at the SCCA National at Riverside in February 1977. Rich Amick also raced it at Phoenix two weeks later. Amick then advertised the car in Autoweek 23 Apr 1977, mentioning that the "spares include tubs", and later in the season raced a FSV Lola. The two most likely sources for Amick's car are TS8/006, last seen with Dick Ferguson, just up the coast in Los Angeles, or TS8/008, last seen with Stuart Forbes-Robinson in Huntington Beach, CA, also in Greater Los Angeles, at the end of 1974. The Ferguson car seems most likely, as that had other tubs with it when acquired by Chuck Haines in 1990. However, this could also be the car that went to Dale Mahar in the Los Angeles area later in 1977, in which case it was the mystery chassis TS8/010.
Driven by: Kenneth Rich Amick. First race: Holtville Aerodrome, 21 Mar 1976. Total of 3 recorded races.
Unknown
Surtees TS8
'the Dale Mahar car'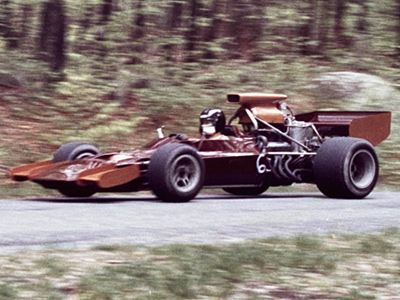 Dale Mahar entered a Surtees TS8 in the Can-Am race at Sears Point 25 Sep 1977 but is shown as "no time recorded" so may not have been present. Southern Californian Mahar had previously raced a 1966 Plymouth Barracuda for Har-Ma Engineering (Ventura, CA) in Trans-Am from 1966 to 1969. According to Kurt Engelmann's excellent myf5000.com, in January 1981, Dale Mahar (Thousand Oaks, CA) advertised a "1969 Titan TS-9 F5000 305 Chevy" which could well be the same car. The TS8 was acquired from Mahar by James Hale (Lebanon, New Hampshire) in 1980 or 1981, and used it in hillclimbs in New England in the 1980s. The TS8 has chassis plate TS8-010 and came with a spare TS9 monocoque, numbered TS9-08. He has retained the TS8 and its spare TS9 monocoque, and still had them in April 2021.
Driven by: Dale Mahar. First appearance: Sears Point (Can-Am R8), 25 Sep 1977.
James Hale (USA) 2021
Surtees TS8
'the Écurie Bonnier car'
Entered by Ecurie Bonnier for Rolf Tellsten at Mallory Park 28 May 1973 but did not arrive. Advertised by Ecurie Bonnier February 1974.
Unknown
Other notes and adverts
In March 1971, Wilson Southam (Montreal, Quebec) advertised a Surtees TS8 (F.O.B. London). At that time, a TS8 would have been brand new and presumably unraced.

In September 1972, Jim Woltersdorf (Austin, Texas) advertised a Surtees "TS8B", a designation rarely seen elsewhere. The car was said to be complete and race-ready. Maybe this was a TS5B. Austin is less than 100 miles north of San Antonio, home of Corsair Racing, and less than 300 miles south of Dallas, home of HRE, where Gus Hutchison owned 'the Clive Baker car'.

December '72 Team Surtees themselves advertise a TS8B "new car, unused". Likely to be '014'.

Robin Darlington (Ruabon, Wales) entered a TS8A in a Libre race at Llandow on 23 Sep 1973.

A Surtees TS8 was advertised by Automotive Development (Orange, CA) in March 1974.

A Surtees TS8 ("not used since rebuild", "Bartz") was advertised from Cranleigh and Slinfold telephone numbers in August and September 1974. Given the date, location and engine, this must be Nick Overall advertising '014'.

Michael Connor entered a white Surtees TS8 for a libre race at Silverstone on 8 March 1975, and again on Easter Monday (31 Mar) 1975. The car is not mentioned in Autosport's reports for those two races. Connor later gave his home town as Cirencester, and an "F5000 Surtees" in "excellent condition" was advertised from Cirencester, May 1975.

A TS8 was advertised from an 0600 phone number in the UK in July 1976. That number indicates the Monmouth area on the England/Wales border, so is likely to be Alan Shaw advertising '014'.

A "F5000 Surtees TS8B crash damaged l/h suspension and adaptor, otherwise complete" was advertised by "Jim" from a London number in May 1984.

John Surtees is known to have had several F5000 cars as recently as 1990.

Dr Reinhard Jacobi (Germany) raced a Surtees TS8 in historic racing in 1990-91.

Chris Alford (Sussex, UK) advertised a TS8 3 Dec 1992. In June 2003, Chris told John Bladon that this had been Rick's Hall's '014', on its way to Mike Whatley.
Acknowledgements
Thanks to John Bladon, Marcus Pye, David McLaughlin, Wolfgang Klopfer, Al Moore, Chris Townsend, Peter Stowe, Nick Burke, Phil Palm, Ron Pohl, Alan Cox, John Monson, Mike Whatley, Alan Shaw, Mike Cherry and Jake Hale for their contributions to these histories, and particular thanks to Bob Egginton, who was Head of Production at Surtees when these cars were built, for identifying Clive Baker's car as chassis 003. The story of Alan Richards' TS8 came from an Autosport profile written by none other than Mr Pye (31 Aug 1978 p32).
Sources include Race Report 5 (Eddie Guba 1972), the F1 Register's F5000 books, Autoweek's classified columns and Autosport's 1971 season review (6 Jan 1972 pp7-13) for details on TS8/07.
These histories last updated on .