Surtees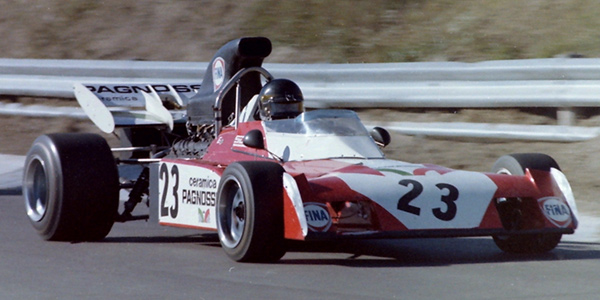 John Surtees became a constructor almost by accident, when James Garner's motor racing team, AIR, sought Surtees' help in 1969 to build cars for the SCCA's Formula A. Surtees put Garner together with freelance designer Len Terry, who had a car on the drawing board originally intended for Roger Nathan. Terry took on the construction of these cars at his base in Surrey, where the BRM P126s had been built a year earlier, and the first two were shipped out for testing at Riverside, which went particularly badly. Garner returned the cars and Surtees then took over the project, the cars becoming TS5s and then Surtees TS5s, and racing with significant success in the US series and in the UK. After the first five cars were built by Terry, production was continued at the Team Surtees Racing and Development (TSR&D) base at Slough, and then at a new factory at Edenbridge in Kent.
After a dismal season in F1 with BRM, Surtees decided to build his own F1 car for 1970. The F1 Surtees TS7 project started as a development of the TS5, with a new front end and new rear end of John Surtees' design, but after the F5000 development car was damaged, a new monocoque was fabricated for the TS7 which was a significant evolution of Terry's ideas. The well-engineered TS7 was immediately competitive, and in only its fourth race John Surtees won the Oulton Park Gold Cup, although against a particularly small field.
Two new models were introduced for 1971, the Formula 5000 Surtees TS8 and the F1 Surtees TS9, and John repeated his victory in the 1971 Gold Cup that year before retiring from racing. Team Surtees expanded to three cars for 1972, with Mike Hailwood, Tim Schenken and Andrea de Adamich in Surtees TS9Bs, but the only success of note was Hailwood's second place at the Italian GP. However, Surtees had a very good season in other categories, with Hailwood taking the Formula 2 title in the Surtees TS10, and Gijs van Lennep winning the British F5000 title in the Surtees TS11. The Surtees TS14 was introduced for F1 in 1973, driven by Hailwood and Carlos Pace, but results remained uninspiring, punctuated only by Pace's third place in Austria.
Hailwood was replaced by Jochen Mass in the Surtees TS16 for 1974, with major new sponsor Bang & Olufsen also arriving. However, John Surtees fell out with the key sponsor over a drive in a F2 Surtees TS15 for his son, and the money was withdrawn, the whole sorry mess ending up in the courts. Mass and Pace both walked out and the team ended the season rarely qualifying for a race. The F2 operation was wound up, ending Surtees' involvement in production racing cars. John Watson helped a one-car F1 Team Surtees recover some of its reputation in 1975, and the completely new Surtees TS19 for 1976 proved effective, with Alan Jones as lead driver and Durex as a high-profile sponsor. Vittorio Brambilla led the team for 1977, but the TS19s were overdue for replacement, and when the Surtees TS20 belatedly appeared in 1978, it was really too late. A move down to the British F1 series in 1979 only delayed the inevitable. The very last official Surtees works entry was at Silverstone in October 1979 and resulted in a victory for Gordon Smiley in the ground-effect Surtees TS20+, the team's first for over eight years.
Type
Years
No.
built
Notes
Surtees TS5
1969
7
Formula 5000. Began life as a project designed and built by Len Terry's company for Roger Nathan. Once taken over by James Garner and John Surtees, it became the TS5 and after a difficult start, became one of the fastest F5000s of 1969. Full history available
Surtees TS5A
1970
7?
Formula 5000. The 1970 development of the TS5, dubbed the TS5A, appears to have only very minor changes. Full histories available
Surtees TS7
1970
2
Formula 1. A development of the TS5/TS5A for Formula 1.
Surtees TS8
1971
9?
Formula 5000. Based on the team's Surtees TS7 Formula 1 car. It sold well and won races in Mike Hailwood's hands, but engine problems prevented him winning the 1971 British series. Full histories available
Surtees TS9
1971/1972
6
Formula 1. A new design for 1971, later developed with side radiators and a full-width nose as the TS9B.
Surtees TS10
1972
6?
Formula 2. Team Surtees expanded into Formula 2 for 1972 with the Surtees TS10, and lead driver Mike Hailwood convincingly won the European F2 title. Full histories available
Surtees TS11
1972
4?
Formula 5000. A development of the F1 TS9B, sharing its side radiators and full width "sports car" nose. Mike Hailwood ran a works car in the Tasman series and Gijs van Lennep won the European F5000 title in Jackie Epstein's car. Full histories available
Surtees TS14
1973
5
Formula 1. Mike Hailwood and Carlos Pace had a difficult season in 1973 with the TS14 and TS14A.
Surtees TS15
1973
12?
Formula 2. The TS15 was a development of the championship-winning Surtees TS10. Jochen Mass won two races and finished second in the championship. Full histories available
Surtees TS15A
1974
5?
Formula 2. A further revision of the TS15 built to take BMW engines. Three were built for Ron Dennis's new F2 team, and another two followed for the works team.
Surtees TS16
1974/1975
5
Formula 1. Carlos Pace and Jochen Mass both walked out on the Surtees F1 team as the TS16 proved uncompetitive. John Watson took over an improved version for 1975.
Surtees TS17
An intended conversion of a F2 TS15 for F5000 with a 3.4-litre Cosworth Ford GA V6. Not built.
Surtees TS18
A Formula 1 car designed by Mike Pilbeam but never built.
Surtees TS19
1976/1977
7
Formula 1. A completely new design for 1976, with new driver Alan Jones putting in good performances. The design was retained for 1977 with lead driver Vittorio Brambilla.
Surtees TS20
1978
3
Formula 1. An evolution of the TS19, but Surtees was now struggling, and stepped down into British F1 for 1979.
Surtees TS20+
1979
Formula 1. A wing-car version of the Surtees TS20 used in British F1, but written off in May 1980.
Surtees TS21
1979
none
Formula 1. Not built.