Surtees TS11 car-by-car histories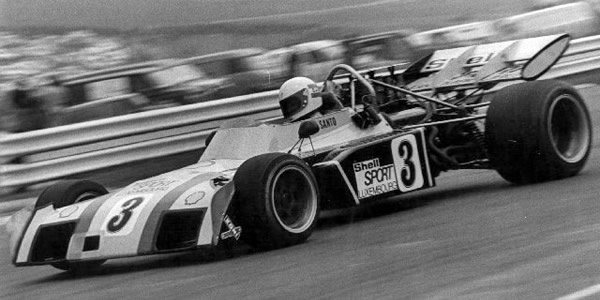 The 1972 Formula 5000 Surtees TS11 was a development of the F1 TS9B, sharing its side radiators and full width "sports car" nose. Mike Hailwood ran a works car in the Tasman series but the only customers were Jackie Epstein for Gijs van Lennep in Europe and Champ Carr for Sam Posey in the US.
The prototype TS11 was tested by John Surtees at Goodwood in late October but a few days later, the car was written off when Mike Hailwood hit a patch of oil while testing at Brands Hatch. The first customer to be announced was Jackie Epstein, who had entered a McLaren M10B for Ray Allen in 1971 with Pink Stamps sponsorship, and his Speed International Racing would enter two TS11s in 1972. Surtees said that all six production cars had been sold by early November and another four would be added. However, only one TS11 appeared in the Epstein team, and Ray Allen was left to race a one-year-old McLaren M18. Apart from this and the prototype, the only other TS11s known to have been completed were one built up for Mike Hailwood to drive in the Tasman races in Australia, and Sam Posey's two cars in the US, making a total of five, but a spare monocoque is mentioned in adverts in connection with the ex-Tasman car, and the Posey team may also have had a spare monocoque with their two complete cars. The highest chassis number mentioned is '07.
The Epstein car made its first appearance at the Race of Champions in mid-March, the start of the UK racing season, where Gijs van Lennep qualified second behind Graham McRae's very impressive Leda LT27. Van Lennep then won at Snetterton later in March and had a series of strong top-four finishes during the year. With both Brian Redman and Graham McRae spending much of the summer competing in the lucrative US series, the Dutchman built up a big points lead in the British championship. He won a second race at Silverstone in August and was able to hold off the returning Redman and McRae over the last few races to clinch the championship. Meanwhile in the US, Sam Posey's TS11 was competitive but unable to win a race, thrice finishing second behind the visiting McRae and Redman.
Despite the championship victory, there was no further interest in a F5000 Surtees and the TS11 proved to be the last in the team's line of F5000s.
There are still many puzzles about the later lives of these cars, especially the ones in the US. All and any help would be gratefully received. Please email Allen at allen@oldracingcars.com if you can add anything.
Chassis
History
Current owner
The unknown cars
As well as the cars listed above, there was also the TS11 tub sent to Australia to replace the TS9/TS8 crashed by Hailwood. Team Corsair then acquired this car for Ron Grable. Champ Carr Inc definitely owned a second car as they advertised "2 cars complete with engines - race ready" in July 1973. All the later US TS11 references are thought to refer to these Posey and Grable cars. However, it is believed that spare tubs were supplied to some owners and one of these may have become a separate complete car.
Chassis
History
Current owner
These histories last updated on .