Surtees TS11 car-by-car histories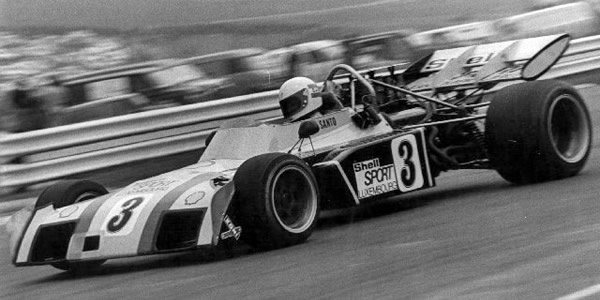 The 1972 Formula 5000 Surtees TS11 was a development of the F1 TS9B, sharing its side radiators and full width "sports car" nose. Mike Hailwood ran a works car in the Tasman series but the only customers were Jackie Epstein for Gijs van Lennep in Europe and Champ Carr for Sam Posey in the US.
The prototype TS11 was tested by John Surtees at Goodwood in late October but a few days later, the car was written off when Mike Hailwood hit a patch of oil while testing at Brands Hatch. The first customer to be announced was Jackie Epstein, who had entered a McLaren M10B for Ray Allen in 1971 with Pink Stamps sponsorship, and his Speed International Racing would enter two TS11s in 1972. Surtees said that all six production cars had been sold by early November and another four would be added. However, only one TS11 appeared in the Epstein team, and Ray Allen was left to race a one-year-old McLaren M18. Apart from this and the prototype, the only other TS11s known to have been completed were one built up for Mike Hailwood to drive in the Tasman races in Australia, and Sam Posey's two cars in the US, making a total of five, but a spare monocoque is mentioned in adverts in connection with the ex-Tasman car, and the Posey team may also have had a spare monocoque with their two complete cars. The highest chassis number mentioned is '07.
The Epstein car made its first appearance at the Race of Champions in mid-March, the start of the UK racing season, where Gijs van Lennep qualified second behind Graham McRae's very impressive Leda LT27. Van Lennep then won at Snetterton later in March and had a series of strong top-four finishes during the year. With both Brian Redman and Graham McRae spending much of the summer competing in the lucrative US series, the Dutchman built up a big points lead in the British championship. He won a second race at Silverstone in August and was able to hold off the returning Redman and McRae over the last few races to clinch the championship. Meanwhile in the US, Sam Posey's TS11 was competitive but unable to win a race, thrice finishing second behind the visiting McRae and Redman.
Despite the championship victory, there was no further interest in a F5000 Surtees and the TS11 proved to be the last in the team's line of F5000s.
There are still many puzzles about the later lives of these cars, especially the ones in the US. All and any help would be gratefully received. Please email Allen at allen@oldracingcars.com if you can add anything.
Chassis
History
Current owner
Built October 1971. Was due to debut at Brands Hatch "Victory Race" on 24 Oct but the engine did not arrive on time. It was then due to be shipped out for the Australian GP on 21 November, but it was written off in testing by Mike Hailwood at the end of October at Brands Hatch.
Driven by: Mike Hailwood. First appearance: Brands Hatch, 28 Oct 1971.
Written off 1971
Built for Jackie Epstein's Speed International Team and first seen at the 'Showboat' racing car show in London in early January 1972. Raced by Gijs Van Lennep in the Rothmans UK F500 championship 1972, winning the championship. Retained for 1973 when the team was renamed as ShellSport Luxembourg for Clive Santo, but not seen after R5 Brands Hatch on 23 Apr 1973. To Willie Wood (UK) and used in northern English libre from July 1973 onwards; also raced at R16 Zandvoort 30 Sep 1973. Bought from Chris Oates (Notts) by Johnty Williamson (Wootton Bassett, Wiltshire) March 1974 and fitted with 5.7-litre Chevy: used in sprints 1974-1976. Sold to Mike Gue Jan 1977 and then sold to the Maharajah of Gondal (Gujarat, India): raced by Maharaj Kumar Ghanadityasinhji of Gondal at the 'All India GP' at Sholavaram circuit at Madras (now Channai). The Maharajah won in 1978 and 1979 but retired with engine problems in 1980. Fitted with a new 5.7-litre engine from the US, he won again in 1981 and won a preliminary race in 1982 despite the presence of Vijay Mallya's Ensign N177 MN08. The Surtees also won races in Calcutta and Bombay but details are not available. The car is presently the proud possession of Yuvaraj Kumar Himanshusinhji (Crown Price of Gondal). My great thanks to Aniruddh Kasliwal and Ashish Doshi for helping me with this car and to HH Maharaja Chaitanyadev Sinhji of Wadhvan and Yuvaraj Kumar Himanshusinhji. Featured on bsmotoring.com in June 2011. Still parked in the Royal garages in January 2016.
Driven by: Gijs van Lennep, Ray Allen, Clive Santo, Willie Wood and Johnty Williamson. First race: Brands Hatch (UK R1), 18 Mar 1972. Total of 58 recorded races.
Yuvaraj Kumar Himanshusinhji (India) 2016
Unknown. With TS11-01 already written off, and TS11-02 on display in London, this is probably the identity given to the car used in Australia in February 1972 by Mike Hailwood.
Unknown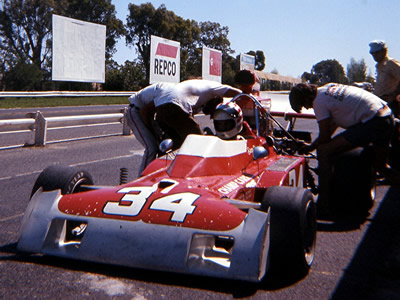 Built for 1972 season. Doug Champlin and Fred Carillo of Champ Carr Inc (San Juan Capistrano, California) for Sam Posey (US) 1972 (second in championship), Tasman 1973 in red-and-white livery. Not raced in US 1973. Advertised with a race ready sister car by Champ Carr 28 Jul 1973.
To Gary Matthews (Fresno, CA) for SCCA Nationals and 'pro' series 1974. An article in Finish Line Magazine, March 1974 (the California Sports Car Club Regional publication), said that Mathews had bought both of Posey's TS11s and was updating them. His first outing was at the SCCA Cal Club Winter Sprints at Riverside 10 Feb 1974 ("the ex-Sam Posey Surtees F5000 car" The Wheel Mar 1974 p29); also in 'pro' events at Ontario 2 Sep 1974, Laguna Seca, Riverside. Entered by Wiley & Mathews Engineering at Ontario but Mathews at some point joined forces with Zeke Justice and they appear to have had both the complete ex-Posey car and the spare.
John F.S. Condren advised in 2009 that he bought the Surtees from Mathews in December 1974 and fully rebuilt it for Mathews to drive in the 1975 Long Beach Grand Prix. However, Mathews kept the car after the race and Condren claims that he is still owed money from this deal. Condren added that the second tub was built up after Mathews bent the original at Riverside in mid-to-late 1973 but the original was repaired and the backup was not used. However, this backup may have been pressed into service after Condren's involvement with the car.
Advertised by Mathews (Fresno, CA) 23 May 1976. Later retired from Heat 2 at Riverside 1976 (entered by Justice Bros and listed as Blue/Gold in colour). Retired from SCCA National at Riverside 13 Feb 1977 (Formula April 1977 p51). Then Justice invited Ron Dykes (who had raced the Justice Bros Lola T192 and Eagle in previous seasons) to drive the TS11 in a National at Riverside 29 May 1977 which Dykes won with a new lap record. Dykes then appears with a TS11 on the entry list for the 1977 SCCA Runoffs. A sidepod for a Justice Bros TS11 was with Don Sills (Incline Village, NV) in 2002.
Subsequent history unknown but it appears one complete but disassembled car was sold by Justice in the 1980s (the Christeanson car) and a further complete car (the John Yandell car) and a partial car (the Don Sills car) also sold to Chuck Haines (St Louis, MO). The exact origins of these cars cannot yet be confirmed but it would appear that TS11/04 was rebuilt on a new tub during Mathews' ownership and the original tub was sold separately. As well as the two complete ex-Posey cars, it appears the Justice team must have had a third monocoque.
Driven by: Sam Posey, Gary Matthews and Ron Dykes. First race: Laguna Seca (US R1), 7 May 1972. Total of 21 recorded races.
Divided 1990
The unknown cars
As well as the cars listed above, there was also the TS11 tub sent to Australia to replace the TS9/TS8 crashed by Hailwood. Team Corsair then acquired this car for Ron Grable. Champ Carr Inc definitely owned a second car as they advertised "2 cars complete with engines - race ready" in July 1973. All the later US TS11 references are thought to refer to these Posey and Grable cars. However, it is believed that spare tubs were supplied to some owners and one of these may have become a separate complete car.
Chassis
History
Current owner
Surtees TS11
'the Tasman series car'
Built from a new TS11 tub and incorporating parts from the TS9/TS8 that had been raced by John Surtees and Mike Hailwood in the 1971 Australian GP and the New Zealand Tasman races and crahed at Teretonga. For Mike Hailwood at Surfers Paradise (6th), Warwick Farm (5th), Sandown Park Australian GP (4th) and Adelaide (2nd).
According to Motoring News, this car went to Team Corsair for Ron Grable to race in the US but it must have been significantly rebuilt back at Surtees' workshops as it has been pointed out that the two cars look nothing like each other. Grable US 1972 (raced only twice, at R1 Laguna Seca 7 May 1972: classified 14th overall; then at R2 Edmonton 4 Jun 1972: classified 27th and last in heat 1, did not appear in heat 2). Grable crashed the car at Edmonton and crew chief Tom Ratzlaff recalls that the tub was unrepairable. The team then had financial issues and curtailed their season.
In Autoweek of 22 Jul 1972 it was reported that Minnesota Invader Inc (Minneapolis/St. Paul) had bought the TS11 from the defunct Team Corsair for Grable to drive at Elkhart Lake on 16 July. However, no money was forthcoming and the cars were eventually bought by Gus Hutchison (Dallas, TX). The TS11 was intended to act as a spare for his new March 73A. Advertised in Autoweek 22 Sep 1973 "one Surtees TS11 with spare tub" and later 7 Dec 1974: said to have a new tub and a further new spare tub. Subsequent history unknown but see the Baca car below.
Driven by: Mike Hailwood and Ron Grable. First race: Surfers Paradise (Tasman R5), 6 Feb 1972. Total of 6 recorded races.
Unknown
Surtees TS11
'the William T Baca car'
Advertised by William T Baca (Santa Ana, CA) 3 Jul 1976: "F5000 - Surtees: Built 1973. 1976 Pro legal. Never bent. Absolutely ready to race. New spare Traco engine. Numerous spares. Trailer ... $12,500". It is possible that this is not a TS11, but unlikely given the date it was built. Note that this advert appeared while Gary Mathews still had his car(s), which suggests this one is the ex-Grable/Hutchison car rebuilt on a new tub in 1973, or maybe Hutchison's spare monocoque built into a complete car.
Unknown
Surtees TS11
'the Paul Christeanson car'
Paul Christeanson (US) bought a disassembled Surtees TS11 from "a guy called Ramiraz in Florida" in 1997. The chassis plate says "TS11-07" and it had a SCCA plate attached to the seat tank cover. Among the accompanying documentation was a bill of sale from Zeke Justice in early 1980 and public notary bill of sale also in the 80's actually detailing the chassis number from Russell Racing (Ohio?) to a Will Cronkite. Christeanson advertised the car for sale in January 2003 and sold it to John Bladon (Castor, Cambridgeshire), already the owner of the ex-John Yandell "TS11-04" which had been heavily damaged in early 2001. Still owned by John in 2015 and still in bits.
John Bladon (UK) 2015
Surtees TS11
'the Don Sills car'
A chassis with Chuck Haines (St Louis, MO) in blue and gold livery in 1990, indicating that it was the Gary Mathews car. The tub had been damaged at the right front. Sold to Don Sills (Incline Village, NV) January 2000. Under the blue and gold livery is a red colour and then a blue, reinforcing that it was one of the Sam Posey chassis. Still with Don in October 2015 when he reported that it was ready for paint and final assembly. It is being restored in Posey's red-and-white 1973 Tasman livery.
Don Sills (USA) 2015
Surtees TS11
'the John Yandell car'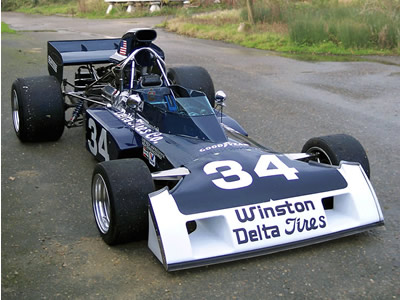 A car with Chuck Haines (St Louis, MO) in white livery in 1990 and bearing the chassis plate TS11/04. it is unclear whether this is the original TS11/04 or a rebuild of TS11/04 using a spare monocoque. This would account for Haines having had a damaged tub in Mathews livery as well as a separate complete car. Sold to John Yandell (San Francisco, CA) early 1990's and restored by Tom Fredericks. Later to Scott Drnek (San Francisco, CA) accompanied by spare TS9 tub to John Bladon (Castor, Cambridgeshire) 1998. Raced by Bladon in HSCC events until very heavily damaged at Mallory Park in early 2001. Repaired and sold to Anthony Goddard (Isle Of Wight) for 2003. Part-exchanged back to Bladon for a Merlyn Mk 9 in December 2006. Sold to Greg Thornton in 2008 and raced extensively by him in UK events and in the Tasman Revival series until June 2012 when the car was badly damaged in a fire at Thornton's garage. Completely reconstructed by WDK Motorsport and racing again in 2014. Raced by Thornton in Derek Bell Trophy events in 2015.
Gregory Thornton (UK) 2021
These histories last updated on .