Surtees TS10 car-by-car histories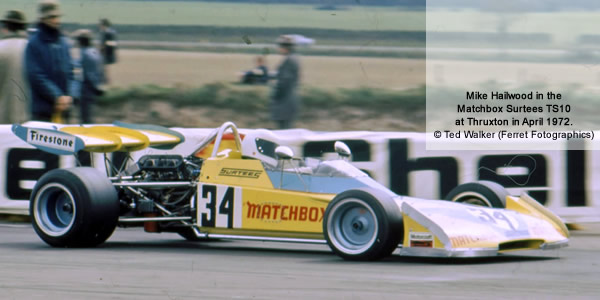 Team Surtees expanded into Formula 2 for 1972 with the Surtees TS10, and lead driver Mike Hailwood convincingly won the European F2 title in the car.
John Surtees was unconvinced by the prospects of Formula 5000 in Europe, so for 1972 decided he needed a Formula 2 offering. The car was also suitable for Formula Atlantic, but no new cars were sold for that category. The chassis was a slim monocoque, reaching from the centre line of the front wheels to a rear bulkhead behind the driver. The engine was bolted to that bulkhead, but supported by a tubular sub-frame. The main radiator in the nose but mounted almost flat. The nose cone was full width, with a very narrow opening. Suspension was entirely orthodox, with outboard springs all round, and twin rear radius rods at the rear. Variable rate front suspension was planned for later in the year. Brakes were outboard at the front, and inboard at the rear. The engines used were Brian Hart's highly reliable Ford BDAs, and were 1850cc for most of the season, until Hart's full 2-litre alloy block engine was homologated in time for the Brazilian F2 series at the end of the year. A F1 type Hewland FG400 gearbox was used.
The car was beautifully built to a very high standard, and a full sponsorship deal had been done with Matchbox. The car was finished in yellow and blue livery. Mike Hailwood, who had led the team's Formula 5000 team in Europe in 1971 and in the 1972 Tasman series, would do double duty in 1972 alongside Surtees in the F1 team and as lead driver in F2. John Surtees planned to drive the second works car when he was available. As in previous seasons, Surtees demonstrated huge confidence in potential sales, saying that production would be "limited" to ten cars in 1972, but 30 would be built in 1973. Hailwood drove the first car, and won the F2 title with two wins and four second places. Surtees himself won the JAF Grand Prix at Fuji and the F2 race at Imola.
Despite Big John's confidence, no cars were ever sold to customers, but Team Surtees did run a third car for Carlos Reusch, and a fourth for Andrea de Adamich. Two further cars were built up for works usage later in the season, bringing total production to six. For some reason chassis 06 was not seen, production apparently going straight from 05 to 07. At least two cars were wrecked, reportedly three, which would leave just three survivors, all of which have been traced.
Please contact Allen Brown (allen@oldracingcars.com) if you can add anything to our understanding of these cars.
Chassis
History
Current owner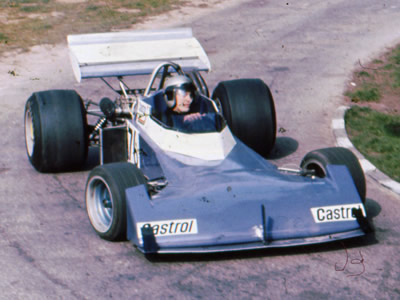 New for Mike Hailwood to race as a works entry in the 1972 F2 series as a works Team Surtees entry. Hailwood won at Mantorp Park and Salzburgring in this car, and also finished second at Crystal Palace, Rouen, the Österreichring and Hockenheim in October to secure a deserved championship. He also won one race at Interlagos in November during the Torneio do Brasil, The car was not seen in 1973, but reappeared in 1974 with Richard Jones (Stroud, Gloucestershire) for hillclimbs. Raced regularly by Jones in 1975 and 1976 with a 2-litre Hart engine, and then in 1977 with a turbocharged Hart, although he soon returned to a regular engine. To Channel Islander Maurice Ogier for 1978, and used in the 1600cc class of French hillclimbs. Then to Dave Allen (Crewe, Cheshire), and raced in British Formula Atlantic in 1979. Next seen hillclimbed by Peter Bromage in the 1980s, then sold to Don Wood, and seen again shortly after when sold by dealer Straight Six to the US in 1991. Raced by Gil Nickel (Oakville, CA) in US historic events between 1994 and 2002. Nickel died in 2003, but the car has been retained by his family in the car collection at Nickel's Far Niente Winery in Oakville. Still in the collection in January 2014.
Driven by: Mike Hailwood, Lian Duarté, Richard Jones, Maurice Ogier and Dave Allen. First race: Mallory Park (R1), 12 Mar 1972. Total of 69 recorded races.
Far Niente Winery (USA) 2014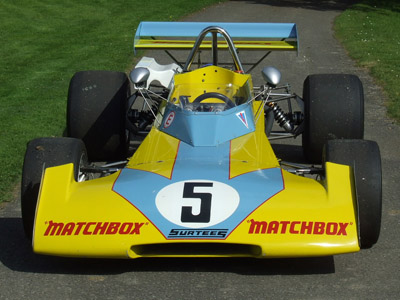 New for John Surtees to race as a works entry in the 1972 F2 series, first appearing at Oulton Park at the end of March. After Thruxton on Easter Monday, the car was taken out the Fuji for the JAF Grand Prix, which Surtees won, using Brian Hart's new alloy block engine. Raced by Surtees in the F2 races at Crystal Palace, Rouen and Imola, winning the latter. A new car was then built up to replace TS10/02, and the original car remained in Surtees' hands thereafter. The car was on display at a Henry Surtees fund raising day at Buckmore Park in July 2010, and at the 2010 Goodwood Revival. On display at the Autosports Show at the NEC in January 2014. On display at the Henry Surtees Foundation Team Karting Challenge at Brooklands on 11 July 2017. Still in the collection in May 2019.
Driven by: John Surtees. First race: Oulton Park, 31 Mar 1972. Total of 6 recorded races.
Henry Surtees Foundation (UK) 2019
New for Carlos Reusch to race as a works entry in the 1972 F2 series, first appearing at Hockenheim in mid-April. Reutsch had backing from Automovil Club Argentina and the state-owned YPF petrol company, and struck a deal with Surtees to drive a third works car. Unlike the Matchbox-sponsored cars for Hailwood and 'Big John', Reusch's car was white and yellow, and wore YPF signage. At Pau, in only his second race in the car, Reusch crashed heavily, and the car was written off.
Driven by: Carlos Ruesch. First race: Hockenheim (R3), 16 Apr 1972. Total of 2 recorded races.
Written off 1972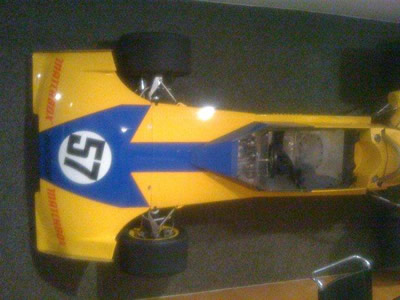 New for Andrea de Adamich to race as a FINA Team Surtees entry in the 1972 F2 series, first appearing at the Pau GP in early May. De Adamich had driven for Surtees in F5000 in 1969, and returned to the team after two years leading Alfa Romeo's efforts to introduce their V8 engine into Formula 1. Like his Formula 1 Surtees TS9B, the Italian's TS10 was red and white with FINA logos. He drove the F2 car when his F1 commitments allowed, with a best result of fourth at Imola. The car was sold for 1973 to Romano Martini who raced as "Shangri-Là", and was used by him in F2 and in Italian hill climbs during 1973, entered by Etienne Aigner. The car reappeared in 1974 as an Etienne Aigner entry on loan to Helmut Koinigg at Hockenheim in April. Then sold to Hans Deffland (Munich, Bavaria, West Germany) in May 1974, and used by him in hillclimbs plus the F2 race at Hockenheim in September 1974. Then to Gerhard Donnerer (Marxzell, Karlsruhe, Baden-Württemberg) in January 1975, and used in hill climbs in 1975 and 1976, and then to Jürgen Zimmerman (Schwieberdingen, Baden-Württemberg) in August 1978. It was later sold to a Mr. Studer in Switzerland who did not race it, and was sold by him to Mario Colombo (Rapperswil, Switzerland) in 1983. Mario had the car restored by Wittwer Partner Motorsport in Diepoldsau, Switzerland, and then had it fixed to the wall of his flat, where it remained until June 2019, when it was bought by Dean Forward, and shipped back to England.
Driven by: Andrea de Adamich, Romano Martini ("Shangri-Là"), Helmut Koinigg, Hans Deffland, Gerhard Donnerer and Jürgen Zimmermann. First race: Pau (R4), 7 May 1972. Total of 30 recorded races.
Dean Forward (UK) 2019
A new car built to replace the TS10/03 wrecked by Carlos Reusch at Pau in May, and raced by him as a Team Surtees entry during the 1972 F2 season. Reusch retired after two races of the Torneio do Brasil, and Jean-Pierre Jaussaud drove the car in the final Interlagos race. Sold to Geoff Friswell for 1973, and converted to Formula Atlantic specification, but the Clubmen's expert had a poor run of results, which ended at Mallory Park in May when he spun off at Gerards and badly damaged the car. Friswell acquired a new March 73B to replace it, and the Surtees was advertised as complete but damaged in November 1973. The subsequent history of the wreck is not known, but its tub was later with Dave Allen as a spare for his TS10/01, and was still in its company when TS10/01 was sold by Peter Bromage to Don Wood in the late 1980s.
Driven by: Carlos Ruesch, Jean-Pierre Jaussaud and Geoff Friswell. First race: Crystal Palace (R5), 29 May 1972. Total of 16 recorded races.
Wrecked 1973
A new car built up for the Matchbox Team Surtees F2 team in mid-1972, and first raced by Dieter Quester at the Österreichring in early July. Raced later in the season by Carlos Pace, John Surtees and Mike Hailwood. It is almost certainly the car raced by Lian Duarté in the F2 Torneio do Brasil. Sold to Silvio Moser for 1973, repainted in Marlboro livery, and used regularly through the 1973 F2 season. Raced by Alberto Colombo at Vallelunga at the end of the season. According to Beat Schenker, Moser's mechanic, the Surtees was sold to a Mr Herber, from Ticino, who planned to use it in the Swiss national championship. Beat recalls that he crashed on his second or third outing, and believes the car may have been a total loss.
Driven by: Dieter Quester, Mike Hailwood, Carlos Pace, John Surtees, Lian Duarté, Silvio Moser and Alberto Colombo. First race: Österreichring (R8), 9 Jul 1972. Total of 20 recorded races.
Wrecked 1974
The mystery cars
In addition to the above, an unknown Surtees TS10 was driven by E Endoh.
Acknowledgements
Most of the information on this page has been drawn from Autosport and Motoring News articles and reports during 1972. A full John Bolster article about the Surtees TS10 appeared in Autosport 27 Jan 1972 pp24-25. Many thanks to Chris Townsend, David McKinney, Alan Brown, Steve Wilkinson, Beat Schenker, Mario Colombo and Johannes Kistler for their help on these histories.
These histories last updated on .