Surtees TS10 car-by-car histories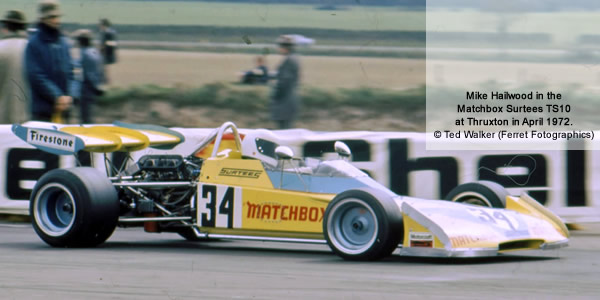 Team Surtees expanded into Formula 2 for 1972 with the Surtees TS10, and lead driver Mike Hailwood convincingly won the European F2 title in the car.
John Surtees was unconvinced by the prospects of Formula 5000 in Europe, so for 1972 decided he needed a Formula 2 offering. The car was also suitable for Formula Atlantic, but no new cars were sold for that category. The chassis was a slim monocoque, reaching from the centre line of the front wheels to a rear bulkhead behind the driver. The engine was bolted to that bulkhead, but supported by a tubular sub-frame. The main radiator in the nose but mounted almost flat. The nose cone was full width, with a very narrow opening. Suspension was entirely orthodox, with outboard springs all round, and twin rear radius rods at the rear. Variable rate front suspension was planned for later in the year. Brakes were outboard at the front, and inboard at the rear. The engines used were Brian Hart's highly reliable Ford BDAs, and were 1850cc for most of the season, until Hart's full 2-litre alloy block engine was homologated in time for the Brazilian F2 series at the end of the year. A F1 type Hewland FG400 gearbox was used.
The car was beautifully built to a very high standard, and a full sponsorship deal had been done with Matchbox. The car was finished in yellow and blue livery. Mike Hailwood, who had led the team's Formula 5000 team in Europe in 1971 and in the 1972 Tasman series, would do double duty in 1972 alongside Surtees in the F1 team and as lead driver in F2. John Surtees planned to drive the second works car when he was available. As in previous seasons, Surtees demonstrated huge confidence in potential sales, saying that production would be "limited" to ten cars in 1972, but 30 would be built in 1973. Hailwood drove the first car, and won the F2 title with two wins and four second places. Surtees himself won the JAF Grand Prix at Fuji and the F2 race at Imola.
Despite Big John's confidence, no cars were ever sold to customers, but Team Surtees did run a third car for Carlos Reusch, and a fourth for Andrea de Adamich. Two further cars were built up for works usage later in the season, bringing total production to six. For some reason chassis 06 was not seen, but John Surtees mentioned in an interview with Mike Kettlewell for Autocourse that De Adamich had written one off, "he basically had two cars". That would suggest 06 was a monocoque used to rebuild TS10-04. Chassis 03, 05 and (reportedly) 07 were also wrecked, which would leave just three survivors, all of which have been traced.
Please contact Allen Brown (allen@oldracingcars.com) if you can add anything to our understanding of these cars.
Chassis
History
Current owner
The mystery cars
In addition to the above, an unknown Surtees TS10 was driven by E Endoh.
Acknowledgements
Most of the information on this page has been drawn from Autosport and Motoring News articles and reports during 1972. A full John Bolster article about the Surtees TS10 appeared in Autosport 27 Jan 1972 pp24-25. Many thanks to Chris Townsend, David McKinney, Alan Brown, Steve Wilkinson, Beat Schenker, Mario Colombo and Johannes Kistler for their help on these histories. Mike Kettlewell's interview of John Surtees appeared in Autocourse 1972-73 pp30-32.
These histories last updated on .