Surtees TS5 and Surtees TS5A car-by-car histories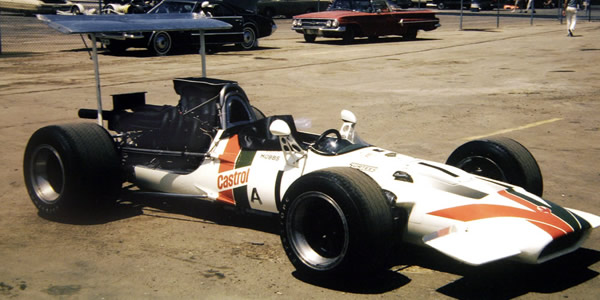 The car now known to history as the Surtees TS5 began life as a project designed and built by Len Terry's company for Roger Nathan. Once taken over by James Garner and John Surtees, it became the TS5 and after a difficult start, became one of the fastest F5000s of 1969.
Late in 1968, Roger Nathan announced that he would be entering the new Formula 5000 with a Len Terry designed car. Terry started the design but the project soon changed hands as James Garner's AIR team needed a car for US Formula A and did a deal with John Surtees' fledgling operation to take over and manufacture the Nathan-Terry project. The first four cars were built at Len Terry's Design Auto workshops in Poole with later cars being built at Surtees' base at Slough and then at the team's new premises at Edenbridge in Kent.
According to John Surtees autobiography, he originally just acted as an agent between Len Terry and James Garner. Just five cars were to be built with two to be run by Team Surtees in the 1969 UK series and two by Garner in the US series. Garner, with partners John Crean and Don Rabbit, had struck a deal with AMC to provide engines.
The car was rechristened the TS5 presumably for Terry-Surtees-5000, with the planned US cars being called Garner TS5. A prototype was tested in England by AIR driver Scooter Patrick during the winter and at the end of March 1969, Garner announced that his AIR team would be selling their Lola T70 Mark 3s and their new Can-Am Lola T162s to concentrate on the two-car TS5 Formula A team of David Hobbs and Scooter Patrick. However, the engines were behind schedule and when AIR's first two cars arrived, in the middle of March, they had to be fitted with Chevrolet V8s. A four-day test was organised at Riverside 14-18 April with team drivers Patrick and Dave Jordan but both cars suffered suspension failures and Crean decided to terminate the relationship with Surtees and commission Dan Gurney to build Eagles instead. Shortly after this, AMC pulled out and the whole project dissolved.
With three or four cars now complete and a fifth on the way, Surtees continued with the project, running a pair of TS5s in the UK and another pair in the US as Team Surtees entries. The car soon became known as the Surtees TS5 and after early successes with the works cars, Surtees put the TS5 into production and soon made his first sale, Mike Goth buying the freshly-completed fifth car. However, only two more were built and the only sales were of second-hand cars in the US. One of these was to Garner who had parted company with AIR in August 1969 and ran a TS5 for Scooter Patrick.
Thanks to Chris Townsend, Dave Jordan, Mark Harmer, Wolfgang Klopfer, Al Moore, Jeremy Jackson, David McKinney, Pete Stowe, Ian Hebblethwaite, Anthony Smith, Eli Solomon, Rob Fischetti, Hamilton Vose III, Andrew Sleutjes, Todd Hankinson, Franz Guggemos, Chris Novatny, Wouter Melissen, Hugo Becker, Kelly Holtzclaw, D David France, Jim Bandy, Warwick Mortimer, Frank Mayer, Rob van Westenburg and Didier Mantz. All and any help would be gratefully received. Please email Allen at allen@oldracingcars.com if you can add anything.
Chassis
History
Current owner
Surtees TS5A
The 1970 development of the TS5, dubbed the TS5A, appears to have only very minor changes. Motoring News (4 Dec 1969 p14) mentions only "revised front and rear suspension, simplified fuel and oil systems, increased braking efficiency, new magnesium steering rack, chassis mods, choice of Hewland LG500, 600 or DG300 gearbox plus many other detail modifications to improve efficiency and maintenance". A bragging war was going on with Trojan, who had stated their intention to build 50 M10Bs (they didn't manage half that) so Surtees said the initial batch of 15 TS5As "will probably be increased" and Autosport, the same week, said that 15 firm orders had been received from the US. Coverage of the TS5A in the UK specialist press was minimal and when it was mentioned in Autosport (4 Dec 1969 p2), there was no picture and Trojan had bought the facing page for a M10B advert. Between seven and ten TS5As appear to have been built.
In December 1969, Hamilton Vose III formed Royal American Competition Enterprises in Chicago and RACE were appointed mid-western importer of the new TS5A. Vose bought both of Team Surtees' 1969 US cars and was said to have three TS5As on order but Vose told the author in 2005 that he did not buy any TS5As. Fred Opert also ordered a car for John Gunn, and Gregg Young ordered a car, but the only other US order came from Mike Goth who traded his for a Lola T190 before it even raced. The only UK customer was Irish Racing Cars for Alan Rollinson.
At the end of the 1971 season, Alex Blignaut did a deal with Team Surtees to buy a pair of old TS5As. These were TS5A/007, the 1970 Hobbs US car used only for a hire deal in 1971, and the ex-Rollinson/Trimmer TS5A/008. Both were fitted with Ford engines for South Africa. With 001 and 009 having been wrecked, all the other surviving TS5As were in the US.
Chassis
History
Current owner
The UK cars in the US in 1969
During the 1969 season, the Team Surtees cars disappeared one by one from the British championship and popped up in the US series. However, as we know two TS5s had been at Riverside testing in mid-April, it is difficult to be certain about the movements of the first four TS5s. The histories below show the most likely usage of the cars, but only very detailed photographs from every race would allow this to be verified.
Chassis
History
Current owner
Team Surtees for David Hobbs US 1969 (from R6 Elkhart Lake 20 Jul): seven races, wins at Donnybrook, St Jovite and Thompson. Then sold to Hamilton Vose III of RACE for the remaining Canadian and US races of 1969 (debut Mosport Park Canadian R9 14 Oct 1969; also raced at Sebring US R13 28 Dec 1969).
Reports at the time say that RACE bought one or two new TS5As for 1970 but Hamilton Vose recalls only the two ex-works cars. If he is right, this, or its sister ex-de Adamich car would be the one used by Vose in US 1970? If so, the 2-speed automatic at Riverside April 1970 (CP&A 23 May 1970 p5). Crashed at Sears Point June 1970 and sold, still damaged, to Ken Kloster.
Driven by: David Hobbs and Hamilton Vose. First race: Road America (US R6), 20 Jul 1969. Total of 10 recorded races.
Team Surtees for Andrea de Adamich US 1969 (from R9 Mosport Park 23 Aug 1969): four races: best result second place at St Jovite behind Hobbs. Sold to RACE and driven by Rick DeJarld at Sebring in December. Advertised by Richard L. DeJarld (Joliet, Illinois) in March 1970 as "Former De Adamich car, identical to Hobbs' winner, 6 races only". According to Hamilton Vose, he did not buy new TS5As for 1970 so this car would have to be the John Martin "TS5A" in 1970.
Presumably then the complete car sold to Ken Kloster.
Driven by: Andrea de Adamich and Dick DeJarld. First race: Mosport Park (US R9), 23 Aug 1969. Total of 5 recorded races.
Trevor Taylor made a one-off appearance in the US series, driving a white TS5 at Sebring in late December 1969. Given what we know about the movements of 001 (a red car by then with James Garner's Cherokee Racing), 002 (white, but sold to South Africa for 1970), 003 and 004 (probably the two cars sold to Hamilton Vose's RACE operation), 005 (with Mike Goth) and 007 (a dark blue car new for Hobbs at Sebring), this car is almost certainly chassis 006.
This is then likely to have remained in the US, so would probably be the car raced by Sherwood Johnston in 1970.
Driven by: Trevor Taylor. First race: Sebring International Raceway (US R13), 28 Dec 1969. Only one recorded race.
1970
Also, four new TS5 combinations appear in 1970: Sherwood Johnston (from R1 Riverside 19 Apr) and Lou Sell (in Ozzie Pohl's TS5/001) joining Fred Philips in TS5/005 and Robert Fischetti in TS5/007. As five or six TS5s appear to have remained in the US and as Vose appears to have still had 003 and 004 in 1970, it would seem likely that Johnston's car must be chassis 006.
Chassis
History
Current owner
Jeffrey Kallenberg (Shreveport, LA) advertised a TS5 on 7 Nov 1970. This is very probably Phillips' TS5/005 as Phillips was also from Louisiana and his company, Phillips Energy Inc, is based in Shreveport.
1971
Of the six 1969 TS5s that appear to have been racing in 1970 (those of Vose, Martin, Phillips, Fischetti, Johnston and Pohl), Pohl kept the 001 he had recently bought from Harvey Lasiter, Vose's 003 was wrecked, the second Vose car (now thought to be 004) went to Ken Kloster, Phillips' 005 went to Chris Cook, and Fischetti's 007 was retained, so only Johnston's (thought to be 006) disappears at this point.
Only two TS5As had appeared in custoemr hands in the US in 1970: the Opert/Gunn car had been wrecked, and the Young/Gunn 006 went to Bill Johnson for 1971. The other claimed TS5A sales, Mike Goth's along with an unknown number of RACE cars, did not appears in 1970 or in 1971.
Just one new mystery appears: Nick Dioguardi's "TS5B". Dioguardi was based in Los Angeles, close to the homes of Harvey Lasiter, Doug Hooper, Lou Sell and Micky Fowler, but he cannot have been driving TS5/001 as he appears in the same race as Ozzie Pohl at Riverside in April 1971. As Dioguardi's first known outing was at Phoenix, he seems likely that he was there picking up Sherwood Johnston's TS5-006, based nearby in Scottsdale.
Chassis
History
Current owner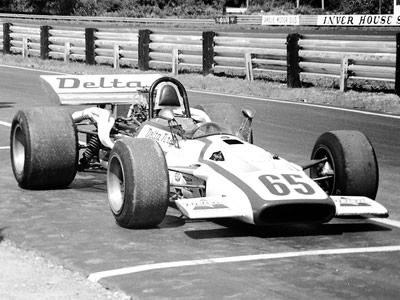 Nick Dioguardi (Glendale, CA) acquired a Surtees TS5 late in 1970. He entered the car for the SCCA Runoffs in November, having qualified in a WRE, but did not arrive. Dioguardi raced the car in SCCA Nationals in early 1971, winning the FA class at Phoenix 28 Feb 1971, and finishing second at Willow Springs 14 Mar. He qualified for the Runoffs but retired. He also ran the car in all eight races of the 1971 Pro series. Retained for SCCA Nationals in early 1972, winning at Phoenix 27 Feb, and also appearing at Riverside earlier in February and at Holtville Aerodrome in March. Subsequent history unknown, but likely to be the car driven by Stuart Forbes-Robinson in southern California later in 1972.
Dioguardi died in his native Alia, in Italy, in May 2015.
Driven by: Nick Dioguardi. First race: Phoenix International Raceway, 28 Feb 1971. Total of 17 recorded races.
Ken Kloster (Toledo, OH) acquired two Surtees from Hamilton Vose in exchange for Kloster's Ford GT40 (chassis 1061), one of which was damaged from Vose's accident at Sears Point in June 1970. He raced one of these cars but only briefly as he crashed heavily in practice on his first 'Pro' F5000 appearance, at Mid-Ohio 5 Jul 1971. He ran off the course during ther Monday morning session "into dense trees" and was "hospitalised overnight with a broken shoulder and a 'slight broken neck'".
All Kloster's material was later sold to Howie Fairbanks.
Driven by: Ken Kloster. First appearance: Mid-Ohio (US R4), 5 Jul 1971.
1972
It is still possible to track the known US TS5s and TS5As into 1972. Of the six TS5s in the US, Pohl's 001 went to Micky Fowler for 1972, Vose's 003 had been wrecked, the second Vose car (presumably 004) was still with Ken Kloster, Chris Cook still had 005, and Fischetti had retained 007. The missing car is 006, possibly the car Sherwood Johnston had raced in 1970, and thought to have gone to Nick Dioguardi for 1971. Of the US-based TS5As, Bill Johnson's 006 was not seen in 1972 but is likely to have stayed in Missouri as it was later sold to Fred Stout, and the Opert/Gunn car had been wrecked. We now know that there was also an unraced TS5A-010 still with Hamilton Vose's RACE.
Of the earlier mystery cars, Dioguardi retained his car in California for the first few races of the 1972 SoCal season but it appears that it went to Stuart Forbes-Robinson later in the year.
Chassis
History
Current owner
Stuart Forbes-Robinson (Huntington Beach, CA) US 1972 (3 races); SCCA Nationals 1972 (won at Willow Springs 17 Sep, DSQ at Phoenix 1 Oct; Southern Pacific Division: 5th with 9pts). SFR's own recollection was that "I bought it from Sam Winston and picked it up at Sam Posey's house in Dana Point, CA" but it now looks like he's remembering his later TS8, not this TS5.
Ed Pitz' report on the July 1972 Riverside Regionals for The Wheel said that SFR won the F/SCCA race in "his ex-Dioguardi FA Surtees" but the results of that race show Micky Fowler winning the race, not SFR. Either way, one of them had the ex-Dioguardi car. As we can now be confident that the Fowler car was the ex-Pohl TS5/01 that then went to D. David France, it must indeed be the ex-Dioguardi car that SFR is racing.
Forbes-Robinson did not continue in Formula A in 1973, and when he next raced in the category in 1974, it was in a newer Surtees TS8. The subsequent history of the TS5 is unknown.
Driven by: Stuart Forbes-Robinson. First race: Road Atlanta (US R6), 20 Aug 1972. Total of 5 recorded races.
Unknown
1973
Two TS5s appeared in 1973, one just in an advert but the other was the ex-Micky Fowler TS5/001, already a stalwart of Southern California local racing which was moving its activites to the north of the state where it was driven by intrepid novice D. David France.
Chassis
History
Current owner
John C. Hancock (Austin, TX) advertised a TS5 in Autoweek 14 Jul 1973. Nothing more known.
Austin is the nearest major city to Holland, TX, where Chris Cook's TS5-005 was based in 1971 and 1972.
Unknown
1975-1979
Two old Surtees appeared in 1975 but little was seen of either. One was the ex-Bill Johnson TS5A/006, now being raced by Fred Stout; the other Howie Fairbanks' ex-Kloster car which was entered for the Runoffs at the end of the season. Stout wrecked his car, but Fairbanks continued to race his car through to the end of the 1979 season.
Much later than this, at a MIlwaukee Region drivers' school in May 1979, Joseph T Jezierski Jr drove a Surtees TS5A. It is not at all clear which car he could have had.
Chassis
History
Current owner
Howie Fairbanks (St Paul, Minnesota) bought all Kloster's remaining Surtees parts through his company Lightweight Engineering. Howie's recollection was that Kloster had both TS5/003 and TS5/004 from Vose, and that it was TS5/003 that he crashed. Included in the parts Fairbanks acquired was a TS5 with no outer skins.
Fairbanks rebuilt the car to replace the 1969 McLaren M10A he had been using in SCCA Formula A and entered it at the 1975 Runoffs at the end of 1975, but actually raced the McLaren. He then used the Surtees in the SCCA FA class in 1976, 1977, 1978 and 1979. In 1980, Fairbanks sold the car to Richard Smith (Minneapolis, MN).
Nothing else known until sold by Porsche specialist Bruce Canepa (Santa Cruz, CA) to Jim Gallucci (Danville, CA). Then via InvestCar.com to Mark Harmer (Troy, MI) September 2001.
Using the SCCA number stamped on the roll bar, Harmer was able to trace the car back to Howie Fairbanks. Harmer tried to track down Ken Kloster, but was unsuccessful. Apart from the SCCA number, Mark reports that "The only other distinguishing marks on the car are the numbers stamped into the rear of the chassis and the rear crossmember, 004A".
It is still unclear whether this car is the car Kloster crashed at Mid-Ohio or was it the wreck from Vose's accident at Sears Point the year before. As Kloster bought two RACE cars, it would seem likely that this is TS5/004, the car used by de Adamich in the US in 1969 and then by DeJarld and then, presumably, John Martin in 1970. This matches its "004A" marking. However, that means that the two "TS5As" campaigned by RACE in 1970 were actually just the ex-works TS5s from 1969.
Retained by Harmer (Troy, MI) in 2009. Raced at Road America July 2013. Raced at the HAWK at Road America in July 2015 and at the Monterey Pre-Reunion a month later. Raced in the SVRA US Vintage GP at Watkins Glen in September 2016, and at Road America in July 2017. Raced at VARAC Mosport Park 16-17 June 2018, and the WeatherTech International Challenge at Road America in July 2018.
Driven by: Howie Fairbanks. First race: Road America, 6 Jun 1976. Total of 9 recorded races.
Mark Harmer (USA) 2018
The later mystery cars
Chassis
History
Current owner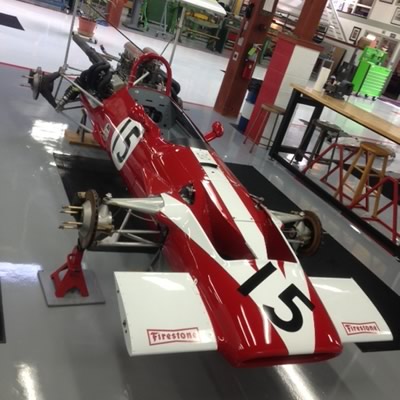 Jack Thompson (Philadelphia, PA) bought a TS5 or TS5A from Bill "Murph" Mayberry's Car Care Co. at Lime Rock in the 1980s. Todd Hankinson, who looks after the car, found three paint schemes while restoring it: an original all-white scheme, then "a black bottom with candy red top and yellow pinstriping", and finally "light baby blue" over that. The car has a "TS3" marking which may imply it was TS5/003. If TS5/003 was originally an AIR car, the white paint would match. However, that should have red paint over it from when it was driven by Hobbs or De Adamich later that season. Research continues.
The restoration continues and by October 2013 Todd reported it was 95% complete.
Jack Thompson (USA) 2013
Other sources include a feature on the TS5 in Autosport (6 Nov 1969 pp22-23), the F1 Register's F5000 books, Autoweek's classified columns and Autosport's 1971 season review (6 Jan 1972 pp7-13).
These histories last updated on .