Surtees TS15 car-by-car histories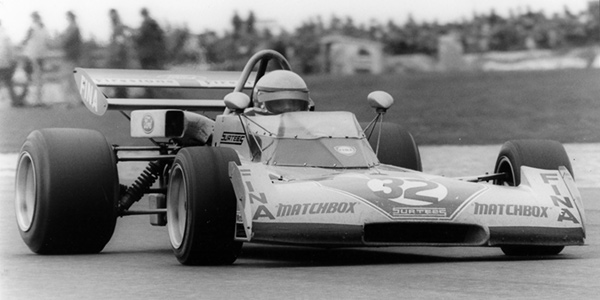 The Formula 2 Surtees TS15 was a development of the championship-winning Surtees TS10. Jochen Mass won two races and finished second in the championship.
Although outwardly similar to the Surtees TS10, the new TS15 had a new monocoque, new rear frame and "slightly revised" suspension. After 500 miles of testing at Brands Hatch and Goodwood, the prototype was taken to South America in October 1972 for the Brazilian F2 Torneio, where local driver Carlos Pace was entrusted with its first race. Brian Hart's new alloy Ford BDA, only just homologated, was fitted to the car but engine problems meant that he managed only two laps of the first race. At the second race, having qualified third using a 1850cc iron-block unit, the alloy engine was fitted for the race and Pace took the lead from the start of Heat 1 and led every lap to to finish. Emerson Fittipaldi led Heat 2 in his Lotus 69, but Pace passed him at the start of lap 3 and again won comfortably. It was an excellent start for both chassis and engine.
The prototype car was then sold to David McConnell for 1973 and a further half a dozen production cars were built for the start of the 1973 season: two works cars, TS15/02 and TS15/03, then four customer cars for Graeme Lawrence, Hesketh Racing, Peter Wardle and Bob Gerard. However, after that, the numbering is harder to follow. The next car to appear was chassis TS15/09, leaving TS15/08 a mystery until it appeared unexplained in 1974. Then, after 09, the next car to appear was TS15/12, leaving TS15/10 and TS15/11 also mysteries. These two cars are probably explained by the monocoque that was needed to rebuild the Hesketh car after a shunt at Goodwood and the car built for Andrea de Adamich but not used after he left Surtees for Brabham following a row between his sponsor and John Surtees. That car was raced in 1974, but its chassis number was not mentioned.
Jochen Mass led the Matchbox/FINA works team in1973, winning two races, finishing second in three more, and taking second place in the championship. The second works car was driven by Surtees' two F1 drivers Mike Hailwood and Carlos Pace when they were available, and on other occasions by Derek Bell, Torsten Palm, Willy Braillard and José Dolhem. The private TS15 owners in Formula 2 did not last the season, Hesketh moving up to F1 and McConnell retiring.
If you can add to our understanding of these cars, or have photographs that we can use, please email Allen at allen@oldracingcars.com.
Chassis
History
Current owner
The unknown cars
When the season ended, Team Surtees had used TS15/02, TS15/03, TS15/09 and TS15/12 during the season. Of these TS15/02 had last been seen at Enna where it had been described as a development car, TS15/03 had been badly damaged at Monza in June, TS15/09 had been used by just about everybody during the year and was intact when last seen, and TS15/12 had been Mass's regular car in the latter part of the year but had been damaged in the final race. Also somewhere at the factory was the car built for Andrea de Adamich but not used.
In November, a Surtees TS15 appeared in Japanese 2000cc racing, entered by Niscait Racing. This could have been a new car, so perhaps chassis TS15/14, or could have been an ex-works car, as Team Surtees started the 1974 season missing at least one of the cars used in 1973. As we will see, Team Surtees in 1973 had the ex-de Adamich car and an "ex-Mass" car, most likely TS15/12, and had also lost a car in a fire, but that still leaves TS15/02 or TS15/09 as a car that could have been sold to Japan.
Chassis
History
Current owner
Takashi Yorino is listed in results of the JAF Grand Prix at Suzuka in November 1973 driving a Surtees TS15, entered by Niscait Racing. The same team then entered the Surtees TS15 that Matsuaki Sanada drove at Suzuka in May 1974. By this time the car was in Niscait livery, with Niscait Racing Project on the nose. Nothing more known.
Driven by: Takashi Yorino and Matsuaki Sanada. First race: Suzuka (R4), 11 Nov 1973. Total of 2 recorded races.
Unknown
Surtees TS15s in 1974
Surtees' only customer production for 1974 consisted of three Surtees TS15As for Ron Dennis's Ortega Ecuador Marlboro Team, all of which used Schnitzer BMW engines. The Surtees works team started the season with one of the 1973 Hart-engined TS15s for John Watson, and this TS15 passed to José Dolhem as a second Team Surtees entry at Pau where Watson had a new TS15A-BMW. Dolhem drove the TS15 again at Salzburg, where he was running in second place until the car struggled to pick up the last of its fuel on the final lap. Dolhem then went off in his "usual" TS15 at Rouen, and at the next race, at Mugello, he was said to be in "the ex-Mass TS15". So was this the same car he and Watson had used since the opening race, in which case it was likely to be Mass's end-of-season TS15/12, or had he swapped his car after Rouen? Also at Rouen were two more TS15s intended for two young and inexperienced Belgians, Pierre Dieudonné and Bernard de Dryver, both nominated by Surtees' important new sponsor Bang & Olufsen. Just as practice was beginning, John Surtees announced from England that neither would be allowed to drive due to their lack of experience, humiliating the drivers, and greatly annoying the sponsor's key director, who happened to De Dryver's father. As a result of their departure, Watson was allocated one of the cars, described as the "ex-Andrea de Adamich" car, as a T-car at Rouen and then his race car at Mugello two weeks later. The identity of the fourth TS15 at Rouen car was not mentioned.
On 14 August, six weeks after the Rouen fiasco, Bang & Olufsen announced that the company was terminating its sponsorship arrangement with Surtees. A day later Surtees announced that it had terminated its arrangement with B&O due to "non-compliance with their contractual financial obligations" and would be issuing a writ. The F2 Surtees had one more race appearance, at Enna on 25 August, where they carried Matchbox and FINA livery, and were not seen again. With Carlos Pace having walked out of the F1 team in late June and taken a drive at Brabham, Jochen Mass also now departed, for McLaren, the price of his escape being a statement of his adoration for John Surtees issued from Edenbridge. Derek Bell managed to extract himself with less ritual, leaving Dolhem to be promoted to the F1 team for the North American races.
There was no Surtees F2 team in 1974, and both of the Team Surtees TS15A-BMWs stayed at the factory until they were hired by Space Racing for a couple of Austrian drivers in August 1975. The fate of the team's three or four TS15s is less clear, the only one that can be clearly identified being the one acquired by Francy Jerancic. Another one or two could have been sold to Japan, where two Hart-engined TS15s ran alongside each other at Suzuka on 8 September, just two weeks after the Surtees F2 team's final appearance in Europe. One of these must surely be the Niscait Racing car from earlier in the year, and as It seems unlikely that Kojima would buy Niscait's second-hand car, it is likely that the Niscait car went to Jiro Yoneyama and that Kojima had bought one of the works TS15-Harts used at Enna.
Chassis
History
Current owner
José Dolhem raced a Surtees TS15 at Mugello in July 1974 that was described by Autosport as "ex-Mass", implying it was chassis TS15/12. It is not clear whether this is the same car Dolhem used at earlier races, as that car had been described as "TS158", implying it was chassis TS15/08. This car was next seen at Enna in August, the team's final outing, where it was used by Watson in practice, damaged, and repaired in time for Dolhem to race. Nothing more known.
Driven by: José Dolhem and John Watson. First race: Mugello (R6), 14 Jul 1974. Total of 2 recorded races.
Unknown
Kojima Engineering entered a Hart-engined Surtees TS15 at three Japanese F2 races in late 1974, the first being on 8 September, just two weeks after the Surtees team's last appearance in F2 in Europe. Drivers were Masahiro Hasemi, who won first time out, and Kazuyoshi Hoshino. The team used March 742s from then on, so it is likely the Surtees was sold on.
Driven by: Masahiro Hasemi and Kazuyoshi Hoshino. First race: Suzuka (R2), 8 Sep 1974. Total of 3 recorded races.
Unknown
Jiro Yoneyama raced a Hart-engined Surtees TS15 in Japanese F2 from September 1974 until November 1977. The car was entered by Jirou Motor Racing in 1974, Hickok Racing Team in 1975, Jirou Motor Racing again in 1976, and then Hickok Racing Team again in 1977. Nothing more known.
Driven by: Jiro Yoneyama. First race: Suzuka (R2), 8 Sep 1974. Total of 17 recorded races.
Unknown
Surtees TS15s from 1975 onwards
As Jiro Yoneyama used his TS15 from 1974 to 1977, it is likely that the TS15 raced in Japan by Kunimitsu Takahashi was the ex-Kojima car.
Note that the J-C Pace car, although thought to be a TS15, is currently listed on the Surtees TS15A page as it fits better together with the other cars that appeared in French hillclimbs.
Chassis
History
Current owner
Kunimitsu Takahashi raced a Surtees TS15 at Fuji in May 1975, where it was described as a being BMW-engined and was entered by Sakai Racing Team. When Takahashi next appeared in the Surtees at Suzuka three weeks later, it was said to have a Hart engine and the entrant was Racing Shop Yatsuka. A TS15 was entered by Racing Shop Yatsuka at six more races from 1975 to 1977, driven by Tetsu Okada. Nothing more known.
Driven by: Kunimitsu Takahashi and Tetsu Okada. First race: Suzuka (R2), 25 May 1975. Total of 5 recorded races.
Unknown
John Burke (Eastleigh, Hampshire), the brother of John Surtees' wife Pat, acquired a Surtees TS15 in 1976, and it was raced in 1976 and 1977 by Jim Ravenscroft (Basingstoke, Hampshire) in libre events and in the ShellSPORT Group 8 series. Peter Hulme, who was involved in Ravenscroft's campaign, thinks it came directly from Surtees. It was run in the yellow colours of Burke's plant hire company. Nothing more known.
Driven by: Jim Ravenscroft. First race: Silverstone, 25 Sep 1976. Total of 7 recorded races.
Unknown
In addition to the above, unknown Surtees TS15s were driven by Kikuo Kaira and Kevin Taylor.
Acknowledgements
My thanks to Chris Townsend for his early work on this subject, to David McKinney, Michael Ferner, Philippe Demeyer, Crispian Besley, Peter Hulme, Francesco Turatello, Matteo Tullio, John Bladon, Jeremy Wheatley and Chris Willie for their help, and to Gerard Barathieu for interviewing Jean-Claude Pace and Christian Drouet. Particular thanks to Ted Walker for providing so many excellent pictures of the cars being raced in 1973 and 1974.
If you can help in any way, please email Allen at allen@oldracingcars.com.
These histories last updated on .