Surtees TS15A car-by-car histories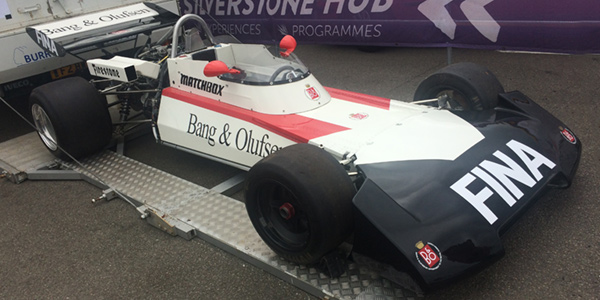 The 1974 Formula 2 Surtees TS15A was a development of the 1973 car to use BMW engines. Three were built for Ron Dennis's new F2 team, and another two followed for the works team.
Ron Dennis had run the Motul-Rondel F2 team in 1973 with partner Neil Trundle, but this collapsed after 1973 and the F2 cars and the unfinished F1 project were both sold. Dennis struck out on his own and set up a new F2 team to run two largely unknown South American drivers with sponsorship from Marlboro Ecuador. The lead driver for the team was Guillermo Ortega, who had secured the Marlboro money through his personal connections, and the second driver was initially Fausto Merello, but it soon became clear that he was out of his depth and he stepped down. Dennis bought three new Surtees TS15As, an updated version of the 1973 TS15 which is distinguished by more upright and rounded cockpit bodywork, TS16 rear suspension with twin parallel links and taller uprights, and the replacement of Hart engines with BMW units. Dennis brought in Tim Schenken to drive the third car, the Australian F1 Trojan driver replacing Emerson Fittipaldi who had been rumoured to have accepted the drive. Rolf Stommelen also drove this car in practice at Hockenheim but withdrew when he saw how much faster the works March 742s were. When Merello stepped down, Reine Wisell took over his car at Karlskoga in August, only to comprehensively wreck it during the race.
Meanwhile, Team Surtees built a further development, called the Surtees TS15 EXP or TS15X, for John Watson to drive. This had a works-prepared BMW engine, and the radiator mounted across the back of the car low down below the rear wing, which allowed a smoother nose. The Surtees F2 team was due to be run by Chris Witty, but he left the team in April, just a week or so before the EXP was revealed. Watson had started the season strongly in a TS15-Hart but struggled with the EXP. Derek Bell drove the EXP at Hockenheim as Watson was busy with the Hexagon Brabham at the Swedish GP, and he commented that the handling was good but the engine was poor. Watson preferred to use a 1974 TS15-Hart at the next couple of races, and the EXP was still largely unsorted when the F2 team was closed down in August. José Dolhem got a new BMW-engined car for the team's final race at Enna, presumably a TS15A, but crashed it in practice.
If you can add to our understanding of these cars, or have photographs that we can use, please email Allen at allen@oldracingcars.com.
Chassis
History
Current owner
New for the Ortega Ecuador Marlboro Team run by Ron Dennis in 1974, driven in F2 races by team principal Guillermo Ortega. Ortega struggled during 1974, and failed to qualify four times. His TS15A was sold to Gerd Biechteler (Klotten, Rhineland-Palatinate, West Germany) and used in German and Austrian F2 races in 1975. Then raced by Norbert Przybilla (Klotten, Rhineland-Palatinate) in hillclimbs in 1976, 1977 and 1978. In 1977, the car was entered by Benedikt Müller (Osterspai, Rhineland-Palatinate), and at least once it was entered as a "Surtees Toj", suggesting Jörg Obermoser's Toj sports car firm had been involved with it. Przybilla continued to appear in German events in 1979, but now with a Toj SC03 in the 2-litre sports car class, and also with a "Toj" in the F2 class. The last known appearance in the Surtees was at the ADAC-Eifel-Bergpreis in October 1979. This car was advertised for sale from Freidorf, Switzerland in June 2019, when it was said to be chassis 001, formerly driven by Norbert Przybilla, and with Toj bodywork.
Driven by: Guillermo Ortega, Gerd Biechteler and Norbert Przybilla. First race: Hockenheim (R2), 7 Apr 1974. Total of 29 recorded races.
Unknown owner (Switzerland) 2019
New for the Ortega Ecuador Marlboro Team run by Ron Dennis in 1974, driven in F2 races by Fausto Merello. Merello was dropped after failing to qualify four times in succession, and the TS15A was raced by Reine Wisell at Karlskoga, but was wrecked during a race accident. Not seen again. As Ron Dennis only advertised two TS15As in January 1975, this one was presumably scrapped.
Driven by: Fausto Merello and Reine Wisell. First race: Hockenheim (R2), 7 Apr 1974. Total of 2 recorded races.
Wrecked 1974
New for the Ortega Ecuador Marlboro Team run by Ron Dennis in 1974, driven in F2 races by Tim Schenken, starting at Pau in May. Also raced by Rolf Stommelen at Hockenheim in June. The Ecuador team was disbanded after 1974, and this car was sold for 1975 to Yves Courage who ran it in French hillclimbs. He made his debut at Poissons in August, where the gearbox broke, and then raced the car almost every weekend to the end of the season, taking two second places and three wins. The car was twice identified as "ex-Schenken" by Echappement during this period. Courage bought a new Lola T450 for 1976, and the Surtees went to "Pat Shadock", in exchange for his ex-Coupe Simca Grac MT20 sports car. He raced the Surtees in March, April and May 1976, and then was not seen again until an outing in August. "Pat Shadock" recalled to Gerard Barathieu in 2021 that he loaned the car back to Courage for at least one event towards the end of 1976, so this would be the car Courage used for four events after he wrecked his brand new Lola T450 at Sancerre in June. "Pat Shadock" advises that he owned the Surtees for a couple of years and it was then sold via an intermediary to a Swiss collector. Subsequent history unknown.
Driven by: Tim Schenken, Rolf Stommelen, Yves Courage and "Pat Shadock". First race: Pau (R3), 5 May 1974. Total of 24 recorded races.
Unknown
The works Surtees TS15As in 1974
As well as building three TS15As for the Ortega Ecuador Marlboro Team, Surtees ran two BMW-engined works cars in 1974, but it is by no means certain whether they were new cars or revamped TS15s.
Chassis
History
Current owner
An experimental Surtees TS15 various described as the EXP or TS15X or "Exp 2" and driven by John Watson in F2 in 1974. It was also driven by Derek Bell at Hockenheim in June. It appears to have been one of a pair loaned to Space Racing in 1975 for Hans Meier, but he wrecked the "ex-Watson" car in practice at Zolder and was unable to take over the second car as it had not been through scrutineering. He then failed to qualify for the next two races in the "ex-Watson" car. John Woodington of Space Racing recalls that both cars were returned to John Surtees after the season. Subsequent history unresolved.
Driven by: John Watson, Derek Bell and Hans Meier. First race: Pau (R3), 5 May 1974. Total of 5 recorded races.
Unknown
In June 1974, a Surtees TS15A was taken to the Rouen F2 race to be used by Pierre Dieudonné or Bernard de Dryver. It was described as being "ex-De Adamich", so was presumably the car built for De Adamich in 1973, but left unused after a disagreement between his sponsor and John Surtees led to De Adamich moving to Brabham. At Rouen, a further diagreement between John Surtees and a sponsor, in this case Bang & Olufsen, meant that Dieudonné and De Dryver were not allowed to even sit in their cars, and the "ex-De Adamich" car became John Watson's T-car at that race. Watson found he preferred it, and raced it instead of the TS15 EXP-BMW at Rouen and at the next race, at Mugello. It is then likely to be the BMW-engined Surtees TS15A first seen at Enna in August 1974, where it was driven in practice by José Dolhem after his regular Hart-engined TS15 was involved in an accident. The new car had the rear suspension of the Surtees "Exp 2", but a front radiator and BMW engine. Dolhem soon had another accident in the new car, so went back to his regular TS15 for the race. After the Enna meeting, Surtees then withdrew his team from F2, leaving the Ortega Ecuador Marlboro Team to continue separately. In mid-1975, Space Racing hired "both" of the works 1974 cars, so presumably the "Exp 2" raced by John Watson, and this second TS15A used so briefly at Enna by Dolhem. Ewald Boisitz was due to drive the "ex-Dolhem" car at Silverstone at the end of August, but did not go out, after which it was an unused spare at Zolder two weeks later and at the team's two remaining races. John Woodington of Space Racing recalls that both cars were returned to John Surtees after the season. Subsequent history unresolved.
Driven by: John Watson, José Dolhem and Ewald Boisitz. First race: Rouen-les-Essarts, 30 Jun 1974. Total of 2 recorded races.
Unknown
Surtees TS15As in 1975
Both surviving Marlboro Ecuador cars were sold at the end of the 1974 season, Ortega's to Gerd Biechteler for F2 and Schenken's to Yves Courage for French hillclimbs (course de côte). The two BMW-engined Team Surtees works TS15As were loaned to John Woodington's Space Racing for 1975, to be driven by Hans Meier and Ewald Boisitz. The other Surtees to appear in F2 in 1975 was the works Surtees TS15/08 that José Dolhem had driven in 1974, which was acquired by Yugoslavian driver Francy Jerancic for 1975. It should be noted that all the cars that appeared in F2 in 1975 required deformable structures fitted to the sides, and these can be seen on the cars driven by Meier and Jerancic in 1975.
The two ex-works TS15As were returned to the factory at the end of 1975 and what happened to them remains unclear, but there is evidence to suggest that one went to Yves Courage as a replacement for his ex-Schenken TS15A, and the other went to Surtees employee Paul Reeves.
Surtees TS15As in French hillclimbs
Yves Courage had bought one of the ex-Ecuador team Surtees TS15As for 1975, and a cursory examination of French hillclimbs results in the years that followed suggested that this car went to "Pat Shadock" for 1976, then came back to Courage for late 1976 and 1977, and then went to Germain Drouet for 1979. However, it really was not that simple. As well as Drouet's TS15A in 1979, there was also a Surtees TS15 driven by J-C Pace, who appeared at many of the same events as Drouet. When contacted by Gerard Barathieu, both Drouet and Pace confirmed that their cars were quite separate, and had both come from Courage. Furthermore, "Pat Shadock" told Barathieu that his car had been sold to Switzerland, implying that it was not either the Drouet car or the J-C Pace car. As far as can be determined, Courage had bought one or two further Surtees TS15s or TS15As from the Surtees factory in time for the 1977 season. As the car he raced in 1977 had deformable structures - which were not required in course de côte at this time - it seems likely that his 1977 car was one of the two 1974 works TS15As that had been loaned to Space Racing in 1975. He may have also acquired the second car, but bear in mind that one or possibly both of these works TS15As may have been an older TS15 updated to TS15A bodywork.
At present, it can be seen from photographs that the car driven by Courage in 1977 shared features with the works TS15As in 1975, most notably the deformable structures and the engine header tank which was a different shape to that on the 1973 TS15s and also to the 1974 Ecuador TS15As. That 1977 Courage car then shares features with the J-C Pace car in 1979, including a metal panel around the header tank which was secured to the rollhoop using jubilee clips, and those features can be traced via the Monte Shallet car through to the car owned by Chris Willie today. However, there are still unexplained differences between the J-C Pace car and Chris Willie's car. Our understanding is far from complete, and efforts continue to resolve all of this.
Chassis
History
Current owner
Yves Courage had ran a Surtees TS15A in French hillclimbs in 1975 and then, after wrecking his brand new 1976 Lola T450, had borrowed that Surtees back from its new owners for a few events in late 1976. For 1977, Courage returned with a Surtees again, but it looked quite different to the Surtees he ran in 1975 and 1976, and it would appear that Courage had returned to the Surtees factory and bought one or two of the cars that Team Surtees had used in F2 in 1975. He raced one of these cars through the whole of the 1977 season, and photographs show that it had deformable structures and an engine header tank that was only seen on the works cars in 1974 and 1975. Courage then bought a Martini MK25 for 1978, and his Surtees was sold, but whether it went to Germain Drouet or J-C Pace is not yet determined.
See the Germain Drouet car and the J-C Pace car.
Driven by: Yves Courage. First race: Hébecrevon, 3 Apr 1977. Total of 14 recorded races.
Unknown
Germain Drouet (Brissac, Occitanie) raced a Surtees TS15A in French hillclimbs in 1978, which was identified by Echappement as "ex-[Yves] Courage". Drouet ran the car in the 1600cc class until 1989, by which time it had been modified with a Martini nose and rear wing. According to an article by Pierre Abeillon, the car was sold to a new owner who took it to Societé IMSA (Industrie Mecanique du Sport Automobile) in Niévroz, Auvergne-Rhône-Alpes, to be restored. After the rebuild, it was used in historic events in 1991 and 1992, where it is thought to have been raced by Remy Née.
See the Remy Née car.
Driven by: Germain Drouet. First race: Pluméliau, 2 Jul 1978. Total of 31 recorded races.
Unknown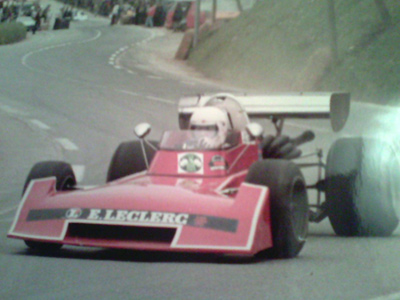 Jean-Claude Pace drove a Surtees TS15 in the 1600cc class of French hillclimbs in 1979. He appeared in five major events, at Charnizay on 8 April, Printemps on 22 April, Hébecrevon on 29 April, La Pommeraye on 17 June, and La Forêt-d'Auvray on 24 June, plus a regional at Saint-Germain-sur-Ille. Gerard Barathieu contacted Pace about the car in 2021, and Pace told him that it was a TS15, not a TS15A, that he had bought it from Yves Courage who had bought it from John Surtees, and that it had originally been Mike Hailwood's car. Pace sold the car to a mechanic Christian Drouet, unrelated to the Germain Drouet that bought Courage's TS15A. Gerard also spoke with Christian Drouet, who told him that he had only used the car in demonstrations and sold it in 1989 to somebody in the Paris suburbs.
Driven by: Jean-Claude Pace. First race: Charnizay, 8 Apr 1979. Total of 5 recorded races.
Unknown
Unresolved Surtees TS15As today
Chassis
History
Current owner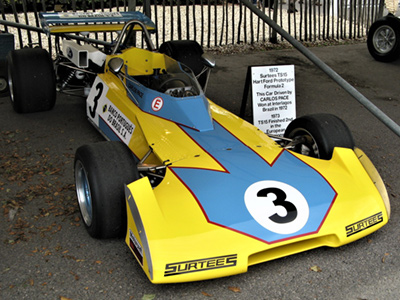 At some point in the late 1970s, when Team Surtees was struggling financially, a TS15 chassis was sold to mechanic Paul Reeves (Grantham, Lincolnshire). This was identified as chassis 'TS15-EXP01'. It was owned by Reeves until November 2000, when he sold it as a rolling chassis to John Bladon. The rolling chassis was held together by an old Hewland Mk 8, but Bladon replaced that with a rebuilt FG400, fitted a suitable Cosworth engine and commissioned suspension and other parts for the restoration. In this form, it was sold to John Surtees in September 2003. Surtees identified the car as the prototype TS15, the car that had won at Interlagos in Carlos Pace's hands in November 1972, and it was restored to that specification. Henry Surtees drove the car at the Goodwood Festival of Speed in July 2009. Also at the Goodwood Revival in 2010 and the Goodwood Festival of Speed again in 2014 and 2017. Also at the Edenbridge Car Pageant and Fun Day in 2013, and The Warren Classic Car Show in Danbury, Essex in September 2017.
Henry Surtees Foundation (UK) 2017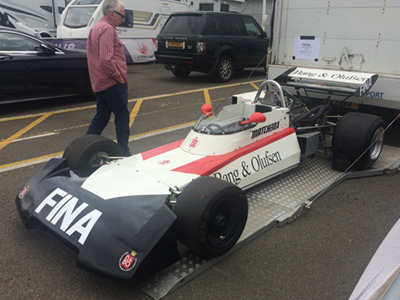 A Surtees TS15 bought by Monte C. Shalett (New Orleans, LA) from Cercle Automobile de Transactions SA (Boulogne-Billancourt, Paris, France) in November 1989. The invoice lists the car as a Surtees TS15, chassis 06, but examination of paint layers showed that it had to be an ex-works car, not Peter Wardle's TS15/06. The car was later at Berlinetta Racing in Metairie, LA, but was at Shalett's home when it was flooded by Hurricane Katrina in 2005, but fortunately the car escaped damage. It was sold shortly afterwards to John Bladon (Castor, Cambridgeshire), who sold it on to Chris Willie (Norton, Gloucestershire). Willie has researched the car in great detail, finding a number of features on the car that convinced him it was the ex-John Watson 'EXP'. A later examination of rivet patterns appears to confirm that identification, but work continues to fully understand its provenance. Willie has restored the car in 1974 Bang & Olufsen livery. Still with Willie in July 2021.
Chris Willie (UK) 2021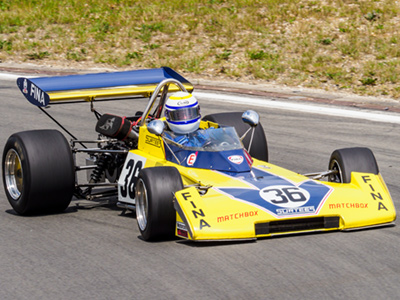 This car is said to have been restored to original specification in 1990, and used in historic racing in 1991 and 1992. It can first be pinpointed when advertised in 1997 by Rémy Née (Lyon), who may have been its owner in 1991. Née sold it to Matthew Read who started a restoration but did not complete it. It was then bought by Jeremy Wheatley who completed the restoration and raced it in HSCC Derek Bell Trophy and Historic F2 events from 2007 to 2017.
Jeremy Wheatley (UK) 2021
Sources and acknowledgements
There are very few times when Autosport or Motoring News mentioned the chassis number of a TS15A, so it must be admitted that these histories are on fragile foundations. Both publications mention that Gerd Biechteler's "ex-Ortega" car in 1975 was chassis 01, and French magazine Echappement added in 1978 that Yves Courage's "ex-Schenken" car was chassis 3. That leaves the wrecked ex-Morello car very likely to have been TS15A/02. The two works TS15As are even harder, and again the only knowledge comes from a 1975 report, when Motoring News referred to the "ex-Watson" "EXP" of Hans Meier as "TS15A/05". That would imply that the other works TS15A, Dolhem's, was TS15A/04 but that identification feels very shakey, given the lack of obvious logic in known TS15 numbers in 1973.
I am grateful to Chris Townsend, David McKinney, Philippe Demeyer, Michael Ferner and Brian Speake for their help putting these histories together from contemporary sources, and thanks also to later owners Francesco Turatello, John Bladon, Jeremy Wheatley and Paul Reeves for additional information. Particular thanks to Chris Willie for sharing his detailed research into the TS15As as he tries to fully understand his own car, and to Gerard Barathieu who located and interviewed many of the drivers of Surtees TS15s and TS15As in French hillclimbs in the 1970s. Thanks also to J-C Pace, Christian Drouet and "Pat Shadock" for the help they have offered Gerard.
These histories last updated on .