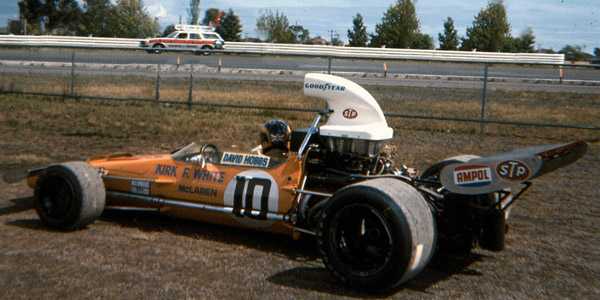 Tasman Cup Formula 5000 1972
Two of the main contenders from the 1971 Tasman, New Zealand's Graham McRae and Australia's Frank Matich, had been McLaren customers who were caught out when McLaren proved incapable of producing a successor to the M10B. Both decided to create their own cars: McRae through partnership with Len Terry's Leda Cars in England, and Matich by building a car that merged his ideas about developing his own M10B with his successful sports car. As well as these two prototypes, Lola, McLaren and Surtees all sent official entries: reigning UK champion and Lola development driver Frank Gardner with the first production Lola T300, reigning US champion David Hobbs in a development McLaren M18/M22, and Mike Hailwood, who had to make do with a rapidly converted F1 Surtees TS9. "Mike The Bike" had been runner up to Gardner in the UK series and had been due to race the new Surtees TS11 but wrote it off in testing.
McRae took pole at the first race, the New Zealand GP, from Gardner and Hailwood, and led until he had to pit to fix a gear selector, leaving Gardner to pull away to win. McRae made amends at Levin, winning from pole with Matich in second place while Gardner crashed heavily, wrecking the Lola and putting him out of the next two races. McRae dominated again at Wigram, with this time Hailwood finishing second, the only driver who could stay on the same lap as the flying Leda. Rain disrupted Teretonga, where both McRae and Hailwood crashed, and Kevin Bartlett won in his McLaren M10B.
Both Gardner and Hailwood had their cars rebuilt on new monocoques for the Australian half of the series, and Matich had revamped his A50. Matich took pole and led at Surfers Paradise, but spun, allowing McRae to go past for his third win of the series, with Gardner second. Matich was unbeatable at Warwick Farm, his home track, winning from Gardner again, and also took pole position for the Australian Grand Prix at Sandown Park. Gardner led at Sandown, but lost fourth gear and McRae swept past to take his fourth victory and clinch a second Tasman championship. Matich then secured his fourth successive pole position in the final round, at Adelaide, but was again unlucky when his gearbox seized and an on-form David Hobbs won in the McLaren.
The races
08 Jan 1972 > New Zealand Grand Prix at Pukekohe
15 Jan 1972 > Levin International
22 Jan 1972 > Lady Wigram Trophy
30 Jan 1972 > Teretonga International at Teretonga Park
06 Feb 1972 > Surfers Paradise '100'
13 Feb 1972 > Warwick Farm "100"
20 Feb 1972 > Australian Grand Prix at Sandown Park
27 Feb 1972 > Adelaide '100' at Adelaide International Raceway
1972 Tasman Cup table
1
Graham McRae
Leda GM1 - Chevrolet V8
39 pts
4 wins
2
Mike Hailwood
Surtees TS9/TS8 - Chevrolet V8
Surtees TS11 - Chevrolet V8
28 pts
3
Frank Gardner
Lola T300 - Chevrolet V8
27 pts
1 win
4
Frank Matich
Matich A50 - Repco Holden V8
22 pts
1 win
5=
Kevin Bartlett
McLaren M10B - Chevrolet V8
20 pts
1 win
5=
David Hobbs
McLaren M18/M22 - Chevrolet V8
20 pts
1 win
7
Teddy Pilette
McLaren M10B - Chevrolet V8
16 pts
8
David Oxton
Begg FM4 - Chevrolet V8
7 pts
9=
Max Stewart
Elfin MR5 - Repco Holden V8
5 pts
9=
Evan Noyes
McLaren M18 - Chevrolet V8
5 pts
11
John McCormack
Elfin MR5 - Repco Holden V8
4 pts
12
Johnnie Walker
Elfin MR5 - Repco Holden V8
3 pts
13
Warwick Brown
McLaren M10B - Chevrolet V8
2 pts
14=
Frank Radisich
McLaren M10C - Chevrolet V8
1 pt
14=
Gary Campbell
Lola T300 - Chevrolet V8
1 pt
Points table from Autosport 9 March 1972 p42, with a couple of minor mistakes corrected.