Matich A50 car-by-car histories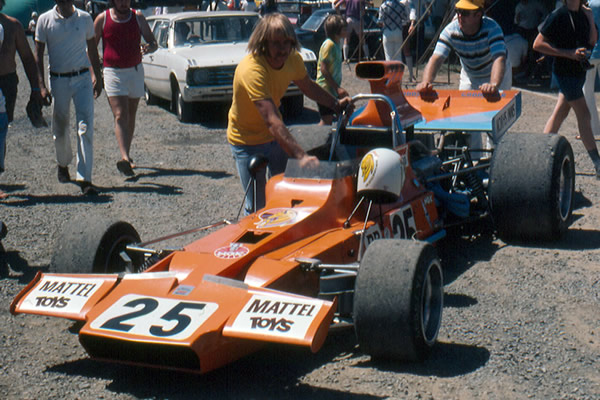 Described by Frank Matich as an open-wheel version of his highly successful SR4 sports car, the Matich A50 dominated Australian F5000 from its debut in November 1971 at the Australian GP, through the Australian rounds of the 1972 Tasman Cup and the 1972 Australian Gold Star series.
Frank Matich had been the first Australian convert to Formula 5000, buying a McLaren M10A in late 1969, and he replaced this with an M10B during 1970, which he fitted with a Repco-Holden engine instead of the usual Chevrolet. After several accidents in the M10B, his team fabricated two replacement monocoques for the car, and developed it into what Matich termed the M10C. The team had also designed and built a series of sports racing cars, the most successful of which had been the SR4 during 1969, so had the expertise necessary to create Matich's own Formula 5000 car in 1971. The Matich A50 was an immediate success, taking pole position at the Australian Grand Prix at Warwick Farm in November 1971, and winning the race handsomely. The New Zealand rounds of the 1972 Tasman were next, where the Matich was not quite a match for Graham McRae's new Leda LT27, but still performed very well. On home turf for the Australian leg of the Tasman series, Matich turned the tables on McRae and took pole position at all four races, although he was only able to win once, at the GP meeting at Sandown Park. He underlined his domestic superitority by winning four of the six races in the 1972 Australian Gold Star. After winning one more race during the 1973 Tasman, Frank Matich built a revised car, the A51, for the 1973 US season.
In addition to Matich's A50, the team built customer cars for George Follmer in the US and for Johnnie Walker in Australia. Although four A50 chassis numbers were used, Matich's "002" was not a new car but was 001 with new paint and some suspension changes made in the four days between the last New Zealand race, at Teretonga, and the first Australian race at Surfers Paradise. Both identities were used on the car thereafter and it is called "001/002" here. A long-running dispute between the car's current owner Bryan Sala and CAMS was resolved in 2013 when the car was issued with a CAMS COD.
Chassis 003 was later wrecked in the US but the the two surviving cars, "001/002" and 004, raced on for many seasons in Australia. This research was originally conducted by Aaron Lewis and then extensively reworked in May and June 2003 with the assistance of Bryan Miller in Australia, and Milan Fistonic in New Zealand. Tony Nicholson has filled in the gaps on the US-based A50. Thanks also to Wolfgang Klopfer for spotting omissions and to Kevin Thomson, Glenn Moulds and Autosports Marketing Associates/Bill Oursler for the photographs.
All and any further help would be gratefully received. Please email Allen at allen@oldracingcars.com if you can add anything.
Chassis
History
Current owner
Completed November 1971. Frank Matich (Aus): first raced at Australian GP 21 Nov 1971 (won); and in the four New Zealand rounds of the 1972 Tasman. After the New Zealand races, it was widely reported that Matich had replaced chassis 001 with a new, lighter A50 with modified suspension. However, several of the team's mechanics have a different story - that the original car was renumbered 002 and repainted as a sop to sponsor STP. It is now widely accepted that 001 and 002 were the same car.
"002" was raced by Frank Matich at Surfers Paradise Feb 1972 and at the other Australian races of the 1972 Tasman series (won at Warwick Farm). He then used it in the Gold Star series 1972 and won the championship, winning races at Sandown Park, Oran Park, Surfers Paradise and Warwick Farm plus two races at Calder. Retained for the Tasman series 1973. Advertised by Frank Matich Racing in Racing Car News November 1973.
The car was then stored for several years before being sold to Barry Lewis in 1975, by which time the car was referred to in reports as "001" but surviving log books call it "002". At some point it had been updated to A51 specification. Raced by Lewis at Calder Oct 1975. To Peter Roach: Australian Internationals 1976 - Dave Powell: Australian GP Sep 1976, Australian Gold Star 1976, Australian Internationals 1977, Australian Gold Star 1977 - John Briggs: Australian Internationals 1978, Australian GP Sep 1978, Calder Oct 1978, Winton Oct 1978. Later damaged by Briggs in a crash at Mt Tarrengower Hillclimb, believed to have been in 1978.
According to Bryan Sala, the car was then sold to K & A Engineering (Dale Koennecke and Harry Aust) who used the engine and transmission for a sports sedan. The complete but disassembled car was sold around 1984 or 1985 to Gavin Sala who later passed it to his son Bryan. Peter Turk reskinned the tub in 2003/04 and the car was restored and raced in historic events by Bryan Sala in the 2011/12 Tasman Revival series. Raced by Bryan Sala at Sydney Motorsport Park 1 Sep 2013, the first round of the 2013/14 Formula 5000 Australia Cup Series. Last seen at Sandown in November 2014. Won the Tasman Revival race at Barbagallo Raceway in October 2016. Also raced at Hampton Downs in January 2017 and VHRR Historic Sandown in November 2018.
Driven by: Frank Matich, Barry Lewis, Peter Roach, Dave Powell, John Goss and John Briggs. First race: Warwick Farm, 21 Nov 1971. Total of 39 recorded races.
Bryan Sala (Australia) 2018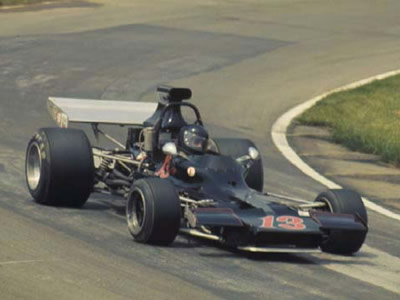 Built for 1972 US season. Sold to Roy Woods Racing, fitted with a Bartz-prepared Ford Boss 302 engine and raced in the 1972 series by George Follmer. Follmer qualified third at R1 Laguna Seca 7 May 1972, failed to start at R2 Edmonton, and then crashed at R3 Watkins Glen. Presumably the Ford-powered Matich raced by department store heir John Gimbel in the 1973 US series (debut R4 Mid-Ohio 4 Jun 1973 where three Matiches raced, also raced at R5 Watkins Glen, R6 Road America and R9 Seattle, best finish eighth at Seattle).
Sold to Merle Brennan for 1974: Laguna Seca in October 1974 (7th in Heat 1 and 12th in the final) and Riverside (12th in Heat 2). This car was wrecked on Brennan's way home from Riverside when the trailer carrying the Matich popped off the tow ball and the trailer skated off the road and hard into an embankment. The car was tied down by all four corners and the trailer crashed hard enough to twist the trailer and, therefore, the tub on the Matich. With F5000 declining, Brennan built a sports car (to the SCCA's ASR class) using a new spaceframe two-seater chassis plus parts of the Matich and a LeGrand body. After using this in late 1975 and through 1976, he sold it to Chris Bender who modified the rear bodywork, named it the "McBender" and raced it in Can-Am in 1977. Bender recalls it being sold to a Nevada owner, then to an Idaho owner and it was last seen when advertised in 1983 or 1984. In 2001, the sports car was reported to be on the East Coast of the US. By 2017, it was being entered by Jim Freeman (New York, NY) in US historic events as a Matich SR3 Can-Am car.
Driven by: George Follmer, John Gimbel, Merle Brennan and Chris Bender. First race: Laguna Seca (US R1), 7 May 1972. Total of 21 recorded races.
Destroyed 1974
Initially built as a spare car for Matich but overtaken by the A51 project. The rolling chassis was spotted at the factory by Johnny Walker who did a deal to buy it and fit the engine and transmission from his Elfin MR5. The car was built up at Matich's workshop.
Raced by Walker in the Australian Gold Star 1972 (debut at Oran Park 25 Jun 1972 - fourth), Tasman 1973 (Australian races only), US 1973 (R1 and R3-R5, best finishes two eighths). Replaced by Lola T330 Sep 1973 and later sold to Jon Davison (Aus): Australian Gold Star 1974 (first run in a minor event at Adelaide 9 Jun 1974), Australian Internationals Feb 1975 (leased by Graham McRae at 1975 Surfers Paradise round after McRae damaged his GM2 in a private test on the Thursday before the race; McRae finished fourth), Australian Gold Star 1975, Australian Internationals Feb 1976, Australian Gold Star 1976, Australian Internationals Feb 1977. It was then hired by Dave Powell for two races innthe 1977 Gold Star. Sold to female Honda Civic Production Touring driver Bronwyn Taylor at the end of 1977, and raced in the Australian Gold Star 1978, Winton 1978, Winton 1979. Then to Geoff Munyard: Oran Park 4 May 1980 (three Matich cars started!) - leased to Kevin Leighton: on entry list for last F5000 race, Oran Park 21 Mar 1982 - Graham Stoll - Peter Brennan - Ziggy Schueller 1990 - Ken Smith (NZ) 1992 or May 1993 - James Boult (NZ) 1996 - Russell Greer (NZ) 1996 - Richard Bendell (Australia) June 2001.
Bought from Bendell by Aaron Lewis (Australia) 2004. Raced by Lewis in the January 2006 Tasman revival series and at Eastern Creek late November 2008. Driven by Aaron's brother Philip Lewis in the Formula 5000 Tasman Cup Revival at the Australian GP meeting 28 Mar 2009. Raced by Aaron Lewis at Sydney Motorsport Park 1 Sep 2013, the first round of the 2013/14 Formula 5000 Australia Cup Series. Sold to Philip Lewis (Australia) late 2013. Raced by Lewis at Phillip Island in March 2016, at Road America in July 2016 and July 2017, at COTA in November 2017, and at the WeatherTech International Challenge at Road America in July 2018.
Driven by: Johnnie Walker, Jon Davison, Graham McRae, Dave Powell, Bronwyn Taylor and Geoff Munyard. First race: Oran Park (AGS R2), 25 Jun 1972. Total of 41 recorded races.
Philip Lewis (Australia) 2018
A note on chassis number identification
The chassis numbers used here are derived from a variety of documentation.
Chassis
Comment
Matich A50
001/002

A Motorman report of the 1972 Surfers Tasman race said: "Matich arrived with a new production A50 utilising a slightly lighter (by 14lb) tub and revised front suspension mounting points. He ran 15in wheels at the back and although the new car was not painted in the right shade of flame red, it still ran under STP colours. Matich used the Teretonga Repco engine." Peter Windsor's report in Autosport and the suspiciously similar report in Motoring News ascribed to "D.M.A." also say that it was a new car. However, Derek Kneller, Scott McNaughton and Bob Riley, all of whom worked for Matich at this time, have all said that the car used at Surfers was the same one used at Teretonga, albeit with a new coat of paint and some relatively minor suspension modifications.

A preview of the 1972 Gold Star in Racing Car News lists Matich's car as A50-002.

In 1973, Matich took two cars to the US for the L&M series. One of these was his new A51, chassis 005, and the other was either the even newer chassis 006, or was the original 001/002. A latter from Matich to Repco said that he would be taking "the new car", i.e. 005, and "the old car", i.e. 001/002, but a team member disputes this and says 005 and 006 was taken. It is clear that the older car was on show at the Melbourne International Motor Show at the end of March, and press reports said that one of the A50s would be on display at an Easter Show over the weekend of 20-23 April 1973. If a Matich had indeed been at this latter show, it could not have been the car taken to the US for the first race at Riverside on 28-29 April. However, the only pictures found of a car on display were at the Melbourne show, not the Easter show. The author would welcome any new documentary or photographic evidence on this issue. However, further attempts to browbeat the author into changing his mind are not welcome.

Barry Lake's "Cars and Drivers" identified this car as 001 in both its 1977 and 1978 Rothmans series reviews.

In 2003, John Briggs told Ray Bell his car had been 001.

Peter Turk reported in January 2004 that he was reskinning the tub of "002" for Sala.

The dispute between the Sala and CAMS, the Australian governing body, over the identity of the Salas' car was finally resolved in 2013 when CAMS accepted the mechanics' view and issued a COD to the Salas' car as chassis 001.

Matich A50
003
The identification of this car as 003 is largely by the unsatisfactory process of elimination. A report in Racing Car News January 1972 said that second car was "virtually earmarked for sale to Follmer". With "002" being the identity used for Frank Matich's own car and with 004 going to Walker, there can be little doubt 003 was the Follmer car.
Matich A50
004

A preview of the 1972 Gold Star in Racing Car News lists Walker's car as A50-004.

CAMS records for A50-004 mention the ownership of Walker (first logged car 22/6/72, first race 24/6/72 Oran Park), a change of owner 29/7/74 to Jon Davidson, sale to Bronwyn Taylor and later Geoff Munyard, the lease to Kevin Leighton, subsequent sale to Graham Stoll and finally sale to Peter Brennan.

Richard Bendell has advised subsequent history from Brennan to himself: 'Brennan to Ziggy Schuller 1990. Schuller to Ken Smith N.Z. 1992, to James Boult N.Z. 1996, Russell Greer 1996 N.Z. to Richard Bendell 2001 Aust'. The NZ Motorsport log gives car to Smith 11/5/93.

Barry Lake twice refers to this car as A50-003, firstly in his report of R2 Surfer's Paradise in 1974 but also in his summaries of the Rothmans series in 1976 and 1977. Everything else calls the car A50-004.

Aaron Lewis emailed 18 Aug 2004 to say he had bought this car from Bendall. Aaron confirmed that he still owned it in July 2012.
Other sources include Autosport 14 Feb 1974 p8 (Oran Park Tasman report) and 7 Mar 1974 p12 (Adelaide Tasman report). Added details taken from "The official 50-race history of the Australian Grand Prix" (R&T Publishing 1986) include pp402-403 (Matich 005 & 007 story), p383 (1974 GP report), p411,415 (1977 GP report). "The Formula 1 Register Fact Book: Formula 5000 1972-1981" (Paul Sheldon, 1994) has been used for most post-1977 race results.
These histories last updated on .