McLaren M18 car-by-car histories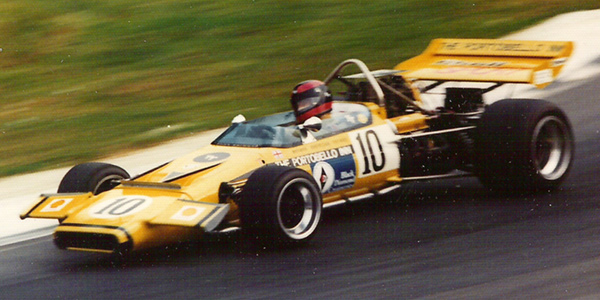 After McLaren had won each of the first two seasons of British F5000, much was expected of the 1971 McLaren M18. It proved a disapointment, with well-developed M10Bs proving quicker.
The first M18 appeared at the Racing Car Show in January 1971. It followed the basic layout of the McLaren M10 series, which had been based on the McLaren M7A F1 car, and was therefore very different to both the F1 M19 series and the revolutionary Indianapolis M16 series. The most significant change from the M10 series was that the monocoque stopped behind the driver's seat, with the Chevrolet engine being used as a stressed member. Trojan recruited Jackie Epstein, previously Mike Hailwood's manager, as raciung manager in 1971 to focus on F5000.
Despite the car's early appearance, very little testing had been performed in the prototype, and Brian Redman, driving the car for Sid Taylor's team, had problems with it at first. His main rivals were Mike Hailwood in the works Surtees TS8, and Frank Gardner in the works Lola T192, and it was Hailwood who won the opening round with Redman second. Redman then took pole position at Snetterton, but finished second to Gardner, before taking his first win in the third round at Brands Hatch. At that point, all looked well, and several more M18s were sold. Peter Gethin and Derek Bell stood in for Redman when he had other commitments and kept up the momentum, but it was increasingly clear that Surtees and Lola had caught up with McLaren, if not overtaken them. This perception was only enhanced when Graham McRae won two races in his heavily developed M10B. Lola were outselling McLaren, especially in the US. McLaren's initial answer was half-hearted, a M18/M22, and when the real M22 did appear, it was an unmitigated disaster.
Eoin Young's book does not say how many M18s were built but records from a component supplier show that coil/shock units were supplied for M18 500-01 to 500-08. As well as these eight, it looks like another two were built up later using spare tubs. Three of these were destroyed leaving seven to find. So far, six have been traced, leaving just the Wietzes car to be found.
My thanks to Marcus Pye, Ted Walker, Jaime Gard, Don O'Sullivan, Duncan Fox and Chris Townsend for helping me assemble this puzzle and to Ted and Duncan again and also Al Moore, Jeremy Jackson and Stuart Dent for permission to use their pictures. All and any further help would be gratefully received. Please email Allen at allen@oldracingcars.com if you can add anything.
Chassis
History
Current owner
The mystery cars
The following M18s are not yet fully explained.
Chassis
History
Current owner
A new car, still at Trojan, was advertised by Kirk F. White (Ardmore, PA) in Autoweek 24 Jun 1972. Could this be the source of the new tub used by Lader after his Watkins Glen accident?
Some sources show Tom Jones racing a McLaren M18 in the US in 1974; this is thought to be his McLaren M22.
Sources include "The Formula 1 Register Fact Book: Formula 5000 1968-1971" (Paul Sheldon, 1994), "The Formula 1 Register Fact Book: Formula 5000 1972-1981" (Paul Sheldon, 1994) and Graham Vercoe's two books "Historic Racing Cars of New Zealand" (1991) and "The Golden Era of New Zealand Motor Racing" (1993).
These histories last updated on .