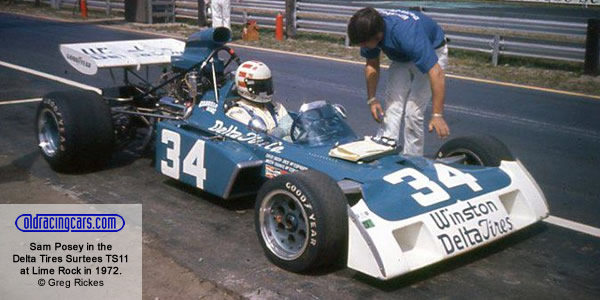 SCCA L&M Formula 5000 1972
As McLaren's 1971 offering had been something of a flop, Carl Hogan bought new Lola T300s for reigning champion David Hobbs and his new No 2 driver Brett Lunger. Hobbs' arch rival Sam Posey stayed with Surtees and had the latest F1-based Surtees TS11. These two started the opening race on the front row, but some interesting new competition was close behind them. George Follmer had a Matich A50 third on the grid, the Australian car having been put on pole position by Frank Matich at all five recent Australian Internationals. A little further back on the Laguna Seca grid was Graham McRae, who had designed the Leda LT27 in collaboration with Len Terry, and had then won four Tasman series races as well as three early-season races in Britain before transferring the car to the US series. The Kiwi passed Posey and then Hobbs to win the first heat, and then won the second after Hobbs retired. Hobbs bounced back with a win at Edmonton, but McRae won the next two to take a big points lead.
Two more new F5000 cars had reached the series by this time: Brian Redman in Sid Taylor's Chevron B24 and John Cannon in his Oldsmobile-powered March 72A, and the rest of the season was remarkably competitive. Eppie Weitzes won at Donnybrooke in his Lola T300, then Lunger won the next two from Redman, as Hobbs' run of retirements continued. Lunger was the only person who could overtake McRae's points total at the final race at Riverside, but he crashed out on the opening lap. Hobbs was again on pole, again took fastest lap, and again retired, leaving Redman to take a deserved victory in the Chevron, and McRae, who finished third, took the title.
The races
07 May 1972 > Monterey Grand Prix at Laguna Seca
04 Jun 1972 > Player's Edmonton Continental
18 Jun 1972 > Watkins Glen Grand Prix
16 Jul 1972 > Road America Grand Prix
30 Jul 1972 > Minnesota Grand Prix at Brainerd
20 Aug 1972 > Road Atlanta Grand Prix
04 Sep 1972 > Lime Rock Grand Prix
24 Sep 1972 > Riverside Grand Prix
1972 L&M Continental 5000 Championship table
1
Graham McRae
Leda GM1 - Chevrolet V8
87 pts
3 wins
2
Sam Posey
Surtees TS11 - Chevrolet V8
69 pts
3=
Brian Redman
Chevron B24 - Chevrolet V8
60 pts
1 win
3=
Brett Lunger
Lola T300 - Chevrolet V8
60 pts
2 wins
5
Eppie Wietzes
Lola T300 - Chevrolet V8
47 pts
1 win
6
Skip Barber
March 711 - Cosworth DFV V8
44 pts
7
Lothar Motschenbacher
McLaren M18 - Chevrolet V8
32 pts
8
David Hobbs
Lola T300 - Chevrolet V8
31 pts
1 win
9
Bob Muir
Lola T300 - Chevrolet V8
22 pts
10
Jerry Hansen
Lola T300 - Chevrolet V8
21 pts
11
Gus Hutchison
Lola T300 - Chevrolet V8
18 pts
12
John Gunn
Lola T300 - Chevrolet V8
16 pts
13=
Derek Bell
McLaren M10B - Chevrolet V8
15 pts
13=
Allan Lader
McLaren M18 - Chevrolet V8
15 pts
15
John Morton
Lotus 70B - Ford V8
14 pts
16
Rocky Moran
Surtees TS8 - Chevrolet V8
13 pts
17
Sandy Shepard
Lola T300 - Pontiac V8
12 pts
18
Kevin Bartlett
McLaren M10B - Chevrolet V8
Lola T300 - Chevrolet V8
11 pts
19=
Peter Gethin
Chevron B24 - Chevrolet V8
10 pts
19=
Horst Kwech
Lola T300 - Chevrolet V8
10 pts
The points table is taken from the SCCA's issued table, which said a 20-15-12-10-8-6-4-3-2-1 points system was used for the first 10 places, and that the best six finishes from the eight events counted. McRae's total was the only one affected by this limit. See also Wolfgang Klopfer's excellent Formula A and Formula 5000 in America p50.