Leda LT27 and McRae GM1 car-by-car histories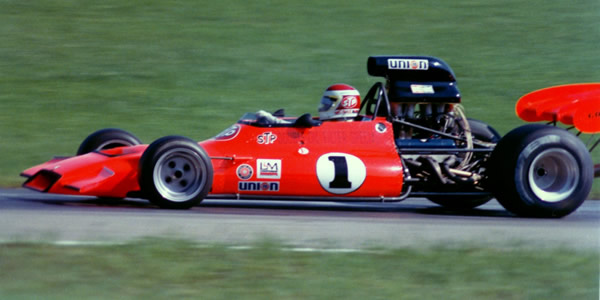 In 1972, Graham McRae, arguably the quickest F5000 driver of the day, joined forces with Malcolm Bridgeland of Malaya Garage and famed designer Len Terry to build a new F5000. The car was initially designated Leda LT27, but was later renamed the McRae GM1.
New Zealander Graham McRae had won the 1971 Tasman series in his McLaren M10B, but his attempt on the 1971 British championship was derailed by the destruction of his new M18, forcing him back into his old M10B. He extensively modified the car during the season, and developed a clear idea of what sort of car he wanted to build for 1972. Malcolm Bridgeland's Malaya Garage team had developed Len Terry's Leda LT25 during 1971, but this was still some way from full competitiveness. For 1972, McRae joined forces with Bridgeland and Terry to build a new F5000. McRae outlined what he wanted, based on the "coke bottle" layout of the F1 McLaren M19, and Terry drew it up. It was initially designated Leda LT27, continuing Terry's Leda design numbering, but McRae always described his personal car as the Leda GM1. In mid-1972 McRae and London insurance broker John Heynes bought out Bridgeland and set up McRae Cars Ltd at Poole, Dorset. As from 1 July 1972 the Leda LT27 officially became the McRae GM1.
The beautifully-engineered McRae, especially Graham's prototype 001, was the top car of 1972 and one of the best of 1973, but the squarer GM2 design lost the momentum and the McRae marque soon faded away. In October 1973, the McRae factory in Poole was sold to Roger Penske to construct his prototype F1 car and all future McRaes would be one-offs. The SCCA required cars in their Pro F5000 series to be fitted with deformable structure for 1974, and while Lola, Chevron and others could sell update kits, the McRae owners were on their own. The curved sides of the McRae meant this was no simple process, and nearly all the US-based GM1s were forced into the amateur ranks, where deformable structures were not yet required.
These cars were for a time among the most sought after F5000 cars for vintage racing, and it has now been possible to trace the fate of all 14 GM1s built. There is an element of doubt around the histories of 008 and 011 as both cars show evidence of having been Gordon Smiley's #21 car. There is also an extra McRae GM1 in the US, built up on a spare tub, and evidence that another one is being built in New Zealand.
This research was originally based on the work of Wolfgang Klopfer with Tony Nicholson filling in many of the gaps. The chassis number identities came chiefly from an article in New Zealand Motorman (Sept 1973 pp37-39) - thanks to Milan Fistonic for tracking that down for us. Thanks also to Dale Campfield, Shayne Windelburn, David McKinney, Roger Cowman, Marcus Pye, Ian Stronach, Todd Peterson, Alistair Hey, Paul Hoey, Jay Esterer, Michael Clark and Chris Lambden for their additions and clarifications.
All and any further help would be gratefully received. Please email Allen at allen@oldracingcars.com if you can add anything.
Chassis
History
Current owner
The mystery cars
The following McRaes are not yet fully explained.
Chassis
History
Current owner
In February 1974, Mark Felson (Denver, CO) finished third in an SCCA National at Phoenix, driving what was reported to be a McRae GM1. Felson was a Ferrari dealer in Denver. Cuddy Racing's chassis 008 and Quicksilver Racing's unused second car 010 are the only real possibilities for this car. As chassis 010 was next seen in Aurora, Colorado, an eastern suburb of Denver, that car is most likely. Nothing more known.
Driven by: Mark Felson. First race: Phoenix International Raceway, 24 Feb 1974. Only one recorded race.
Unknown
Advertised by Graham McRae in On Track 28 May 1981. McRae's own cars were 001, 005, 014 and 015, all of which have well-documented sales or later histories. Dan Furey (see 008) bought his car from McRae at the end of 1981 so it is quite likely this is the same car. How it got from Cuddy Racing back to McRae isn't clear.
Unknown
When Ray Boissoneau (Bedford, NH) acquired GM1-012 from Roy Lane in 1996, he also acquired a spare monocoque, which at the time was identified as "011". At a later date, the car was said to have been given the 014 chassis plate which was found in a toolbox in England. At some point, this car was built up as a duplicate of Boissoneau's 012, and he raced both cars in US vintage racing. The car was first reported in 2001, when it was said to be black and using a 6-litre engine. By 2012, Boissoneau was clearly running two different GM1s at different events, but it is not yet clear which was 012 and which was his second car. The car sold to Frank Lyons (Felsted, Essex) in 2013, is believed to be the "extra" car. Raced by Frank Lyons at Silverstone in October 2013, and in October 2016.
Frank Lyons (UK) 2021
There are a few other references to McRaes in contemporary magazines that are now thought to be errors in the reports:
Formula Dec 1976 p43 reports that Donald De Maagd raced a "McRae" at the Hoosier National 18/19 Sep 1976. Like the Midgley car immediately below, this is believed to have been a McKee, in this case DeMaagd's ex-Reinold Mk 12.
Formula Aug 1977 p41 reports that Ed Midgley won his class at Wentzville, Missouri, 8 May 1977 in his "McRae FA" and later did not start at the 1977 June Sprints. This is believed to have been Midgley's McKee Mk 18.
Also, Phil Henny (Van Nuys, CA) advertised a "new Leda LT27" in Autoweek on 22 Jul 1972. Phil advises that he placed the ad because Len Terry asked him to try to sell a LT27.
There was also an unexplained advert by Bill Kontes (Vineland, NJ) in Autoweek 10 Aug 1974 for a "virtually brand new" GM1.
In April 2012, John Crawford's Motorsport Solutions (Christchurch, NZ), released photographs of a new McRae GM1 monocoque under construction, with the comment that "we are recreating a McRae GM1 001". Nothing more was revealed but during 2015 there was a bout of online discussion about how much of 001 had survived the 1974 fire. In November 2018, Alistair Hey and Motorsport Solutions were said to have "rebuilt" chassis 001 and it was run by Michael Collins. Alistair Hey has offered to provide "the full details" of this car, and it will then be covered here in more detail.
These histories last updated on .