March 725 history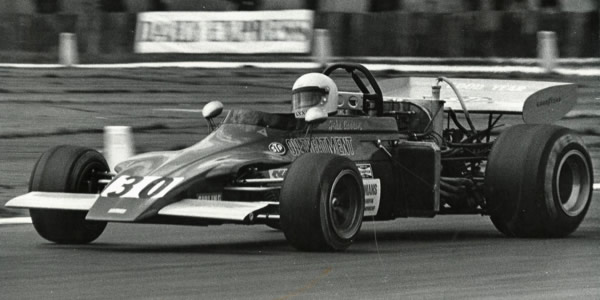 March were led into F5000 by John Cannon, the Canadian who had won the 1970 US series with Carl Hogan's McLaren M10B before becoming a March customer in F2 in 1971. For 1972, Cannon ordered a new 722 F2 tub to be fitted with a Race Engine Services Oldsmobile V8 for F5000.
Cannon missed the first four rounds of the UK championship but then took a surprise pole in his debut at Nivelles, the fifth round, some 1.3s ahead of McRae's Leda/McRae. He was pushed back to fifth on the grid at Silverstone but qualified second at Mondello Park in 30 April, where he finished fifth. He then took the car out to North America for the lucrative L&M championship where he took pole position at Watkins Glen in June but was let down by reliability problems. He returned to the UK in time for the race at Silverstone in early August where he finished second. He had time to rush back to the US for the Riverside race at the end of September before returning again to England for the last few races of the season. The 725 never appears to have raced again.
Although this car is listed as the 72A in Mike Lawrence's book "The Story of March", it was referred to as a 725 at the time and that notation is used here. All and any help would be gratefully received. If you can add or correct anything, please contact Allen Brown (allen@oldracingcars.com).
Chassis
History
Current owner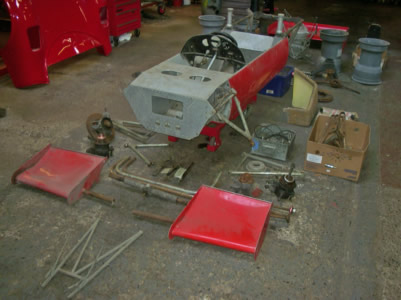 Built for 1972 season for John Cannon and fitted with Oldsmobile engine. Raced in UK and US series 1972. Advertised by Cannon and Patrick Kay (Autosport 9 Nov 1972) and later appeared in Ecurie Santos adverts (e.g. 31 May 1973, 27 Jun 1974) but not seen again. It is reported that the 725 was sold as part of a large package of cars to Ray Gibbs (East Malvern, Victoria, Australia). Gibbs shipped several cars back to Australia but the 725 remained in the UK and was sold to Peter Bloore (Wallingford, Oxfordshire). Bloore later sold it to Ryan Hodges who sold it to his friend Jeff Luff but the dates of these transations are unknown. In 1986 it was sold to Richard Parkin (Retford, Nottinghamshire). Richard has sold the car at least twice, only to buy it back again.
The car can be identified by a couple of features that should be unique to the 725, one of which is the mounts for the pannier tanks that Cannon used for the 1972 Rothmans 50,000. Owned by Parkin until sold to Richard Taylor (Rishton, Lancashire) in August 2014. Still with Richard in November 2019 who plans to restore it 'in due course'.
Driven by: John Cannon. First race: Nivelles-Baulers (UK R5), 9 Apr 1972. Total of 13 recorded races.
Richard Taylor (UK) 2019
These histories last updated on .