McLaren M10B car-by-car histories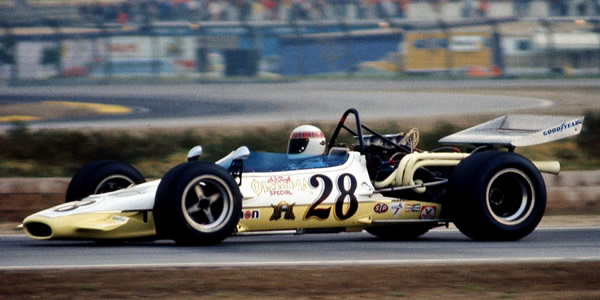 The 1970 McLaren M10B was the most successful model of Formula 5000 car until the appearance of the Lola T332 four years later. It won four International championships with four different drivers.
After the success of the M10A, Trojan announced plans to triple production to 50 cars for 1970. Motoring News (9 Oct 1969 p18) reported that the M10B "closely resembled" the M10A but incorporated many of the modifications made to the M10A during the 1969 season, including "redesigned front and rear suspension, re-styled body fairing, a new cooling system using an aluminium radiator, wheel sizes changed to 11in low off-set front and 16in rear". Also the tub "has been lightened and modified to accept immediate installation of a dry sump engine".
The prototype car won the 1970 and 1971 US championships, making it the most successful individual F5000 car of all time.
Eoin Young, in his book Bruce McLaren: The Man and his Racing Team (Eyre & Spottiswood, 1971) says that 21 M10Bs were built and records from a parts supplier confirm this by showing that coil/shock units were supplied for M10B 400-01 to 400-21. However, research by Duncan Fox shows that many of the early season M10Bs had M10A style tubs.
Alongside the research into the Lola T332, this McLaren M10B project is the most complex in the F5000 section. Thanks to Ian Hebblethwaite, Michael Kacsala, Duncan Fox, Steve Wilkinson, Tony Nicholson, Malcolm W. Starr, Bruce Leeson, Marcus Pye, Clive Bracey, Noel le Tissier, Mike Allison, Malcolm Page, David Pearson, Aaron Lewis, Tim Barry, Peter Lindenberg, Jim Griffin, Edd Ozard and Bob Barton for their help so far. All and any further help would be gratefully received. Please email Allen at allen@oldracingcars.com if you can add anything.
Chassis
History
Current owner
The US mystery cars 1970-1975
Of the early US M10Bs, only Eppie Wietzes' car remains to be explained. This coincides nicely with their being only one chassis number to explain, 400-09.
Chassis
History
Current owner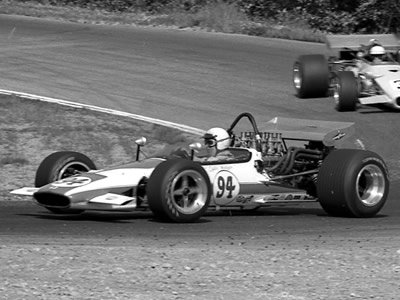 New to Eppie Wietzes (Thornhill, Ontario): US and Canada 1970 (#94 white-and-red; debut Harewood Acres 10 May 1970; 16 races in total). To Dennis Ott (Montclair, CA/Upland, CA) replacing an earlier car wrecked at R2 Laguna Seca 2 May 1971: US 1971 (R3 to R6), SCCA Nationals 1971 (last seen Phoenix 26 September 1971).
In December 1971, Ott advertised two M10Bs, "one new rolling chassis, one complete". The complete car would be his ex-Weitzes car but the origins of the new rolling chassis remain unknown. Ott recalls that he sold his new rolling chassis to Bob McGinty, but it is possible he was mistaken and McGinty got the ex-Wietzes car.
Driven by: Eppie Wietzes and Dennis Ott. First race: Harewood Acres (R1), 10 May 1970. Total of 24 recorded races.
Unknown
In 1971, of the four M10Bs appear in the US in 1970: Carl Hogan retains his team's 400-01; Wietzes' white-and-red car goes to Merriman/Maryon then to Dennis Ott; Durst's blue 400-13 is believed to have gone into SCCA racing but its owners are currently unknown; and the Agapiou Brothers' ex-Young 400-14 also went to Ott who wrecked it almost immediately at Laguna Seca.
In 1972 Sid Taylor imported another M10B (400-15) which he sold to Mickey Fowler. Of the two cars Ott advertised at the end of 1971, one goes to Bob McGinty but the other vanishes. The ex-Hogan 400-01 appears to have stayed in the North East corner of the US, and Taylor's 400-15 stayed with Fowler until 1975. Kevin Bartlett's 400-02 does not seem to have stayed in the US after his visit in 1972 but Clive Santo's 400-21 moves from the UK to the US in 1973.
Chassis
History
Current owner
Sold by Dennis Ott to John Bowman and Bob McGinty (Ontario, CA) in April 1973, and raced by Bob McGinty in 1973 and 1974. His only appearances in Pro races were at Riverside in April 1973 (DNS) and at Riverside in October 1974. According to the car's SCCA logbook and other documents still with the car, the next owners were David Eshleman (Fontana, CA), Duncan Brundrett (San Clemente, CA) in January 1980, David Halapoff in May 1981, and Allen Korneff (Downey, CA). In September 1988, Korneff sold the car to David Hankin (Redding, CA) who ran the car in vintage racing in 1991 and in 1994. In 2009 the car was restored to Eppie Wietzes' #94 livery and it ran in the 2011 CSRG Charity Challenge at Sears Point. Dr Hankin passed away in February 2016, and the car remains with his family.
Driven by: Bob McGinty. First race: Riverside (US R7), 27 Oct 1974. Only one recorded race.
David Hankin (USA) 2016
Advertised Peter Robotham (Fort Washington, PA) Autoweek 27 Sep 1975. Fort Washington is just north of Philadelphia and less than 20 minutes drive from the Elkins Park base of Steve Durst, last known owner of 400-13. However, there were two M10Bs in this part of Pennsylvania during that time: 400-01 and 400-13. Nothing more known.
Unknown
Note also that some of the M10As, notably Merle Brennan's and Patrick Garmyn's, were being described as M10Bs by this time.
Chassis
History
Current owner
Advertised Peter Robotham (Fort Washington, PA) Autoweek 27 Sep 1975. Fort Washington is just north of Philadelphia and less than 20 minutes drive from the Elkins Park base of Steve Durst, last known owner of 400-13. However, there were two M10Bs in this part of Pennsylvania during that time: 400-01 and 400-13. Nothing more known.
Unknown
The UK mystery cars 1971-1978
With so many M10Bs remaining in the UK and each car apparently remaining active for a number of years, the picture is complicated. The notes that follow may look a hopeless jumble but are, as a wise man once said, 'the right notes, but not necessarily in the right order'.
Chassis
History
Current owner
"Never used". Advertised by Jim Gleave's MRE Racing Services Ltd (Bourne End, Bucks) in March 1971 as "complete with Bartz Chevy [and] DG gearbox". This car was Howden Ganley's spare car and has never been raced". Later advertised with M18 ("little used") from Burnham (Bucks) AS 26 Aug 1971 p54. M18 in picture wears #12 suggesting the Barry Newman/Howden Ganley car. Is this the M10B sold many years later by Ganley as being 400-05?
Unknown
"McLaren M10B TVR. Modified to M22 type spec, with March F1 wheels, uprights ... bargain £250 lot" [Peter] Gerrish, Wooton-on-Edge. Autosport 22 Jun 1972 p57. The price implies this is not a complete car so "TVR" is possibly "TUB" mistranscribed.
Unknown
At the end of 1973, eight M10Bs were in the UK: Shardlow's ex-Lane 400-03 (on its way to Bailey), Jim Moore's 400-04 (later to Le Tissier), Tony Kitchiner's "Kitchmac" 400-05, Chris Oates' modified "M10H" (on its way to Harris), Clive Baker's side-radiator "400-06" (on its way to Leckie), Thwaites' 400-07 (on its way to Griffiths), Bob Rose's 400-12 (on its way to Ravenscroft) and Tony Bancroft's 400-22 (retained). Pierre Soukry's 400-20 had gone to France but then disappeared, and Clive Santo's 400-21 had gone to the US. In addition, the ex-Sir Nick Williamson M10A was just in the process of going missing for a season (1974) before joining 400-07 with Griffiths.
So, if we exclude Soukry's car, only the Kitchmac vanishes at (or by) the end of 1973. However, it looks as if one or two new cars had been built either by Trojan or outside.
1974 M10B competitors: Bailey (400-03), Harris (400-06A), Leckie (400-06B), Griffiths (400-07), Ravenscroft (400-12) and Bancroft (400-22). Jim Moore's 400-04 appears to go Tom Coughlan and Noel le Tissier in 1975 but may already be with Coughlan in 1974. A 'T. Chadney' had a 5000cc McLaren at Le Val Des Terres 27 Jul 1974 and that may well be connected. Later in the 1974 season, John Wallwork had a "F5000 McLaren" at the IoM sprint. Note that the ex-Johnty Williamson M10A 300-08 is missing during 1974, so could have been the Wallwork car.
Chassis
History
Current owner
Mike Sullivan (Salisbury, Wiltshire) advertised a Formula 5000 McLaren tub in August 1974. There were March tubs also being sold in a garage clear out. Nothing more known.
Unknown
1975 M10B competitors: Bailey (400-03), Coughlan & Le Tissier (400-04), Harris (400-06A), Griffiths (400-07), Ravenscroft (400-12) and Robinson (400-22). Note that Simon Riley's "M10B" was an M10A and Griffiths' second car, later with Richard White, was M10A 300-08. Paul Gardner was mentioned running a M10B at a Longton sprint; was this his M4B?
Note that the advert in Autosport in early 1975 for a F5000 McLaren in Newington, Kent was for Allan Kayes' McLaren M14A, not a M10.
1976 M10B competitors: Phillips (400-03), Harris (400-06A), Godfrey Crompton (400-07), Richard Cumming, then Dennis Basson (400-12) and Robinson (400-22 wrecked). There is no mention of Coughlan & Le Tissier's car (400-04) in 1976 but it's probably still with them. Note that Richard White had the ex-Johnty Williamson M10A 300-08 in 1976.
... and later...
Chassis
History
Current owner
Other relevant cars
Chassis
History
Current owner
Clive Bracey (Banstead, Surrey) built up a McLaren M10B chassis to use as the basis of his 5.0-litre Vebra-Chevrolet. The car first appeared in libre racing in 1971, but appeared regularly in the British Sprint Championship from 1974 onwards (9th at R1 Yeovilton; 6th at South Cerney 28 April 1974; 22 pts in final table). Crashed at Gurston Down 5 Oct 1975 "doing the car no good at all". Later at Wroughton 1 Aug 1976 and 31 Jul 1977, at Weston 7 Oct 1978 (7600cc Vebra Mk 1) and at most Colerne sprints from 1978 to 1988. By 1987, Bracey's car was described as a Vebra MK II. When the Pilbeams and F2s started to take over sprinting, Bracey focused on the straight line events and the car had evolved to an 8-litre engine running on methanol by the time Clive finally retired it in 1990. The LG600 gearbox went to Nigel Hume, the engine to Malta and the chassis went to a man in the Midlands.
In 2006, the car reappeared in the hands of Birmingham wheeler dealer Noel Butler. He sold it to Richard Taylor of Autotune, who believes it went from Bracey to Jon Reakes, and then to Butler. It was rebuilt by Autotune to full McLaren M10B specification, and driven for the first time by Autotune MD Anthony Taylor at the HSCC's Oulton Park Gold Cup meeting in August 2013.
Driven by: Clive Bracey. First race: Snetterton, 28 Mar 1971. Total of 34 recorded races.
Richard Taylor (UK) 2018
Modern mystery cars
Chassis
History
Current owner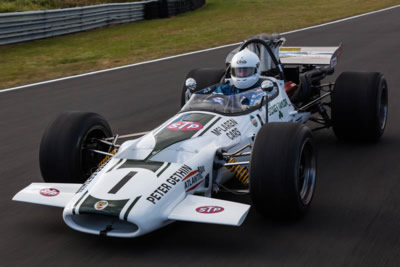 Bought by Bob Slessor (NW London) in 1976 from an advert he had seen in Motoring News. He believes the vendor may have been Brian Walker, presumably the sprinter and hillclimber of that name from Preston. Slessor's recollection was that Walker had bought the car from a hillclimber who had seized the engine, to use parts of it on an Ford Escort Super Saloon. That sounds like it may have been the M10B owned by John Wallwork, whose engine seized at the Isle of Man sprint in September 1974, and who lived in the same area of Lancashire.
Slessor recalls that "he kept the Hewland box, the complete 4 corners, steering rack, radiator and dash; I got the Tub, wheels, seat, tank, rollover bar, nose fins and rear wing, plus the engine with webbers and up and over exhaust". After a while Slessor realised he did not have the budget to rebuilt the car so he sold the engine and advertised the remained of the car and parts. He was contacted by John Powell (Seattle, WA) and after protracted shipping challenges, the car was sent to Seattle. Many years later, following Powell's death, the car was acquired by Denny Aker (Seattle, WA), boss of Aker's Porsche in Seattle. Tony Garmey (Seattle, WA) viewed the car in May 2004 and reported that it was a bare M10B tub but had an original Trojan foil chassis plate bearing a number that appeared to be '400-06'. Whether this was M10B 400-06(B), last seen in Scotland in 1975, is still not clear.
The chassis was acquired from Aker by Ian Fitz-Simon and subsequently sold on to Duncan Fox by April 2008 who shipped it back to New Zealand and started to build it up into a complete car. Sold to Poul Christie (Auckland, NZ) by May 2011. The restoration was said to be nearing completion in July 2012. Debuted in the Tasman Cup Revival meeting at Hampton Downs Jan 2013. The car was now in green-and-white Gethin livery, the same as Mark Longmore's M10B 400-06(A). Raced at the Leadfoot Festival 22-24 March 2013. After a period out due to an arm injury, Christie raced the car at the 2015 Monterey Motorsports Reunion.
Poul Christie (New Zealand) 2015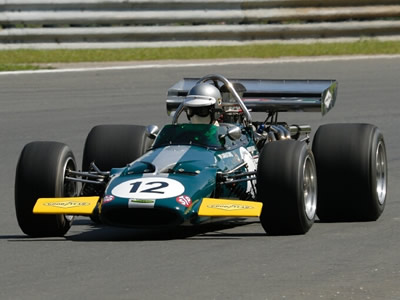 A car sold by Howden Ganley to Reto Kuprecht (Zurich, CH) in 2003 and bearing the chassis number from 400-05, the car that Ganley raced in 1970. Raced by Reto in historic racing across Europe. Sold in August 2013 to Alain Girardet (Aigle, Switzerland). Raced by Girardet in the Grand Prix de France Historique at Paul Ricard 12-13 Jun 2021.
Alain Girardet (Switzerland) 2021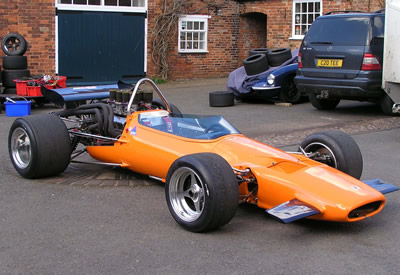 An "ex-Prophet 400-04" was acquired from Roy Lane (Warwick, Warwickshire) by Barry Davison (Buckinghamshire, UK) March/April 2006. This appears to have been built by Lane from parts but the origins of the monocoque are not known. Sold to Sherwood Restorations (Southwell, Notts) 2011. Sold to unknown European owner late 2011/early 2012. In June 2014, Alain Plasch ran a McLaren M10B at Nivelles-Baulers and press reports described it as David Prophet's former car. A close examination of photographs shows a number of features that are identical to the Barry Davison car. Still with Alain in January 2017.
Alain Plasch (Belgium) 2017
These histories last updated on .