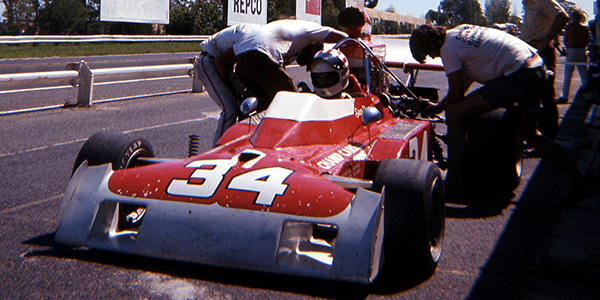 Tasman Cup Formula 5000 1973
The International entry for the 1973 Tasman series was significantly thinner that the previous year. Sam Posey, who had finished second in the US L&M series behind McRae was the only major North American entrant with his Surtees TS11, and the British contingent was limited to just Steve Thompson, in the ex-Brian Redman Chevron B24, and Alan Rollinson with a brand new production McRae GM1. Having won the Tasman and US series in 1972, and not been far away from winning the British series, Graham McRae was favourite to win, and he had the new McRae GM1 that he had used at the end of the British season. Local competition would be led by Frank Matich in the Matich A50, and John McCormack in the Elfin MR5, both using the same cars they had raced 12 months previously. The newest cars on display were the Lola T330 of Max Stewart and the two McRaes, a marked difference from the three works teams that had come to the 1972 series.
McCormack won the opener, but McRae then won at Levin and Wigram before Rollinson won at Teretonga. As usual, Matich was much stronger in the Australian races, and won from McRae at Surfers Paradise, then Steve Thompson won by a mile at Warwick Farm. McRae tied up the title by winning the Sandown Park Cup, and John McCormack secured second in the title race by winning narrowly from Rollinson at Adelaide.
The races
06 Jan 1973 > New Zealand Grand Prix at Pukekohe
13 Jan 1973 > Levin International
20 Jan 1973 > Lady Wigram Trophy
28 Jan 1973 > Teretonga International at Teretonga Park
04 Feb 1973 > Surfers Paradise '100'
11 Feb 1973 > Warwick Farm "100"
18 Feb 1973 > Sandown Park Cup
25 Feb 1973 > Adelaide '100' at Adelaide International Raceway
1973 Tasman Cup table
1
Graham McRae
McRae GM1 - Chevrolet Bartz V8
McRae GM1 - Chevrolet Morand V8
40 pts
3 wins
2
John McCormack
Elfin MR5 - Repco Holden V8
29 pts
2 wins
3
Frank Matich
Matich A50 - Repco Holden V8
27 pts
1 win
4
Steve Thompson
Chevron B24 - Chevrolet RES V8
22 pts
1 win
5
Alan Rollinson
McRae GM1 - Chevrolet V8
21 pts
1 win
6
Max Stewart
Lola T330 - Chevrolet V8
17 pts
7
Warwick Brown
Lola T300 - Chevrolet V8
10 pts
8
Sam Posey
Surtees TS11 - Chevrolet Bartz V8
9 pts
9
Johnnie Walker
Matich A50 - Repco Holden V8
8 pts
10
David Oxton
Begg FM5 - Chevrolet V8
4 pts
11
Kevin Bartlett
Lola T300 - Chevrolet V8
3 pts
12=
Garry Pedersen
Begg FM4 - Chevrolet V8
2 pts
12=
Dexter Dunlop
McRae GM1 - Chevrolet V8
2 pts
12=
Noritake Takahara
1.8-litre Brabham BT36 - Cosworth FVC
2 pts
12=
Bob Muir
McLaren M10B - Chevrolet V8
2 pts
16=
Ken Smith
1.9-litre March 722 - Cosworth FVC
1 pt
16=
Garrie Cooper
Elfin MR5 - Repco Holden V8
1 pt
Points table from Autocourse 1973/74 p185, which gave the first 12 names, plus Smith and Cooper added for their sixth place finishes.