Chevron B24 car-by-car histories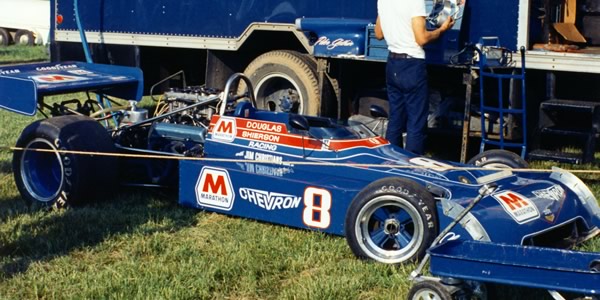 Built originally as a one-off for Brian Redman, the F5000 Chevron B24 won on its debut, and a year later a production B24 became the only F5000 car to win against F1 opposition when Peter Gethin won the 1973 Race of Champions.
Having come close to winning the British F5000 series with one of Trojan's intractable McLaren M18s in 1971, Brian Redman was unable to find a suitable car for 1972. After winning the opening round in an old McLaren M10B quickly located for him by Sid Taylor, Redman appealed to Derek Bennett to build him a F5000 car based on the successful new F2 Chevron B20. The resulting Chevron B24 arrived to minimal fanfare at the Oulton Park Gold Cup meeting in late May, despite the remarkably fast times Redman had set while testing this "conventional flat-sided monocoque". Redman won the F5000 race on the cars debut, and also won the F5000 section of the F1/F5000 Gold Cup. Taylor then took the car to the US for the lucrative L&M series where Redman, combining F5000 with a F1 drive at McLaren, won at Riverside in September, and then at Brands Hatch on his return to the UK. Chevron received seven orders for the production version in 1973, and in F5000's most competitive season, finished with 32 Top 3 results from 35 races, bettered only by Lola's 39 with the T330 but ahead of Trojan's 14, McRae's 9, Elfin's 4, Matich's 3 and Surtees' 2.
According to Chevron's chassis register, eight B24s were built. However, the register excludes the car built by the works for Gethin to drive in the latter part of 1973 and also excludes the 'new car' built for James Dunkel in 1974. At least three of the B24s were rebuilt to B28 specification and one of those cars appears to have got muddled up with the two genuine ex-VDS B28s. Of the cars that can be traced today, nearly all seem to have reached the US. However, several are still missing and numerous gaps remain in the histories that have been constructed. All and any help would be gratefully received. Please email Allen at allen@oldracingcars.com if you can add anything.
This research was triggered by an attempt to figure out the history of the two Chevron B24s then owned by Chuck Haines in the US. Chuck contacted nearly all the past owners of his two cars and passed on a wealth of information. My thanks also to Wolfgang Klopfer, Jack Boxstrom, Marcus Pye, Ted Walker, Cliff Owen, Chris Townsend, Brian Taylor, Mike Engstrand, Simon Lewis, Stan Beck, Ash Lowe, Alex Seiler, Chris Townrow, Duane Eitel, David Smith, Miles Jackson and Philip Jewell for their help with these histories.
Chassis
History
Current owner
Chevron B24
24-72-01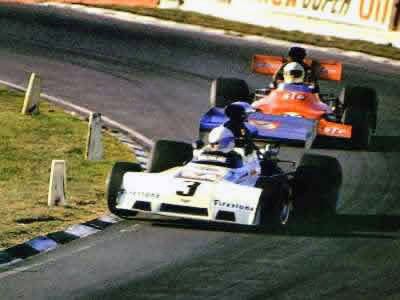 Built for 1972 season. Works for Brian Redman: raced in UK 1972 (debut at Oulton Park 29 May 1972 - 5 races 3 wins) and US 1972 (Redman 4 races 1 win, Gethin 1 race) - Keith Holland for John Player Challenge Trophy at Brands Hatch 22 Oct - Alan Brodie for Steve Thompson: raced in Tasman 1973 and UK 1973. Badly damaged in a severe testing accident at Silverstone on 24 May when a tyre burst at Woodcote at 140 mph, and Thompson was lucky to escape with bruising. The car was written off, and Brodie acquired a brand new 1973 B24.
Driven by: Brian Redman, Peter Gethin, Keith Holland and Steve Thompson. First race: Oulton Park, 29 May 1972. Total of 27 recorded races.
Written off 1973
Chevron B24
24-73-01
Built for 1973 season. Tony Dean: raced in UK 1973, US 1973, UK 1974 (crashed at R1 - Dean then buys B24-73-08), also used to settle a bet at the BARC Harewood hill climb 4 Aug 1974; UK 1975 (driven by Dean 3 races, Alain Peltier 1 DNS, Roelof Wunderink 1 DNS). Presumably the car raced by Dean at the Easter Rufforth meeting, winning the libre event. Raced by Dean at Aintree 19 Apr 1975, setting a new circuit record as he won the libre race by over a lap. Crashed and written off by Wunderink Zandvoort (practice) 17 May 1975. Wreckage scrapped.
Driven by: Tony Dean, Alain Peltier and Roelof Wunderink. First race: Brands Hatch (UK R1), 17 Mar 1973. Total of 37 recorded races.
Written off 1975
Chevron B24
24-73-02
Built for 1973 season. Doug Shierson for Peter Gethin: raced in UK 1973 (won Race of Champions) and US 1973. Likely to be the "ex-Gethin" car acquired by Howdy Holmes (Ann Arbor, MI) for 1974 but sold early in the season after a rapid change of plans.
To Roger Bighouse (Eastlake, OH): raced in US 1974 (7 races); US 1975 (4 races + 1 DNS) - Pat McGonegle (Cincinnati, OH): raced in US 1976 (1 race) and Can-Am 1977 (4 races + 1 DNS); probably the car entered by McGonegle as 'Mannix MX-2' in Can-Am 1978; advertised April 1979 - Danny Johnson (Kewanee, IL) 1979: raced in Can-Am 1979 (1 race), Can-Am 1981 (5 races), Can-Am 1982 (6 races) - Brian R Taylor (now Clive, Iowa) for Mike Engstrand (Des Moines, Iowa): raced in Can-Am 1985 (3 races) - Chuck Haines (St Louis, MO) - Anthony Taylor (Blackburn, UK) 2001: due to be rebuilt and raced in FORCE Historic F5000 series (UK) 2001.
Unknown until owned by Greg Thornton in 2011. Shipped to New Zealand for the 2011/12 Tasman Revival series and raced by Thornton at Hampton Downs Jan 2012.
Badly damaged in a fire at Thornton's garage in June 2012 but enough of the car survived that it is expected to be rebuilt in due course. Running at Thruxton April 2014. Raced at the HAWK at Road America in July 2015. Raced by Tom Alexander at the Phillip Island Classic in March 2016. Raced by Thornton in New Zealand in 2017 and 2018, and at Monterey in August 2018.
Driven by: Peter Gethin, Roger Bighouse, Keith Averill, T. Patrick McGonegle, Dan Johnson and Mike Engstrand. First race: Brands Hatch (UK R1), 17 Mar 1973. Total of 48 recorded races.
Greg Thornton (UK) 2021
Chevron B24
24-73-03
Built for 1973 season. Bobby Brown: raced in UK 1973 (borrowed by Gethin at Oulton 13 May) and US 1973. Brown's season was curtailed by illness and a family bereavement (the B24 was advertised in Autoweek from 25 Aug 1973 to 16 November 1974) - Bob DeNuzio (Long Island, NY, US) 1974: raced in SCCA FA races in 1976 - Phil Halbert 1976: raced in SCCA events; crashed at Willow Springs 1978 - Todd Gerstenberger (Manhattan Beach, CA) 1987: rebuilt and restored 1987-1991; used extensively in historic racing since 1992. (At one point, Gerstenberger described this car as "24-72-04".) Raced in the HMSA 'Legends of Motorsport' event at Laguna Seca in June 2013, and at the SVRA US Vintage National Championship at the Circuit of The Americas in October 2013. Ran at the Monterey Historics in 2015. On display at the Long Beach GP in 2018.
Driven by: Bobby Brown, Peter Gethin, Bob DeNuzio and Phil Halbert. First race: Brands Hatch (UK R1), 17 Mar 1973. Total of 12 recorded races.
Todd Gerstenberger (USA) 2018
Chevron B24
24-73-04
Built for 1973 season. VDS for Teddy Pilette: raced in UK 1973 and Tasman 1974 - Roelof Wunderink: raced in UK 1974. Advertised in Autosport Sep 1974 (with a spare monocoque).
Then via Tony Dean to Richard Simms and used in libre racing in 1975 and 1976. To John Lambert (York) 1977: used in hillclimbs with self-prepared 6-litre Chevy and then with a 6.1-litre engine in 1978. Used by Lambert in sprints and hill climbs up to July 1978. Advertised by Lambert as a B24 with recently rebuilt 5.7-litre engine Aug 1979.
This would be the "well known libre/sprint/hillclimb" Chevron B24 advertised in 1979 by dealer and restorer Ian Webb, who may have wanted the car for its 5.7-litre engine, ideal for one of his Can-Am cars. Then very probably the "ex-Gethin" B24 advertised by Alex Seldon in early 1980 and sold as a rolling chassis to Chris Townrow (Crantock, Cornwall) who fitted with a 5.3-litre Chevrolet engine for sprints in Cornwall and Devon. Advertised in Feb 1982 and sold to racer Richard Piper (Greenwich, London) and partner Patric Capon who prepared it for Keith Norris's F5000 revival in May 1983. Raced by Piper in BRSCC libre in 1983, in the 1984 McLaren Open Championship and in the 1984 HSCC Pre-70 series. Sold to Dennis Humphries (Canterbury, Kent) and taken to West Malling airfield for a test run where he lost control of the car and dropped it into a ditch.
It was repaired and sold to John Harper (late 1980s/early 1990s) who in turn sold it to dealer Tony Ingram (Atlanta, GA). From Ingram it went via fellow British expat Lee Chapman (New Milford, CT) to Fred Gunther (Trumbull, CT) and then via Vintage Racing Services (Stratford, CT) to Alex Seiler (NY, NY) c1998. Following a restoration, it was raced in VARA events at Willow Springs and Phoenix and driven on occasion by Casey Annis, publisher of Vintage racecar Magazine. In 2000, it was sold to Stan Beck (Seattle, WA) restored again before it was sold on to Miles Jackson (Seattle, WA) in 2006.
In 2014, it was sold to Frank Harris (Melbourne, Australia). Raced by Harris at the VHRR Phillip Island Classic in March 2016 and March 2018. Raced at Monterey in August 2018.
Driven by: Teddy Pilette, Roelof Wunderink, Richard Simms, Jim Evans, John Lambert, Chris Townrow and Richard Piper. First race: Silverstone (UK R3), 7 Apr 1973. Total of 49 recorded races.
Frank Harris (Australia) 2018
Chevron B24
24-73-05
Built for 1973 season. Via Geoff Freeman to James Dunkel: intended for US 1973 - debut Road Atlanta 19 Aug - crashed in practice and destroyed. This car seems to have been rebuilt and sold to Mike Koslowski (see 'B24-73-05A' below) but a replacement car was also bought from Chevron (see 'B24-73-05B' below).
Driven by: James Dunkel. First race: Road America (US R6), 29 Jul 1973. Only one recorded race.
Divided 1973
Chevron B24
24-73-05A
All new except the nose - diassembled suggesting the tub had been rebuilt. Bought other necessary parts from Chevron. Mike Koslowski 1974: raced Skeeter McKitterick: raced in US 1974 (1 race - Riverside) and US 1975 (as "B24/28" - 3 races) ... Memphis or Texas owner ... Dan Johnson (first seen June Sprints 1977): raced in SCCA FA 1977, SCCA FA 1978; wrecked at Road Atlanta 1978 and replaced by ex-Gethin/Bighouse/McGonegle B24-73-02 (see above). Remains passed Johnson - Taylor - Haines - Anthony Taylor: retained 2001. Presumably the car in McKitterick livery and said to be "chassis 5A" later raced by Paul Campfield in UK historic racing. Raced by Campfield at the Silverstone Classic Jul 2012, at HSCC Silverstone May 2013, at HSCC Brands Hatch July 2013 and at the Silverstone Classic July 2013. Running at Thruxton April 2014. Raced at the Derek Bell Trophy race at Silverstone 18 October 2014. At Thruxton April 2015.
Driven by: Skeeter McKitterick and Dan Johnson. First race: Riverside (US R7), 27 Oct 1974. Total of 9 recorded races.
Paul Campfield (UK) 2015
Chevron B24
24-73-05B
Built for 1974 season. James Dunkel: raced in US 1974, US 1975 (1 race + 1 DNS) - Ed Kaprowicz August 1976: raced in US 1976 (1 race), SCCA FA 1977, SCCA FA 1978 - Steve Bollinger January 1982 - Randy Reso April 1982 - Rupert Bragg-Smith December 1982: raced in Can-Am 1983 (2 races), Can-Am 1984 (2 races), Can-Am 1985 (1 race) - Jack Boxstrom December 1987 - Dick Leppla December 1992: raced at HSR Mid-Ohio July 1994 - Jack Boxstrom (again) of RM Auctions, Inc. (Canada) February 1997 - Albert Way (Oceanview, NJ) Feb 2001 - Philip Jewell (Rushcutters Bay, NSW, Australia) May 2012. To Dean Camm (Melbourne, Australia) December 2016. Raced at VHRR Phillip Island Classic 11 March 2018, and at Monterey in August 2018.
Driven by: James Dunkel, Ed Kasprowicz and Rupert Bragg-Smith. First race: Mosport Park (US R2), 15 Jun 1974. Total of 13 recorded races.
Dean Camm (Australia) 2018
Chevron B24
24-73-06
Built for 1973 season. Alan Brodie for Steve Thompson: raced in UK 1973, UK 1974 - Dennis Leech (Exeter, UK): raced in UK 1975 (heavily crashed in practice at R15 Mallory Park 12 Oct 1975 and not seen again). Subsequent history unknown but presumably wrecked.
Driven by: Steve Thompson and Dennis Leech. First race: Mallory Park (UK R10), 8 Jul 1973. Total of 20 recorded races.
Wrecked 1975
Chevron B24
24-73-07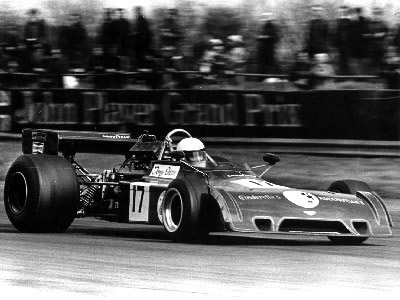 Built for 1973 season. VDS: for Chris Craft UK 1973; for Peter Gethin Tasman 1974; loaned to Adlards Crowne Racing for Craft UK 1974; returned to VDS, converted to B24/B28 specification and used by Vern Schuppan to win at Brands Hatch October 1974. Sold to Tony Dean UK 1975 (up to R6 Zandvoort 19 May 1975), who typically described it as a "B28". On 19 May, Dean raced the car at Zandvoort, a couple of days after Wunderink wrecked his older B24. Five days later, on Saturday 24 May, Dean won a libre at Rufforth in a "B24", followed home in second by Richard Simms also in a B24. Two days after that, Dean had his "B28" at Thruxton, finishing fifth. Then to USA for US series (3 races: debut R2 Mosport 15 Jun). Confiscated by UK Customs & Excise on return from US when Dean was accused of misunderstanding the rules covering cigar imports. Bought by Don Gray (Sittingbourne, Kent) at auction: raced in UK 1977 (3 races: debut R4 Brands Hatch 11 Apr 1977; later fifth in second race at R7 Brands Hatch 26 Jun 1977) and in libre (2nd behind Keth Holland at Brands Hatch 19 Jun 1977) - Keith Holland: Australian Internationals 1978 - Barry Singleton 1978: raced in Australia 1978 - Jim Lowe: won Queensland Racing Car Championship in 1980, beating Ivan Tighe; Australian Gold Star 1980; crashed at Surfers Paradise in early 1981 and heavily damaged.
Wreck sold to Russel Gomersall then to Peter Phillips, who is believed to have got it back to running condition, and then Laurie O'Neill (Sydney, NSW). Sold by O'Neill to Dr Bill Marshall some time around 1985 and raced in Australian historic racing, running in HSRCA events at Amaroo Park and Oran Park in 1986, 1987 and 1988. Sold by Marshall to George Parlby in the early 1990s and restored for Parlby by Ralt Australia. Said to be for sale in the US in 2005. To Aaron Lewis (NZ) late 2005. Raced by Lewis in the Formula 5000 Tasman Cup Revival at the Australian GP meeting 28 Mar 2009.
Sold in Jan 2012 to Robert Tweedie to be driven by his son Tom Tweedie, the 2009-10 Australian National F3 Champion. Tweedie won first time out at HSRCA Eastern Creek (Sydney Motorsport Park) 29 Jun-1 Jul 2013. Raced by Tweedie in the 2013/14 F5000 Australia Cup, winning at Sydney Motorsport Park 1 Sep 2013. Won again at Sydney Motorsport Park November 2014. Raced at the Phillip Island Classic in March 2016, and in March 2018, where Tom Tweedie won all four races.
Driven by: Chris Craft, Peter Gethin, Vern Schuppan, Brian Redman, Tony Dean, Don Gray, Keith Holland, Barry Singleton, Jim Lowe and Russel Gomersall. First race: Mallory Park (UK R10), 8 Jul 1973. Total of 49 recorded races.
Robert Tweedie (Australia) 2018
Chevron B24
24-73-08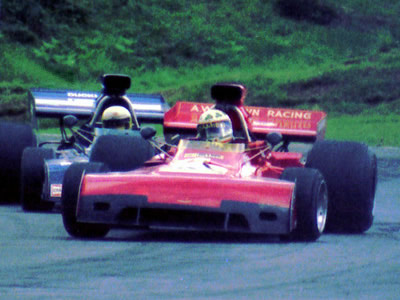 Built for 1973 season and used chassis number 'B25 007'. Works for Peter Gethin: raced in UK 1973 (six races: debut R11 Mondello Park 22 Jul, won R14 Oulton Park Gold Cup; crashed at R18 Brands Hatch 21 Oct). Sold to Tony Dean to join his B24-73-01. Dean raced this car in four races in 1974; it was also raced by Arie Luyendijk at Zandvoort in June as a rental, and by Derek Cook at a Croft libre.
Sold to dealer AW 'Monkey' Brown in August 1974 for Damien Magee to drive. Raced at Thruxton in August, and then finished in an excellent second position at Brands Hatch a week later. The car was updated to B28 specification during Brown's ownership. After one more appearance, when the engine failed before the start at Oulton Park, the car went to North London motor trader John MacDonald in a deal in September 1974 that exchanged MacDonald's Special Saloon Escort-BDA for Money Brown's B24 and sports car B23. MacDonald entered the car for Alan Jones to race in the season finale at Brands Hatch in October. MacDonald reconstituted his team as RAM Racing for 1975 and the B24/28 was used as a second entry carrying Thursday or Fridays nightclub livery. It was entered for Andy Sutcliffe at Silverstone in April and at Thruxton in May but failed to start either race. Its only start was with Magee driving at Zandvoort on 19 May. It was advertised as a "B24/28" by MacDonald Oct 1975. Subsequent history unknown but could well be the Richard Messier car.
Driven by: Peter Gethin, Tony Dean, Arie Luyendijk, Derek Cook, Damien Magee, Alan Jones and Andy Sutcliffe. First race: Mondello Park (UK R11), 22 Jul 1973. Total of 16 recorded races.
Unknown
The Dean cars
The biggest problem disentangling the Chevron B24 histories is trying to make sense of all the "ex-Dean" cars to appear between 1975 and 1977. There seem to have been three: the car Richard Simms and then John Lambert used between 1975 and 1977; the car bought at auction by Don Gray; and the B28 that appears to have passed via Bobby Howlings to Victor Cartmill. This is in addition to B24-73-08, which Dean had owned in 1974, and was with John MacDonald's RAM Racing in 1975.
The quantity of B24s here is a puzzle. Dean had owned two B24s in 1974: his original B24-73-01, and the ex-works B24-73-08 which he sold off mid-season. He also had two in 1975: his original B24-73-01 again, and now the ex-VDS "B24/B28" B24-73-07 (pictured above). One of these, B24-73-01, was wrecked at Zandvoort in May 1975 so he should only have one left. But, on Saturday 24 May 1975, just six days after the Zandvoort race, Dean ran a F5000 Chevron in a libre at a BRSCC Rufforth meeting, winning comfortably. In second place was another B24, that of Richard Simms. The Simms car was later said to be ex-Dean but can't have been the ex-works/Dean/Magee/RAM 'B24-73-08' as RAM were still running it in May 1975, can't be the wrecked B24-73-01 and can't be the ex-VDS "B24/B28" B24-73-07 as Dean was racing it. Maybe Dean had already picked up the B28 from RAM, and Simms had his older car but the timing seems too tight for that.
Either way, there is an extra car here - either built up from spares or Dean had bought an extra car. The choices for this latter option are the ex-works/Dean/Magee/RAM B24-73-08 or the ex-Wunderink B24-73-04. Cliff Owen, who worked for Dean at the end of 1974 and again in 1975, remembers Simms buying a B24 from Dean in 1974. As B24-73-08 was still being raced by RAM Racing in 1975, the Simms car can only really be the Wunderink car and photographs reinforce this, as it is the only car with brackets on both the front and back of its rollhoop. If the sale was in 1974, it would need to be very late in the year as the Wunderink car was advertised up to the end of November.
Three ex-Dean Chevrons appeared over the 1977 Easter weekend: John Lambert in the 6-litre the ex-Simms car appeared at Harewood on the Sunday, the Victor Cartmill B28 (driven by David Flanagan) was at Woodvale the same day and the Gray B24/B28 debuted at Brands Hatch on Easter Monday.
The mystery cars
The following B24s cannot yet be fitted into the puzzle.
Chassis
History
Current owner
Chevron B24
'the Mike Gue car'
(1975 only)
An "ex-Gethin" B24 fitted with a 5.7-litre Alan Smith Chevrolet engine advertised by Mike Gue's Road & Track Ltd (Fulham, London) in July and August 1975. Gethin had driven five B24s: 72-01, long since wrecked; 73-02 and 73-03, both then in the US; 73-07 which was either with Dean in the US at this time; and 73-08 which was still with John MacDonald's team. However, it is possible that the other ex-VDS car, 73-04, had been raced by Gethin at some point or had been mistakenly identified as ex-Gethin. This car had gone to Roelof Wunderink in 1974, and then to Richard Simms in 1975. The 5.7-litre engine would fit with a car being used in formule libre, so this is the most likely option.
Unknown
Chevron B24
'the Richard Messier car'
(1976-)
Bought as a B24 with B28 modifications from Fred Opert by race car instructor Richard Messier (Manchester, NH) and said to be a Gethin backup car. It was dark blue when it was bought. First tested at Bryar Park May 1976 and entered for the June 1976 Mosport Park round of the US series but the engine failed in qualifying. Appeared again at Watkins Glen (entered as a "B24/28") but again failed to start. Advertised as "B24-28" in Autoweek 3 Sep 1977 and sold to Bill Tempero: Can-Am 1978 (9 starts, first raced Road Atlanta 14 May 1978; best results 3rd at R2 Charlotte and 4th at R9 Laguna Seca) - Duane Eitel (Denver, CO) Nov 1978: Can-Am 1979 (5 starts + 1 DNS); Can-Am 1980 (1 starts + 1 DNS); Can-Am 1981 (entered as 'MLR' or 'MLR 001': 1 DNS and 1 DNQ only); Can-Am 1982 (entered as 'MLR 003': 1 DNS only at R9 Laguna Seca); damaged in road accident returning from Laguna Seca and not raced again. Sold to John Raecker (Littleton, CO) and repaired. Finished 14th in the Can-Am race at Green Valley (28 Oct 1984) and entered as "B24-28" for the 1984 Runoffs. Raced twice by Raecker in 1987 CAT series. Sold to Dave Smith (Patterson, CA) 1987 and retained for many years. Sold to Ike Smith (Pacific Grove, CA) in September 2016. Ike is working back through the paint layers to establish which car this is. It's looking very much like it must be B24 73-08. Raced by Bruce Marquand for Smith at Road America in July 2018, and by Marquand and Warren Briggs at Monterey in August 2018.
Driven by: Dick Messier, Bill Tempero, Duane Eitel, Don Kehr and John Raecker. First race: Watkins Glen (US R3), 11 Jul 1976. Total of 20 recorded races.
Ike Smith (USA) 2018
In July 1974, Autosport reported that Iain McLaren had won a libre at Ingliston in a Chevron B24 "borrowed from Campbell Graham". We can be fairly confident that this was Graham's usual libre Chevron B25, a Formula Atlantic car fitted with a 1.8-litre FVC.
Jim Evans is reported to have raced a F5000 Chevron B24 at Oulton Park in Oct 1976, possibly the car of Richard Simms.
A Chevron B24 was advertised by "Scuderia Prancing Teddy" Mar 1990. This may have been one of Jack Boxstrom's operations - see B24-73-05B.
A note on chassis number identification
The chassis numbers above are taken from the original Chevron 'chassis register' as supplied by Roger Andreason, then owner of Chevron Cars, in March 2001. They do not agree completely with numbers used in Paul Sheldon's Formula 1 Register Fact Book: Formula 5000 1972-1981. For comparison, the numbers are shown below:
| First owner | Chevron register | Formula 1 Register |
| --- | --- | --- |
| 1972 works | B24-72-01 | B24-72-01 |
| Dean | B24-73-01 | B24-73-02 |
| Shierson | B24-73-02 | B24-73-07 |
| Dean/Brown | B24-73-03 | B24-73-03 |
| VDS | B24-73-04 | B24-73-04 |
| Freeman | B24-73-05 | not listed |
| Thompson | B24-73-06 | B24-73-08 |
| VDS | B24-73-07 | B24-73-07 |
| 1973 works | not listed | B24-73-07 |
Sources for the above include Autosport's 1973 F5000 Review, from their 24 Jan 1974 edition.
These histories last updated on .