Chevron B24 car-by-car histories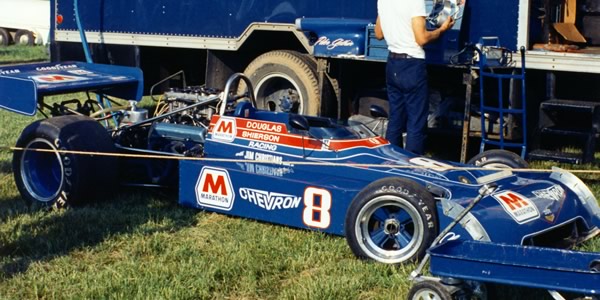 Built originally as a one-off for Brian Redman, the F5000 Chevron B24 won on its debut, and a year later a production B24 became the only F5000 car to win against F1 opposition when Peter Gethin won the 1973 Race of Champions.
Having come close to winning the British F5000 series with one of Trojan's intractable McLaren M18s in 1971, Brian Redman was unable to find a suitable car for 1972. After winning the opening round in an old McLaren M10B quickly located for him by Sid Taylor, Redman appealed to Derek Bennett to build him a F5000 car based on the successful new F2 Chevron B20. The resulting Chevron B24 arrived to minimal fanfare at the Oulton Park Gold Cup meeting in late May, despite the remarkably fast times Redman had set while testing this "conventional flat-sided monocoque". Redman won the F5000 race on the cars debut, and also won the F5000 section of the F1/F5000 Gold Cup. Taylor then took the car to the US for the lucrative L&M series where Redman, combining F5000 with a F1 drive at McLaren, won at Riverside in September, and then at Brands Hatch on his return to the UK. Chevron received seven orders for the production version in 1973, and in F5000's most competitive season, finished with 32 Top 3 results from 35 races, bettered only by Lola's 39 with the T330 but ahead of Trojan's 14, McRae's 9, Elfin's 4, Matich's 3 and Surtees' 2.
According to Chevron's chassis register, eight B24s were built. However, the register excludes the car built by the works for Gethin to drive in the latter part of 1973 and also excludes the 'new car' built for James Dunkel in 1974. At least three of the B24s were rebuilt to B28 specification and one of those cars appears to have got muddled up with the two genuine ex-VDS B28s. Of the cars that can be traced today, nearly all seem to have reached the US. However, several are still missing and numerous gaps remain in the histories that have been constructed. All and any help would be gratefully received. Please email Allen at allen@oldracingcars.com if you can add anything.
This research was triggered by an attempt to figure out the history of the two Chevron B24s then owned by Chuck Haines in the US. Chuck contacted nearly all the past owners of his two cars and passed on a wealth of information. My thanks also to Wolfgang Klopfer, Jack Boxstrom, Marcus Pye, Ted Walker, Cliff Owen, Chris Townsend, Brian Taylor, Mike Engstrand, Simon Lewis, Stan Beck, Ash Lowe, Alex Seiler, Chris Townrow, Duane Eitel, David Smith, Miles Jackson and Philip Jewell for their help with these histories.
Chassis
History
Current owner
The Dean cars
The biggest problem disentangling the Chevron B24 histories is trying to make sense of all the "ex-Dean" cars to appear between 1975 and 1977. There seem to have been three: the car Richard Simms and then John Lambert used between 1975 and 1977; the car bought at auction by Don Gray; and the B28 that appears to have passed via Bobby Howlings to Victor Cartmill. This is in addition to B24-73-08, which Dean had owned in 1974, and was with John MacDonald's RAM Racing in 1975.
The quantity of B24s here is a puzzle. Dean had owned two B24s in 1974: his original B24-73-01, and the ex-works B24-73-08 which he sold off mid-season. He also had two in 1975: his original B24-73-01 again, and now the ex-VDS "B24/B28" B24-73-07 (pictured above). One of these, B24-73-01, was wrecked at Zandvoort in May 1975 so he should only have one left. But, on Saturday 24 May 1975, just six days after the Zandvoort race, Dean ran a F5000 Chevron in a libre at a BRSCC Rufforth meeting, winning comfortably. In second place was another B24, that of Richard Simms. The Simms car was later said to be ex-Dean but can't have been the ex-works/Dean/Magee/RAM 'B24-73-08' as RAM were still running it in May 1975, can't be the wrecked B24-73-01 and can't be the ex-VDS "B24/B28" B24-73-07 as Dean was racing it. Maybe Dean had already picked up the B28 from RAM, and Simms had his older car but the timing seems too tight for that.
Either way, there is an extra car here - either built up from spares or Dean had bought an extra car. The choices for this latter option are the ex-works/Dean/Magee/RAM B24-73-08 or the ex-Wunderink B24-73-04. Cliff Owen, who worked for Dean at the end of 1974 and again in 1975, remembers Simms buying a B24 from Dean in 1974. As B24-73-08 was still being raced by RAM Racing in 1975, the Simms car can only really be the Wunderink car and photographs reinforce this, as it is the only car with brackets on both the front and back of its rollhoop. If the sale was in 1974, it would need to be very late in the year as the Wunderink car was advertised up to the end of November.
Three ex-Dean Chevrons appeared over the 1977 Easter weekend: John Lambert in the 6-litre the ex-Simms car appeared at Harewood on the Sunday, the Victor Cartmill B28 (driven by David Flanagan) was at Woodvale the same day and the Gray B24/B28 debuted at Brands Hatch on Easter Monday.
The mystery cars
The following B24s cannot yet be fitted into the puzzle.
Chassis
History
Current owner
An "ex-Gethin" B24 fitted with a 5.7-litre Alan Smith Chevrolet engine advertised by Mike Gue's Road & Track Ltd (Fulham, London) in July and August 1975. Gethin had driven five B24s: 72-01, long since wrecked; 73-02 and 73-03, both then in the US; 73-07 which was either with Dean in the US at this time; and 73-08 which was still with John MacDonald's team. However, it is possible that the other ex-VDS car, 73-04, had been raced by Gethin at some point or had been mistakenly identified as ex-Gethin. This car had gone to Roelof Wunderink in 1974, and then to Richard Simms in 1975. The 5.7-litre engine would fit with a car being used in formule libre, so this is the most likely option.
Unknown
Bought as a B24 with B28 modifications from Fred Opert by race car instructor Richard Messier (Manchester, NH) and said to be a Gethin backup car. It was dark blue when it was bought. First tested at Bryar Park May 1976 and entered for the June 1976 Mosport Park round of the US series but the engine failed in qualifying. Appeared again at Watkins Glen (entered as a "B24/28") but again failed to start. Advertised as "B24-28" in Autoweek 3 Sep 1977 and sold to Bill Tempero: Can-Am 1978 (9 starts, first raced Road Atlanta 14 May 1978; best results 3rd at R2 Charlotte and 4th at R9 Laguna Seca) - Duane Eitel (Denver, CO) Nov 1978: Can-Am 1979 (5 starts + 1 DNS); Can-Am 1980 (1 starts + 1 DNS); Can-Am 1981 (entered as 'MLR' or 'MLR 001': 1 DNS and 1 DNQ only); Can-Am 1982 (entered as 'MLR 003': 1 DNS only at R9 Laguna Seca); damaged in road accident returning from Laguna Seca and not raced again. Sold to John Raecker (Littleton, CO) and repaired. Finished 14th in the Can-Am race at Green Valley (28 Oct 1984) and entered as "B24-28" for the 1984 Runoffs. Raced twice by Raecker in 1987 CAT series. Sold to Dave Smith (Patterson, CA) 1987 and retained for many years. Sold to Ike Smith (Pacific Grove, CA) in September 2016. Ike is working back through the paint layers to establish which car this is. It's looking very much like it must be B24 73-08. Raced by Bruce Marquand for Smith at Road America in July 2018, and by Marquand and Warren Briggs at Monterey in August 2018.
Driven by: Dick Messier, Bill Tempero, Duane Eitel, Don Kehr and John Raecker. First race: Watkins Glen (US R3), 11 Jul 1976. Total of 20 recorded races.
Ike Smith (USA) 2018
In July 1974, Autosport reported that Iain McLaren had won a libre at Ingliston in a Chevron B24 "borrowed from Campbell Graham". We can be fairly confident that this was Graham's usual libre Chevron B25, a Formula Atlantic car fitted with a 1.8-litre FVC.
Jim Evans is reported to have raced a F5000 Chevron B24 at Oulton Park in Oct 1976, possibly the car of Richard Simms.
A Chevron B24 was advertised by "Scuderia Prancing Teddy" Mar 1990. This may have been one of Jack Boxstrom's operations - see B24-73-05B.
A note on chassis number identification
The chassis numbers above are taken from the original Chevron 'chassis register' as supplied by Roger Andreason, then owner of Chevron Cars, in March 2001. They do not agree completely with numbers used in Paul Sheldon's Formula 1 Register Fact Book: Formula 5000 1972-1981. For comparison, the numbers are shown below:
| First owner | Chevron register | Formula 1 Register |
| --- | --- | --- |
| 1972 works | B24-72-01 | B24-72-01 |
| Dean | B24-73-01 | B24-73-02 |
| Shierson | B24-73-02 | B24-73-07 |
| Dean/Brown | B24-73-03 | B24-73-03 |
| VDS | B24-73-04 | B24-73-04 |
| Freeman | B24-73-05 | not listed |
| Thompson | B24-73-06 | B24-73-08 |
| VDS | B24-73-07 | B24-73-07 |
| 1973 works | not listed | B24-73-07 |
Sources for the above include Autosport's 1973 F5000 Review, from their 24 Jan 1974 edition.
These histories last updated on .