Chevron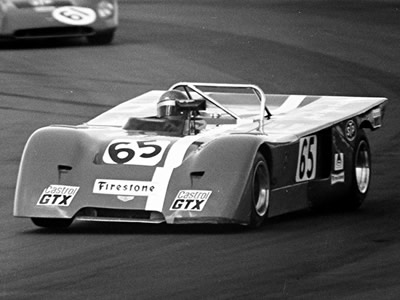 Chevrons were built by Derek Bennett Engineering Limited, a company formed in 1966 on the back of Bennett's success building and racing Clubmans Formula cars. Chevrons were hugely successful in GT racing between 1966 and 1968, and Chevron moved into Group 5 Sports in 1969 and then to Sports Prototypes in 1970.
A Formula 3 car was built in 1967 but Chevron did not find sustained success in single-seaters until the B25 Formula 2 car in 1973. The company was at a peak in 1978 with the B42 F2 car and B43 F3 car when Bennett was killed in a hang-gliding accident. Chevron floundered without him and the Tony Southgate designs for 1979 flopped. After a bid to move into Can-Am in 1980 failed, the company went into liquidation and most of its remaining assets were sold to a consortium led by Robin Smith in Newmains, Scotland, who built cars as Chevron Racing Cars (Scotland) Limited. Smith built B52 and B54 Sports 2000s, and B53 and B56 Formula Atlantic cars but after three difficult years the company ceased trading at the end of September 1983. Its assets were sold to Roger Andreason and Tim Colman's Andreason Racing & Tuning Ltd, who then built cars as Chevron Cars Ltd. A majority shareholding of this company was owned for a time by Chris Smith and then, since 2012, by David Witt. Chevron Heritage Ltd was set up by Roger and Tim in 2012 to cater for older cars. Meanwhile, Chevron Racing Team Ltd has been run by Vin and Helen Malkie since 1979, who also own the registered Chevron name and Trademark.
This page provides a summary of the company's production and link to the pages which either summarise the research to date or are the home of active research projects. More sports racing and single-seater Chevrons are being actively researched. Please email Allen at allen@oldracingcars.com if you can add anything.
Type
Years
No.
built
Notes
Chevron B1
1965
2
Clubmans Formula. Built with 1500cc Ford engines. Derek Bennett's car won first time out at Kirkistown in July 1965.
Chevron B2
1966
4
Clubmans Formula. Three built with 1500cc Ford engines and one built with a 1-litre BMC engine.
Chevron B3
1966
2
GT. Built as the "Chevron GT" with a 1600cc Ford twin-cam engine and won first time out in the hands of Digby Martland in July 1966. This car was the basis of Chevron's success in GT racing with the models retrospectively named B4, B5, B6 and B8.
Chevron B4
1966
1
GT. A one-off car built with a 2-litre BMW engine; also won first time out at Crystal Palace in August 1966. This was the car raced at Daytona in 1967. Sold to Roy Johnson for 1968.
Chevron B5
1967
1
GT. Another one-off along similar lines to the B3 and B4 but built for David Bridges to take a 2-litre BRM V8. Also won first time out, at Oulton Park in April 1967, driven by Brian Redman.
Chevron B6
1967
7
GT. A "production" batch of GT cars built for 1967, one with a 1.6-litre Ford twin-cam and the rest with 2-litre BMW engines. Also won on its debut, with Martland in April 1967.
Chevron B7
1967
1
Formula 3. Chevron's first F3 car, fitted with a 1-litre engine and raced by Peter Gethin late 1967. Full history available
Chevron B8
1968
44
GT/Group 4. The hugely-successful B8 was built in great quantities, usually with BMW 2-litre engines but also with FVAs, FVCs and even Climax engines. It was homologated into Group 4 from 1 March 1968 on the basis that 50 were built. To help the numbers, every rebuild counted as a new car, a habit that would continue into the B16, B19 and even the B21. Research project
Chevron B9
1968
8
Formula 3. The production version of the B7. Full histories available
Chevron B9B
1968
1
Formula 3. A late-season stressed-panel version of the B9. Returned to the Chevron tradition by winning on its debut in September 1968 driven by Gethin. Full history available
Chevron B10
1968
2
Formula 2. The F2 version was not a success and the second car was sold into hillclimbing. Full histories available
Chevron B12
1968
1
GT. A one-off car based on the B8 but lengthened to take a 3-litre Repco engine. Won on its debut in May 1968 in the hands of John Woolf.
Chevron B14
1968
3
Formula B. Three cars built based on the F3 B9 but with Ford twin cam engines for SCCA's Formula B. Full histories available
Chevron B15
1969
14
Formula 3. A production version of the late-1968 B9B, this was Chevron's first truely successful F3 car. Full histories available
Chevron B15B
1969
7
Formula B. A new Formula B car closely following on from the B14 but using the B15 as its base. Full histories available
Chevron B15C
1969
1
Formula 3. An one-off development of the B15 design, using the suspension and brakes from the F2 car. Full history available
Chevron B16
1969
23
G5/G6 Sports.
Chevron B16S
1969
1
G6 Sports. See the B19 histories.
Chevron B17
1970
9
Formula 3. Now with a quasi-monocoque but otherwise a development of the B15 series. Full histories available
Chevron B17B
1970
5
Formula B. The Formula B version of the B17 with Ford twin-cam engines. Full histories available
Chevron B17C
1970
2
F2. A converted B17 with B16 sports car suspension for Reine Wisell to use in F2. Full histories available
Chevron B18
1970
7
F2/F3/Atlantic. A very square and remarkably ugly semi-monocoque for F2, F3 and Formula Atlantic. Full histories available
Chevron B18b
1970
4 or 6
Formula B. The Formula B version of the B18. Full histories available
Chevron B19
1971
35
G6 Sports. The production version of the B16 Spyder built for Group 6 sports prototype racing. Full histories available
Chevron B20
1971
9
F2/Atlantic. A development of the B18 but with the full-width "sports car" nose that would define the later Chevron single-seaters. Full histories available
Chevron B21
1972
28
G6 Sports. The 1972 version of the B19 was saw minor changes to the bodywork and presumably carried on the wider tub seen on one or two of the last B19s.
Chevron B23
1973
26
G6 Sports. The 1973 version of the B19/21 series, again with very minor changes.
Chevron B24
1972/73
10
F5000. A prototype B24 raced in 1972, winning its first race, and was followed by a production run in 1973. Full histories available
Chevron B25
1973
16
F2/Atlantic. A full monocoque car at last but with B20 suspension. Successful in both F2 and Atlantic. Full histories available
Chevron B26
1973
9
G6 Sports. A monocoque sports car appeared late in 1973 to replace the aged B19/21/23 line.
Chevron B27
1974
16
F2/Atlantic. Sold in large numbers as Chevron's reputation in the minor formulae grew. Full histories available
Chevron B28
1974
2
F5000. An updated B24 sold to the VDS team for 1974, again winning its first race. Full histories available
Chevron B29
1975
27
F2/Atlantic. Commercially a very successful car with at least 27 sold. Research project
Chevron B30
1975
1
F5000. Built for David Purley using the 3412cc Cosworth Ford GAA V6 to run in Shellsport series. Full history available
Chevron B31
1975
6
G6 Sports. The 1975 version of the B26.
Chevron B32
1975
1
Hillclimb. Built for John Cussins using a 5.7-litre Chevrolet V8 to run in British hill climbs. Full history available
Chevron B34
1976
33
F3/Atlantic. A combined F3/Atlantic model as the B35 was now a distinct design. Well developed before the start of the season in both F3 and Atlantic spec. Research project
Chevron B35
1976
8
F2. The F2 version of the B34. Research project
Chevron B36
1976
21
G6 Sports. Another update to the B26/B31 design. Sold in impressive numbers.
Chevron B37
1976
1
F5000. Built for VDS for Peter Gethin to race in the 1976 US series Full history available
Chevron B38
1977
28
F3. A minor update to the B35 but another very big seller.
Chevron B39
1977
11
Atlantic. The Atlantic version of the B38; just an update to the B35 design. Research project
Chevron B40
1977
11
F2. Almost indistinguishable from the Atlantic B39. Research project
Chevron B41
1978
1
F1. An attempt at a F1 car which might have been competitive if it had raced in 1977 but was outclassed by 1979. Full history available
Chevron B42
1978
21
F2. A further incremental improvement to the B40, selling in vast numbers for a F2 car. Research project
Chevron B43
1978
16
F3. Continued Chevron's success in F3 but not as user-friendly as earlier designs.
Chevron B45
1978
4
Atlantic. Ralt were starting to dominate F/Atlantic and there was little interest in an updated B39. Research project
Chevron B46
1978
1
FSV. A FSV version of the B43/45 design would not dent Ralt's dominance of the category.
Chevron B47
1979
F3. Designed by Tony Southgate as a wing-car version of the B43. Research project
Chevron B48
1979
F2. Designed by Tony Southgate as a wing-car version of the B42. Research project
Chevron B49
1979
Atlantic. Designed by Tony Southgate as a wing-car version of the B45. See the B48 research project
Chevron B50
1979
FSV. A sister car to the B48 and B49.
Chevron B51
1980
Can-Am. The company's unsuccessful 1980 Can-Am design.
Chevron B52
1980
Sports 2000. First raced August 1980. Continued in low-level production when Robin Smith owned Chevron.
Chevron B53
1980
1
Atlantic. Originally the B53 was planned as a F3 car but it was not built and the number was used by Robin Smith's Chevron Cars Ltd for a 1981 Formula Atlantic car built from a B48/B49 monocoque. Research project
Chevron B54
1981 or 1982
7
S2000. It's reported that seven were built but this number hasn't been validated.
Chevron B56
1982
1
Atlantic. Built for the 1982 UK Atlantic series. Appeared late in the season and driven by Gary Gibson and Masanori Sekiya. See the B53 research project
Chevron B57
Unknown
Chevron B58
Unknown
Chevron B59
Unknown
Chevron B60
1982
5?
Thundersports. Built for the British Thundersports category and ran with a 2-litre engine and B36 bodywork. In 1984, a couple of Sports 2000 versions were built as the B60A. It reported that five were built in total.
Chevron B61
1984
2
Sports 2000. Two built from scratch plus two more S2000s converted to B61 specification. Built during the Roger Andreason era. This model was initially described as being for Class B Thundersports with a 1600cc BDA engine.
Chevron B62
1985
1
Group C2. Another one-off. It was announced by Roger Andreasson in February 1985, to be powered by a 3.3-litre Cosworth DFV. (This number had earlier been allocated to a planned 2-litre sports car being designed in February 1984 by Roy Top.)
Chevron B63
1985
5
S2000. Sports 2000. Race-cars.com reports that 5 or 6 were built; the Chevron Heritage site says 5.
Chevron B64
1985
1
Atlantic. This car was auctioned on eBay in 2008 when it was said to be the only car.
Chevron B65
1986
1
Group C2. Built by Race Cars UK for Chevron Race Cars USA.
Chevron B67
1988
4?
Formula Ford 2000. Designed by former Quest designer Mike Thompson for the Andreason/Colman company and produced at the end of 1987. Raced in the UK in 1988 by Mark Poole. At least four sold to the US.
Chevron B68
1988
5?
Formula Ford 1600. Designed by Mike Thompson for the Andreason/Colman company. Debuted by Mark Poole in a Champion of Brands event in March 1988. At least two sold to the US, two to Switzerland and one to the UK (Martin Sismey).
Chevron B69
1989
Formula Ford 1600. An improved version of the B67 announced for 1989 featuring pull-rod suspension.
Chevron B70
Unknown. A 1992 Formula Ford 1600 according to Race-cars.com and the Chevron Heritage site.
Chevron B71
1995
1
Run briefly in IMSA in 1995. Entered at Sebring 12 Hours by Chevron Motorsport. It was later rebodied and named the Keiler KII, in which form it raced on for several more years.
Chevron B72
Unknown
Chevron B73
1995?
1?
Run in WSC events in 1996 and then in Italian and International Sports Racing Series races late 1997 and in 1998.
Chevron B74
Unknown. A 1997 Supersports car according to the Chevron Heritage site.
According to Race-cars.com and the Chevron Heritage, the numbers B75 and B76 were used for Kart projects.
All and any help would be gratefully received. Please e-mail Allen at allen@oldracingcars.com if you can add anything.
Chevron Heritage
Chevron Heritage supplies genuine Chevron parts for pre-2008 cars, using the original Chevron drawings, jigs, body moulds and patterns which have been owned by the company since 1983.
Chevron Heritage is licenced to manufacture Chevron B8, Chevron B16 and Chevron B19 continuation cars by Chevron Cars Limited which owns these trademarks.
Contact Chevron Heritage Limited on +44 (0)1256 345 582 or email tim@chevronracingcars.com.