Chevron B14 car-by-car histories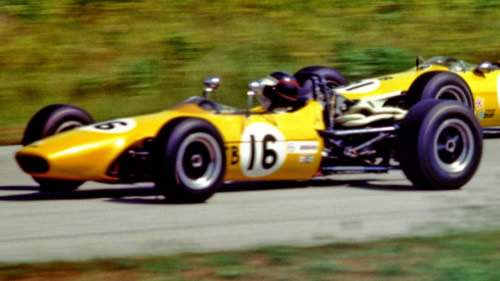 The Chevron B14 was based on the new Formula 3 B9 design but fitted with a Ford twin cam for SCCA Formula B. Chevron have previously claimed that only three were built but there is strong evidence in favour of a fourth.
Chevron's single-seater programme for 1968 was already quite ambitious, with a Formula 2 car that had flopped as well as a string of reasonably successful F3 cars, but Fred Opert had taken on Chevron's North American agency and was confident that he could sell several cars for Formula B. Three were built by August but were numbered amongst the F2 and F3 cars, making it difficult to ascertain the exact numbers built. A fourth car was built before the end of the season and some of Chevron's surviving records suggest that another two were built.
Only two of the B14s are known for certain at present: Chris Ball's ex-Broeker car in England and Jeffrey Giannini's ex-Smothers car in the US. Peter Mohr (Queensland, Australia) has a car in early 2014 that he reports to be the ex-Grimaldi car. He is currently researching its history.
If you can add any further information, please email Allen.
Chassis
History
Current owner
The mystery cars
Two more B14s appear later, Oliver Grant's car in 1969 and Jim Trueman's in 1970. Trueman's is easiest as it could easily be the ex-Tufts car but Grant's poses a problem. One possibility is that Joe Grimaldi sold his B14 to Grant for 1969 and that Grimaldi then raced a new B15B in 1969. Then Grant could have traded the B14 back to Grimaldi for Grimaldi's newer B15B for 1970. That still allows the ex-Grimaldi B14 to go to Larry Wright for 1970 but means there is one more B15B than thought.
Chassis
History
Current owner
Oliver E. Grant (Norfolk, VA) raced a yellow #21 Chevron in SCCA FB events in 1969, describing it as a B14 at Mont-Tremblant in September. He retained the car for a few races in 1970 when it wore #18 but was described as a B15B. It is possible that Grant had acquired Joe Grimaldi's B14 and traded it back to Grimaldi for a newer B15B for 1970. Grant died in 2007 and the subsequent history of the Chevron remains unknown.
Driven by: Oliver Grant. First race: Road America (R6), 20 Jul 1969. Total of 7 recorded races.
Unknown
In July 1970, a young Jim Trueman (Amlin, OH) raced a #48 Formula B Chevron in the SCCA National at Mid-Ohio. Two months later, Trueman raced a blue and silver Chevron in the Mid-Ohio 'Pro' Formula B race. Trueman would later found the Red Roof Inn motel chain and use his ensuing wealth to form the Truesports racing team and win the Indy 500 in 1986. After the 1970 season, he sold the Chevron to one-time F1 driver Tom Jones (Euclid, OH) who understood it to be a B14 and entered it as such. He raced it in 1971 and 1972 and then traded it to Ed Zink for the remains of the McLaren M22 that Zink's nephew Harry Ingle had crashed at Road America. The later history of the Chevron is unknown.
Driven by: Jim Trueman and Thomas C. Jones. First race: Mid-Ohio, 26 Jul 1970. Total of 6 recorded races.
Unknown
Chevron Heritage
Chevron Heritage supplies genuine Chevron parts for pre-2008 cars, using the original Chevron drawings, jigs, body moulds and patterns which have been owned by the company since 1983.
Chevron Heritage is licenced to manufacture Chevron B8, Chevron B16 and Chevron B19 continuation cars by Chevron Cars Limited which owns these trademarks.
Contact Chevron Heritage Limited on +44 (0)1256 345 582 or email tim@chevronracingcars.com.
Acknowledgements
Thanks to Tim Colman and the late Roger Andreason of Chevron Heritage for kindly sharing their notes on this model, and to owners Chris Ball, Jeff Giannini and Peter Mohr for their help with this article. Thanks also to Mike Summers, who worked very hard to identify his ex-Garey Cooper Chevron for many years, and interviewed Larry Wright amongst others during that project.
All and any help would be gratefully received. Please email Allen at allen@oldracingcars.com if you can add anything.
These histories last updated on .