Chevron B20 car-by-car histories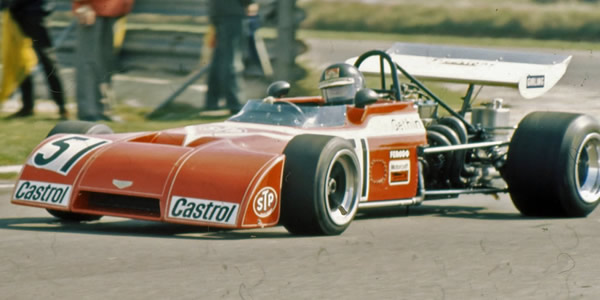 The Chevron B20 was Chevron's 1972 single-seater design, intended for F2, F3 and Formula B, but designed primarily for F2. It was panelled spaceframe based largely on the B18 but with a full-width 'sports car' nose.
Derek Bennett completely rethought the aerodynamics of the B18, and replaced its ugly front wing with a full-width nose which was essentially a squared-off version of the front of the company's B19 sports car. The B19 bodywork had in turn been cribbed from the Porsche 908/3 at the recommendation of Brian Redman, who was a Porche works driver as well as having a very close relationship with Chevron. Although Chevron get much credit for introducing the 'sports car nose' to F2, the Surtees TS10 also had the same style of nose from the start of 1972, and it had been Tyrrell that had first introduced a Porsche 908/3-inspired nose to single-seaters when such a 'bluff' nose was added to Jackie Stewart's Tyrrell 003 in June 1971.
Despite its unpopularity, the B18 had shown some potential, and Chevron's continuing success in sports car racing ensured some customers were found for the new single-seater design. Fred Opert, the US agent, bought cars for Formula B customers Jim Grob, Bobby Brown and Brian Robertson, and in early 1973 sold a fourth car to Peter Ferguson. Pierre Maublanc was now the French agent and bought one car for himself, which proved to be very effective in French hillclimbs. Also a car was sold to the far east for the 1600cc twin cam formula. In the UK, singleton cars were sold for Formula 3, to Chris Skeaping, and for Formula Atlantic, where Bobby Howlings bought a car for John Lepp to race. Skeaping's Vegantune-engined F3 car was a complete flop, but Lepp was more competitive in Formula Atlantic, winning one round of the British series at Croft in August. But most of Chevron's focus was on the Formula 2 project, where Peter Gethin drove the works entry and won at Pau in early May. A second F2 car was finished off in time for John Watson to race at Oulton Park in September.
There are still several mysteries and a number of missing cars. If you can add anything, please contact Allen Brown (allen@oldracingcars.com).
Chassis
History
Current owner
Chevron B20s in 1972
Two Chevron B20s do not quite fit, the car that Bobby Brown raced at the JAF GP in Japan in May 1972, and the one that Dan Carmichael drove during 1972. Brown's car was thought to be his regular Formula B car, but Kevin Hodgkinson rightly points out that there was not time to return it to America and refit its usual Ford twin cam before the Laguna Seca race the following weekend. Carmichael was very quick in his car in SCCA Nationals, running second at the Road America June Sprints before he crashed, so it is unlikely that it was his previous Chevron B18 updated. One possibility previously considered is that Carmichael was the first owner of chassis 72-7, and that it was sold to Canada as a new car after he had it, but Lee Johnson's discovery that Carmichael's car went to Joe Shepherd for 1973 ruled this out. At the moment, both of these are unresolved puzzles.
Chassis
History
Current owner
At the JAF Grand Prix at Fuji on 3 May 1972, Bobby Brown raced a Chevron B20 with a Cosworth FVC engine. There was not time to get this car back to the US for the Laguna Seca Formula B race the following weekend, so this must have been a different B20. Nothing more known.
Driven by: Bobby Brown. First race: Fuji, 3 May 1972. Only one recorded race.
Unknown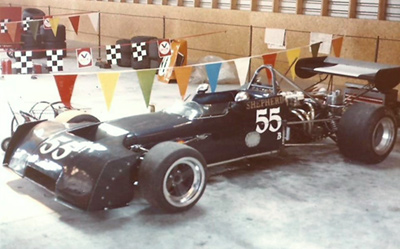 Dan Carmichael (Columbus, OH) raced a Chevron B20 at the Road America June Sprints and at the 1972 SCCA Runoffs. He finished the season with 25 points, indicating that he used the car at a minimum of three other SCCA Nationals during 1972. Carmichael acquired a new Brabham BT40 for 1973 and the Chevron was sold to Joe H. Shepherd (Indianapolis, IN), who raced it in Canadian and SCCA Pro Formula B in 1973, entered by Xanadu Racing, and also scored three points in SCCA Central Division FB. Retained by Shepherd for Players Canadian Formula Atlantic and SCCA Formula B in 1974, but he did not score any points in Central Division that season. He appeared again in 1975, but his only certain outing that season was in the Hoosier Grand Prix SCCA National at IRP in September. The car was advertised by Shepherd in January and February 1976, and his recollection is that it went to someone in the southeast US, perhaps on the coast. See the 1976-1978 Bill Scott car.
Driven by: Dan Carmichael and Joe Shepherd. First race: Road America, 18 Jun 1972. Total of 18 recorded races.
Unknown
Chevron B20s in 1973
Nearly all the B20s can be traced into 1973: 71-1 still with Jim Grob, 72-5 and 72-7 with Peter Ferguson, 72-6 with Roger Damaisin, and 72-9 with John Green. The only one missing was the ex-Bobby Brown 72-3 (which previously versions of this page incorrectly placed with Chip Mead in 1973), but that car reappeared with Price Cobb in Texas in 1974. Of the two F2 cars, one had been effectively destroyed when David Morgan was cut out of it in Brazil, and the other went to South Africa. The ex-F3 car, 72-1, was advertised by Chevron during 1973 and does not appear to have raced that year. The missing car is Bobby Howlings' Formula Atlantic car, 72-4, which disappeared at the end of 1972, and does not turn up again until early 1974 when Nelson Todd bought it from Howlings. Howlings' company, Bobby Howlings Racing, went into liquidation in early 1973 and it is possible this car was tied up with the liquidators during 1973.
As it now seems clear that Howlings' Formula Atlantic car did not go to the US, the car of Dan Carmichael and Joe Shepherd is a mystery. It cannot have been 72-7, as previous version of this page suggested. One possibility is that the ex-Willie Green Chevron B18 had been updated to B20 specification at the factory after he last raced it at the Rothmans 50,000 and was sold to the US, but this car was in England again in the 1980s, so that now looks very unlikely. However, there was one Formula B Chevron B18 that cannot be accounted for in 1973, and as the B18 and B20 chassis were very similar, an upgraded B18/B20 is quite plausible. Even if the B18's inboard front suspension was left unchanged, replacing the B18's nose with a B20 nose may result in a car being described as a B20.
Later mystery Chevron B20s
In June and November 1975, Fred Opert advertised the ex-Robertson 72-5, latterly for £3500 as a rolling chassis. In March 1976, Joe Grimaldi's The Race Shop (Adrian, MI) advertised a Chevron B20, described as a "good National Formula B or Formula C car" as a roller for $3500. As Joe Shepherd still had his car only a month earlier, it seems likely that Grimaldi had acquired 72-5 from Opert. Bill Scott Racing (McLean, VA) had a black Chevron B20 in stock from 1976 to 1978, which looks likely to have been the ex-Dan Carmichael/Joe Shepherd car that Shepherd had advertised in February 1976. Then in September 1978, Bill Graf Racing (South Ozone Pk, NY) advertised the "1972 Players Champ" B20, so presumably the ex-Robertson 72-5, for $4,000.
On the other side of the pond, a Chevron appeared with Mike Stevens and later Andrew Florentine in Yorkshire from about 1976 or 1977 onwards that was entered as a B20, although it really doesn't look like one. Earlier suggestions on this page that it could have been the ex-John Lepp/ex-Nelson Todd 72-4 or the ex-Barrie Maskell Chevron B18 can now be ruled out. It may be an older Chevron, or quite possibly an entirely different car that was just wearing Chevron B25 bodywork.
The other unidentified B20 is a car sold to Lee Johnson by Chevron Cars Ltd in 1989. This was based on a crashed monocoque acquired from Alex Lowe, which may be the chassis damaged in his accident in 1980.
Chassis
History
Current owner
From November 1976 to June 1977, Bill Scott Racing (McLean, VA) advertised a Chevron B20 with a freshly rebuilt Hart twin cam engine. By this time the B20s in North America were 72-3, which stayed in Texas from 1974 onwards; 72-5, last seen as a rolling chassis with Opert in November 1975; 72-7, which was then with Players in Canada; and the Dan Carmichael/Joe Shepherd car that Shepherd had advertised in February 1976. Of these, the only car likely to still have had a Ford twin cam engine would be Shepherd's. In January 1978, Chuck Sieber (McLean, VA) went to Scott's shop to see the car, which was still for sale, and he recalls that it was black, increasing the liklihood that it was the Dan Carmichael/Joe Shepherd car. Subsequent history unknown.
Unknown
This car is first known when raced by Mike Stevens (Holmfirth, West Yorkshire) some time between 1976 and 1979. This may be the 1600cc Ford-engined "Stevens S1" he entered for a hillclimb at Harewood in April 1976, and would be the "Chevron Stevens S/1" he entered in 1979. It was bought in Holmfirth by Andrew Florentine (Richmond, North Yorkshire) in 1979, and he raced it in the 1600cc class in hillclimbs from 1981 to 1984. It was described in a variety of ways, including as a Chevron B9 twice in 1982, and as a Chevron B20 on other occasions. In 1981, it was said to be in Monoposto specification, but had a BDA engine in subsequent seasons. Andrew's recollection is that it may have sold it to a dealer in Chesterfield, Derbyshire around 1988. Although it wore Chevron B25 bodywork, photographs of the car show few other features suggesting it was a Chevron. Although listed here as a B20, because that is what it was most often entered as by Florentine, it is also possible that it is even older, such as a B9 or a B15, or that it was not a Chevron at all.
Driven by: Andrew Florentine. First race: Harewood (R8), 12 Jul 1981. Total of 4 recorded races.
Unknown
Lee Johnson (Taos, NM) bought a Chevron B20 chassis from Chevron Cars Ltd (Roger Andreason and Tim Colman) in 1989/90. Lee has continued the rebuild of this himself over many years. By November 2019, he had a 1860cc Cosworth BDA engine and Hewland FT200 gearbox full rebuilt and ready to install.
Lee Johnson (USA) 2021
Opportunities for further research
There is still much about the B20s that we do not know, or do not feel completely confident about. One possibility is that Chevron updated one of the ex-F2 B18s to B20 specification, or that parts were provided so that Fred Opert could update one of the ex-Formula B B18Bs to B20 specification. Pictures of Dan Carmichael's Formula B car (1972) and Joe Shepherd's Formula B car (1974 to 1976) may provide some of the answers to this. Carmichael won the SCCA amateur Formula Atlantic title in 1995 just eleven days before his 77th birthday, and died in July 2014 aged 95.
Acknowledgements
Much credit for the research into this model must go to Harry Hickling, a previous owner of B20 72-9, the car that was sold to the Far East. The chassis numbers used on this page come from Derek Bennett's hand-written notes on the B20s which were kindly provided by a one-time director of the Chevron company. Thanks also to Chris Townsend who researched the Formula B cars in great detail, to David Innes for his work understanding the fates of these cars, including contacting John Lepp and Nelson Todd to determine the history of the car they both owned, and to Lee Johnson for locating and interviewing Joe Shepherd. Also to David McKinney, Ian Hebblethwaite, Steve Wilkinson, Bryan Miller, Michael Henderson, Marcus Pye, Alan Brown, Rupert Marks, Steve Marschman, Alex Lowe, Dan Rear, Andrew Florentine, Lee Johnson, John Lepp, Nelson Todd, Kevin Hodgkinson and Chuck Sieber for their help in getting to this point. Thanks also to Ted Walker, Alan Cox, Keith Lewcock, Steve Wilkinson, Danie van den Berg, Nelson Todd and Paul Nemy for providing photographs. Last but not least, I am grateful to Tim Colman and Roger Andreason for information provided from their Chevron B20 files.
These histories last updated on .