Chevron B20 car-by-car histories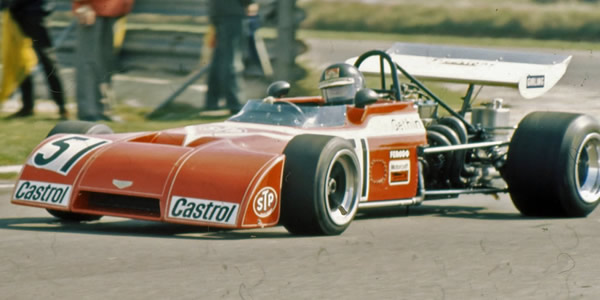 The Chevron B20 was Chevron's 1972 single-seater design, intended for F2, F3 and Formula B, but designed primarily for F2. It was panelled spaceframe based largely on the B18 but with a full-width 'sports car' nose.
Although the Chevron B18 had not been particularly successful, Chevron's continuing success in sportscar racing ensured some customers were found for the new single-seater design. Fred Opert, the US agent, bought cars for Formula B customers Jim Grob, Bobby Brown and Brian Robertson, and in early 1973 sold a fourth car to Peter Ferguson. Pierre Maublanc was now the French agent and bought one car for himself, which proved to be very effective in French hillclimbs. Also a car was sold to the far east for the 1600cc twin cam formula. In the UK, singleton cars were sold for Formula 3, to Chris Skeaping, and for Formula Atlantic, where Bobby Howlings bought a car for John Lepp to race. Skeaping's Vegantune-engined F3 car was a complete flop, but Lepp was more competitive in Formula Atlantic, winning one round of the British series at Croft in August. But most of Chevron's focus was on the Formula 2 project, where Peter Gethin drove the works entry and won at Pau in early May. A second F2 car was finished off in time for John Watson to race at Oulton Park in September.
There are still several mysteries and a number of missing cars. If you can add anything, please contact Allen Brown (allen@oldracingcars.com).
Chassis
History
Current owner
Chevron B20
71-1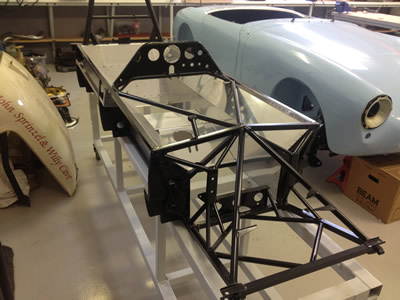 The prototype Chevron B20 was completed in Formula B specification delivered to Jim Grob (Ft Lauderdale, FL) in time for the 1971 Run-Offs. Grob then raced the orange car at the Bogotá races in early 1972 and then in Southeast Div and Pro FB in 1972. He retained the car for 1973 and 1974, racing it in a total of four Run-Offs, before selling it to Peter Symonds (Rowley, MA) for the 1975 season. Symonds only raced it four times: two SCCA Regionals in 1975 and another two in 1976. Symonds advertised it in 1977. Its next owner was Jack Van Dell who raced it in Regionals in 1985. It was sold to Pierre Haverland (Belgium) in 1988 and then to Nelson Todd (Belfast, Northern Ireland) in 2000. To Laurent Fort (Arles, Provence, France) in 2006, then to Michael Henderson (Donaghadee, County Down, Northern Ireland) in 2007. In November 2016, the restoration was stalled as he was busy on other projects.
Driven by: Jim Grob and Peter Symonds. First race: Road Atlanta, 27 Nov 1971. Total of 17 recorded races.
Michael Henderson (UK) 2016
Chevron B20
72-1
New to Chris Skeaping as a works Formula 3 entry for 1972. Skeaping had numerous accidents in the car and his only significant result was third place at Silverstone in mid-May. Not seen again after Skeaping's race at Thruxton in late-October 1972. Advertised by Chevron Cars as "immaculate and ready to race" in August 1973. It was acquired by Alex Lowe (Liverpool) as a rolling chassis, part of a package that included a spare monocoque and the rear end of another car. He raced the ex-Skeaping Chevron B20 in Formula 4 from 1975 to 1978, and then in Monosposto in 1979 and 1980. In September 1980, he had a major accident at Oulton Park, damaging the monocoque beyond immediate repair, so Lowe rebuilt the car on the spare monocoque. He retired from racing at the end of that season. In 1982, he moved to Wales, and sold off the B20. He cannot remember the buyer. According to Chevron Cars (then owned by Roger Andreason and Tim Colman), they bought two B20s from Lowe in 1986 and stored them. In 1994, the ex-F3 car was sold to Nick Crossley, restored to F3 spec and raced in HSCC events, winning the Classic F3 Championship in 1995. Then unknown until acquired by Tom Powell (Potterton, Aberdeenshire, Scotland) in June 2007. Restored again, this time to original livery, and raced in Classic F3.
Driven by: Chris Skeaping and Alex Lowe. First race: Brands Hatch (R1), 5 Mar 1972. Total of 60 recorded races.
Tom Powell (UK) 2014
Chevron B20
72-2
Chevron Racing Team entry in Formula 2 in 1972, raced by Peter Gethin and Vic Elford. Gethin won at Pau in early May. Also raced by John Watson with a 1900cc Cosworth FVC in the Rothmans 5000. Unlikely to be the car leased by Ed Reeves for David Morgan to race in the Torneio do Brasil. However, Tony Martin did a deal in South America to buy three F2 cars for South African racing in 1973, and it is likely that as the Morgan Chevron had been damaged, the older ex-Gethin works F2 car was substituted. Raced by Martin in 1973, when it was fitted with a 2-litre BDA and later a FVC engine. Raced by Glenn Martin a few times in 1974. South African historian Ian Hebblethwaite reports that Martin crashed the car heavily later that season. He understands that the tub was unrepairable and the other components were used on the team's B25s.
Driven by: Peter Gethin, Vic Elford, John Watson, Tony Martin and Glenn Martin. First race: Mallory Park (R1), 12 Mar 1972. Total of 24 recorded races.
Destroyed 1974
Chevron B20
72-3
Sold via Fred Opert to Bobby Brown (Hicksville, NY) for SCCA Formula B. Third and first in the two Bogotá races early in 1972, then raced in the JAP GP at Fuji in May. Also won the Pro FB race at Lime Rock in July. Unknown in late 1972 and early 1973. To Freeman Racing and entered for Chip Mead (Dayton, OH) to race at Mosport Park in July 1973. Next seen when entered by Freeman Racing Enterprises for Price Cobb (Dallas, TX) in the Pro Formula Atlantic races in 1974. Advertised by Cobb in early 1975, then advertised by Richard Jackson (Dallas, TX) in August 1975 as "ex-Brown", and in February 1976. Next seen when sold by a dealer, Paul Lindell (Houston, TX), to James Sawyer in January 1978. From Sawyer to Jeff McKay (Tacoma, WA) then on to Walt Pawluczkowycz (Evergreen, CO). Sold by Pawluczkowycz to Steve Marschman (Idaho Falls, Idaho) in May 2004. Still with Marschman in November 2016.
Driven by: Bobby Brown, Chip Mead and Price Cobb. First race: Bogotá, 27 Feb 1972. Total of 10 recorded races.
Steve Marschman (USA) 2016
Chevron B20
72-4
To Bob Howlings Racing Team for John Lepp (Altrincham, Cheshire) to race in British Formula Atlantic in 1972. Won at Croft in August and had several other good placings. Last seen in the UK at Oulton Park on 30 September. Subsequent history unknown but likely to be the Joe Shepherd car in SCCA Formula B in 1973.
Driven by: John Lepp. First race: Croft, 12 Mar 1972. Total of 16 recorded races.
Unknown
Chevron B20
72-5
Sold via Fred Opert and entered for Brian Robertson (Brockville, Ontario, Canada) in Formula B in 1972. To Ferguson/Wilson Racing Team for 1973 and raced by former Miss Canada pageant finalist Linda Wilson in Canadian Formula B. Not seen in 1974, when "former male model" Peter Ferguson raced the team's other car in Formula Atlantic. Advertised by Fred Opert in June 1975, suggesting it had returned to Opert in part exchange for Ferguson's new Chevron B29. Subsequent history unknown but reported to have been the orange B20 racing in US vintage racing by Ed Swart from 1989 to 1993. This car was said to be still with Swart in 2011, but this has not yet been confirmed. In February 2019, the ex-Swart car was advertised as "72-5" from Las Vegas, NV. Acquired by Chuck Raggio (Linden, CA) in March 2019.
Driven by: Brian Robertson and Linda Wilson. First race: Sanair (R1), 28 May 1972. Total of 15 recorded races.
Chuck Raggio (USA) 2019
Chevron B20
72-6
Sold to Pierre Maublanc (Rillieux, Lyons, France) and fitted with a 2-litre Hart BDA for French hillclimbs. Won at least six courses de côte in 1972, and numerous other high finishes. To Roger Damaisin (Villeurbanne, Lyons, France) for 1973, and won at Mont Ventoux in September. To Guy Baria (Monte Carlo) for 1974, 1975, 1976 and early 1977, still with its Hart engine. Advertised by Baria in August 1977 with a 2-litre FVC engine. It is highly likely that this was the B20 raced by Bernard Vezon (Alès, Occitanie, southern France) in 1979. Later bought by Guy Gasiglia in 1982, who used it as the basis of a Renault-engined silhouette class car. Then to Patrick Caisson in 1989, then to Dutoya in 1989. Sold to Rupert Marks (Maldon, Essex) in 2001. Still with Rupert in January 2007.
Driven by: Pierre Maublanc, Roger Damaisin, Guy Baria and Bernard Vezon. First race: Monts du Jura, 30 Apr 1972. Total of 55 recorded races.
Rupert Marks (UK) 2007
Chevron B20
72-7
Sold via Fred Opert to Ferguson/Wilson Racing Team for 1973, when it was described as brand new. Raced by Peter Ferguson (Toronto, Ontario) in the Canadian FB series. Retained by Ferguson for Formula Atlantic in 1974. According to documentation later submitted to CAMS, the car was owned by Players from 1974 to 1978, then was in storage from 1978 to 1984. It was owned by Alex Polsinello from 1984, then George McLean in 1991, then Russell Sewell in 2010. It ws bought by Martin Bullock (Western Australia) in 2011. Raced by Bullock in Australian historic racing from 2013 onwards.
Driven by: Peter Ferguson. First race: Westwood (R1), 27 May 1973. Total of 17 recorded races.
Martin Bullock (Australia) 2016
Chevron B20
72-8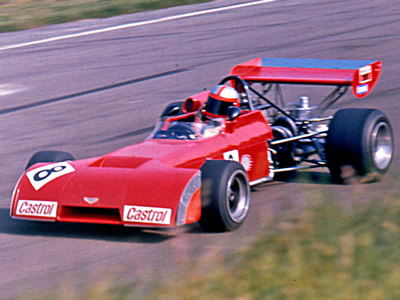 Appeared as a second Chevron Cars F2 entry for John Watson at Oulton Park in September 1972. Believed to be the car leased by Ed Reeves for David Morgan to race in the Torneio do Brasil at the end of the year. Morgan crashed in practice at Interlagos when the car hit the Armco barrier head on and went between the two sections, luckily stopping before the cockpit. The car was "extremely badly bent" and a fortunately unhurt Morgan had to be cut out of the car. It is likely that the would not have been repairable after this, but it is possible it was the basis of the later Nelson Todd car.
Driven by: John Watson and David Morgan. First race: Oulton Park, 16 Sep 1972. Total of 3 recorded races.
Wrecked 1972
Chevron B20
72-9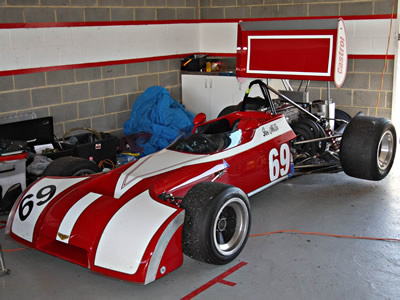 New to John S Green in Formula B specification but there is no evidence of this car being delivered before the end of 1972. Green ran it in the Gap Hill Climb in January 1973, but only circuit raced it once, in the Singapore Grand Prix in April 1973. Green died in early 1974, and the Chevron was sold to David Schollum for Steve Millen in South-East Asian races that year. Then shipped to New Zealand and fitted with a 1980cc Cosworth FVC engine for the 1975 Tasman series. Used by Millen in 1600cc form at Batu Tiga and Macau later in 1975. Sold to Ian Grey in 1976 and raced with a Cosworth BDM at Macau in 1976 and 1977. Later sold to Dick Ward (Perth, Australia), and then to Harry Hickling (ACT, Australia). Sold to David Innes late 2014.
Driven by: John Green, Steve Millen and Ian Grey. First race: Gap Hill Climb, 21 Jan 1973. Total of 11 recorded races.
David Innes (UK) 2015
Chevron B20s in 1972
One Chevron B20 does not quite fit, the car that Dan Carmichael drove in 1972. He was very quick in this car, running second at the Road America June Sprints before he crashed, so it is unlikely that it was his previous Chevron B18 updated. One possibility is that he had chassis 72-7, and that it was sold to Canada as a new car after he had it. At the moment, it is an unresolved puzzle.
Chassis
History
Current owner
Chevron B20
'the Dan Carmichael car'
Dan Carmichael (Columbus, OH) raced a Chevron B20 at the Road America June Sprints and at the 1972 SCCA Runoffs. He finished the season with 25 points, indicating that he used the car at a minimum of three other SCCA Nationals during 1972. Subsequent history unknown.
Driven by: Dan Carmichael. First race: Road America, 18 Jun 1972. Total of 2 recorded races.
Unknown
Chevron B20s in 1973
Nearly all the B20s can be traced into 1973: 71-1 still with Jim Grob, 72-3 with Chip Mead, 72-5 and 72-7 with Peter Ferguson, 72-6 with Roger Damaisin, and 72-9 with John Green. Of the two F2 cars, one had been effectively destroyed when David Morgan was cut out of it in Brazil, and the other went to South Africa. The ex-F3 car, 72-1, was advertised by Chevron during 1973 and does not appear to have raced that year. The Formula Atlantic car, 72-4, disappears from the UK and is very likely to explain the mystery Formula B car raced by Joe Shepherd in 1973.
Chassis
History
Current owner
Chevron B20
'the Joe Shepherd car'
A Chevron B20 raced by Joe Shepherd (Indianapolis, IN) in SCCA Formula B in 1973. Retained by Shepherd for Formula Atlantic in 1974 and 1975. Advertised by Shepherd in February 1976.
Driven by: Joe Shepherd. First race: Mosport Park (R4), 2 Jul 1973. Total of 10 recorded races.
Unknown
Chevron B20s in 1974
One mystery car appears in 1974, the Irish Formula Atlantic car of Nelson Todd. There have been suggestions that this was the ex-John Watson Formula 2 car, 72-8, but this identification appears to have been based on a process of elimination before the fates of the two F2 cars were known.
Chassis
History
Current owner
Chevron B20
'the Nelson Todd car'
Raced by Nelson Todd (Lisburn, Northern Ireland) in Irish Formula Atlantic in 1974, winning at Kirkistown in October. To Jim Sherry (Lisburn, Northern Ireland) for 1975. To Mike Nugent (Cookstown, County Tyrone, Northern Ireland) for 1976. Then to Dick Parsons (Dundonald, County Down, Northern Ireland) for 1977. Sold to Tom McMillan in Scotland, then on to Bill Lord for 1978 and used in Scottish hillclimbs, reputedly with a Hart 420R Formula 2 engine, but this seems unlikely. Retained for 1979 and presumably the Chevron B20 with Cosworth FVC engine advertised from Dunfermline, Fife in November 1979.
Driven by: Nelson Todd, Jim Sherry, Mike Nugent, Richard Parsons, Bill Lord and Alastair McDougall. First race: Mondello Park, 3 Jun 1974. Total of 22 recorded races.
Unknown
Later mystery Chevron B20s
In addition to the above, an unknown Chevron B20 was driven by Andrew Florentine.
Acknowledgements
Much credit for the research into this model must go to Harry Hickling, previous owner of B20 72-9, the car that was sold to the Far East. The chassis numbers used on this page come from Derek Bennett's hand-written notes on the B20s which were kindly provided by a one-time director of the Chevron company. Thanks also to Chris Townsend who researched the Formula B cars in great detail, and to David McKinney, Ian Hebblethwaite, Steve Wilkinson, Bryan Miller, Michael Henderson, Marcus Pye, Alan Brown, Steve Marschman and Dan Rear for their help in getting to this point. Thanks also to Ted Walker, Alan Cox, Keith Lewcock and Danie van den Berg for providing photographs.
These histories last updated on .