Chevron B18 (FB) car-by-car histories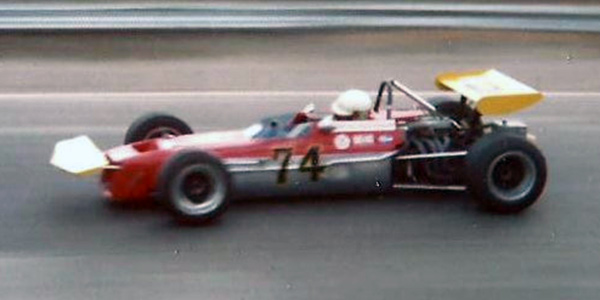 Chevron's 1971 Formula B model was named the Chevron B18, the same as the F2, F3 and Formula Atlantic models, but is treated here as a separate model. Freddy van Beuren had some success in the SCCA Pro series in a B18 run by Fred Opert.
Note that the Formula 2, Formula 3 and Formula Atlantic B18s are listed here.
The Chevron B18 was a panelled spaceframe, similar in construction to the previous Chevron B17C, but with aluminium panels rivetted to square tubing, instead of the steel panels welded to round tubing on earlier Chevrons, and had inboard front suspension. It had a remarkably ugly nose, which is unfortunately the feature for which it is best remembered. When Chevron introduced the B20 for 1972, the company reverted to outboard front suspension and fitted a broad bluff "sports car" nose. It would therefore be possible to update a B18 with B20 bodywork, but the suspension would give away its origins.
According to Chevron summary records, a total of 13 Chevron B18s were built, of which six were supplied with Ford twin cam engines, indicating that they were destined for Formula B in North America. However, the David Gordon book, which was presumably written with the benefit of access to Chevron's detailed records, said that Opert sold four B18s in 1971. Certainly only four can be tracked with any certainty, the first of which were Carl Liebich's car, used in SCCA Nationals through 1971, and Freddy van Beuren's car used in Pro FB as part of Fred Opert team. A third then appeared for Dan Carmichael in July, but this car could well have been racing in SCCA Central Division earlier than this date, and then a fourth emerged with Warren Flickinger of Colorado. If fifth and sixth cars did arrive in the US, it is not at all obvious who had them.
Formula B Chevron B18s in 1971
Chassis
History
Current owner
Formula B Chevron B18s in 1972
Of the four cars that were sold in 1971, Freddy van Beuren's car continued into 1972 as part of Fred Opert's team, and Opert also had a B18C for Carl Liebich, which was presumably an update of his 1971 B18. Note that the ex-F2 B18 of John Powell also raced with Opert's team, and that Nick Craw raced an unidentified Chevron B18 with Cosworth FVA engine at the JAF Grand Prix in May 1972. Opert had bought Nick May's Chevron FVA-engined B17b/B18 in England the previous September, and it is quite possible that was the car Craw was driving.
That leaves only two FB cars that vanish at the end of 1971: Dan Carmichael's and Warren Flickinger's. Correspondingly, there are two mystery B18s in 1972: the Fred Opert Racing car of Aubrey O'Connor and Jim Dunkel's rarely-seen car in Illinois. As the two Fred Opert Racing B18s from 1971 remained with the same owners for 1972, it is curious that Opert now had another B18 for Aubrey O'Connor. As Dan Carmichael had a B20 for 1972, Opert may have taken his B18 in trade, but it remains a possibility that Carmichael's B20 was actually the nearly-new B18b upgraded. It is a lot less likely that Opert had Warren Flickinger's B18, as Flickinger had gone to Opert's rival dealer Carl Haas for a new Lola T300 for 1972. The other possibility is that O'Connor was actually driving the two-year-old ex-Nick May B17b/B18.
Also at some point in 1972, Richard Hudgins acquired a Chevron B18 from dealer Joe Grimaldi for his racing school based at Virginia International Raceway. He traded this car back to Grimaldi for a newer 1971 March sometime in early 1973, so may not have had the Chevron for long.
Chassis
History
Current owner
At the JAF Grand Prix at Fuji in May 1972, Fred Opert entered a Chevron B18 with 1600cc Cosworth FVA engine for Nick Craw to drive. The choice of the Cosworth FVA is curious, as 2000cc engines were allowed at this race, and teammate Bobby Brown used an 1800cc Cosworth FVC in his Chevron B20. Nothing more known.
Driven by: Nick Craw. First race: Fuji, 3 May 1972. Only one recorded race.
Unknown
Aubrey O'Connor (Memphis, TN) raced a Chevron B18 as part of the Fred Opert team in Formula B in 1972, entered as either #78 or #88, and at least once in SCCA Nationals where he was entered as #24 and gave his home town as New York, NY. O'Connor also raced a Triumph Spitfire in SCCA F Production in 1971 and 1972, and then moved to USAC stock car racing with a Pontiac in 1973. He was born in Craighead County, Arkansas on 30 December 1938 and died in Memphis, TN in November 2011. Nothing more is known of the Chevron.
Driven by: Aubrey O'Connor. First race: Bryar Motorsport Park (R2), 29 May 1972. Total of 3 recorded races.
Unknown
After racing a Lola T190 in Formula A in 1971, James Dunkel (Rockford, IL) stepped back into Formula B for 1972 with a blue Chevron B18. Dunkel failed to start in both the Road America June Sprints and in Road America's Pro race and only scored five points in Central Division FB that year, indicating that he may have only raced it twice. He advertised the car in July 1972 as a B18B, and in Feb 1973 as "six races from new". If that description is correct, that is too many races for it to have been either Dan Carmichael's or Warren Flickinger's car from 1971. However, as there were no SCCA Log Books in 1971, he may not have known exactly how often it had raced. Nothing more known.
Driven by: James Dunkel. First appearance: Road America, 18 Jun 1972.
Unknown
Formula B Chevron B18s from 1973 onwards
Only one of the four Formula B Chevron B18s can be tracked from 1972 into 1973: Carl Liebich's being sold to Frank Sangiorgio. Of the other three B18b drivers in 1972, Freddy van Beuren was not seen in FB at all in 1973, Aubrey O'Connor moved to USAC stock cars, and Jim Dunkel moved into F5000. In February 1973, Fred Opert advertised two B18s: the "ex-Carl Liebich" blue and yellow car and the "ex-Fred Van Beuren" orange and yellow car which had done "10 races from new". He sold the Liebich to Sangiorgio and there is some evidence that he sold the Van Beuren car to Dean Lundgreen. A couple of weeks later James Dunkel advertised his car. There was no mention in 1973 of the Aubrey O'Connor car.
As well as Sangiorgio and Lundgreen, Gregg Reppart appeared with a B18 in a Washington Region SCCA National at Summit Point in June 1973, so between them they account for three of the B18s known to be the US. Paul Wheatley still had the ex-Brian Redman F2 Chevron B18 in Canada in 1973, and the ex-Nick May B17b/B18 was also somewhere in North America.
In 1974, Sangiorgio and Lundgreen continued racing their B18s, Malcolm MacLeod of Western Ohio Region raced an unidentified B18, and Chuck Shannon of Western Ohio Region scored two points in Central Division FB in a completely unidentified Chevron. Macleod raced for Fastrack Operations Inc in Dayton, Ohio, who also had a Chevron Formula B car on their books in 1973 which was raced by Chip Mead. Chuck Shannon, also from Dayton, Ohio, was entered in the Road America June Sprints in a Chevron "B25" and it is possible both MacLeod and Shannon were having outings in Mead's Chevron. Shannon, who had raced Formula Ford in 1973, may have been the Charles Shannon who was sales manager for John Walther's Mall Pontiac dealership in Dayton. His SCCA licence was not renewed for 1975 and the car he was driving in 1974 remains unknown.
Thomas Gloviak was previously shown here as a suspected Chevron driver but is now known to have been racing his brother's Brabham BT35.
Chassis
History
Current owner
Dean Lundgreen (Franklin, MN) raced a Chevron B18 or B18C in SCCA and MCSCC Formula B in 1973. What is probably his first race in the car came in the MCSCC season opener at Blackhawk Farms on 13 May when a "D Lundquist" retired his #74 Chevron FB. The number 74 was previously used by Freddy van Beuren on his Chevron B18, and as his car had been adverised by Fred Opert just a few months earlier, it seems likely that Lundgreen had bought that car. He changed to using #91 later in the season. Lundgreen retained the car for 1974, when it was described as a B18C and entered at #11. He again retained it for 1975, racing in SCCA Nationals, and scored three points in CenDiv FB for his fourth place at Blackhawk Farms in June. Lundgreen advertised his car in December 1975 as a Chevron B18 rolling chassis with Hewland FT200 gearbox, but had a fresh Hart BDA available. Subsequent history unknown.
Driven by: Dean Lundgreen. First race: Blackhawk Farms, 13 May 1973. Total of 7 recorded races.
Unknown
Gregg Reppart (Warren, Ohio) raced a Chevron B18 in a Washington Region SCCA National at Summit Point in June 1973. He advertised the car in April 1974 as a 1971 Chevron B18 with big valve Hart engine and Hewland FT200 gearbox, on 10-inch and 14-inch wheels. Nothing more known.
Driven by: Gregg Reppart. First race: Summit Point, 10 Jun 1973. Only one recorded race.
Unknown
Malcolm MacLeod (Vandalia, Ohio) raced a Chevron B18 in Central Division Formula B in 1974, scoring 19 points and finishing fifth in the division. Macleod was the host of "Clubhouse 22" a children's TV programme on channel WKEF-TV in Dayton, Ohio, and some of his early racing exploits were covered by the Dayton Daily News. He raced for Fastrack Operations Inc in Dayton, Ohio, who also had a Chevron Formula B car on their books in 1973 which was raced by Chip Mead. Nothing more known.
Driven by: Malcolm MacLeod. First race: Indianapolis Raceway Park, 30 Jun 1974. Total of 3 recorded races.
Unknown
Chevron Heritage
Chevron Heritage supplies genuine Chevron parts for pre-2008 cars, using the original Chevron drawings, jigs, body moulds and patterns which have been owned by the company since 1983.
Chevron Heritage is licenced to manufacture Chevron B8, Chevron B16 and Chevron B19 continuation cars by Chevron Cars Limited which owns these trademarks.
Contact Chevron Heritage Limited on +44 (0)1256 345 582 or email tim@chevronracingcars.com.
Acknowledgements
My thanks to Chris Townsend for his efforts to unlock this particular puzzle, and to Tim Colman at Chevron Heritage for his notes on this model. David Gordon's book, "Chevron: The Derek Bennett Story" (Patrick Stephens Ltd, 1991), was reprinted in 2018 and is available from thechevronstory.com.
These histories last updated on .