Chevron B17b car-by-car histories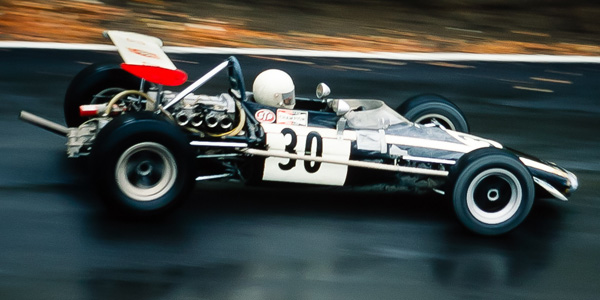 A Formula B variant of the Formula 3 Chevron B17, the Chevron B17b dominated the SCCA Formula B championship in the hands of Mike Eyerly, but this did not translate into significant sales.
Like the B17 and the preceding B15/B15b, the B17b was a spaceframe chassis with steel panels welded to the round tubing to increased rigidity. The spaceframe chassis were fabricated by Racing Frames in Ware, Hertfordshire, who also built chassis for Brabham and had been supplying Chevron with suspension parts. RF boss Frank Coltman had previously been works manager for Dave Kelsey and John Teychenne's Progress Chassis Company in Edmonton, North London, which did a lot of work for Lotus in the 1950s, and had also built the first production Brabhams. The B17 chassis were identified by a small metal plate welded to the bottom front cross-member, but note that these were RF's numbers, and did not align to Chevron chassis numbers. The chassis was then panelled at Chevron in Bolton, before being built up into a car.
Despite the previous season's B15b having sold reasonably well, and Reine Wisell having won the high-profile Formula B race at Sebring in December, Opert's only customer was Canadian Peter Broeker, who had previously raced a B14. Opert ran two cars through his own team, one for himself and the other for reigning champion Mike Eyerly, who had easily won the 1969 Continental Championship for Formula B cars in an old Brabham BT18. Eyerly dominated the first half of the 1970 season, winning the first six rounds, but later encountered competition from Al Lader's Brabham BT29, and from the Crosslé 18F of Brian Nelson, who took a surprise victory at Sebring. Eyerly easily retained his title. The only other B17b seen was the car sold to Paul Craven in England as a lost-cost Formula 2 option.
At the end of the season, Opert advertised the two B17bs that he and Eyerly had been racing, plus a third, new, B17b. Together with Broeker's and Craven's cars, it appears that these five B17bs were the only ones built during 1970, but a sixth B17b was created in 1971 by Wayne Mitchell in San Diego when he rebuilt a wrecked B15b with a new B17 chassis.
Chassis
History
Current owner
New to Paul Craven and fitted with a 1600cc Cosworth FVA engine for Formula 2 for use in some F2 races and in Formule Libre. Unlike the similar Chevron B10/B17 of Graham Eden, Craven's car had no front or rear wings. The car was advertised from Dewsbury in December 1970, and went to dealer Bobby Howlings, who won several races in it at Croft in April 1971. It was then sold to former G2 Escort driver Nick May, who won a libre race at Cadwell Park in May, but was unable to qualify for either of the F2 races at Crystal Palace in May or Brands Hatch in August. For the latter race, the B17b had been "fully upgraded" to F2 B18 specification by John Bather. May then sold the car to Fred Opert. Subsequent history unknown.
Driven by: Paul Craven, Bobby Howlings and Nick May. First race: Thruxton (R1), 30 Mar 1970. Total of 14 recorded races.
Unknown
Chevron B17bs in 1970
Chassis numbers have been difficult to determine for these cars, as two lists exist with different numbers. Paul Craven's car was FB-70-01, but the numbers of the Formula B cars are less certain. It appears that Eyerly's car was 17B.70.01, Opert's was 17B.70.02, and Broeker's 17B.70.03. However, Eyerly crashed and damaged his car, and it appears a new chassis was built for him.
Chassis
History
Current owner
Mike Eyerly (Salem, OR) raced a Chevron B17b for Fred Opert Racing in 1970, winning the first six races of the Continental Formula B Championship. Despite competition from Alan Lader, he won a total of eight rounds of the series and easily retained his title. The car was then sold to Phil Cole, who raced it in an Arizona Region SCCA Regional at Phoenix in December 1970, but then nothing was seen of it until Chuck McCain (Tuscon, AZ) raced it in the Formula B class at an Arizona Sports Racing Association race in October 1973, instead of his usual Brabham. McCain advertised the car in March 1974, but evidently never sold it, as it was ultimately bought from his family by Lee Chapman in 2013. It was fully restored and raced by new owner Jim Victor (Davenport, Iowa) at Road America in 2015, originally in white bodywork, but later restored very precisely to Eyerly's livery . A week after racing the Chevron at Road America in July 2018, Victor sadly died following an accident while driving another car at the same track.
Driven by: Mike Eyerly, Phil Cole and Charles R "Chuck" McCain. First race: Riverside (R1), 19 Apr 1970. Total of 18 recorded races.
Jim Victor (US) 2018
Peter Broeker (Pointe-Claire, Montréal, Quebec) raced a Chevron B17b in Canadian Formula B in 1970, often descibing it as a Stebro. It replaced Broeker's earlier B14, so the two cars were often confused. The B17b was raced by Craig Fisher and John Powell (both Toronto, Ontario) in 1971, entered by Penguin Racing Enterprise. The later history of the car is not known. Although it has been suggested that this was the car Broeker raced in 1974, when he returned to Formula Atlantic, that car appears to have been his older B14 updated.
Driven by: Peter W. Broeker, Craig Fisher and John Powell. First race: Harewood Acres (R1), 10 May 1970. Total of 28 recorded races.
Unknown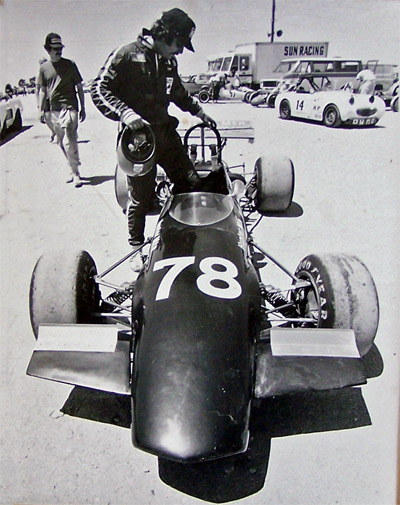 Fred Opert ran a team five-car team in 1970 which included a Chevron B17b for himself and a sister car for Mike Eyerly. Opert's personal car was sold to Tom Outcault (Cranford, NJ) for 1971 who used it in NEDiv events and also in the Pro race at Road America in Aug 1971. Last seen when advertised by Outcault in November 1971. According to Chris Townsend's research, Outcault's car went to Frank Sangiorgio in 1972 or 1973, then Carmelo Crisafuli (Great Neck, NY) in 1974. RJ Nelkin (Roslyn, NY) bought the car in 1975, and raced it in SCCA and EMRA events. Nelkin cannot recall where it went next, but Chris Townsend advises that it went to Roy Aber (Penn Hills, PA) for 1976. Subsequent history unknown.
Driven by: Fred Opert, Tom Outcault and Robert J. Nelkin. First race: Seattle (R3), 7 Jun 1970. Total of 15 recorded races.
Unknown
Chevron B17bs in 1971
Opert advertised his and Eyerly's cars plus a third, new, B17b at the end of 1970. Opert's personal car went to Tom Outcault, while Eyerly's went to Phil Cole, and Broeker's went to John Powell. The new car went to Bruce Jensen who later advertised it as having been built in "fall 1970". Nick May's ex-Paul Craven B17b (chassis FB-70-01) remained in Europe for much of 1971. A sixth B17b came into existence in 1971, when Wayne Mitchell rebuilt a crashed B15b using a new B17 frame. He sold this car to Terrance Peterson who raced it in Formula 3 in Europe in 1971 before it returned to California to become a Formula B car.
Chassis
History
Current owner
Bruce Jensen (Kitchener, Ontario) raced a Chevron B17b in Canadian Formula B in 1971, entered by Jen-Mac Racing. His car was white, and was entered as #41. Jensen retained the car for 1972, again running as #41. Leighton Irwin recalls that in 1972, the car was modified with a sports car nose designed by Terry Welch and larger rear wing. This created too much downforce, and not realising that stiffer springs were needed, his team struggled with the car on faster circuits. Subsequent history unknown.
Driven by: Bruce Jensen. First race: Mont-Tremblant, 16 May 1971. Total of 14 recorded races.
Unknown
Built by Wayne Mitchell (San Diego, CA) using a new Chevron B17 chassis and the other parts from the Formula B Chevron B15b that Syd Demovsky had crashed at Riverside in April 1970. Sold to Terrance Peterson (San Diego, CA), converted to Formula 3 specification, and raced by Terrance in a Formula 3 race at Paul Ricard in July 1971, and then in British F3 for the rest of that season. He was entered by Picko Troberg Racing. Peterson took the car back to the US after 1971, and converted it back to Formula B specification. He recalls that he sold it to an "owner of a furniture factory in El Cajon, California", a town to the east of San Diego. Subsequent history unknown.
Driven by: Terrance Peterson. First race: Cadwell Park, 18 Jul 1971. Total of 5 recorded races.
Unknown
Chevron B17bs in 1972
Bruce Jensen retained his B17B for 1972. John Powell's ex-Broeker car is not seen after 1971, although there is some suggestion that it later returned to Broeker. Chris Townsend's research shows that Tom Outcault's ex-Opert car went to Frank Sangiorgio. Phil Cole's ex-Eyerly car is more of a puzzle, but by 1974 it was with Chuck McCain in Arizona. Terrance Peterson's car was sold to somebody in El Cajon, in the San Diego area. Also, Nick May had sold the other B17b to Fred Opert in September 1971, so that will also have been part of the picture in the US in 1972. However, as that car had been allegedly updated to B18 specification, it may be part of the Chevron B18 puzzle. As this car had a F2 Cosworth FVA engine, it may have been the B18-FVA that Nick Craw raced for Opert at the JAF Grand Prix in Japan in May 1972 before being sold in the US.
Chevron B17bs from 1973 onwards
In 1973, Tony Rolfe appeared with a Chevron B17B in Virginia which is later identified as chassis '17B.70.07'. Later owner Chris Forrer when talking to Chris Townsend recalled that Rolfe got the car from Canada, which could mean Bruce Jensen's late-1970 car or John Powell's ex-Broeker car; the frame number strongly suggesting it was Jensen's. At the same time that Rolfe and then Forrer had this apparently ex-Jensen car, Chuck McCain had the ex-Eyerly car in Arizona, and the ex-Fred Opert car was owned by Frank Sangiorgio, Carmelo Crisafuli and then RJ Nelkin in New York State. There is then good circumstantial evidence that the ex-Peter Broeker car had gone somehow from John Powell in 1971 to Guy Revesz in 1973 and then to Barry Geng in 1976.
In 1977, Jerry Hubbard used a Formula B Chevron B17 in hillclimbs in northern California, at much the same time that Chris Forrer was circuit racing his ex-Tony Rolfe B17B. Hubbard's car could have been the ex-Terrance Peterson car.
Chassis
History
Current owner
In addition to the above, an unknown Chevron B17b was driven by Jerry Hubbard.
Acknowledgements
A great deal of work has been done on these cars by Chris Townsend. Thanks also to Tim Colman at Chevron Heritage for his notes on this model; to former owners RJ Nelkin, Terrance Peterson and Wayne Mitchell for their recollections; to current owner Wayne LaFrenz for the story of his car; to Leighton Irwin, Christina Hengen, Chris Ball, Lucas McCain, Jacques Dresang, and Mike Faloon of the 1000cc F3 HRA for the information they have provided; and to John Sadler and Sandy Sheperd for use of their photographs.
These histories last updated on .