Chevron B30 history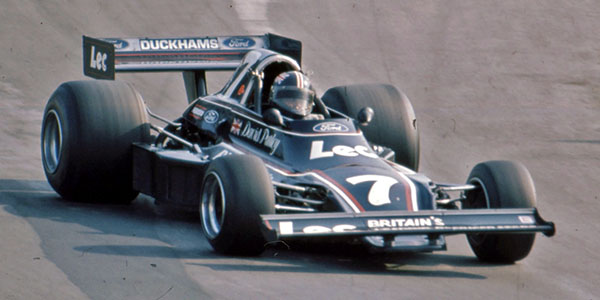 In 1975, Chevron were commissioned by David Purley to create a new Group 8 Chevron to use the 3.4-litre Cosworth GAA engine that had been homologated for Formula 5000. The car was promising in 1975 but was transformed by Mike Pilbeam for the 1976 season, taking Purley to the Group 8 title.
Instead of following the pattern of the 5-litre Chevron B24 and B28 of the preceding three seasons, Purley persuaded Derek Bennett to base the B30 on the new Formula 2 Chevron B29. Purley had raced a Chevron B27 in F2 during 1974, and was clearly impressed. The new B30 proved very effective in its early races: Purley finished second in the opening round at Brands Hatch, and then led home a B28 and a B24 in a Chevron 1-2-3 at the same circuit on Easter Monday. Purley was on the podium at each of his first three races, winning at Brands Hatch at the end of March but the Chevron was not quite on the pace in qualifying and frequently unreliable in the race. He picked up a second win at Oulton in September and took his first pole position at Mallory Park in October.
Over the winter Mike Earle and his team commenced a major overhaul of the car. Ex-BRM designer Mike Pilbeam was brought in to make revisions to the car, the most noticeable being a chisel nose to replace the traditional Chevron 'sports car' nose, and Derek Bell tested the revised car extensively while Purley was racing in the Tasman series. Despite the presence of the F1 cars, Purley took six wins and five pole positions from 13 races and comfortably won the 1976 Shellsport Group 8 title. Purley, Earle and Pilbeam then moved into F1 for 1977 with the Lec CRP1.
Please email Allen at allen@oldracingcars.com if you can add anything.
Chassis
History
Current owner
Built for David Purley for the 1975 F5000 championship and fitted with the 3412cc Cosworth Ford GAA V6. Won two races from 13 starts in 1975. Extensively rebuilt for 1976 when Purley won six out of 13 races and the Shellsport G8 championship. The car was raced briefly in 1977 G8 by Evan Clements and Bob Evans before being bought from Purley by Roger Springett for Mike Wilds to drive. He drove it just once at the end of the season, then sold to Richard Jones (Stroud, Gloucestershire) for hill climbs in 1978. It was bought from Jones by Noel Le Tissier (Guernsey, Channel Islands), who had previously co-owned the Chevron B32 with Tom Coughlan. Le Tissier raced the B30 in hillclimbs in 1979, 1980 and 1981.
It was bought from Le Tissier by Jeff Wilson and rebuilt over the 1981/82 winter with a BMW M1 bodyshell and run as a GT racer, still with its GAA V6 engine. It dominated the 1982 Donington GT Championship 2001-3600cc class but lost the overall title to a 1-litre machine. Wilson raced it again in the Donington GT Championship 1983 and 1984, before advertising it in November 1984. It was sold to Stuart McPherson, who continued to race it in BMW M1 guise during 1985, but also at some point ran it without the BMW bodywork.
The next stages in the car's live are unclear but it was owned at some stage by Rodney Dodson of RD Motorsports and run for Bernie Rooney in GT events. Rooney also ran the M1 at the Millennium Isle of Man hillclimb. It was then acquired by Dick Leppla (Cleveland, Ohio), restored to F5000 specification, and raced at least once in vintage racing, thought to be in 1998, before it was sold to an unknown owner who also ran it in vintage racing before storing it. It was offered for sale on behalf of that owner by by Automotive Restorations, Inc (Stratford, CT) in 2013, and sold to an owner in New Zealand. It was being restored in 2016, with a view to being raced.
Driven by: David Purley, Evan Clements, Bob Evans, Mike Wilds, Richard Jones, Noel le Tissier, Graham Priaulx, Jeff Wilson and Stuart McPherson. First race: Brands Hatch (UK R1), 15 Mar 1975. Total of 70 recorded races.
Undisclosed owner (New Zealand) 2017
Chevron Heritage
Chevron Heritage supplies genuine Chevron parts for pre-2008 cars, using the original Chevron drawings, jigs, body moulds and patterns which have been owned by the company since 1983.
Chevron Heritage is licenced to manufacture Chevron B8, Chevron B16 and Chevron B19 continuation cars by Chevron Cars Limited which owns these trademarks.
Contact Chevron Heritage Limited on +44 (0)1256 345 582 or email tim@chevronracingcars.com.
Acknowledgements
Thanks to Rupert Lowes, Marcus Pye, Ted Walker, Jeremy Jackson, Chris Townsend, Steve Wilkinson, Michael Clark and Tim Colman of Chevron Heritage for their help constructing these histories.
These histories last updated on .