Chevron B27 car-by-car histories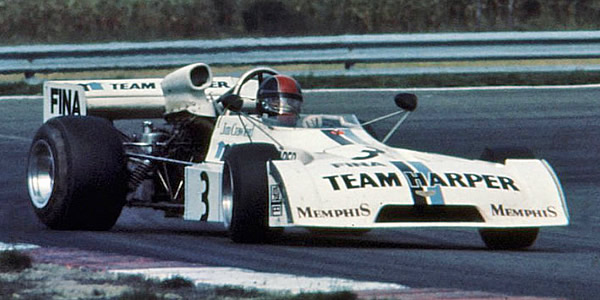 The 1974 Formula 2 Chevron B27 was only a minor upgrade to the B25, with sleeker bodywork and a few technical changes. It showed some promise in F2, but did much better in Formula Atlantic, winning races in the US and in Britain.
After the one-piece bodywork of its predecessor, the Chevron B25, the B27 had more practical two-piece GRP bodywork, with separate nose and cockpit pieces. As this was a simple upgrade, most B25s were updated with B27 bodywork for 1974. The main visible difference was stepped wings on the nose. Of the 16 cars built, nine went into North American Formula Atlantic, most via Fred Opert; three into British Formula Atlantic; two to Team Harper for Formula 2; one to the Baty team for Tom Pryce in F2; and one was sold for hillclimbs.
The B27 was not a dramatic success, but it continued to build Chevron's reputation for building formula cars. In Canada, Allan Lader won the opening round of the Players Formula Atlantic series, Bill Brack later dominated a round at Halifax, and Bertil Roos, Howdy Holmes, Bobby Brown and Jean-Pierre Jaussaud were all competitive in that category. In Europe, David Purley had three second-place finishes in Team Harper's Formula 2 Chevron B27s, and also finished second at Macau at the end of the year. Jim Crawford drove Fred Opert's B27 to victory in two late-season rounds of the MCD/Southern Organs Formula Atlantic championship.
There is still a huge amount we do not know about these cars. Please email Allen at allen@oldracingcars.com if you can add anything.
Chassis
History
Current owner
The 1975-1976 mystery cars
Of the 16 Chevron B27s built in 1974, four had been built for F2 in Europe (74-01, 74-09, 74-10, 74-12) three for Formula Atlantic in the UK (74-06, 74-14, 74-16), and nine for Formula Atlantic in the US (74-02, 74-03, 74-04, 74-05, 74-07, 74-08, 74-15, 74-17 and 74-18). Of the F2 cars, 74-01 remained in Bob Marsland's hands until heading off to Belgium for hillclimbs in 1976, and the ex-Tom Pryce 74-12 went to Harald Ertl and remained with him. That leaves the two ex-Harper cars which are slightly trickier. One appears to have gone to Doug Thomson for Scottish hillclimbs and may later have been used in British Indylantic before heading off to the US. The other may have been rebuilt into a Formula Vee, but it's always possible that it never came back after the Macau GP.
The two late-season British Formula Atlantic cars, Derek Cook's 74-14 and Peter Williams' 74-16, were both in Britain in 1976, and then appeared to have headed into hillclimbs, one in Britain and one in France. Fred Opert's UK-based 74-06 went to Derek Cook and remained with him until early 1977.
That leaves the nine cars in the US, of which the simplest is 74-17 which was Peter Broeker's car and was destroyed by fire. Of the others: 74-02 went to Freeman Racing but appears to have come back to the Opert team, after which it can be tracked until 1985; 74-03 was the Doug Shierson Racing (DSR) car for Chip Mead that was with Keith Feldott in 1977; 74-04 was the DSR car for James King which went to Lloyd Callaway and then John Connolly until 1978; 74-05 was Wink Bancroft's car in 1974 and may have been retained by him into 1976; 74-07 went from George Sabin to Bobby Fisher to Jim Van Horn in 1976; 74-08 was Jim Crawley's ex-Bertil Roos car; 74-15 was probably Howdy Holmes' later season car and may then have gone to Dan Neuman for 1975; and 74-18 which went to Bobby Brown but was crashed, repaired at the Chevron factory, and sold to Tom Christ.
The main puzzle in 1975 is Dick Hayes' car, which may be yet another Fred Opert team car that somehow escaped Chevron records. Later in 1975, Ronald Remeeus hired a car for the British Formula Atlantic series, which appears to have been the Derek Cook car. In early 1976, Paul Corazzo in New England had either a B27 or a rebodied B25, but it appears to have side engine mounts, which would identify it as a B27. This car does not quite fit into the gap in the history of Wink Bancroft's 74-05, so is more likely to have been Jim Crawley's 74-08.
Chassis
History
Current owner
Dick Hayes (Huntingdon Beach, CA) raced a Chevron in SCCA Nationals and one IMSA Pro race in 1975 and 1976. It was described as an "ex-Howdy Holmes B27" by Finish Line in 1975, and a photograph shows that it was dark blue with dark green sidepods when it appeared at Ontario in May 1976. However, the car Holmes drove was also driven by Tom Pryce at Trois-Rivières, and an ex-Pryce car was owned by Dan Neuman in 1975 and 1976. So it is possible that the car Holmes drove at Watkins Glen in October 1974 was a new car, unrecorded in Chevron records, and this is what went to Hayes. Subsequent history unknown.
Driven by: Dick Hayes. First race: Riverside, 25 May 1975. Total of 12 recorded races.
Unknown
From August to October 1975, Ashtune Race Hire entered a Chevron B27 in Formula Atlantic races for Dutch Formula Ford racer Ronald Remeeus. Remeeus rarely appeared, and his car has not been identified. However, the clue may be that the car's engine was identified as a Cook-built BDA, and the only other Cook BDA seen in 1975 had been in Derek Cook's Chevron B27, which had replaced with a newer car earlier in 1975. Cook returned to the B27 in early 1976, suggesting he had rented it to Ashtune Race Hire for the latter half of 1975.
Driven by: Ronald Remeeus. First race: Snetterton (R5), 10 Aug 1975. Only one recorded race.
Unknown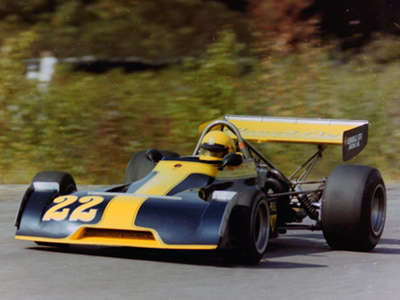 Paul Corazzo (Wethersfield, CT) raced a Chevron B27 in Formula B in 1976, dominating the New England Region NERRC championship. The car was blue and yellow in 1976, and typically entered by Sherry Cup, Inc. New England Region records show that it was registered to Corazzo with a NER number in May 1976, indicating that it had not raced with the SCCA before that time. Corazzo won the New England Region FB title in 1976 with five wins and maximum points. He retained the car for 1977 and 1978, by which time it was red and yellow, with International Automobile Enterprises Inc signwriting. It was bought from Corazzo by James Deady, who remembers changing the red and yellow livery to "black and white with a red slash". Deady ws originally planning to share the car with Peter Portante of ERA Cars, but Portante crashed at Bridgehampton and after than just ran the car for Deady. Raced by Deady until he upgraded to a newer B29. He recalls that the B27 "went to guy in Penn who painted it brown and tried driving it at Pocono without the rear wing - it did not go well!". Subsequent history unknown.
Driven by: Paul Corazzo and Peter Portante. First race: Bryar Motorsport Park, 30 May 1976. Total of 14 recorded races.
Unknown
Chevron B27s in 1977 and 1978
By the start of the 1977 season, 74-01 was in Belgium, 74-02 was with Frank Scott in Wisconsin, 74-03 was with Keith Feldott in Illinois, 74-04 was with John Connolly in New York, 74-05 was missing but would turn up a year later in Delaware; 74-06 was with Derek Cook in England; 74-07 had been with Jim Van Horn in California in 1976 but was now missing until 1982 when it would still be in California, 74-08 had been missing since the end of 1975, 74-09 was and remains missing, 74-10 had returned to the US with Bob Brown but its location was unknown, 74-12 was in Germany, 74-14 was missing but quite likely in France, 74-15 had been missing since early 1975, 74-16 was in England, 74-17 had been destroyed in a fire, and 74-18 was with Thomas Christ in Wisconsin. The seven missing cars up to that point were 74-05 (since early 1976 in California), 74-07 (since 1976 in California), 74-08 (since November 1975 in Pennsylvania), 74-09 (in England or Macau), 74-10 (since 1976), 74-14 (in England or France), 74-15 (since April 1975 with Opert). One of these will be explained by Dick Hayes' mystery car in 1975/76, and another by Paul Corazzo's 1976-78 car, most likely to have been 74-08.
In 1977, four more mysteries appear in the US: Mike Morris's car in California, Tom Cooney's in Indiana, Pat Phalan's in Delaware and, later in the season, Matt Berryhill's in Tulsa, Oklahoma. Geography suggests Morris had the ex-Wink Bancroft 74-05, the ex-Jim Van Horn 74-07 or the Dick Hayes' mystery car; but we have no clues about Cooney's or Phalan's. Berryhill's was entered at Lake Afton in August as #91, the number Keith Feldott had used at the 1976 Runoffs, suggesting Berryhill had acquired Feldott's 74-03 mid-season. The other mystery is the Ashtune Race Hire car in England, which is most likely to have been Derek Cook's 74-06.
A further mystery appears in southern California in 1978, where a local Police Captain, Lloyd Wood, raced a Chevron B27. His could have been the car of Dick Hayes, or Mike Morris, or Jim van Horn, or Wink Bancroft, the latter being the least likely.
Chassis
History
Current owner
The later mystery cars
After 1978, the next mystery is the car of Christian Bonnifet in France, which looks likely to have been 74-14. After that, we get to Bertil Roos' 1980 Can-Am car, which used sports car bodywork on a Chevron B27.
Chassis
History
Current owner
In 1979, Christian Bonnifet (Vendée, France) bought a Chevron B27 in England in 1977, fitted with a new tub, FT200 gearbox and fresh Cosworth 1600cc engine. He raced the car in minor regional events in 1979, and in 1980, when he also competed at national events in his area, such as Bournezeau-Vendée and Corcoué-sur-Logne in May. He competed again at Bournezeau-Vendée in May 1981, and was winning regional events to the end of the season. Seen again in Limousin Atlantique regional events in 1982. He retained the car until 1983.
Driven by: Christian Bonnifet. First race: Fréteval, 17 Jun 1979. Total of 17 recorded races.
Unknown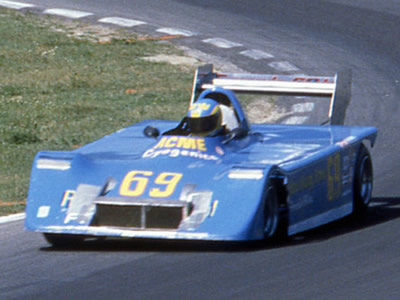 Having raced a Chevron B27 with a 1.6-litre Cosworth BDD and fenders in Can-Am in 1979, Bertil Roos (Blakeslee, PA) acquired another Chevron B27 for 1980, and fitted a full sports car body and a 2-litre Hart 420R engine. He raced this six times in Can-Am in 1980, finishing in the top 10 every time. According to Doug Waters, this 1980 car was sold to someone in Pennsylvania for regional racing. Subsequent history unknown.
Driven by: Bertil Roos. First race: Mid-Ohio (Can-Am R2), 8 Jun 1980. Total of 7 recorded races.
Unknown
Alex Lowe acquired "the ex-Jim Crawford" Chevron B27 and rebuilt it as a Formula Vee. Advertised in that form by Lowe in July 1983. Subsequent history unknown. This could be B27-74-06, the Fred Opert Racing Formula Atlantic car raced by Crawford a few times in late-1974 and last seen in Derek Cook's hands in 1977, or could be the Team Harper F2 B27 raced by Crawford at Nogaro in November 1974 and likely to have gone to Doug Thomson in Scotland, and then to American expat Bob Brown for 1976. However, Bob Brown is thought to have taken his car back to the US, so the ex-Derek Cook 74-06 is the most likely.
Unknown
Current cars with incomplete provenance
Chassis
History
Current owner
In addition to the above, an unknown Chevron B27 was driven by Rick Stone.
Acknowledgements
Thanks to Chris Townsend for his early work on these cars. Thanks also to Philippe Demeyer, James Murray, Marcus Pye, Simon Hadfield, David Hutson, Steve Wilkinson, Dan Rear, Bryan Miller, Alan Brown, Richard Cooke, Frank Monise, Jay Braffert and Art Hebert for their contributions; to current owners Bud Morrison and Mike Winebrenner; and to former owners Paul Henry, Bobby Brown, Alan Bell, Brad Ellingson, John Connolly, Douglas Thomson and James Deady for their assistance.
These histories last updated on .