Chevron B25 car-by-car histories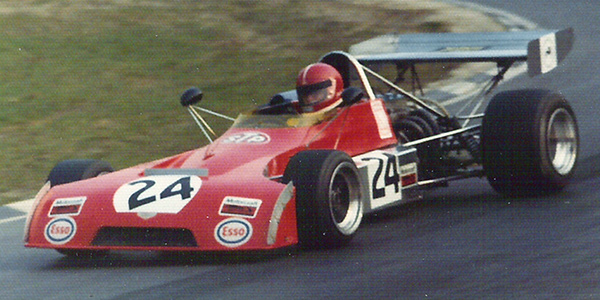 The Chevron B25 was a dual-purpose design for Formula 2 and Formula Atlantic. It was built around a full monocoque, the firm's first, and had a full-width nose incorporating a front radiator. Peter Gethin in F2 and John Lepp in Formula Atlantic were the most successful International drivers.
The first three cars were sold to Gunston for the new F2 class of the South African national championship, and the fourth, Ed Reeves' car, was ready in time to appear on Chevron's stand at the Racing Cars Show at Olympia in January 1973. Peter Gethin was sent down to South Africa to drive one of Gunston's cars at Cape Town in early January and was delighted with its performance.
In Formula 2, Grovewood Award winner David Morgan would drive Reeves' B25, and would be joined by works cars for Gethin and Gerry Birrell. In Formula Atlantic, John Lepp and Martin Webb ran private B25s. In both categories, Chevron was competing for sales with March, Brabham, GRD and Surtees, but both Morgan and Lepp performed well on the opening weekend of the season and Chevron's new sales and marketing director Grahame White was quickly able to add several more sales into French hillclimbs via agent Pierre Maublanc. Another F2 privateer joined later, the American ex-marine Brett Lunger, and a further two cars were sold to Geoffrey Freeman's Freeman Racing Enterprises in the US for Formula B, but that deal turned sour.
In F2, the BDA-powered Chevrons were outgunned by the BMW-powered March 732s and struggled to remain on a par with the Surtees TS15s, Motul-Rondel M1s and Alpines. The best result of the season was Gethin's second place at Karlskoga, but Gerry Birrell had led at Thruxton until punted off by a March 732. Birrell would later lose his life in a B25 in a practice accident at Rouen.
All and any help would be gratefully received. Please email Allen at allen@oldracingcars.com if you can add anything.
Chassis
History
Current owner
Chevron B25s in 1974
Of the 16 B25s delivered in 1973, 73-01, 73-02 and 73-03 continued to race in South Africa in 1974; 73-04 was retained by David Morgan for Formula Atlantic; 73-05 went to Chris Skellern for libre and speed events; 73-06 stayed on the French hills with Alan Rivoire; 73-07 was sold to Reg Phillips for British hillclimbs; 73-08 was with Patsy McGarrity in Irish Formula Atlantic; 73-09 had been destroyed in Gerry Birrell's accident; 73-10 was also in French hillclimbing with Roger Damaisan; 73-12 went to Nick May for British Formula Atlantic; 73-14 was in the US with the Doug Shierson team; 73-15 was with Paul Henry for SCCA Formula C; 73-16 was running in libre racing with Campbell Graham; 73-17 was also in hillclimbing in France with Jean Lachaud; and 73-18 was sold to Richard Shardlow for British hillclimbing.
Chevron B25s in 1975
Of the surviving B25s in 1975, 73-01, 73-02 and 73-03 raced on in South Africa; 73-04 was sold to David Peck but did not appear during 1975; 73-05 went to Harold McGarrity for Irish Formula Atlantic; 73-06 was retained by Alan Rivoire in France; 73-07 was retained by Reg Phillips in British hillclimbs; 73-08 went to Pat Woods in Northern Ireland; 73-09 had been destroyed in 1973; 73-10 was retained by Roger Damaisan in France; 73-12 went to Gerry Kinnane for John Pollock to race in Irish Formula Atlantic; 73-14 had gone missing in the US; 73-15 was still with Paul Henry in the US; 73-16 was sold to Andrew Jeffrey in Scotland; 73-17 was retained by Jean Lachaud in France; and 73-18 was sold mid-season by Richard Shardlow to Jean René Triquet in France.
Chevron B25s in 1976
The B25s start to become harder to track in 1976. The first three cars, 73-01, 73-02 and 73-3 were still in South Africa but one had gone to Tony Martin in 1975 and now to Mike Fogg in 1976, while the other two went to the Domingo Brothers for 1976. In Irish Formula Atlantic, 73-04 was picked up by Derek Shortall for Irish F/Atlantic where it joined Harold McGarrity's 73-05, Pat Woods' 73-08 and Bill Gowdy's 73-12. Of the three cars in French hillclimbs, 73-06 was acquired by Jean-Claude Dutrey during 1976, and Jean Lachaud retained 73-17, but Roger Damaisan's 73-10 drops off the radar at the end of 1975. In British hillclimbs, Reg Phillips stuck with 73-07 for a third season, and Charles Munro and Jimmy Jack raced 73-16 in Scotland. In the US, 73-14 remains to be found, but 73-15 was still with Paul Henry. Also in France should be Jean René Triquet's 73-16, but no results have yet been found for it.
Chevron B25s in 1977
After four seasons of consistent use, the B25s started to fade away in 1977. Of the three cars in South Africa, only a single Team Domingo car appeared in 1977. In Ireland, Pat Woods kept 73-08, Bill Gowdy kept 73-12, Harold McGarrity ran 73-05 a couple of times, and 73-04 was reported to have been sold to Dermot O'Leary and Eddie Regan. In France, both 73-17 and 73-18 made appearances but 73-06 joined 73-10 on the missing list. The two British hillclimbing B25s carried on: 73-07 moving to John Stuart, and 73-16 remaining with Charles Munro and Jimmy Jack. Of the two US cars, 73-14 was still missing and 73-15 was still with Paul Henry.
Chevron B25s in 1978
The decline in B25 usage continued in 1978, but for a five-year-old car, its longevity was impressive. The South African cars, 73-01, 73-02 and 73-03 were no longer in use but remained in the country. Of the Irish cars, Paddy Farrelly had 73-12, and David Lambe had 73-04, but Harold McGarrity's 73-05 had disappeared, and 73-08 had been wrecked at Phoenix Park in late 1977. In France, all four B25s had, for the moment, disappeared from view. In Britain, John Stuart continued to race 73-07, and Ted Dzierzek took over 73-16. In the US, the situation was unchanged, 73-14 missing and 73-15 with Paul Henry.
The first of the mystery cars appears in 1978, when Bosco O'Brien raced a Chevron B27 at two Irish series races, including one at Donington Park in England. The lack of likely B27s candidates means it's more likely that this car was a B27-bodied B25. He cannot have raced Farrelly's or Lambe's as they were both at Donington as well, so with 73-08 having been wrecked, the ex-Harold McGarrity 73-05 is the most likely car.
Chassis
History
Current owner
Bosco O'Brien (Rathgar, Dublin, Ireland), owner of Mondello Park, raced a Chevron 'B27' at two events in 1978: at Donington Park and at Phoenix Park. As there were no B27s in Ireland at that time, and not many in the UK, it is likely that this was an updated B25. Nothing more known.
Driven by: Bosco O'Brien. First race: Donington Park (R3), 23 Apr 1978. Only one recorded race.
Unknown
Chevron B25s in 1979
As a car ages, it travels less when it changes hands. This rule of thumb, known as Townsend's Law, has proved very useful, and it helps us with Chevron B25s after 1978. The three cars in South Africa have stayed in South Africa every since; the four cars sold to France are unlikely to have come back to Britain when they were six years old; and the two cars in the US are likely to have stayed in the US. That leaves four cars in Ireland, one on Scotland and one in England, which may still have moved between those countries. Formula Atlantic was flourishing again in 1979 in Britain and Ireland, but the four Irish cars were now too old to be useful for any more than hillclimbing. Both Paddy Farrelly's 73-12 and David Lambe's 73-04 continued to race regularly, but the third survivor was nowhere to be seen.
Chevron B25s in the 1980s
Following our application of Townsend's Law to the B25s, we can focus on the six cars in Britain and Ireland. The Scottish car, Ted Dzierzek's 73-16 had been crashed in 1979 but was repaired and sold to Jeremy Bouckley in late 1979 or early 1980. The English car, John Stuart's 73-07, was also wrecked and also sold to Bouckley who broke it up. Of the four Irish cars, one was crashed by Pat Woods at Phoenix Park in 1977 and was sold to Bobby Howlings for parts. That should have left three B25s cars in Ireland by 1980, two of which were racing in hillclimbs in the mid-1980s, one in Atlantic specification by John Naylor, and the other with a Rover V8 powerplant by Shay Lawless and then Paul Deveney.
Although we cannot yet be sure which of the Irish cars was which, a hypothesis can now be posited. If Pat Woods had indeed ended the life of 73-08 in 1977, then we are down to three. Paddy Farrelly's 73-12 went to Tony Skinner, then Cyril Lynch who fitted the Rover V8, and this car returned to the UK in 1988. The ex-Alwyn Bingham 73-04 is likely to be the first of Cyril Lynch's two B25s, then to Fintan Cunningham, and then John Naylor, so that can be traced up to 1985. That would only leave the ex-Harold McGarrity 73-05, thought to be Bosco O'Brien's 1978 mount, unaccounted for. The ex-John Naylor car is also still to be found.
Of the two B25s that went to the US, 73-15 was with Paul Henry, so 73-14 may be the car advertised in The Wheel in November 1981 by Dave Barringer (San Mateo, CA). He described it was an ex-Formula B Chevron B25/27 with Lotus twin cam engine and Hewland FT200 gearbox.
Chassis
History
Current owner
Pat Gasquet bought a Chevron B25 (together with a wrecked B20) and rebuilt it for French hillcoimbs in 1982. After fitting newer bodywork, he entered the car as a Chevron B34. Nothing more known.
Driven by: Patrick Gasquet. First race: Allègre, 16 May 1982. Total of 2 recorded races.
Unknown
Cyril Lynch had a Chevron B25 for Irish Formula Atlantic in the early 1980s but he had significant difficulties running it. He sold it to Fintan Cunningham (Dublin, Ireland) who rebuilt it but still had problems with the handling, as the car was inclined to oversteer dramatically. More usually a saloon car racer, Cunningham's only recorded result in Chevron was a fourth-place finish in a Formula Atlantic race at Mondello Park in June 1983. He recalls that he owned the car for no more than two years before selling it to John Naylor. Naylor ran it in hillclimbs for a few years, taking its history up to about 1986 or 1987, and then sold it to Alex Furphy in Northern Ireland.
Driven by: Fintan Cunningham and John Naylor. First race: Mondello Park, 6 Jun 1983. Total of 2 recorded races.
Unknown
Later mystery Chevron B25s
By the end of the 1980s, two B25s were missing in Britain and Ireland: the ex-Harold McGarrity 73-05 and the car sold by John Naylor to Alex Furphy in 1986/87; while a further two had been broken up: the damaged ex-John Stuart car and the car Pat Woods crashed in 1977. One intriguing clue from this period is a mention in Crosslé News No 9 (Spring 1990) where Arnie Black (Belfast, Northern Ireland) mentioned acquiring a complete Chevron B25 and selling it to "an English chap" but retaining the wheels, dampers and parts of the transmission. This would have been around 1987 or 1988, as the B25 was bought to provide parts for a Crosslé 19F that Black had bought after seeing it advertised in early 1987.
The sale to "an English chap" aligns to some degree with a B25 that was "found somewhere" by English wheeler-dealer Roger Cowman, and which was missing many parts. This car had evidence of front end damage, but three of the missing cars were damaged when last seen. It was thought that Cowman's car could have come from France, but this story suggests it may have come from Northern Ireland, and could therefore be the John Naylor/Alex Furphy car.
Chassis
History
Current owner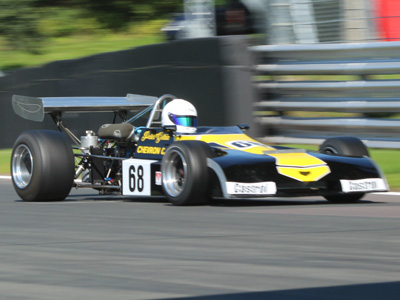 A Chevron B25 monocoque and bodywork was acquired by Roger Cowman (Belper, Derbyshire) in the mid-1990s as spares with a Chevron B29. In correspondence from 1998, Roger quoted the chassis number as B25/73/7 but the chassis plate has subsequently gone missing. He sold the B29 and the B25 'project' to Mike Wrigley (Ashbourne, Derbyshire), who raced the B29. The B25 was later acquired from Wrigley by Hall & Hall (Bourne, Lincolnshire) and then sold on, via Cowman again, to Simon Hadfield (Shepshed, Leicestershire). At that time the car was believed by then to be "ex-Gethin" and "ex-South Africa", and had unrepaired front-end damage. Detailed examination of the car while it was reskinned revealed no identifying numbers, but the engine bay shows that it was definitely an ex-F2 car. Simon sold the car to James Murray around 2012. Raced by James in the Historic F2 race at Spa in May 2017, and at the Oulton Park Gold Cup in August 2019. Still with James in March 2021.
James Murray (UK) 2021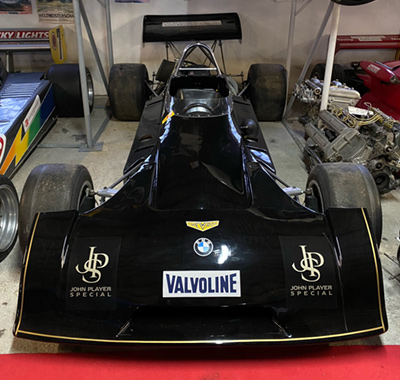 Walter Proebst bought a Chevron B25 for his Automuseum Adlkofen. The car was acquired in Switzerland and Proebst fitted it with a Cosworth FVA engine. It has a chassis plate "B25/73/5", implying it was one of the cars that had been in Ireland about 1980, but how it got to Switzerland is unknown.
Automuseum Adlkofen (Germany) 2021
In addition to the above, unknown Chevron B25s were driven by John Egan, John Nicholson, Alan Domingo, Joe Domingo, Yunus Domingo, Arthur Amort, Claude Darné? and Lionel Belkechout.
Acknowledgements
These histories were initially researched by Chris Townsend. Thanks also to James Murray, David McKinney, Marcus Pye, Philippe Demeyer, Eamonn Ledwidge, Steve Wilkinson, Bryan Miller, Gerald Swan, Ted Walker, Pierre Dutoya, Alan Brown and Urs Hauenstein for their contributions; to former owners Paul Henry, Jeremy Bouckley, Gerard Bacle, Anthony Corin, Alwyn Bingham, Fintan Cunningham, John Naylor, Mike Wrigley, Lorraine Gathercole, Tony Skinner and Willie Beck for their assistance; and to Ben van Rensburg, Danie van den Berg, Gerald Swan, Iain Nicolson, Graham Etheridge and Alan Cox for the use of their photographs.
These histories last updated on .