Lec CRP1 car-by-car histories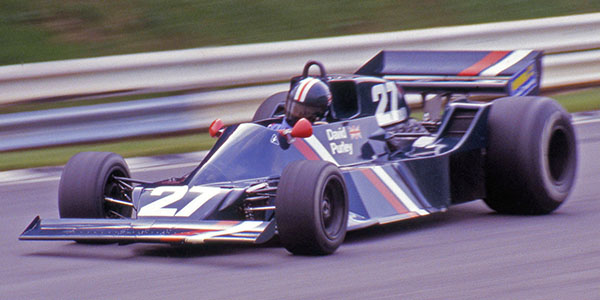 Designed by Mike Pilbeam and built by Charlie Purley's small team in Bognor Regis, the Lec CRP1 was raced by Charlie's son David. It came very close to leading the Belgian GP in the pouring rain, but just a few races later a huge accident at Silverstone almost took its driver's life.
Charlie Purley's fortune came from his LEC Refrigeration company, allowing his son David Purley to be wittily called a fridge magnate. David had moved up the ladder through F3 and F2, before a LEC-financed move into Formula 1 with a works-supported March 731 in 1973. After a season back in F2, he moved into F5000 in 1975 and won several races with the unique Chevron B30. The team then recruited Mike Pilbeam to modify the Chevron, and in 1976 Purley was the dominant force in British F5000, winning the championship. Thoughts then turned back to F1, and Charlie Purley commissioned a design from Pilbeam, to be called the LEC CRP1. In this car, Purley got up to third place in the Belgian GP but this bald fact is misleading - the race was disrupted by rain and Purley was the last to come into the pits to change onto dry tyres as Charlie knew his tiny team were ill-prepared to do a proper tyre stop. A few races later at Silverstone for the British GP, Purley crashed the car very heavily into the railway sleepers at Becketts during the pre-qualifying session and suffered horrendous leg injuries. The bent remains of chassis 001 were on show for many years in the Donington Museum, and graphically demonstrate how fortunate its driver was to survive. A second CRP1 was built and Purley, once recovered from his injuries, raced this car at the 1978 Brighton Speed Trials and then in the Aurora championship in 1979.
This second CRP1 remained on display alongside the twisted remains of 001 in the Donington Museum until it was sold by the Purley family to Gary Wright and Charlie Birkett in 2011. It was restored and appeared at the Goodwood Festival of Speed in 2014, driven by Joe Twyman. A new CRP1 was then built by WDK Motorsport in Hampshire, and the two cars appeared together at the 2015 Festival of Speed, and were then both raced at the Silverstone Classic a month later. The new car also appeared in two Masters USA events in 2016.
In early 2017, the wrecked of chassis 001 was still in storage in the UK; 002 was racing in the Masters USA series, and the new car had returned to the UK.
Car
Total
Race
Starts
Grand
Prix
Starts
Grand
Prix
Wins
First Race
Present Location
4
3
Race of Champions
(20 Mar 1977)
United Kingdom 2020
3
Brighton Speed Trials
(9 Sep 1978)
United States 2022
Lec CRP1/001-R
(no races recorded)
United Kingdom 2020
Please contact Allen Brown (allen@oldracingcars.com) if you can add any further information.
These histories last updated on .