Chevron B34 car-by-car histories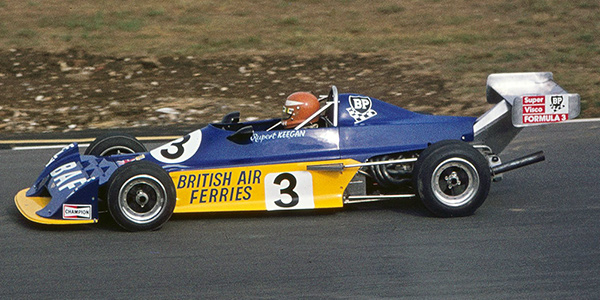 Designed for Formula Atlantic, the Chevron B34 was also available in Formula 3 specification, where it proved highly successful, winning the European F3 championship with Riccardo Patrese, and helping Rupert Keegan to the BP British title.
The Formula Atlantic version of the Chevron B34 appeared for testing at Oulton Park in the first week of December, sporting Chevron B29 bodywork at first. Derek Bennett was doing the driving, and was very encouraged - as if he would have said anything else! A F3 variant was also due to be built, and Chevron was very optimistic about sales, as March's Italian importer Trivellato Racing had decided to move to Chevron, signing a three-year contract. Trivellato would run three Chevron B35s in Formula 2 plus a works-supported F3 car for talented youngster Riccardo Patrese. The Formula Atlantic version of the B34 sold very well, encouraged by the highly-visible development programme in December, and Fred Opert's very effective sales and support services based in New Jersey.
The production version of the B34 had much narrower bodywork than its predecessor, the Chevron B29, but had a wider track, making it slightly easier to control, especially in the wet in F3. It also had excellent braking characteristics which gave it an edge on tighter circuits. Reigning Formula Atlantic champion Bill Brack was Chevron's main customer in North America, but this time Gilles Villeneuve's March 76B proved too quick. In F3, Patrese's performances in his Trivellato B34 attracted much attention in Italy and resulted in a late-season flood of orders. The Chevron B34 came out on top in both of the dramatic end-of-season battles in F3 when Patrese snatched the European title from March's Conny Andersson at Vallelunga and then four weeks later Keegan fought off March's Bruno Giacomelli at Thruxton to clinch the BP British title.
To make it simpler to track these cars, they can be regarded as a number of distinct clusters:
Formula 3 (11 cars): 76-05 to Fredy Kessler of Toyota Switzerland, 76-06 for Riccardo Patrese, 76-12 for Alessandro Binati, 76-17 for Fernando Spreafico, 76-22 for Artemio Rosich, 76-24 for Geoff Lees, 76-27 for Rudolf Dötsch, 76-28 for Marc Surer, 76-29 for Rupert Keegan, 76-30 for Marco de Tomasi and 76-31 for Riccardo Patrese.
Formula Atlantic in North America (17 cars): 76-01 for Ken Duclos, 76-07 for Bobby Brown, 76-09 to Bill Scott Racing, 76-10 to Bill Scott Racing, 76-14 for Bill Brack, 76-15 for Gilles Léger, 76-16 for Wink Bancroft, 76-18 for Rick Bell, 76-19 to Fred Opert Racing, 76-20 for Kevin Cogan, 76-21 to Fred Opert Racing, 76-23 to Fred Opert Racing, 76-25 to Fred Opert Racing, 76-26 to Bill Scott Racing, 76-32 for Marcel Talbot, 76-34 to Fred Opert Racing, and 76-35 to Fred Opert Racing.
Formula Atlantic in South Africa (3 cars): 76-02 for Tony Martin, 76-03 which also stayed in South Africa with Guy Tunmer, and 76-08 for Basil van Rooyen. All three remained in South Africa.
Others (2 cars): 76-04 to Bill Anspach for SCCA Formula C and 76-37 for Albert Poon for Southeast Asian racing.
Numbers were used up to 76-37, but 76-11 and 76-13 were not built, as per usual Chevron practice, and the other two (76-33 and 76-36) are blank in Chevron records, indicating the monocoques with those numbers were used to rebuild damaged cars.
If you can add to our understanding of these cars, or have photographs that we can use, please email Allen at allen@oldracingcars.com.
Chassis
History
Current owner
Chevron B34s in Formula 3
The first Formula 3 specification Chevron B34 was 76-06, built for the Trivellato team, and raced in European F3 by Riccardo Patrese. Also out early was Alessandro Binati (chassis 76-12), but he disappeared after Casale in June. Italian customers continued with Fernando Spreafico (76-17) appearing at Magione in June, then Artemio Rosich (76-22) with his Lancia-powered car at Enna a week later, and Marco de Tomasi (76-30) at Monza on 27 June. Walter Frey is believed to have driven Toyota Switzerland's car (76-05) in Swiss events, starting in late May. British representation finally began with Geoff Lees (76-24) at Silverstone on 20 June, then Rudolf Dötsch (76-27) and Marc Surer (76-28) raced a pair of new KWS B34s at Hockenheim on 4 July, and Rupert Keegan (76-29) made his Chevron F3 debut in the Grand Prix support race at Brands Hatch on 17 July. Patrese had a new car (76-31) at Magione on 1 November, bringing the total of F3 cars to eleven.
Chevron B34s in Formula Atlantic
Fred Opert again sold a large number of Chevron B34s for North American Formula Atlantic. Bill Scott Racing ran 76-09 for Howdy Holmes but he wrecked it at Laguna Seca in May, and it was replaced with 76-26. Scott also had 76-10, used by a number of drivers. Privateers included Bobby Brown (76-07), Bill Brack (76-14), Rick Bell (76-18) who only raced in a couple of Pro events, and Kevin Cogan (76-20). Canadians Gilles Léger (76-15) and Marcel Talbot (76-32) only appeared at a handful of races. Also in B34s in North America were Ken Duclos (76-01), who bought the early season sales car for use in SCCA FB, and Bill Anspach (76-04), who had a car built for Formula C. Opert's own team used another seven cars (76-16, 76-19, 76-21, 76-23, 76-25, 76-34 and 76-35) during the season, and is explored in more detail below.
Several cars went to South Africa for the new Formula Atlantic series: 76-02 to Tony Martin, 76-03 as a works demonstrator driven by Bill Brack which was then sold to Guy Tunmer, and 76-08 to Basil van Rooyen. Also, 76-34 in Formula Atlantic specification went to Asia for Albert Poon.
Chassis
History
Current owner
In November 1976, Chevron Cars loaned Jim Crawford what was described as a development B34 chassis, which was fitted with Crawford's own "rather tired two-year-old Hart Atlantic engine". Crawford's career had stalled in 1976, after his Lotus F1 testing contract expired at the end of 1975 and his plans for a F2 Chevron drive in 1976 had come to nothing. He raced the "B34D" in the ShellSPORT race at Brands Hatch in November 1976, after which it was not seen again.
Driven by: Jim Crawford. First race: Brands Hatch (UK R13), 7 Nov 1976. Only one recorded race.
Unknown
Fred Opert Racing in 1976
It is possible to determine the first owners of all the B34s, but the problem is then knowing how the Fred Opert Racing cars were used. In total, Fred Opert Racing received seven cars: 76-16, 76-19, 76-21, 76-23, 76-25, 76-34 and 76-35. The team started the IMSA season at Road Atlanta in April with three drivers: Wink Bancroft (76-16, in yellow Performance Marketing livery), Tom Bagley (76-19, in yellow-and-blue Kent Oil livery) and Jim Crawley (76-21, in blue), and the same drivers appeared at the second and third rounds at Laguna Seca and Ontario. Then came the first round of the Players Canadian series at Edmonton on 16 May, where the Opert team had four cars and two new drivers, Gordon Smiley and Juan Cochesa, who was also driving for Opert in F2, plus Bancroft as usual and Ric Forest who had hired the Crawley car (76-21) from the team for this race. As Bagley was gone, never to return, it is likely that Smiley or Cochesa was in his old car (76-19?), so if the cars were delivered in chassis number order, we would expect the other new driver to be in 76-23. Crawley returned to the pale blue 76-21 at Westwood, Bancroft was in 76-16 as usual, and Smiley and Cochesa were also present. Photographs from Westwood show that Cochesa's car was in Bagley's yellow-and-blue livery (76-19?), and Smiley's was pale blue with "the Bay" signwriting, suggesting it was 76-23. At Gimli, the team was Cochesa (76-19?), Smiley (76-23?) and Bancroft (76-16) with Crawley absent, leaving 76-21 unused. At Mont-Tremblant in July, Cochesa and Bancroft retained their drives, but Smiley was absent, leaving 76-21 and 76-23 available. Also at this race were two new B34 drivers, Lloyd Callaway and RJ Nelkin. Callaway was entered by Callaway Racing but as #52, which indicates he was driving 76-21, an association reinforced by him being entered by Opert at Mosport two races later and photographs showing his car was pale blue. That would suggest Nelkin was in 76-23, but Nelkin believed his car was ex-Bagley, so if he's right, that would suggest Nelkin had acquired the yellow ex-Kent Oil/Bagley/Cochesa 76-19 and Cochesa had swapped either to the newer pale blue 76-23 or maybe to the completely new 76-25. Photographs of Cochesa's car at Mosport Park in August confirms it was pale blue, not yellow, so he had changed car, and photographs of Nelkin's car in a SCCA National at Lime Rock confirmed that it was the ex-Bagley/ex-Cochesa car (76-19).
The next stop on the North American calendar was Halifax on 8 August, where Opert had entered Bancroft (76-16) and Cochesa (76-23 or 76-25), with Callaway (76-21) and Nelkin (76-19) entered under their own names. At Mosport two weeks later Callaway (76-21) and Nelkin (76-19) were again entered under their own names, but Opert was back up to three drivers, as Bancroft (76-16) and Cochesa (76-23 or 76-25) were joined again by Smiley in an extra pale blue B34. As there were now five Opert B34s, that means 76-25 must have joined the Opert team at this race or earlier. Both Cochesa's and Smiley's cars were a plain pale blue with no signs of additional sponsorship. Cochesa's was numbered #71 and Smiley's car was numbered #75 instead of the #5 he had used earlier in the season - a number initially taken over by Cochesa. There are two likely scenarios here: either Smiley was back in 76-23 that he had raced earlier in the season meaning that Cochesa must have been in 76-25 since Mont-Tremblant; or that Cochesa was indeed in Smiley's old car 76-23 and Smiley was given a new car 76-25. Chris Waddell's report for Autosport described Smiley's car as "new", so the second hypothesis fits better.
Only Bancroft and Nelkin attended the IMSA race at Mid-Ohio. At Trois-Rivières, Bancroft crashed his B34 (76-16) in practice, Cochesa (76-23?) was entered by Opert, together with Alan Jones, Patrick Tambay and José Dolhem who were all in pale blue cars with Gitanes sponsorship, as well as Nelkin (76-19) entered under his own name and now repainted green. Callaway had gone after three races in his pale blue ex-Crawley car (76-21) and Smiley was also absent (76-25?), so Tambay would have had one of those two cars, later events indicating he had 76-25. Jones' and Dolhem's B34s were said to be new so were probably 76-34 and 76-35.
The IMSA season then resumed with a race at Road Atlanta on 19 September. Nelkin still had his private B34 (76-19) and Cochesa had a Fred Opert Racing entry (76-23?). Also present was Bill Anspach, who had been racing his regular FC car in SCCA Nationals but was here in a Formula Atlantic car, presumably an Opert entry, so logically either 76-21 (ex-Callaway) or 76-25 (ex-Smiley/Tambay). The final IMSA race was at Laguna Seca on 3 October, where the only Opert entry was Elliot Forbes-Robinson. As he was entered as #7, this is likely to be 76-25, Tambay's #7 Opert entry at Trois-Rivières. The same weekend, Nelkin raced his B34 (76-19) in a SCCA National at Lime Rock.
Four weeks later at the SCCA Runoffs, regular Opert customers Anspach and Bill Kneeland both drove Chevron B34s in the Formula B class. These could have been 76-21 (ex-Callaway), 76-23 (ex-Cochesa) or 76-25 (ex-Smiley/Tambay) or could even be the green 76-19 that was returned to Opert by Nelkin. Anspach had run his car in Florida the day after Trois-Rivières, which eliminates any of the cars that had run in Canada as an overnight haul would have been impossible, and suggests he had hired 76-21. Photographs might tell us more about these two cars.
Nelkin recalls that when his car went back to Opert it was one of three cars taken out to New Zealand by Opert for Keke Rosberg and Mikko Kozarowitzky to drive. The chassis numbers of those three cars were observed by Motor Action editor David McKinney, who reported that chassis 76-19 had previously been raced by Nelkin and Cochesa, chassis 76-21 by Crawley, and chassis 76-25 by Tambay. All three were then sold in New Zealand or Southeast Asia after the series, and as 76-34 and 76-35 had been sold soon after the Trois-Rivières race, this left Opert with only 76-23.
Chevron B34s in 1977
Of the F3 cars, it is likely that Fredy Kessler's 76-05 was the car raced by Heinz Loosli in Swiss events in 1977; 76-06 went to Giovanni Carminati, Fernando Spreafico retained 76-17, Geoff Lees' 76-24 had effectively divided, spawning cars for John Lewis in Britain and Jean-Louis Schlesser in France; 76-27 and 76-28 were retained by KWS for Jochen Dauer and Rudolf Dötsch to drive, Rupert Keegan's 76-29 went to David Brotherston, and 76-31 went to Marco Rocca. That leaves Alessandro Binati's 76-12, Artemio Rosich's 76-22 and Marco de Tomasi's 76-30 that cannot be tracked into 1977. These can probably be explained by the cars of Lauro Campana, Giacomo Fadini, and Paolo Squillace in 1977.
Of the North American Formula Atlantic cars, Ken Duclos's 76-01 went to Bill Marlowe; Diana Black retained her ex-Bobby Brown 76-07, 76-09 had been destroyed, Gilles Léger's 76-15 goes missing for a season but turns up again in British Columbia in 1979, Wink Bancroft's 76-16 was wrecked, Rick Bell retained 76-18, Opert's 76-19 was sold to Norman Lankshear in New Zealand, Opert's 76-21 was sold to Pocolo Ramirez in the Phillipines, Opert's 76-25 was sold to Eddie Marcello in the Philippines, Bill Scott Racing 76-26 went to Jim Lyles, Butch Owsley retained his ex-Opert 76-34, and Paul Henry retained his ex-Opert 76-35. That leaves Bill Scott Racing's hire car 76-10, Bill Brack's 76-14, Kevin Cogan's 76-20, Fred Opert's 76-23, and Marcel Talbot's 76-32 that cannot be tracked into 1977.
The only car from 1977 that cannot be identified is the car raced by Keke Rosberg for Fred Opert Racing at a number of races in 1977 in preference to his new Chevron B39. The most likely car would be Opert's one remaining B34, chassis 76-23.
Chassis
History
Current owner
Keke Rosberg joined Fred Opert Racing for the 1977 season to race both a Chevron B40 in Formula 2 in Europe and a B39 in Formula Atlantic in North America. Photographs show that Rosberg used an older Chevron B34 at the opening three rounds, at Mosport Park, Gimli and Edmonton, before moving to a Chevron B39 for the next four races. Rosberg returned to the B34 for the final race at Quebec in September, when it had been updated with a B39 nose. Subsequent history unknown.
Driven by: Keke Rosberg. First race: Mosport Park (R1), 22 May 1977. Total of 4 recorded races.
Unknown
Chevron B34s from 1978 onwards
By 1978, it gets very difficult to track the Formula 3 B34s but the other cars are more straightforward.
Of the B34s originally sold to North America for Formula Atlantic: Bill Marlowe retained 76-01 for 1978, Diana Black retained 76-07, 76-09 had been destroyed, Gilles Léger's 76-15 was with Jeff Smith in Canada, Wink Bancroft's 76-16 had been wrecked, Norman Lankshear in New Zealand retained 76-19, Pocolo Ramirez in the Philippines retained 76-21, Narcisco de la Merced also in the Philippines retained 76-25, Jim Lyles retained 76-26, Bob Earl retained 76-34, and Paul Henry retained 76-35. Only Rick Bell's 76-18 in Lakeville, CT joined the list of the missing which already included Bill Scott Racing's 76-10, Bill Brack's 76-14, Kevin Cogan's 76-20, Fred Opert's 76-23, and Marcel Talbot's 76-32 that had not been tracked into 1977. The only new B34 to be identified was Dick Sills' car in Cumberland, MD.
The three South African Formula Atlantic cars were still in South Africa, Bill Anspach's Formula C 76-04 had gone to Mort Haaz in California, and Albert Poon's 76-37 had gone to Chong Kim Fah.
Chassis
History
Current owner
In addition to the above, unknown Chevron B34s were driven by Bill Anspach, William Kneeland, Heinz Loosli, Antonio Padrone, Giacomo Fadini, Massimo Valentini, Gianluca Messini, John Mortensen, Gilbert Ansermoz and Jean-Pierre Morel.
Acknowledgements
My thanks to Chris Townsend for his ground-breaking work on these cars, to Tim Colman for information from Chevron records, and to David McKinney, Michael Ferner, Steve Wilkinson, Dan Rear, Bryan Miller, Ian Hebblethwaite, James Murray, Andrew Fellowes, Vince Howlett, Simon Hadfield, Bruce Balchin and Jan den Blanken for their help putting these histories together. Thanks also to all the owners, former owners, preparers and mechanics who have helped: Bobby Brown, Colin Hine, Bill Anspach, Paul Henry, RJ Nelkin, Dave Brotherston, Bill Marlowe, Rex Thompson, Geoff Frizell, Tony Garmey, Stuart Thompson, Joe Ordoqui, Lorraine Gathercole, Michael Rudolph, Matt Dagostino, Bob Hendrickson, Samuel Bombieri, Federico Ferioli, Andy Huxtable and the Emil Frey Museum's curator and archivist Simon Bundi.
Autosport gave North American Formula Atlantic a lot of column inches in 1976, and Chris Waddell's race reports have proved very helpful. Waddell also produced reports on the Canadian series for Formula, along with Gary Witzenburg, Steven Meyer and Marc Sproule reporting on the IMSA series.
If you can add to our understanding of these cars, or have photographs that we can use, please email Allen at allen@oldracingcars.com.
These histories last updated on .