Chevron B39 car-by-car histories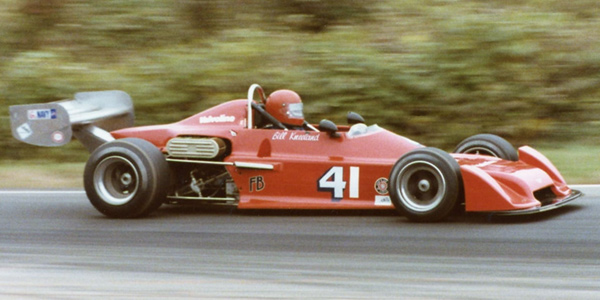 Visually very similar to the 1976 Chevron B34, the Chevron B39 was Chevron's 1977 Formula Atlantic model. Sales were down significantly, and only Keke Rosberg in Fred Opert's team achieved significant success.
Chevron's 1976 single-seater range had comprised the B34 for F3 and Formula Atlantic and the B35 for F2, both of which had been successful, so there were few changes for 1977 when the range was the B38 for F3, B39 for Atlantic and B40 for F2. The new cars' bodywork was largely unchanged, with an air intake on the engine cover being the best clue, and suspension was again entirely orthodox, with double wisbones at the front, and transverse links, wishbones and twin radius rods at the back. Eleven B39s were built, using chassis numbers 77-01 to 77-10 and 77-12, as Chevron traditionally avoided the number '11. Four of these were straightforward customer cars: 77-02 went to Tony Martin in South Africa and thence to Australia; 77-03 went to the island of Ireland and has never left; 77-04 went to the Phillippines and vanished from sight; and 77-05 went to the Commonwealth of Massachusetts and stayed there for at least five years. Five more went to Fred Opert Racing: 77-06 intended for a third team driver but rarely used; 77-07 for Gregg Young; 77-08 for Keke Rosberg; 77-09 as a mid-season wide-track car for Rosberg; and 77-12 as an additional car at Trois-Rivières where Opert was running Jacques Laffite and Patrick Depailler as well as Rosberg and Young. Opert then took three of his cars to New Zealand in early 1978 for the Formula Pacific series, which Rosberg dominated. Opert then sold 77-07 to Peter Robinson and 77-09 to Page Roos, while 77-08 was retained for Divina Galica before being sold to Dean Lundreen, 77-12 was retained for Eje Elgh before becoming a hire car, and 77-06 was retained for Jim Crawley and then disappeared.
That explains nine of the eleven cars, leaving just 77-01 and 77-10. Of these, 77-01 was a works car for Gilles Villeneuve in South Africa at the start of the year and after it was crashed, it was returned to the factory and sold to the US. This is believed to be the B39 owned by William Kneeland in 1977 and then allegedly by John Sley in 1978, but Sley only scored SCCA points in Formula C in 1978. The other car is a puzzle, with works records only saying that it was a development car. It seems likely that this was the car used by Divina Galica once in F2 late in 1977, and then sold to Albert Poon, but that car was generally described as a B40.
If you can add to our understanding of these cars, or have photographs that we can use, please email Allen at allen@oldracingcars.com.
Chassis
History
Current owner
Mystery cars
The main puzzles to be resolved for the B39s are the identites of the cars raced in North America by Bill Kneeland and in the Far East by Albert Poon. Kneeland only raced his car during 1977 and as he previously had a Chevron B29, it is not yet possible to be certain when he first raced the B39. His B39 cannot be tracked with certainty after 1977 but it seems very likely to be the car raced in 1978 by John Sisk, who lived less than 200 miles from Kneeland. If so, it is chassis 39-77-01. The identity of Poon's is less certain, as his car has been described as both a B39 and a B40.
It has not yet been possible to ascertain the identity of the #6 Fred Opert Racing B39 driven by Riccardo Patrese at Trois-Rivières in September 1978, or the #4 Fred Opert Racing B39 driven by Keke Rosberg at Montréal three weeks later, but in both cases chassis 39-77-12 would be the most likely car. The Rothmans B39 of Chong Kim Fah at Penang and Batu Tiga in 1979 is also unknown, but is likely to be the car originally sold to Eddie Marcelo.
Chassis
History
Current owner
William A Kneeland (Springfield, VA) raced a new Chevron B39 in SCCA Formula B in 1977, but exactly when in the season the B39 replaced his previous second-hand B29 remains unresolved. As the first owners of all the other B39s has been established, it seems likely that this car was 39-77-01, the car raced by Gilles Villeneuve in South Africa in January and February and then rebuilt at the factory and sold to the US. If so, this car then went to New Zealand, but the link between Kneeland's car and the car in New Zealand has not yet been determined.
Driven by: Jim Fitzgerald and William Kneeland. First race: Roebling Road Raceway, 29 May 1977. Total of 7 recorded races.
Unknown
New to LC Kwan (Hong Kong), owner of the Equipe 66 garage, for Albert Poon (Hong Kong) to drive in Formula Pacific in Southeast Asia. Before it was shipped to Asia, it was borrowed by Ardmore Racing and fitted with a Swindon BDX engine for Divina Galica to race in the Donington Park F2 event in October 1977. It was then shipped to Hong Kong in time for the Macau Grand Prix a month later. Although Poon entered his car as a B40, an article in the Malaysia Grand Prix race programme in May 1978 described the car as a "new car which he has just bought in the US". Also raced by Kevin Bartlett at Macau in 1978 and by Andrew Miedecke at Macau in 1979. Then raced by Poon at Macau in 1980, 1981 and 1982. Retained by Kwan in Hong Kong until 1989 when it was sold to Gordon Norris and returned to the UK. Sold in 2022 to Bruce Balchin (Southampton).
Driven by: Divina Galica, Albert Poon, Kevin Bartlett and Andrew Miedecke. First race: Donington Park (R13), 30 Oct 1977. Total of 12 recorded races.
Bruce Balchin (UK) 2022
John Sisk (Lahaska, PA) raced a Formula B Chevron in a NERRC event at Lime Rock in April 1978. At the end of that season New Zealander Grant Campbell bought a Chevron B39 from the US to use in the New Zealand Formula Pacific from January 1979 onwards. Kiwi journalist David McKinney noted that the car wore the '01' chassis plate and was told by Campbell that it had previously been raced by John Sisk. It was retained by Campbell for the 1979/80 and 1980/81 seasons in New Zealand, then taken to Australia for the National Panasonic Formula Pacific series before the start of the 1981/82 New Zealand season. To Steve Cameron (Auckland) for the 1982/83 season. David McKinney advised that it then went to Charlie Thomasen, who also owned the ex-Dave Oxton B34, and then to John Wigston (Auckland) in 1985. Reported to be still in Wigston's collection in October 2016.
Driven by: John M. Sisk Jr, Grant Campbell and Steve Cameron. First race: Lime Rock (R1), 29 Apr 1978. Total of 39 recorded races.
John Wigston (New Zealand) 2016
In addition to the above, unknown Chevron B39s were driven by Riccardo Patrese, Keke Rosberg and Chong Kim Fah.
Acknowledgements
My thanks to Chris Townsend for his groundbreaking work on this model of Chevron. Thanks also to Paul Owens for information on '01 and '02, to Tim Colman at Chevron Cars, to Bryan Miller, David McKinney, Ian Hebblethwaite, Tony Garmey, Brian Speake, Andrew Fellowes and Dan Rear, and to owners Kim Mather, Jeff Mckay, John Bradshaw, Gordon Norris, Laurent Parmentier and Bruce Balchin.
These histories last updated on .