Chevron B32 history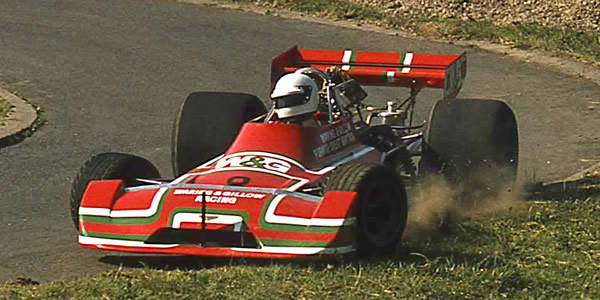 A one-off hillclimb car built for John Cussins in 1975, the Chevron B32 was a development of the Chevron B28 Formula 5000 car and used a 5.7-litre Chevron V8.
Yorkshireman John Cussins had returned to the single-seater class in hillclimbing in 1974, when he shared Malcolm Dungworth's ex-Tony Griffiths Brabham BT35X, with 5-litre Repco V8 engine. After finishing eighth in that year's championship, he commissioned the B32 for 1975 and ran that alongside Dungworth in the Waring & Gillow team. Roy Lane was to dominate that season in his F5000 McRae GM1 and although Cussins did pick up one win, at Barbon Manor, that would be in Dungworth's Brabham-Repco after the Chevron broke a driveshaft. With the Chevron he picked up mainly thirds, fourths and fifths to end the season in fourth position in the championship. He retained the B32 for 1976 but the influx of new machinery pushed him further down the results sheets, and his best results were a couple of fourth places.
The car continued in Channel Island events for a few years, but had passed into historic racing by 1990. It was converted to Formula 5000 specification and sold to New Zealand, where it is allowed to compete in historic Formula 5000, including in two Australian Grand Prix support races.
Please email Allen at allen@oldracingcars.com if you can add anything.
Chassis
History
Current owner
New to John Cussins (Leeds, West Yorkshire) with a 5.7-litre Chevrolet V8 for the British Hill Climb Championship in 1975 and 1976. Sold to Noel le Tissier and Tom Coughlan (Guernsey, Channel Islands) for Le Tissier to drive, competing mainly in Channel Island events and taking ninth place at the Bouley Bay round of the British Championship in July. He raced it again during 1978, including a run at Brighton in September but then replaced it with the ex-David Purley Chevron B30. In September 1979, Coughlan shipped the 5.7-litre B32 to the Isle of Man for Brian Redman to drive in a bike versus car challenge where Brian Redman would drive the B32 in competition with Phil Read's 750cc Yamaha. Neither proved as quick as ADO's L&DMC event winning Pilbeam so it was a bit of a non-event. The B32 then passed into the hands of Andy Sauvarin, who ran it at Brighton in September 1980, but it then fades from view for several years. It re-emerged in 1984 owned Roy Lane, when he loaned it to Ken Ayers to drive in Sprints in the early part of the season. Ayers was waiting for his potent new Lyncar MS84 to be ready.
By 1990, the B32 had passed into the hands of Chevron enthusiast Richard Budge (Retford, Notts) and was driven by Mike Wilds at a Chevron day at Donington Park in July 1990. Some time around 2000, it passed to Richard Maurice Jones (Rhyl, North Wales) and was rebuilt for him by Robin Darlington's son in 2002 with a 5-litre Chevrolet V8, after which it was raced by Anthony Taylor in a FORCE F5000 race at Silverstone in August 2002. It later passed, to Mike Wrigley (Ashbourne, Derbyshire). James Watt ran the car at the 2005 Shelsley Walsh Hill Climb. Bought from Wrigley by Hamish Paterson (Auckland, New Zealand) in July 2008, arriving in New Zealand later that year. Raced by Paterson in the Tasman Revival series in 2009, 2010 and 2011, but not seen in his hands again March 2011. By early 2016, it had been sold to Karl Zohs (Rotorua, New Zealand), and raced by him in the series in 2016, 2017 and 2018. The car was then for sale until Zohs' death in October 2021. In November 2021 it was sold to Alastair Chalmers (Hastings, New Zealand).
Driven by: John Cussins, Malcolm Dungworth, Noel le Tissier, Andy Sauvarin and Ken Ayers. First race: Loton Park (R1), 31 Mar 1975. Total of 41 recorded races.
Alastair Chalmers (New Zealand) 2021
Chevron Heritage
Chevron Heritage supplies genuine Chevron parts for pre-2008 cars, using the original Chevron drawings, jigs, body moulds and patterns which have been owned by the company since 1983.
Chevron Heritage is licenced to manufacture Chevron B8, Chevron B16 and Chevron B19 continuation cars by Chevron Cars Limited which owns these trademarks.
Contact Chevron Heritage Limited on +44 (0)1256 345 582 or email tim@chevronracingcars.com.
Acknowledgements
Thanks to Rupert Lowes, Marcus Pye, Ted Walker, Jeremy Jackson, Chris Townsend and Steve Wilkinson for their help constructing these histories.
These histories last updated on .