Chevron B15 car-by-car histories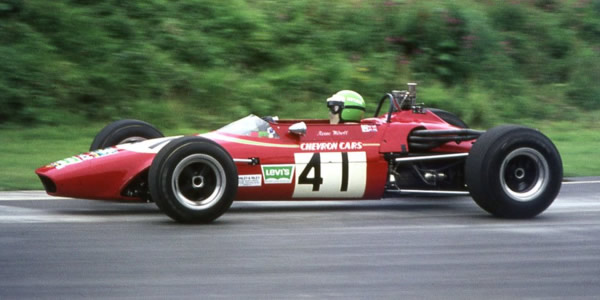 The 1969 Formula 3 Chevron B15 was derived from the late-1968 Chevron B9B, incorporating its panelled cockpit section. Of the 56 major F3 Internationals in 1969, it won six, compared with 31 for Tecno and 12 for Brabham.
Like all Chevrons at that time, the B15 was a spaceframe, but differed from the B9 in having sheet steel spot-welded to the spaceframe around the cockpit area. This practice was adopted from the B8 GT car via the B9B, and as well as stiffening the chassis, it also provided protection for the bag tanks. Peter Gethin had beaten Reine Wisell's Tecno in the B9B at Brands Hatch the previous September and Wisell was sufficiently impressed to agree to race a works B15 in 1969. He won the F2 support race at Pau, leading from start to finish, and finished second to Ronnie Peterson at Monaco having led the early stages. Peter Hanson also bought a B15, as did the up-and-coming Kiwi Howden Ganley. Oliver Speight's deal with Jolly Club, which included running Lancia Fulvias for them in the British Rally Championship, saw three B15s head to Italy, and another headed to France for René Ligonnet. A B15C was also built for John Ralph in early 1970.
One of the puzzles about the B15s is the original intention for chassis F3-69-4 and F3-69-5. The former makes no appearance all season and the latter does not appear until July, well after cars with higher chassis numbers. Could these have been intended for a Red Rose F3 team?
All and any help would be gratefully received. Please email Allen at allen@oldracingcars.com if you can add anything.
Chassis
History
Current owner
Chevron B15C
As well as the new B17 Formula 3 car, an improved B15 was built for 1970. Named the B15C, this car had modified suspension pickups and the Lockheed brakes used on the F2 cars.
Chassis
History
Current owner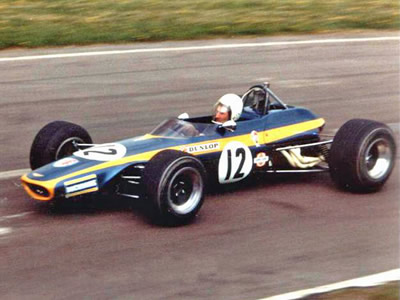 Built for 1970 with a different front end and F2 brakes, the 'B15C' was sold to John Ralph, fitted with a Felday F3 engine, and used used in a few F3 races in 1970. It soon disappeared from F3 and was not seen again until 1974, when it was acquired from Derek Bennett by Alex Lowe (Liverpool) and raced in Formula 4 in 1974 and 1975. The car was described as having either Lucas or Cosworth engines. It was badly in an accident at Castle Combe in June 1975, and returned to the factory for repairs. Lowe replaced it with a newer Chevron B20, but the B15C was rebuilt as a rolling chassis and sold. Lowe has no recollection of who bought it. Subsequent history unknown.
Driven by: John Ralph and Alex Lowe. First race: Silverstone, 26 Apr 1970. Total of 14 recorded races.
Unknown
Chevron B15s in 1971
With the introduction of the 1600cc Formula 3 in 1971, the B15s came to a crossroads. Some would be converted, either to F3 or to the new Formula Atlantic, whereas others could continue in 1-litre form in hillclimbs or in SCCA Formula C. Of the 13 known B15s, seven were converted, one went to Formula Atlantic, and three raced on in 1000cc form, leaving two that vanish.
To summarise, the Martin Warren's ex-Wisell F3-69-1 goes missing at the end of 1970; Jürg Dubler's ex-Peter Hanson F3-69-2 goes missing earlier, in June 1970, but reappears later in Jersey; René Ligonnet retains F3-69-3 but does not use it in 1971; Mike Mather acquires the ex-Alan Rollinson F3-69-5 for Formula Atlantic; the three Jolly Club cars (F3-69-6, F3-69-7 and F3-69-14) all stay in Italy; Herb Moger buys F3-69-8 for the new 1600cc F3; Steve Matchett takes F3-69-9 back to California; Iain McLaren buys F3-69-10 for hillclimbing; Geoff Bremner buys F3-69-12 and converts it to the new 1600cc F3; Graham Lynch and John Finch keep F3-69-15; and Mike Tobitt keeps F3-69-16. The B15C was not seen after August 1970.
Chevron B15s in 1972
By the start of 1972, a couple more B15s had disappeared. The ex-Wisell F3-69-1 had disappeared after 1970; the ex-Peter Hanson F3-69-2 was missing but about to reappear in Bob Blake's hands in Jersey; René Ligonnet hillclimbed F3-69-3 during 1972; the ex-Alan Rollinson F3-69-5 was with Nick Crossley for Formula 4; the three Jolly Club cars (F3-69-6, F3-69-7 and F3-69-14) were all still in Italy; Herb Moger took F3-69-8 into Formula 4; Doug Turner (almost certainly) acquired F3-69-9 for Formula C in California; F3-69-10 continued in Scottish hillclimbing; and Derek Cook had F3-69-12 for libre racing; but both F3-69-15 and F3-69-16 vanish. The B15C had disappeared in 1970.
One other B15 derivative was racing in England at this timer: John Day had the ex-John Moulds B15B in Formula 4.
A first mystery car appeared in SCCA Formula C in 1972, the 'B15' driven by Steve Hughes in the Midwest Division. The most likely contenders for this are F3-69-15 and F3-69-16, which were converted to 1600cc at the beginning of 1971 before vanishing, but the original works car F3-69-1 that disappeared after the 1970 season is also a possibility. However, Hughes car may also have been a Formula B Chevron B15b converted to FC.
Chassis
History
Current owner
In 1972, Steve Hughes (Wichita, KS) finished fourth in Midwest Division Formula C, in a Chevron. He was a regular runner in FC in 1973, but regularly retired or failed to start, finally scoring points at Fort Sumner in September 1973, where he won the FC class, giving him enough points to qualify for the Runoffs. He attended the Runoffs, where Formula magazine's reporter described the car as a Chevron B15, suggesting a F3 car still with its original 1-litre engine. Chuck Grauel, who raced against Hughes, described the car as a B15B, so it could have been an ex-Formula B car converted to smaller engine, but he also said it was "ex-Gethin". Hughes appeared in Midwest Division's FC table again in 1974, with four points. Grauel (Kansas City, KS) later acquired the car, and won the Division FC title with it in 1976. Once during that season, the car was described as a B9, which would make more sense of the "ex-Gethin" history, as Gethin drove several B9s not no B15s. Grauel advertised it in December 1976, when it had Lucas downdraft engines and a Hewland Mk8 gearbox. Subsequent history unknown.
Driven by: Steve Hughes and Chuck Grauel. First race: Lake Garnett, 3 Sep 1972. Total of 16 recorded races.
Unknown
Chevron B15s in 1973
By the start of 1973, F3-69-1, F3-69-15, F3-69-16 and the B15C had disappeared some time earlier. Of the others: F3-69-2 was hillclimbing in Jersey; F3-69-3 was with Ligonnet in France; F3-69-5 and F3-69-8 were both still racing in F4; at least two of F3-69-6, F3-69-7 and F3-69-14 were still in Italy; F3-69-9 was racing in Formula C; and F3-69-10 was still hillclimbing in Scotland; so only F3-69-12 is added to the list of the missing. Also Dave Griffiths had the ex-John Moulds/John Day B15B in F4.
Chevron B15s in 1974
As 1974 began, the list of missing B15s already included F3-69-1, F3-69-12, F3-69-15, F3-69-16 and the B15C. Three continued to race in 1974: F3-69-2 hillclimbing in Jersey; F3-69-5 in Formula 4; and F3-69-9 in Formula C; and we also know that F3-69-3 was with Ligonnet in France. However, all three Jolly Club B15s (F3-69-6, F3-69-7 and F3-69-14) had by now disappeared, as had Herb Moger's F3-69-8, and Kenny Allen's F3-69-10 from Scotland. So we can account for four, but nine are missing. Also Dave Griffiths still had the ex-John Moulds/John Day B15B in F4. The B15C finally reappears in 1974, raced by Alex Lowe in Formula 4.
Later mystery Chevron B15s
Chassis
History
Current owner
Jon Waggitt (York, North Yorkshire) appeared at the March 2016 Goodwood Members Meeting with a 1000cc F3 in Reine Wisell's 1969 livery. The came to Waggitt from Simon Hadfield (Shepshed, Leicestershire), who had acquired it from André Setbon in France. According to Mike Faloon of the 1000ccF3HRA, when the car was stripped down, the frame was found to be stamped '4', and the original body panels were red. The car is believed to Wisell's, as only two cars were built red according to Chevron records, the other being René Ligonnet's car. This is plausible, as the frame '4' may have been needed to rebuild Wisell's F3-69-1 after an as-yet untraced accident.
Jon Waggitt (UK) 2016
We are indebted to Mike Faloon, Archivist for the 1000cc F3 Historic Racing Association, for information on the current whereabouts of many of these cars. The 1000cc F3 race results referenced here are based in large part on the ground-breaking work of the Formula One Register, and many of the chassis numbers were originally identified by FOR partner Duncan Rabagliati. Our immense gratitude for the work of the FOR cannot be expressed too often. Thanks also to Steve Wilkinson, Simon Hadfield, Chris Townsend, Richard Page, Bryan Miller, Alan Brown, Jeremy Hall, Alex Lowe, Rob Thornton, Ian Leapingwell, Mike Frain and George Jack.
These histories last updated on .