Chevron B15b car-by-car histories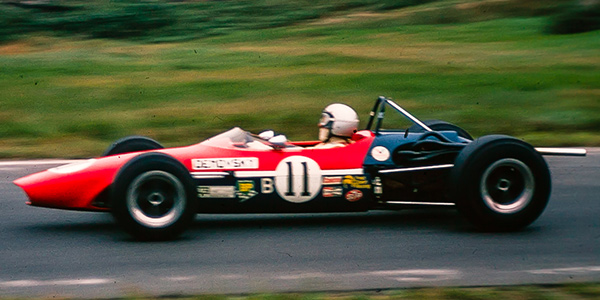 The 1969 Chevron B15b was a Formula B version of the company's Formula 3 Chevron B15. Reine Wisell won a high-profile Formula B race at Sebring in a Fred Opert Racing Chevron B15b, and the cars enjoyed some success in SCCA Nationals.
Chevron had first built cars for Formula B in 1968, when one of the company's B9 Formula 3 cars had been converted, and then followed to the US by three dedicated Chevron B14s. The Chevron B15b differed from the B14 in having sheet steel spot-welded to the tube-frame chassis to improve rigidity. None of the B15bs were ready for the start of the SCCA season, with the first cars arriving in July. Chevron summary records say that seven cars were built, six with Ford twin cam engines for Formula B and one with a Formula 2 Cosworth FVA engine, and it is this FVA-engined car that is the only one that be identified with certainty. It was built for John Moulds to use in libre racing, but was crashed heavily in testing, necessitating a lengthy rebuild. When it finally appeared, it only raced a handful of times before being converted to Formula 4 in 1972. It can be identified with confidence as its original chassis plate was removed when it was rebuilt after its testing accident, and shows that it was chassis FB-69-7.
If you owned or raced a Chevron B15b, or have a photograph of one that we can use, or can add anything else to our understanding, please email Allen at allen@oldracingcars.com. All and any help would be gratefully received.
Chassis
History
Current owner
John Moulds (Worsley, Manchester) bought a new Chevron B15b in November 1969, which he fitted with an ex-Frank Lythgoe Racing Cosworth FVA Formula 2 engine for British libre racing. Unfortunately, Mounlds had an accident in testing, and the car required a lengthy rebuild. He first raced it at Oulton Park in May 1970, but it was only seen rarely, and Moulds advertised it in January 1971. It was sold to local dealer Bobby Howlings, who raced it in a libre race at Rufforth in May 1971. It was then acquired by John Day, who replaced the FVA with a 1-litre Felday ex-F3 engine and won two Formula 4 races with it in 1972. Dave Griffiths (London) acquired the B15/17-Felday and raced it regularly in F4 in 1973 and 1974. Griffiths advertised the car in July 1975. Subsequent history unknown.
Driven by: John Moulds, Bobby Howlings, John Day and Dave Griffiths. First race: Oulton Park, 2 May 1970. Total of 21 recorded races.
Unknown
Unidentified Chevron B15bs in 1969
There is a very unusual difficulty with this model: there are two sets of production records available to OldRacingCars.com, and they do not agree with each other. One was supplied by Chevron Heritage, and the other by Kevin Hodgkinson, who worked at Chevron in the late 1960s and wrote a book 'In the Mind's Eye: Chevron Classic Formula Race Cars 1967 to 1970'. The two lists agree on some things, and one is that five B15bs were delivered to the US by the end of the 1969 season. The first owners of four of these would be Steve Brownstein, Syd Demovsky, Hugh Kleinpeter and Jim Grob, but the first owner of the fifth car is less straightforward to identify. Until photographs are found, it is hard to know whether Joe Grimaldi had the fifth B15b, or whether his 1968 Chevron B14 was updated for 1969. His B14 had been updated to B15b specifciation by the time it went to Larry Wright for 1970, so there is time for Grimaldi to have raced it in 1969. If Grimaldi did not have a B15b, then the next B15b to be explained is that of Jon Hall, who raced a yellow B15b in December 1969 and then at least once in May 1970. Wright had already raced the Grimaldi B14 before Hall's last appearance in his B15b, so they cannot have been the same car. None of the other B15bs (those of Brownstein, Demovsky, Kleinpeter or Grob) could be Hall's car, as they all overlap, so regardless of Grimaldi's ownership, the fifth B15b appears to have been the Hall car. It is impossible to figure out the histories of the B15bs without also understanding the histories of the Chevron B14s.
The sixth B15b to arrive in the US came with Reine Wisell, who won the Sebring Formula B race in December 1969 in the car.
Chassis
History
Current owner
Chevron B15bs in 1970
Of the six B15bs in 1969 (Brownstein, Demovsky, Kleinpeter, Grob, Grimaldi/Hall and Wisell), Demovsky's was wrecked at Riverside in April, and Hall's was last seen at the Edmonton race in May 1970. The next to slip from our sight is Brownstein's car in August 1970. Kleinpeter's went to Dave Yoder and can be traced to 1974, Jim Grob kept his to the end of 1971, and Wisell's went to Doug Brenner and can be traced to 1978. Also, it is worth noting that all the F3 Chevron B15s can be tracked up to August 1970 at least, so a re-engined B15 is not part of this puzzle. However, the same is not true for the 1968 F3 Chevron B9s, and there is a distinct possibility that one or two of these lesser known FB Chevrons may turn out to be a re-engined B9. The 1968 twin cam Chevron B14s must also be borne in mind when trying to resolve this puzzle; three of the four can be accounted for during 1970, but the ex-Tom Gelb B14 was last seen in Wisconsin in 1969.
The first two mystery B15bs to appear were the cars of Peter Darr in Oregon and Skipp Walther in Ohio, both first appearing in June or July 1970, and one of these could be Hall's car. Walther only appeared once, and was entered by Fred Opert. Hall's was yellow, whereas Darr's was initially green, and Walther's blue/silver, so not a lot can be gleaned from that. Note that Jim Trueman had a blue-and-silver "B14" just after Walther had his blue-and-silver "B15b", and as both were from western Ohio, this might indicate they had the same car, but Walther advertised his car in November saying it had only raced once, ruling out that possibility. Given Walther's funding, it is a surprise that his car was not brand new.
Ron Hunter (Denver, CO) advertised Syd Demovsky's car, still unrepaired, in September 1970 before selling it to Wayne Mitchell.
Chassis
History
Current owner
Peter Darr (Government Camp, OR) raced a green or blue/green Chevron in Formula B from June 1970 to June 1971. The only clue to its identity is from Darr's advertisement for the car in November 1970, where he called it a "B15-17 Chevron F2 chassis", adding that it was a "works convt. F2". It was fitted with a Hewland FT200 gearbox and 10" and 14" wheels. The only F2 car that this could possibly be is the first B10, thought to have been used as a Formula A car in 1969 in Illinois. Darr continued to race a Chevron in 1971, but was involved in a collision in an SCCA Regional at Portland in August 1971. Subsequent history unknown.
Driven by: Peter Darr. First race: Sears Point, 11 Jul 1970. Total of 9 recorded races.
Unknown
Skipp Walther, more formally George Walther III of Dayton, Ohio, appeared just once in Formula B in 1970 in a #53 blue/silver Chevron B15b entered for him at Road America 18 Jul 1970 by Fred Opert. He went very well in this race, qualifing third and running second. Walther advertised the car in November 1970 with a comment that it had only raced once in 1970, which would appear to rule out it being Jon Hall's, and would also rule out it having been raced by Jim Trueman later in 1970. Walther raced a new Lola T240 in 1972 and the history of his B15B is unknown. Walther was killed in a hydroplane accident at Miami Marine Stadium in June 1974.
Driven by: George "Skipp" Walther. First race: Road America (R7), 18 Jul 1970. Only one recorded race.
Unknown
Chevron B15bs in 1971
At the start of 1971, the B15bs of Demovsky, Kleinpeter, Grob and Brenner (ex-Wisell) can still be tracked, and the cars of Hall (since May 1970) and Brownstein (since August 1970) have disappeared. Hall's car may well have gone to either Peter Darr or Skipp Walther's, and both these drivers reappeared at the start of 1971, but only briefly. By mid-1971, both had disappeared again, leaving three B15bs unaccounted for.
The only new mystery B15b to appear during 1971 was Steve Mandy's car in Florida.
Chassis
History
Current owner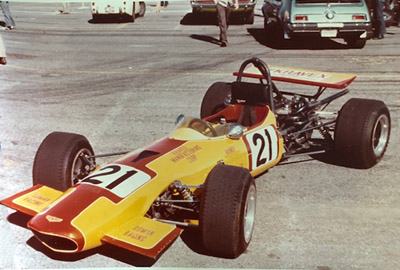 Dr Steve Mandy drove a yellow-and-red #21 Chevron B15b in SCCA Formula B in 1971, 1972, 1973 and 1974. He was a member of Florida Region at this time, but working at a USAF base at Biloxi, Mississippi. Subsequent history unknown.
Driven by: Steve Mandy. First race: Road Atlanta, 27 Nov 1971. Total of 3 recorded races.
Unknown
Chevron B15bs from 1972 onwards
Chevron B15bs became rarer from 1972 onwards, although Larry Risser (Hamburg, PA) advertised one in May 1975, and Tom R. Kibher (Atlanta, GA) advertised a B15 with twin cam engine in late May 1977.
Chassis
History
Current owner
Bill O'Connor (Chicago, IL/Highland Pk, IL) raced a blue/orange/yellow Chevron B15b in SCCA Formula B in the fall of 1972. He scored 13 points in Central Division FB and also entered several Pro races in the fall, but failed to start any, the closest being when he retired on the pace lap at Road America. O'Connor then acquired a Brabham BT38 for 1973 so the Chevron may have been traded back to Fred Opert. Nothing more known.
Driven by: Bill O'Connor. First race: Road America (R6), 26 Aug 1972. Only one recorded race.
Unknown
Jim Temme (Des Plaines, IL), a member of the SCCA's Chicago Region, raced a #15 Formula B Chevron "B17" in a handful of SCCA and Midwest Council races at Blackhawk Farms in the autumn of 1973. In January 1974, he advertised it as a B15 with fresh 1972 Hart engine by Traylor Engineering. Temme noted in his advert that this engine was identical to that used by Tom Klausler to take pole at the 1973 ARRC. As Klausler was in a team with Bill O'Connor, also a Chicago Region member, this Chevron is likely to be the Chevron B15b raced by O'Connor in 1972. Subsequent history unknown.
Driven by: Jim Temme. First race: Blackhawk Farms, 5 Aug 1973. Total of 3 recorded races.
Unknown
Grant Macdonald (Niles, MI) raced a Chevron in Midwest Council events in 1974, 1975 and 1976. In January 1976, he advertised the car as a Chevron B15b in in immaculate condition with updated suspension, 193 bhp Hart 416B and Hewland FT200 gearbox. Nothing more known.
Driven by: Grant Macdonald and Scott Murray. First race: Blackhawk Farms, 26 May 1974. Total of 12 recorded races.
Unknown
Chevron B15bs in historic racing
George Nuse recalls owning a Chevron which was in Lowenbrau colours when he bought it, and had been raced in SCCA events, not in historic events. He sold it to Robert Hubbs, who raced a Chevron B15b in 2001, wearing #50 and dark blue with a gold stripe. In July 2018, Paul Richins advertised a dark blue Chevron B15b that was owned at the time by Bob Satake in the San Francisco Bay area, and had previously been owned by Steve Cook. Both had raced it in historic events, including CSRG and HMSA. Its history prior to Cook was not mentioned. Davey Olson was reported to have a recently acquired Chevron B15b in March 2019 and October 2019.
Acknowledgements
Thanks to Tim Colman and Roger Andreason of Chevron Heritage for kindly sharing their notes on this model; to former owners Steve Brownstein, Doug Brenner, Wayne Mitchell, Steve Mandy, Mike Yoder, son of Dave Yoder, and George Nuse; and to current owner Wayne LaFrenz. Thanks also to Mike Summers, who worked very hard to identify his ex-Garey Cooper Chevron for many years, and interviewed Larry Wright amongst others during that project.
All and any help would be gratefully received. Please email Allen at allen@oldracingcars.com if you can add anything.
These histories last updated on .