Chevron B10 car-by-car histories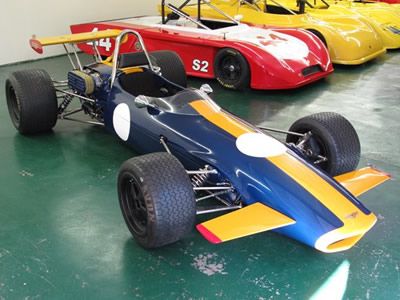 After encouraging performances from a prototype F3 car at the end of 1967, Chevron built a run of F3 cars for 1968, known retrospectively as the B9. Included among these were two Formula 2 cars, to be called the B10. However, it proved a step too far, too soon for Chevron and it was quickly dropped. It would be two years before Chevron returned to F2.
Frank Lythgoe, whose team had struggled with a F2 McLaren M4A in 1967, bought the first car and ran it for the talented Peter Gethin but results were very disappointing and after just four races Lythgoe dropped the car and bought a Brabham BT23C to replace it. A second B10 had by this time been built and Derek Bennett himself raced this in a libre race to see if it was really as bad as it seemed. It was then sold off to a life in libre and speed events.
Both cars are believed to have moved to the US for SCCA racing, the ex-Lythgoe car in 1968 and the ex-hillclimb car after the 1971 season. Judging by the descriptions of a car advertised by Horst Kwech after the 1969 season, the B10 was the basis of Kwech's unsuccessful Formula A "Alfa Special" in 1969.
All and any help would be gratefully received. Please e-mail Allen at allen@oldracingcars.com if you can add anything.
Chassis
History
Current owner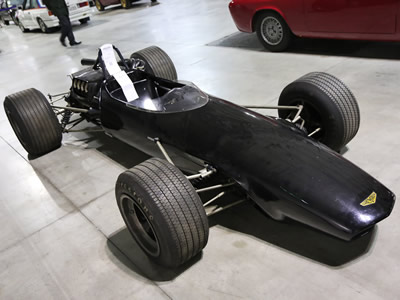 Frank Lythgoe ran Chevron's first F2 car, the B10 chassis F2.1, at five early season races but the car was then dropped, re-emerging briefly when Frank Williams entered it for American Samuel Brown at Enna-Pergusa on 25 August (Speed World International 7 Sep 1968 p27). Brown crashed in practice and broke an upright, a spare part that Williams hadn't packed. The car was not seen again but is likely to have headed to the US where it is believed to be the car used by Horst Kwech (Gurnee, IL) in Formula A with a 2.7-litre Alfa V8. Subsequent history unknown. Patrick Jamin was reported to have this car in France in the late 1980s. From 1992 to 1997, this car was advertised by BB One Exports (Los Angeles, CA) but said to be located in France. In 2001, it was for sale by Giannandrea Calderazzo (Paris) and then said to be located in Italy. In 2005, the car was still in Italy and advertised by Autospeak. In 2016, it turned up again at an RM Sotheby auction in Turin. The car was listed as being "under an order of seizure", and the auctioneers had little information about it. It sold for a remarkable €76,000.
Driven by: Peter Gethin, Samuel Brown, Horst Kwech and Monty Winkler. First race: Hockenheim (R1), 7 Apr 1968. Total of 7 recorded races.
Unknown owner (Italy) 2016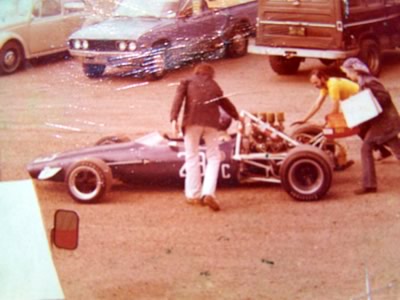 The second Chevron B10 was completed in July 1968 and raced by Bennett himself at a libre race before being sold to Mike MacDowel and Bob Jennings in August for hillclimbs. They ran it until the end of the season but then bought a new Brabham BT30X and the Chevron was sold to Graham Eden who first used an oversized Ford twin-cam and then returned the car to FVA specification. It was upgraded to B17 specification for 1970 and at the end of that season passed to Bill Creasey and then on to Bob Ellice for the 1971 season. Ellice ran it in the new Formula Atlantic series with a twin-cam engine, entered by John Deuxberry. Then to the US and used in FB by Mike Hickey (Portland, OR) from May 1972. To Richard Shepard (San Francisco, CA) January 1974 and converted to FC with an 1100cc Holbay-Cosworth engine. Later sold to Monte Shelton (Portland, OR), then from Shelton to Tom Black (Portland, OR) who acquired a new body and other parts from Ed Swart (all this around 1990) and sold it all to Gerry Kingen (Seattle, WA) in 1991. Restored for Kingen by Mike Gent for display in one of Kingen's restaurants. Sold by him to Ernie Spada Jr (Lake Oswego, OR) some time in the mid to late 1990s and restored again by Gent to running Formula B specification. To Jim Catchot (Rancho Murieta, CA) January 2014. To Glenn Bilawsky (Spicewood, Texas) in December 2020.
Driven by: Derek Bennett, Bob Jennings, Mike MacDowel, Graham Eden, Graham McRae, Bill Creasey, Bob Ellice and Richard Shepard. First race: Mallory Park, 14 Jul 1968. Total of 60 recorded races.
Glenn Bilawsky (USA) 2021
Chevron Heritage
Chevron Heritage supplies genuine Chevron parts for pre-2008 cars, using the original Chevron drawings, jigs, body moulds and patterns which have been owned by the company since 1983.
Chevron Heritage is licenced to manufacture Chevron B8, Chevron B16 and Chevron B19 continuation cars by Chevron Cars Limited which owns these trademarks.
Contact Chevron Heritage Limited on +44 (0)1256 345 582 or email tim@chevronracingcars.com.
These histories last updated on .