Chevron B29 car-by-car histories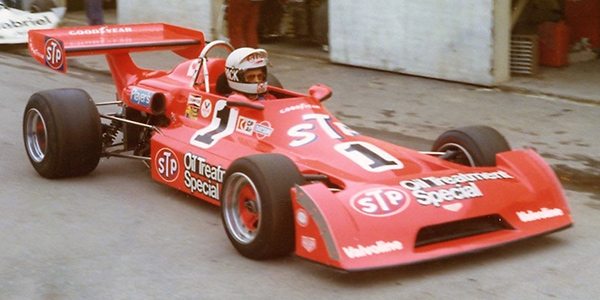 With its traditional sportscar market declining, Chevron concentrated on the Chevron B29 for 1975, a model designed for use in Formula 2 and Formula Atlantic. Bill Brack took the Canadian Formula Atlantic title, and both Jim Crawford and Gunnar Nilsson won races in the UK, but sales in F2 were limited.
For several years, Chevron had been a producing a multi-purpose formula car that could be used in Formula 2 and Formula Atlantic applications, but the F3 market had dried up after Chris Skeaping's dismal season in a Chevron B20 in 1972. The Chevron B25 and Chevron B27 had sold in good numbers, and the B29 was a further evolution of that theme, still with wide sidepods but now with elegant bodywork integrating the engine cover with a new centre post rear wing. The prototype was first tested at Croft in December and January before being taken out to Palm Beach where Derek Bennett, Jim Crawford and potential North American customers such as Bill Brack were able to test it. It was formally announced at the Racing Car Show in January, where Hector Rebaque's F2 example was on display.
Chevron had three distinct marketplaces for the B29, Formula 2 in Europe, Formula Atlantic in Britain and Ireland, and North America, where Formula Atlantic cars could be used in the Canadian Formula Atlantic series or in SCCA Formula B at Divisional level. The SCCA had finally relented and allowed the Cosworth BDA to be used in Formula B for 1975, but were still uninterested in running professional races for the category.
Formula 2
Five cars were built for Formula 2: 29-75-03 to Fred Opert Racing for Héctor Rebaque to use with a Hart Ford engine; 29-75-10 and 29-75-12 to French team Écurie ROC for drivers Xavier Lapeyre and Christian Ethuin with the team's own Chrysler-Simca engines; 29-75-27 to privateer Harald Ertl who had plentiful Warsteiner sponsorship and BMW engines, and 29-75-30 as a late-season works development car for Hans Binder to drive, again with a BMW engine.
British and Irish Formula Atlantic
Ten or eleven cars were built. Eight of these were customer cars: 29-75-04 to Tom Wheatcroft for Richard Morgan to drive, 29-75-06 for Alo Lawler, 29-75-07 for Patsy McGarrity in Ireland, 29-75-17 for Peter Williams, 29-75-18 for Matt Spitzley, 29-75-19 for Stephen Choularton, 29-75-25 also later for Matt Spitzley, and 29-75-29 for Derek Cook. Early in the season, Jim Crawford ran the car that had been used for testing in Florida, but it is unclear whether this was 29-75-01 or 29-75-02. That car was then rebuilt for Crawford onto a new chassis, 29-75-15, so that can be regarded as a tenth car. The eleventh was the mid-season car of James Crawley which went to the US after a couple of races, but this was said to have been built on a prototype tub so was also probably 29-75-01 or 29-75-02, and could even have been the ex-Crawford car. This remains unresolved.
North American Formula Atlantic
Eleven cars were sold to North America, three to Fred Opert Racing for his customers Héctor Rebaque (separate to his F2 car), Juan Cochesa and Bobby Dennett; four for Canadian customers, all in Ontario: 29-75-09 for Peter Ferguson, 29-75-14 for Bruce Jensen, 29-75-16 for Bill Brack and 29-75-28 for Hugh Cree; and four for American customers: 29-75-20 for Joe Sposato, 29-75-21 for Bobby Brown, 29-75-23 for Syd Demovsky, and a car for Seb Barone that is thought to be 29-75-24. The chassis numbers of the three Opert B29s are unknown. James Crawley's car joined this group around August, taking the total in North America to 12.
Everywhere else
One other car was sold to Southeast Asia: 29-75-05 for Albert Poon
The chassis numbers that are unresolved are 29-75-01, 29-75-02, 29-75-08, 29-75-26, plus, possibly, B29-75-22 and B29-75-31. As 29-75-08 later appeared in Canada, it is likely to be one of the Fred Opert Racing cars. One of 29-75-01 and 29-75-02 became Jim Crawford's car and it is possible that the other was consumed in an accident but it is also possible that one of these two cars became one of Opert's cars. If so, the third Opert car is likely to have been 29-75-26.
If you can add to our understanding of these cars, or have photographs that we can use, please email Allen at allen@oldracingcars.com.
Chassis
History
Current owner
Other possible Chevron B29s built
Some references have been found to later Chevron B29 chassis numbers, but it is unclear whether these are separate cars, or replacement monocoques.
29-75-32 was the number given in Motoring News for Hans Binder's car at the Silverstone and Zolder rounds of the European F2 championship in 1975.
29-75-32 is also the number recalled by Richard Shepard for a car that he ran in SCCA Regionals in Colorado in about 1978/79.
29-75-33 has appeared at auction and appears to be a rebuild of the ex-ROC car B79-75-12.
25-75-35 is reported to be the monocoque number in car B29-75-06, presumably as a result of the car being rebuilt on a new monocoque after Lawler's accident at Snetterton on 10 August 1975.
The 1975 mystery cars
In North American Formula Atlantic, at least 11 cars appeared; possibly 12. Fred Opert ran three cars for Héctor Rebaque, Juan Cochesa and Bobby Dennett, and the four season-long privateers were Peter Ferguson (75-09), Bruce Jensen (75-14), Bill Brack (75-16) and Seb Barone (believed to be 75-24), with Hugh Cree (75-28) appearing from Round 3 onwards. In addition to these, Bobby Brown (75-21) appeared at the first five races but was not at Trois-Rivières, and his teammate Syd Demovsky (75-23) ran from Round 4 onwards. At Mosport Park in July, an 11th Chevron B29 arrived when Joe Sposato raced 75-20. Of the three cars run by Chevron agent Opert for Rebaque, Cochesa and Dennett, one would be chassis 75-08 and the other two could be 75-22 and 75-26, the entries for which are blank in Chevron records.
At Trois-Rivières at the end of the 1975 season, Opert ran three cars in Gitanes livery for Jean-Pierre Jarier, Jean-Pierre Jaussaud, and José Dolhem. As Cochesa and Dennett were absent, two of these cars would be their usual mounts. However, Rebaque was at Trois-Rivières, so the third Gitanes car must have been something new. The only B29 privateers absent from Trois-Rivières were Bobby Brown and Joe Sposato, and it is possible Opert had hired one of their cars and replaced their bodywork with a spare set of his pale blue bodywork. Jim Crawley's B29 may well have arrived from England by this time, so is another possibility. The Jarier and Jaussaud cars were raced by Tom Bagley and Steve Durst at Brainerd the following weekend, meaning that if one car was hired, it is likely to have been the one Dolhem raced at Trois-Rivières.
Chassis
History
Current owner
Chevron B29s in 1976
Of the eleven B29s known to have raced in North America during 1975, Peter Ferguson (75-09), Bruce Jensen (75-14), Joe Sposato (75-20), Syd Demovsky (75-23) and Hugh Cree (75-28) all retained their cars for 1976. Bill Brack ran his old car (75-16) for Kevin Cogan, and Bobby Brown sold his (75-21) to Lyle Heck. They had been joined at the end of the season by James Crawley's car which went to RJ Nelkin for 1976 and one of the F2 cars (75-03) also moved into North American Formula Atlantic for 1976 to be raced by Carl Liebich, bringing the total number of B29s in North America to 13. Four of those cannot be tracked into 1976: the Isola Racing/Seb Barone car (believed to be 75-24), and the three Fred Opert Racing cars (75-08 and maybe 75-22 and 75-26).
Three new B29 drivers appeared in 1976 with unidentified cars: Bill Kneeland in New Hampshire, Gordon Strom in California, and Marcel Talbot in Canada. Kneeland had bought one of Opert's pale blue cars, and it is likely that Talbot and Strom had done the same.
Meanwhile in Britain and Ireland, the ex-Richard Morgan 75-04 went from Brett Riley to Ken Bailey; Alo Lawler retained 75-06; Patsy McGarrity retained 75-07; the ex-Crawford 75-15 went to Len Booysen in South Africa; Peter Williams sold 75-17 mid-season to Martin Birrane; Matt Spitzley had wrecked 75-18 during 1975; Steve Choularton's 75-19 went to Phil Dowsett; Matt Spitzley's replacement 75-25 went to John Gibb for the South African series; and Derek Cook's 75-29 went to Jeremy Rossiter. The early-season car of Jim Crawford was either broken up to create 75-15 or became the mid-season car of James Crawley so either way was no longer part of the local equation. With two gone to South Africa and 75-19 destroyed, that left only six of the original ten or eleven B29s in Britain and Ireland.
Chassis
History
Current owner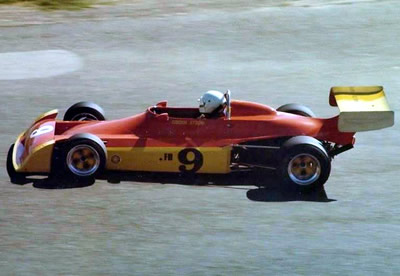 Gordon Strom (Santa Cruz, CA/Sunnyvale, CA) ran a Brabham BT35 in west coast SCCA racing from 1972 to 1975 when he moved up to a nearly-new Chevron B29. The car was yellow with red top bodywork and ran as #9. The identity of the Chevron is not known. Strom raced this in 1976 and 1977 until an accident at Laguna Seca in June 1977 in which he suffered massive head injuries. It is likely that the car was destroyed. Strom was hospitalised but his medical insurance "ran out", and a fund was established to help his wife Kay with the overwhelming hospital bills. He died in November 1977 without having regained conciousness.
Driven by: Gordon Strom. First race: Riverside, 15 Feb 1976. Total of 14 recorded races.
Wrecked 1977
Bill Kneeland (Franklin, NH) bought a pale blue Chevron B29 from Fred Opert for the 1976 season. He raced it in several Pro races as well as a program of SCCA racing in 1976 with support from Real Estatement Marketing. Photographs show that Kneeland's B29 was driven by Max Sebba (Sandy Springs, GA) at the SCCA Runoffs, instead of the much older March 722 he had used in SCCA Nationals. Kneeland did race at the Runoffs, so it seems likely he had hired a new car, so a B34, from Opert. Kneeland acquired the first of the Chevron B39s for 1977, but the Runoffs at the end of October 1976 is too early for it to have been that car. The B29 went back to Fred Opert as a trade on the new car. Subsequent history unknown.
Driven by: William Kneeland and Max Sebba. First race: Palm Beach International Raceway, 22 Feb 1976. Total of 11 recorded races.
Unknown
Marcel Talbot (Granby, Quebec), raced a second-hand Chevron B29 in the 1976 CASC and IMSA Formula Atlantic championships. The car was black and raced as #10, with Tamaco Industries sponsorship. After Mont-Tremblant in July, he upgraded to a new Chevron B34. Nothing more known.
Driven by: Marcel Talbot. First race: Road Atlanta (R1), 11 Apr 1976. Total of 7 recorded races.
Unknown
Chevron B29s in 1977
Of the 13 B29s based in North America at the beginning of 1977, Peter Ferguson retained 75-09, Bruce Jensen retained 75-14, John Galson acquired Bill Brack's 75-16, John Higgins acquired Joe Sposato's 75-20, Lyle Heck retained his ex-Bobby Brown 75-21, Syd Demovsky's 75-23 went to Bob Williams, and Hugh Cree retained 75-28. James Crawley's car had not been seen since Rick Wellner crashed it in mid-1976 and the ex-F2 car, 75-03, is unknown after November 1976. Of the three unidentified cars that appeared in 1976, Gordon Strom retained his car, Bill Kneeland upgraded to a B39 sometime during 1977 and his B29 returned to Opert, and Marcel Talbot had also upgraded, to a B34, in August 1976. One other car cannot be accounted for after the end of 1975, but this may be the car that Eddie Marcelo raced in late 1976/early 1977, as he was said to have purchased "one of Fred Opert's B29s". There is time for Talbot's car to have returned to Opert and then be sold to Marcelo.
Formula reported that "Kenneth Valca" raced Chevron B29 at the Palm Beach National in February 1977, and the official race results say that Kenneth Valca, of Wilmington, Delaware, raced a #11 Chevron. However, no "Kenneth Valca" has ever been found, and it seems far more likely that this was Kenneth Valan, who was from Wilmington, Delaware and usually entered his cars as #11. Valan had a B27 in 1978, and the most likely scenario is that this was Valan, not Valca, and in a B27, not a B29.
Only six B29s had been left in Britain and Ireland in 1976. As Formula Atlantic did not continue in Britain in 1977, most of them moved to Ireland: Ken Bailey retained 75-04 unused in 1977; Alo Lawler sold 75-06 to John Eastwood in Ireland; Patsy McGarrity's 75-07 went to Derek Shortall in Ireland and then to Joey Greenan in Belfast; Martin Birrane retained 75-17 for some Shellsport G8 races; Phil Dowsett sold 75-19 to John Ledlie in Ireland where it would be wrapped round a tree at Phoenix Park; and Jeremy Rossiter's 75-29 went to John Pollock in Ireland.
Chassis
History
Current owner
Doug Cohee (Madison, CT) raced a "1975 Chevron", so presumably a Chevron B29, in SCCA Drivers School at Watkins Glen in June 1977 and at Lime Rock six weeks later, and then made his race debut in the car in a Watkins Glen Regional in August. He raced twice more that season, then in Regionals at Bryar, Pocono, Bridgehampton and Lime Rock in 1978, and at Bryar and Lime Rock in 1979. His last known race was at Bryar Motorsport Park in September 1979. It was bought from Cohee by James Deady (Lyme, CT), and raced by him in SCCA events until he upgraded to a newer March 80A. Subsequent history unknown.
Driven by: Doug Cohee. First race: Watkins Glen, 28 Aug 1977. Total of 12 recorded races.
Unknown
Chevron B29s in 1978
To recap where we are, a total of 11 Chevron B29s originally went to North America, and it was possible to track seven of those into 1976, when they were joined by James Crawley's car and an ex-F2 car. Three unidentified cars appeared in 1976, so that accounted for ten of the original 11. Moving into 1977, all seven of the identified cars could still be tracked, as could one of the three unidentified cars, Gordon Strom's, but the cars of Kneeland and Talbot could not. James Crawley's car and the ex-F2 car had also disappeared by the end of 1976. There were no additional unexplained B29s to account for those three, except perhaps the Eddie Marcelo car.
As 1978 began, Peter Ferguson's 75-09 went to Colin Hine, Bruce Jensen's 75-14 was sold early in 1978, John Galson retained 75-16, John Higgins' 75-20 went to Mike Cronin, Lyle Heck retained his 75-21, Bob Williams' 75-23 went missing for a while but would turn up again in Colorado, and Hugh Cree's 75-28 went missing until it reappeared with Peter Gates c1990. Of the three unidentified cars that appeared in 1976, Gordon Strom's car is likely to have been destroyed in the accident that took his life, and the other two had already vanished. James Crawley's car and the ex-F2 75-03 had also vanished. Also the ex-Fred Opert team car 75-08 reappeared in the hands of Pierre Gadoury in Quebec in 1978.
Two unidentified B29s appear in 1978: Allen Karlberg's in Washington State, and Ray Schuler's in Illinois.
Of the six B29s left in Britain and Ireland from 1977, Ken Bailey's 75-04 went to Eddie Jordan in Ireland for 1978; John Eastwood's 75-06 went to Joe Greenan in Belfast; the ex-Patsy McGarrity's 75-07 went to John Smith in Northern Ireland; Martin Birrane's 75-17 went to Laurence Jacobsen for Bryce Wilson to drive in Scottish libre; John Ledlie's 75-19 had last been seen trying to reposition one of Phoenix Park's trees; and John Pollock's 75-29 went to Tom O'Leary in Ireland.
Chassis
History
Current owner
Allen Karlberg (Seattle, WA) raced a Chevron in Northern Pacific SCCA Formula B in 1978, scoring 18 points, but his only known result so far is a second place at Portland in June. In September 1978, he advertised that he was parting out a Chevron B29. Nothing more known.
Driven by: Allen Karlberg. First race: Portland International Raceways, 11 Jun 1978. Only one recorded race.
Unknown
Raymond E. Schuler (Canton, IL) raced a Chevron B29 in Central Division Formula B/Atlantic in 1978 and 1979 as a Central Illinois Region member. He scored only one point in 1978, and four points in 1979. He then transferred to St Louis Region in Midwest Division, and scored 14 points in the Chevron in Formula Atlantic in 1980, qualifying for the Runoffs, where he finished ninth. He acquired a March 78B for 1981, and the later history of the Chevron B29 is unknown. Schuler died in 1997 at the age of just 59.
Driven by: Ray Schuler. First race: Indianapolis Raceway Park, 25 Jun 1978. Total of 2 recorded races.
Unknown
Chevron B29s in 1979
Few of the 13 B29s that went to North America were still racing in 1979. The only ones so far found in results of SCCA Nationals are Mike Cronin in 75-20, Mike Rand in 75-21, and Doug Cohee and Ray Schuler in their unidentified cars. All those were in NEDiv except Schuler in CenDiv.
Of the six B29s that had remained in Britain and Ireland, three continued to be raced in Irish Formula Atlantic in 1979: 75-04 by Vivian Candy; 75-06 by Ken Fildes; and 75-29 which was retained by Tom O'Leary. A fourth, John Ledlie's 75-19, had not been seen since its Phoenix Park accident in 1977 and may still have been in Ireland. Two more had returned to Britain: John Smith's ex-Patsy McGarrity's 75-07 was sold to Dave Rackham in England in early 1979 and Laurence Jacobsen retained 75-17 in Scotland for Formula Atlantic and Scottish Libre. Trevor Templeton (twice) and Nelson Todd (three times) also raced B29s in Ireland in 1979 and the identity of their car(s) remains unresolved. Templeton's may have been the B42 he raced in 1980 rather than that a B29, as reports are contradictory. Both Todd and Templeton appeared in the same races as Candy and in the same races as Fildes, so can't have had 75-04 or 75-06. Neither Todd nor Templeton appeared in the same races as O'Leary, but it seems much more likely they were racing a fourth B29, and the ex-John Ledlie 75-19 would be the most likely candidate.
It is worth catching up on the other group of B29s, the five Formula 2 cars. Fred Opert's 75-03 had gone back to the US for Formula Atlantic; Xavier Lapeyre's 75-10 had last been seen in June 1976, but there is good reason to believe it had been used to create his Chevron B35; the other ROC car 75-12 had gone into French hillclimbs and had last been seen when advertised by Ange-Marie Cheval in Echappement in October 1977 as a B29/35; Harald Ertl's 75-27 had gone into German hillclimbs and would remain in Germany until 1992; and the a late-season works development car 75-30 had gone to New Zealand and would stay there until the 1990s. That Lapeyre B35, just in case it is relevant, was with Henri-Paul Magnan from 1979 to 1982. The cars used in France by Jean Arzeno in 1979 and Bernard Hazotte from 1980 to 1982 are therefore likely to be 75-12. One puzzle will emerge in May 1982, when Patrick Gasquet had a B34 that was also called a B29.
Chassis
History
Current owner
Jacques Arzeno appeared at the Côte de Ceyreste hillclimb in September 1979 with a Chevron "B35" with ROC engine. It is possible that this was Jean Lachaud's 35-76-07 which had only appeared a few times in 1979, the most recent being the preceding weekend, or it could have been Jean Lapierre's 35-76-09 but that had a BMW engine and had been described as a B40 in 1979. What seems more likely is that it was the ROC-engined B29/B35 last seen when raced by Ange-Marie Cheval in 1977. Arzeno was then in his mid-20s and was best known for driving Hema sports cars, which he built alongside Henri Mayeur. He died in December 2020. The subsequent history of the Chevron is unknown but this is a candidate for Bernard Hazotte's mystery "B35" from 1980 onwards.
Driven by: Jacques Arzeno. First race: Ceyreste, 2 Sep 1979. Only one recorded race.
Unknown
Chevron B29s from 1980 onwards
The North American B29s had now largely faded from view, with only Lanny Drevitch in 75-21 and Ray Schuler in his mystery car scoring points in SCCA Nationals.
Of the six B29s that had remained in Britain and Ireland, 75-04 was sold back to England in 1980 for libre racing and was reportedly broken up for spares later in the decade; 75-06 was sold via Bobby Howlings back to England in 1981 and was then a regular hillclimb car for many years; 75-07 was crashed by Dave Rackham and its parts appears to have been dissipated; and 75-17 was converted to a 'GT' Sunbeam Stiletto in Scotland in 1980 and still exists today restored back to its original form. That leaves two unaccounted for: Tom O'Leary's 75-29 and John Ledlie's 75-19, which now appears likely to have been repaired after its Phoenix Park accident in 1977 and raced by Nelson Todd in 1979.
Chassis
History
Current owner
In addition to the above, unknown Chevron B29s were driven by Jean-Pierre Jaussaud, José Dolhem, Steve Durst, Eddie Marcelo, Dan Marvin, Trevor Templeton, Nelson Todd and Terry Myr.
Acknowledgements
My thanks once again to Chris Townsend for his work on this topic over many years. He first offered a set of histories on these cars as long ago as 2004! Thanks also to Bryan Miller, Tony Nicholson, Steve Wilkinson, Alan Brown, Andrew Fellowes, Tim Colman, Dan Rear, Simon Hadfield, Peter Brennan, Marcus Pye, James Murray, Philippe Demeyer, Chris Sharples, Brian Speake, Rick Hall of Hall and Hall, John Gale, Colin Hine, Jeff Downes at Can Am Cars, Ltd, Rick Larner, Miles Jackson, Roger Sieling, Doug Brown, Bill Murray, Chris Porritt, John Bradshaw, David Beatty, Paul Tonkin, Jeff Luebker, Wil Arif, Peter Hill, Matt Dagostino, Tony Garmey, James Deady and Tim Jacobsen. Thanks also to Peter Viccary, Alan Cox, Ted Walker, John Nemy Jr, Arny Spahn, Andrew Scriven, Vincent Puleo, Bill Wagenblatt, Pepper Bowe, Miles Jackson and Ralph Colmar for use of their photographs.
If you can add to our understanding of these cars, or have photographs that we can use, please email Allen at allen@oldracingcars.com.
These histories last updated on .