Chevron B7 history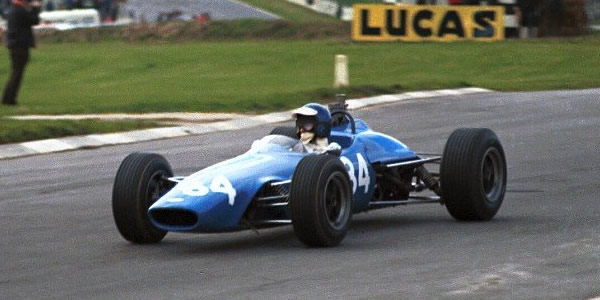 Chevron's first Formula car was the F3 B7, used briefly by Peter Gethin at the end of the 1967 British F3 season and then dispatched to the USA for use in SCCA racing.
Peter Gethin gave the new car a sensational debut at Brands Hatch in early October. He only qualified on the third row, after engine problems when the car had run for the very first time the previous day, but immediately ran with a leading group consisting of Roy Pike in the prototype Titan Mk 1, John Miles in the factory Lotus 41C and Tetsu Izukawa in a Brabham BT21. Gethin was penalised a minute for creeping at the start but left to race as usual. After Pike pulled off, Gethin battled Miles for the lead and in an epic last lap, the Lotus driver weaved coming out of Clearways to try to put off the Chevron driver but Gethin dived down the inside and only failed to beat the Lotus to the line by only a few feet. Like the Titan Mk 1, the Chevron's job was to encourage a number of orders for the production version that was to follow and in this respect both cars were successful. The B7 was sold to the US where its racing career remains a mystery. Not one of the Divisional Formula C points tables contains any mention of a Chevron in either 1968 or 1969.
All and any help would be gratefully received. Please email Allen at allen@oldracingcars.com if you can add anything.
Chassis
History
Current owner
Entered by Sports Motors (Manchester) for Peter Gethin in three late-season British national F3 races. Shortly afterwards, it was reported that the B7 had been sold via Fred Opert to the US, where it would have been eligible in its F3 specification as a Formula C car. Chevron records state that it went to Chris Oates (unraced) and then to Fred Ashplant, an SCCA racer in New Jersey. However, all Ashplant's racing appears to have been in a Brabham around that time and the racing history of the B7 in 1968 and 1969 remains unknown. It is then almost certainly the car on Fred Opert's stock list dated 27 Nov 1969 as "Chevron FC/F3 … ex-Peter Gethin factory car with special light weight chassis and suspension, 10"/9" wheels with latest English Goodyears, Hewland 5-speed box, Cosworth SCA with Lucas fuel injection". Again, its exact ownership before and after this advert is unknown. William Pitman (Chicago, IL) won the FC class in an SCCA Regional at IRP in June 1970, which could have been this car. The final known reference to the car in period is an advert in August 1971 for a "Chevron F/3 (F/C) Ex-Gethin. 0 time all aircraft chassis rebuild. 1-5/8" rollbar. New rear deck, new paint. Hewland Mk 5 with 25 ratios. F/2 wheels and tires. 0 time on SCC Cosworth since run on dyno" by a company WREP Industries (Northbrook, IL).
History then unknown until it was sold to Donald L. Davidson (Studio City. CA) as a B9. Retained by Davidson since then. Still owned by Davidson in June 2018.
Driven by: Peter Gethin. First race: Brands Hatch, 8 Oct 1967. Total of 3 recorded races.
Donald L. Davidson (USA) 2018
Chevron Heritage
Chevron Heritage supplies genuine Chevron parts for pre-2008 cars, using the original Chevron drawings, jigs, body moulds and patterns which have been owned by the company since 1983.
Chevron Heritage is licenced to manufacture Chevron B8, Chevron B16 and Chevron B19 continuation cars by Chevron Cars Limited which owns these trademarks.
Contact Chevron Heritage Limited on +44 (0)1256 345 582 or email tim@chevronracingcars.com.
These histories last updated on .