Chevron B17c car-by-car histories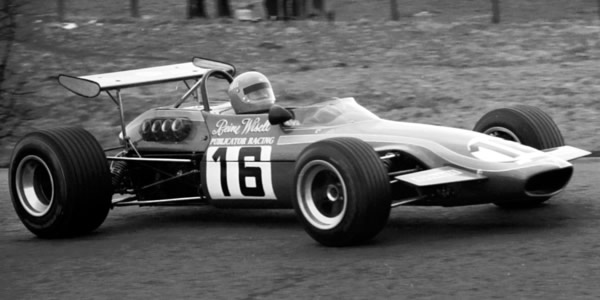 Chevron ventured back into F2 in 1970 with the new Chevron B17c, to be driven by Reine Wisell, Chevron's works F3 driver the previous season. Like the B10 before it, the B17c was a flop. However, a second example was sold into Formule Libre where it dominated the season.
Reine Wisell had been one of the top European F3 drivers in 1969 with the works Chevron B15 and had cemented his reputation with a fine victory in the Formula B race at Sebring in December 1969. Chevron's new 1970 F3 B17 sold well and the works also built a F2 version, named the B17c, in which Wisell could step up to Formula 2. Wisell's season started badly and got worse and by mid-season he had moved into Formula 5000, replacing Peter Gethin in Sid Taylor's McLaren M10B after the Englishman was given a berth in the McLaren F1 team. Wisell seized this opportunity, winning three races that autumn, but this merely emphasised how poor the B17C must have been. Meanwhile, a second B17c had been built for libre racer Steve Thompson and he dominated the 1970 BOC Formula Libre championship.
All and any help would be gratefully received. Please email Allen at allen@oldracingcars.com if you can add anything.
Chassis
History
Current owner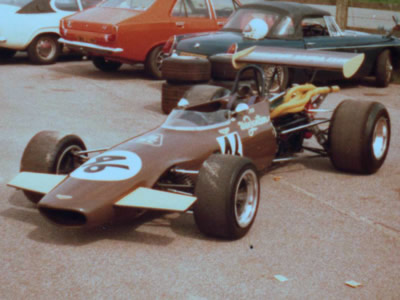 A works entry for Reine Wisell (Motala, nr. Linkoping, Sweden) in Formula 2 in 1970 but completely unsuccessful. Also raced once by fellow Swedish F3 driver Gustaf Dieden at Mantorp Park in August. Acquired by Bobby Howlings and raced in a new libre races in 1971, still with its FVA engine. Then unknown until 1974 when it was owned by Uwe Jantzen (Bridgend, Wales) and used in libre and speed events. It reportedly had been bought as "ex-Wisell" and still had a FVA engine. Advertised by Jantzen in April 1976. Bobby Howlings again advertised the "ex-Wisell" B17C in 1978 and it was then observed still with a FVA engine in libre at Brands Hatch with Tony Pollock (Winnersh, Berkshire) in December 1980. Raced by Len Bridge (Basingstoke, Hampshire) in the HSCC Pre-71 F2 series in 1985, advertised by Andreason Racing in December 1985, and then raced by Stephen Davis in historic racing from 1986 to 1988. Still owned by Davis in 2014.
Driven by: Reine Wisell, Gustaf Dieden, Bobby Howlings and Uwe Jantzen. First race: Thruxton (R1), 30 Mar 1970. Total of 10 recorded races.
Stephen Davis (UK) 2014
Bought by Steve Thompson (Sutton Coldfield, Warwickshire) for libre racing, fitted with a 1.8-litre Cosworth FVC engine. Hugely successful in libre in 1970, winning at least 14 races. Sold to Frank Mumford for 1971 but unseen that year. Then to Alex Seldon (Churt, Surrey) and fitted with a Cosworth BDA in early 1972 but again no record yet found of a race start. Almost certainly the B17c sponsored by Romans of Woking and entered for Malcolm Brown at Brands Hatch in November 1972 and later raced by Richard Leech (Guildford, Surrey) in a Castle Combe libre race in April 1973. Advertised by Deryck Cook (Brookwood, Surrey), who was also sponsored by Romans of Woking, in August 1973 and March 1974 when it had a 1600cc Ford twin cam and a FT200 gearbox. Next seen when bought from Spencer Elton (Westbury, Wiltshire) by Philip Sandwith (Guernsey) in autumn 1974. Phil fitted a development Holbay twin cam engine and used the car in hillclimbs from 1975 until 1978, taking numerous class records. He retained the car until spring 1983 when it was sold to GuernseyBus. Run by garage manager Mike le Cras (Guernsey) at Le Val des Terres in July 1983. Later acquired by Chevron Cars who sold it back to Seldon in 1983 or 1985. Then to Richard Budge 1990, to Rob Harvey 2000, to Ray Davies 2003, to Martin Bullock (Perth, Western Australia) 2007. Raced by Martin Bullock in HSCC Historic Formula 2 events from 2013 to 2017, fitted with a Richardson FVA engine. The car was offered for sale in 2018.
Driven by: Steve Thompson, Richard Leach and Phil Sandwith. First race: Castle Combe, 13 Jun 1970. Total of 20 recorded races.
Martin Bullock (Australia) 2018
Chevron Heritage
Chevron Heritage supplies genuine Chevron parts for pre-2008 cars, using the original Chevron drawings, jigs, body moulds and patterns which have been owned by the company since 1983.
Chevron Heritage is licenced to manufacture Chevron B8, Chevron B16 and Chevron B19 continuation cars by Chevron Cars Limited which owns these trademarks.
Contact Chevron Heritage Limited on +44 (0)1256 345 582 or email tim@chevronracingcars.com.
These histories last updated on .