Chevron B17 car-by-car histories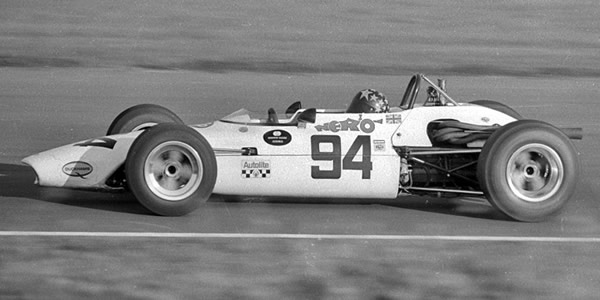 The 1970 Formula 3 Chevron B17 was a development of the B15 with a stiffened centre section, new uprights and a tidied engine cover. Jürg Dubler and Peter Hanson both won major F3 races in this model using Novamotor engines.
After Reine Wisell's successes in the B15, the B17 sold well with well-established F3 star Jürg Dubler forsaking Tecno for a B17, the talented Kiwi Bert Hawthorne moving from Brabham, and B15 customers Peter Hanson and Barrie Maskell staying on board. Dubler got the seaon off to a good start with a win at Montjuich Park in April, and Hawthorne beat a strong British national field at Brands Hatch in May. Later in the season, Hanson won an International at Karlskoga and Dubler won the high-profile Zandvoort race at the end of August. Both Maskell and newcomer Chris Skeaping took their B17s to victory in significant British races.
With the introduction of the 1600cc F3 for 1971, larger stronger cars were needed but the B17s continued in use in hillclimbs for some years.
All and any help would be gratefully received. Please email Allen at allen@oldracingcars.com if you can add anything.
Chassis
History
Current owner
The 1971 mystery cars
The new 1600cc Formula 3 was introduced for 1971 and five of the nine B17s were converted: Keith St John bought 70-01, Chris Skeaping retained 70-07, Ken Sedgley retained 70-08, Auto Ascher acquired Jurg Dubler's and fitted an Alfa Romeo engine, and Carlo Scarambone's late-season 70-09 also appeared in F3 in 1971 using an Alfa Romeo engine. Two other cars are known in 1971: Norman Foulds' 70-02 was sold to Geoff Lambert but did not race again for some time, and Bert Hawthorne's 70-04 was sold to the US for SCCA Formula C. This leaves two to find: Rolf Riesen's Swiss-based 70-06 which disappeared after the 1970 season, and Barrie Maskell's NERO 70-03 which vanished after being advertised by the Chevron factory in September 1971.
Two unidentified B17s appeared during 1971: Bendicht Kipfer raced a B17 in the 1-litre class of Swiss and French hillclimbs; and Philippe Chenu ran a B17 in French hillclimbs, again in the 1-litre class, from late September onwards. Both Kipfer and Chenu ran their cars again in 1972. Geography would suggest that Kipfer had the ex-Riesen 70-06, implying Chenu bought the ex-Maskell car.
Chassis
History
Current owner
Bendicht Kipfer (Switzerland) drove an Equipe Bernoise Chevron B17 in 1-litre events in 1971, starting at Sembach in April, a German national event where almost all the "Formula 3" entries were old 1000cc cars. He also raced the car in the 600-1300cc class in Swiss national events and in a few French hillclimbs, all of which were close to the Swiss border. He retained the car for 1972, again running in both Swiss and French events. Nothing more known, but likely to be the car of Rudolf Brönnimann (Thun, Bern, Switzerland) in 1974 and 1975.
Driven by: Bendicht Kipfer and Rudolf Brönnimann. First race: Sembach, 25 Apr 1971. Total of 12 recorded races.
Unknown
Philippe Chenu (France) raced a Chevron B17 in French hillclimbs between 1971 and 1973. It was described at first as a F2 Chevron with a 1000cc F3 engine but as the class system changed, Chenu acquired a 1300cc fuel-injected Broadspeed engine to compete in the up to 1300cc Group 8/9 class. Chenu advertised the car in November 1973 as a "F3", noting that it had a 1000cc Novamotor engine, presumably its original F3 unit, as well as the Broadspeed engine. Subsequent history unknown but quite likely to be the car later raced in French hillclimbs by P Bertrand.
Driven by: Philippe Chenu. First race: Belbeuf, 12 Sep 1971. Total of 11 recorded races.
Unknown
Later mystery Chevron B17s
Previous version of this page showed the 1974-75 Formula C "B17" of Guy Revesz (Des Plaines, IL), but as only one B17 is known to have gone to the US and that was with Bill Anspach in 1974, Revesz's car fits better on the Chevron B17b page.
Chassis
History
Current owner
"P Bertrand" raced a Chevron B17 in French hillclimbs in 1975 and 1976. Its origins are not known but it is quite likely to be the car raced by Philippe Chenu in French hillclimbs up to the end of 1973. Bertrand ran it in the 1300cc class but its engine was not mentioned until late in 1976 when it was said to be 1255cc, implying it was one of the Renault R1135 engines originally developed for Formule France. Nothing more known.
Driven by: P Bertrand. First race: Hébecrevon, 16 Mar 1975. Total of 19 recorded races.
Unknown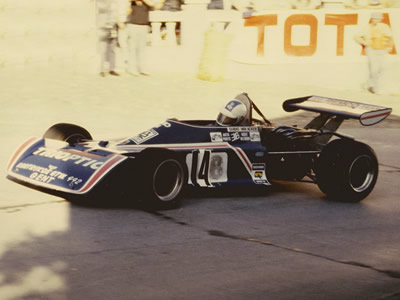 Paul Mawson (Newcastle, Staffordshire) had raced a Jomo hillclimb car until an accident in 1975. He reappeared in 1976 with a Chevron "B17/35", indicating a Chevron B17 that had been upgraded in some way to partly Chevron B35 specification. Mawson raced the car in the 1600cc hillclimb class until 1979 at least, reportedly changing his name to Paul Williams some time around 1977. After the 1979 season, Williams sold the car to Guido Van Acker in Belgium, who raced the car in the Belgian hill climb championship in 1980. Guido then sold the car to France and had no further contact with it.
Driven by: Paul Williams. First race: Curborough, 25 Jun 1978. Total of 7 recorded races.
Unknown
In addition to the above, unknown Chevron B17s were driven by Stefano Zanetta and Jeff Marsh.
We are indebted to Mike Faloon, Archivist for the 1000cc F3 Historic Racing Association, for information on the current whereabouts of many of these cars. The 1000cc F3 race results referenced here are based in large part on the ground-breaking work of the Formula One Register, and many of the chassis numbers were originally identified by FOR partner Duncan Rabagliati. Our immense gratitude for the work of the FOR cannot be expressed too often. Thanks also to Steve Wilkinson, Chris Townsend, Richard Page, Brian Speake, Alan Brown, Ted Walker, Bryan Miller, Michael Oliver and John Lambert.
These histories last updated on .