Chevron B45 car-by-car histories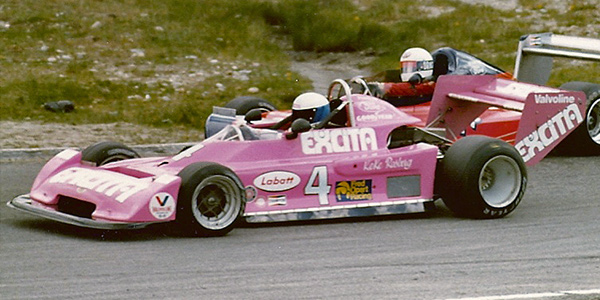 The Chevron B45 was a relatively minor update to the Chevron B39, and US agent Fred Opert sold very few compared with the rival March 78B. Keke Rosberg won three races in his B45 but, with F1 and F2 campaigns to distract him, narrowly missed out on the Labatts Championship.
Keke Rosberg had been one of the quickest runners in North American Formula Atlantic in 1977 with Fred Opert's Chevron B39, and had then dominated the New Zealand Formula Pacific series in January 1978, so expectations were high. Opert bought two B45s for Rosberg to drive in the North American series, but the only other sales were to regular Chevron customer Tony Martin in South Africa and to Rick Shea, who ran his as a hire car in North America.
Chevron's hopes were pinned on Rosberg, who would be earning his 'air miles' in 1978 by racing Opert's Chevron B42 in Formula 2 as well as the B45 in Formula Atlantic, but Opert was also trying to secure the talented Finn an F1 drive. After a plan to drive for Willi Kauhsen fell through, Rosberg joined Teddy Yip's Theodore team and an extraordinary win in the pouring rain at the International Trophy secured the F1 drive for the season. His time was now split three ways, driving the B42 in the F2 race at Thruxton just five days before he drove both the B45 and the F1 Theodore over the Long Beach weekend. He started strongly in the B45 with wins at Westwood and Québec City, but the F1 Theodore was uncompetitive and Opert moved him temporarily to the ATS F1 team. After an excellent win in the F2 B42 at Donington Park in June, he then tried to do two events in one weekend, dashing from the French GP overnight to the Lime Rock Atlantic race, only to wreck his regular B45 in practice. Yip then bought a pair of Wolf F1 cars for Rosberg to drive in the German and Austrian GP, either side of another Formula Atlantic win at Hamilton which put him back on top of the Formula Atlantic points table with one race to go. After failing to pre-qualify for the Italian GP, Rosberg had time to test the Chevron B45 before the final Formula Atlantic race at Montréal and preferred to drive the 1977 B39. Opert was away, managing his three-car F2 team at Hockenheim, and without him, a poor choice was made. Rosberg qualified the B39 well down the field, and a spark plug problem dropped him out of contention, ending his chances of the title.
If you can add to our understanding of these cars, or have photographs that we can use, please email Allen at allen@oldracingcars.com.
Chassis
History
Current owner
Three of the four Chevron B45s remained in the same hands for 1979, the only B45 to be sold being Rosberg's spare that Opert took to the Macau Grand Prix for Rosberg to drive, and then sold back to England where Jim Crawford won five races of the revised British Formula Atlantic championship. Rick Shea kept his B45 for another customer and Tony Martin also retained his instead of risking a new "ground effect" B49. After many years of running ever more cars in junior formulae, Opert was moving into F1 team management for 1979, joining the ATS team, but was still left with the B45 and one of the older B39s. He was approached by Mexican Marco Tolama, who had backing from Terramar, a charter plane company, and Opert put together a small operation with mechanic Mike Giddens and the two Chevrons. The intention was to buy a March 79B later in the season.
Opert's move to F1 turned out to be a disaster, as even the famously charming Opert could not manage the team's short-tempered owner, Günter Schmid, and Opert resigned after Schmid pointlessly withdrew the cars from the French Grand Prix in a fit of pique. Opert then returned to Formula Atlantic and bought the promised March 79B for Tolana, the car arriving in time for Road America in July. After Tolama found it undrivable, he moved back to the B45, only for that to fail before the race so he ended up racing the untried B39. Opert put Derek Daly and then Eje Elgh in the 79B later in the season, but achieved no further success. After a brief attempt to restart his team in 1980, Opert left motor racing to focus on his auto sales business.
Acknowledgements
Thanks to Chris Townsend for his work on this subject, and to Ed Swart, Simon Hadfield, Steve Wilkinson, Paul Fostini and Dan Rear. Peter Hill's book "The Fred Opert Story" is a very entertaining read, and gives useful background on this period.
These histories last updated on .