Chevron B49 car-by-car histories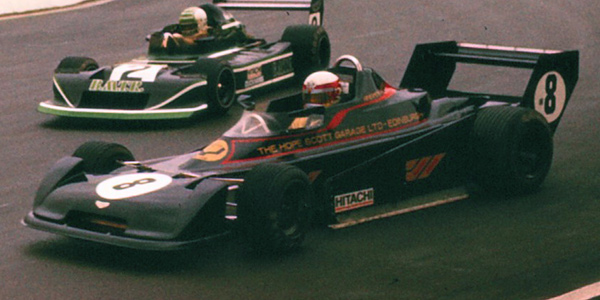 Chevron's 1979 Formula Atlantic design, the Chevron B49, was in the same family as the F3 B47, F2 B48 and FSV B50. Only three were built.
After Derek Bennett's death, Tony Southgate was brought in by Chevron to design new ground-effect cars for 1979, but these were to be based as far as possible on the monocoque used in the 1978 range of cars . The new cars had inboard rocker-arm front suspension and were fitted with sidepods and narrow noses similar to Southgate's work on the Shadow DN9 and Arrows FA1. The result was an attractive car, but the 1978 monocoque compromised the ground effect, and Chevron's in-house design team never really got to grips with Southgate's design. The works-assisted F2 and F3 cars received new rear suspension geometry in April, but proved no match for March's 1979 "pod car". Individual Chevrons were tried without sidepods, with wider noses similar to the 1978 range, or even with March sidepods.
With Fred Opert having significantly curtailed his activities, there were very few sales of the Formula Atlantic B49. Only three cars were sold, chassis numbers 79-01, 79-04 and 79-05, although there is some suggestion that chassis 79-02 was built up by the factory at some point. It is unclear why two chassis numbers were not used; the usual reason with Chevron is that the monocoques with those numbers were used to rebuild other cars. The cars sold to customers went to Scotland, Portland in the American northwest, and New Zealand, about as far apart as three cars can get. All three spent at least 25 years close to those original locations, until two returned to England in the 2000s to be rebuilt for historic racing.
Other cars were described as Chevron B49s in the 1980s, but it appears that these were all either older cars rebuilt with new parts, or F3 B47s rebuilt with BDA engines for hillclimbs. Most important of these to the B49 histories was the ex-Derek McMahon Racing/Bernard Devaney Chevron B47 F3 chassis 79-07, subsequently updated to B49 Atlantic specification for Scotsman Bill Ness and given a chassis plate stamped B49-79-02. This went to Richard Brown for hillclimbs in 1983, then to Chris Knapman, to Steve Allen in 1986, to Dave & Lynn Whitehead in 1987, then to Peter Whitmore & Clive Wooster for the 1991 season. Whitmore bought Wooster's share in the car in 1993, then sold it to Jim Whitehouse in 1994 or 1995. Whitehouse later wrecked the car, and its suspension was used by Graham Williams to complete a partly-stripped Chevron B48. The few remaning parts of the B47/49 were advertised by Williams in 2013. Derek McMahon Racing had run three B47s in 1979, and all three remained in the UK, the only B47s that did. The ex-Stefan Johansson 79-08 went into Formula 4 and then into Sprints with Peter & Sue Griffiths before being restored for Jamie Brashaw to drive in Historic F3 ; and the ex-Eddie Jordan chassis 79-10 went to Richard Brown for hilllclimbs in 1985, after he had sold the ex-Devaney car, and then to John Forsyth in 1987, then Richard Cock in 1989.
All and any help would be gratefully received. Please email Allen at allen@oldracingcars.com if you can add anything.
Chassis
History
Current owner
Chevron B49
49-79-01
New to Andrew Jeffrey (Currie, Edinburgh, Scotland) and raced in the 1979 British Formula Atlantic series until crashed in July and rebuilt on a new chassis. Sold to Tom O'Leary (Dalkey, County Dublin) for 1980 and raced in Irish Formula Atlantic. Then to Ken Fildes (Clonskeagh, Dublin) and raced by him in Formula Atlantic and in hillclimbs in 1981. Traded for a boat at the end of 1981, and then unknown until next seen when raced by Peter Oxley at Mallory Park in July 1984. From Oxley to John Chatley in late 1985 or early 1986 and used in hillclimbs in 1986 and 1987. Sold in 1988 to someone with a business called "childminders of canada". Next seen in 1990, when it had been acquired by Paul Rendle, and was prepared for him by David Keer, the pair appearing together in it at a Curburough test day in March 1991. Rendle sold it to Roger Kilty, who co-drove the car with John Roberts in 1993. From Kilty, it was sold via Martin Middleton to Alistair Mackilop in Scotland, who raced it from c1995 to c2015. It had been sold to Steve Worrad by 2017, and was being prepared for historic racing. Raced by Worrad in HSCC events until it was badly damaged in an accident at Anglesey in July 2019. In May 2020, Worrad commented that the car was being rebuilt.
Driven by: Andrew Jeffrey, Tom O'Leary, Ken Fildes, David Keer, Paul Rendle, Roger Kilty and John Roberts. First race: Mallory Park (R1), 11 Mar 1979. Total of 41 recorded races.
Steve Worrad (UK) 2020
Chevron B49
49-79-02
This car is not shown on the Chevron build record, suggesting the monocoque with this number was used to rebuild another car.
Unknown
Chevron B49
49-79-03
This car is not shown on the Chevron build record, suggesting the monocoque with this number was used to rebuild another car.
Unknown
Chevron B49
49-79-04
New to Graeme Lawrence (New Zealand) and raced in the Southeast Asian Formula Pacific races in 1979. Crashed in the Selangor Grand Prix in September, and reported to have been written off. To Peter Haskett and rebuilt. Entered by Haskett for Charlie Thomasen in the 1983/84 New Zealand season. Raced by Haskett in the 1983/84 season, and retained for 1984/85. Then unknown until 2003 or 2004, when it was bought from Kenny Smith by Kevin Ban (Christchurch, NZ) of Kelford Cams. It went to Barry Leitch for restoration, and Murray Sinclair commented on TNF in June 2006 that it would need a new monocoque, which was being fabricated. It was shown complete in March 2015, when Ban was due to pick it up. Still owned by Kevin Ban in June 2020.
Driven by: Graeme Lawrence, Charlie Thomasen and Peter Haskett. First race: Penang, 30 Apr 1979. Total of 13 recorded races.
Kevin Ban (New Zealand) 2020
Chevron B49
49-79-05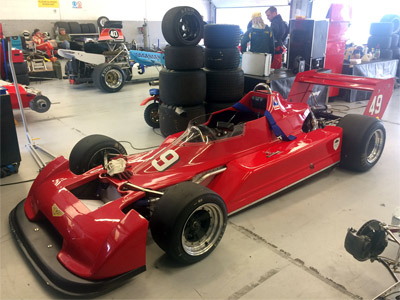 Early history unknown but believed to have gone to Pierre Phillips (Portland, OR) for son Tommy Phillips to race in SCCA Divisional Formula Atlantic in 1979. Used by Terry Gemmill (Seattle, WA) in SCCA Nationals in 1980, qualifying for the Runoffs in 1980. Sold by Phillips to Tom Coyle (Kent, WA) for 1981, and raced in ICSCC events, entered by CRI Racing. Coyle sold it to Steve Doty (Ridgefield, WA) in 1992, who advertised it in the ICSCC newsletter in September 1993 and in June 1995, saying in 1995 that it had been stored for the previous three years. It was then bought by Tom Quatsoe (Blaine, WA), and raced by him until sold to Rod Mueller (Seattle, WA) about 2003.
Mueller sold it in 2006 to Keith Norris (Grantham, Lincolnshire), who raced it in HSCC events in England, at first in original specification, and later in Rothengatter's 1979 Macau GP specification, a conversion done in consultation with Alan Docking. Norris raced the car most years in the HSCC Derek Bell Trophy up to 2019. Sold in May 2020 to Mike Lane (Melton Mowbray, Leicestershire).
Driven by: Tom Phillips, Terry Gemmill and Thomas Coyle. First race: Portland International Speedway, 10 Jun 1979. Total of 6 recorded races.
Mike Lane (UK) 2021
In addition to the above, an unknown Chevron B49 was driven by Masanori Sekiya.
Acknowledgements
My thanks to Chris Townsend, Steve Wilkinson, Adam Ferrington, David McKinney, Alan Brown, Jeremy Jackson, Dan Rear and Kevan McLurg; to owners and former owners Thomas Coyle, Tom Quatsoe, Kevin Ban, Keith Norris and Steve Worrad; and to the other owners past and present who have contributed information via the 10 Tenths and Autosport forums, and via Facebook. Thanks also to Steve Wilkinson for his photographs, and for keeping careful track of several B47/B48/B49 cars that race in speed events.
These histories last updated on .