Chevron B48 car-by-car histories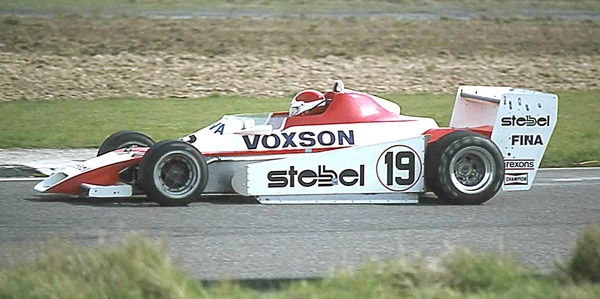 The 1979 Formula 2 Chevron B48 was based on the monocoque of the 1978 B42, but with redesigned aerodynamics and suspension by Tony Southgate to incorporate ground-effects. The new model was not a success, and hastened Chevron's collapse into liquidation in early 1980.
Chevron's 1978 range of Formula 2 B42, Formula 3 B43, Formula Atlantic B45 and Formula Super Vee B46 had sold in large numbers, especially in F2 and F3, and Derek Daly had won two races in the Formula 2 championship. For 1979, Chevron knew they would need a ground-effect design, and F1 designer Tony Southgate was contracted to provide a "bold-on" ground-effect package using the basic 1978 monocoque. His design consisted of a narrow nose with side fins, inboard rocker-arm front suspension, and sidepods similar to those on Southgate's work on the Shadow DN9 and Arrows FA1 Formula 1 cars. The Formula 2 B48 was built alongside Formula 3 B47, Formula Atlantic B49 and Formula Super Vee B50 variants, and again the F2 and F3 designs sold well. American Formula Atlantic driver Bobby Rahal was signed to run the works F2 car, with Docking-Spitzley, Trivellato Racing and RAM Racing also running cars in F2. At first the B48 looked good, but this was more a result of the struggles March and Ralt were having with their own new ground-effect designs, and as the March 792 and Ralt RT2 improved, the Chevron B48s dropped back down the grid. The wide B42 monocoque compromised the B48s' ground effect, and although a new rear suspension geometry introduced mid-season resulted in some improvement, experiments with a long wheelbase were not successful and Rahal quit the works team before the end of the season. It was clear that an entirely new design would be necessary for 1980, a daunting financial investment for the company, and in November 1979 Chevron Managing Director Dave Wilson confirmed that there would be no F2 car in 1980. The team's focus would be Can-Am, with the Chevron B51 designed by Nigel Dickson and Paul Brown, but F3 (B53), Formula Atlantic (B54) and B56 (FSV) models were planned. However, testing of the B51 went very badly, customers dropped out, and in early January 1980 Chevron ceased trading. Four weeks later, the company went into liquidation.
It is important to note that the identities of several of the B48s are in question. Race reports in Autosport in 1980 and 1981 consistently gave the chassis number of Bobby Rahal's works car as '01', indicating that the chassis plate was stamped 79-01. It was even advertised by Chevron at the end of the season as '79-01'. Additionally, the Japanese magazine Auto Sport showed an image of the chassis plate of the car in Japan, which clearly said '79-02'. However, Paul Owens has the official factory records and he is adamant that the Japanese car was 79-01, and Rahal's car was 79-02. He has also cast doubt on the chassis numbers of other B48s. As the ex-Rahal car has always been known as 79-01, and was even advertised by Chevron as such, it would be confusing to refer to it as 79-02 here, so the identity of 79-01 is used throughout.
All and any help with the very complex story of the Chevron B48s would be gratefully received. Please email Allen at allen@oldracingcars.com if you can add anything.
Chassis
History
Current owner
Unresolved Chevron B48s in 1979
Magazine reports, the chassis plate observations of researchers such as Adam Ferrington and Dan Rear, and the recollection of former owner Jean-Marie Brisard have allowed all of the cars that raced in 1979 to be securely identified.
Mystery Chevron B48s from 1980 onwards
Of the B48s known to have been sold in 1979, most can be confidently tracked only for a year or two: 79-01 to 1981; 79-03 just to early 1980; 79-04 into 1980; 79-05 up to early 1981; 79-07 to early 1981; 79-08 to 1984; 79-09 to May 1980; and 79-10 to January 1982. The histories of most of these can be picked up later, but the gaps in their histories in the early 1980s make all these histories a little less than satisfactory. The picture is complicated by Paul Rhodes, Steve Jewell and Steve Worrad owning more than one car at a time, and by the way very similar B47s and B49s co-existed with B48s, especially in Britain, in the 1980s.
The main mystery car in the early 1980s is that of Steve Lees, which was described as a B48 in 1982, but as a B45/47 in 1983 and 1984. The mixture of descriptions hints that this may have been the John Lewis B42/B43/B47 bitza, but if it was a B48, the most likely place for it in the B48 jigsaw is chassis 79-03, which was missing between 1980 and about 1987. John McCartney also had a car in the mid/late 1980s, the origins of which remain uncertain.
Chassis
History
Current owner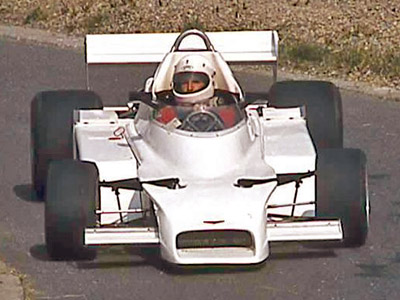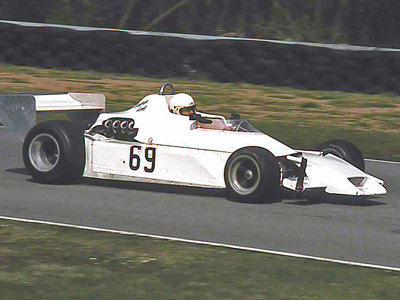 Steve Lees (Sale, Cheshire) raced a Chevron in the 1600cc class of hillclimbs between 1982 and 1984. In 1982, the car was referred to as a B48, but in 1983 and 1984, it was entered as a "B45/47". Bruce Balchin notes that this car has the 4-inch narrower front and rear track that was seen on the prototype B48 and on the Formula 3 B47s, implying that Lees' car was a B47.
Driven by: Steve Lees. First race: Harewood (R8), 11 Jul 1982. Total of 2 recorded races.
Unknown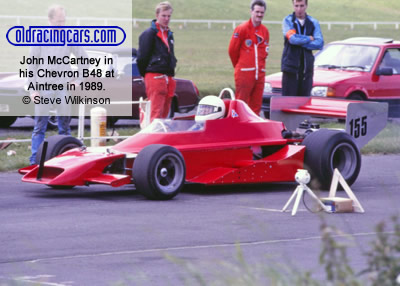 John McCartney (Horwich, Lancashire) had a red Chevron B48 for speed events between 1986 and 1989. In 1996 or 1997, he sold it to Rick Hall of Hall & Fowler, whose notes on the car suggest it was originally built from a B43 to B48 specification at Chevron for John Lewis. When Rick had it, the car had a fuel-injected BDA engine, and was in Formula Pacific specification. Hall & Fowler sold it in mid-2000 to Bob Tabor who wanted it for testing purposes, as his Lotus 48 was too valuable for regular testing. Simon Hadfield maintained the car for Tabor, and raced it once or twice in HSCC Derek Bell Trophy races. The car was then sold to Steve Worrad (Whitchurch, Shropshire) in February 2002 for his customer Alain de Wagter, and raced by him in 1600cc class DBT events. The car was black by this time. Worrad's recollection is that is was sold to someone in Germany.
Driven by: John McCartney. First race: Shelsley Walsh (R13), 10 Aug 1986. Total of 2 recorded races.
Unknown
Postscript
After Derek Bennett's death in March 1978, the company was led by Dave Wilson and Paul Owens until the liquidation in February 1980. Wilson moved to March Engineering as Sales Director, and led the company's very successful expansion into Indy car racing, but died in May 1982 after a short illness. Owens moved to the Maurer F2 team in 1980, and pursuaded Willi Maurer to relocate his team from Germany to Bolton, where Owens initially ran the operation from the former Chevron paint shop. Maurer were very successful in Formula 2 over the next three seasons, with cars designed by Gustav Brunner, and assisted by Paul Brown, one of a number of ex-Chevron staff to follow Owens to Maurer. After the Maurer relationship broke down after the 1983 season, Owens moved to Reynard, where he worked on the company's first F3 car in 1985 and ended up running the composites division for many years.
Acknowledgements
My thanks to Chris Townsend, Steve Wilkinson, Adam Ferrington, David McKinney, Jeremy Jackson, Philippe Demeyer, Dan Rear, Michael Ferner, Ted Walker, Alan Brown and others for their work keeping track of these cars. Paul Owens kindly spent some time discussing his records of these cars with me, and I am very grateful for his assistance on this subject.
Thanks also to current and recent B48 owners, drivers and preparers who have helped, including Bruce Balchin, Steve Worrad, Andrew Miedecke, Simon Hadfield, Damon Milnes, Rick Hall and Jean-Marie Brisard. Steve Wilkinson has done an especially valuable job keeping track of B47s, B48s and B49s in speed events, and Dan Rear has performed a similar role with Midlands libre racing. Thanks also to Steve Wilkinson, Ted Walker, Keith Lewcock, Alan Brown and Bruce Balchin for the use of their photographs, and to the owners past and present who have contributed information via the 10 Tenths and Autosport forums and via Facebook.
These histories still have gaps, and any help would be gratefully received. Please email Allen at allen@oldracingcars.com if you can add anything.
These histories last updated on .