Lola T330 car-by-car histories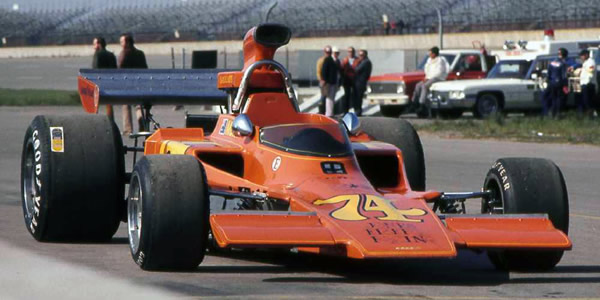 The 1973 Lola T330 built on the success of the T300 and was the car to beat in 1973. As a result of this 1973 season, none of Lola's competitors were able to sell more than a handful of cars for 1974.
The Lola T330 was a major yet evolutionary improvement over the successful T300 featuring "a lower centre of gravity, lower cleaner shape, a more effective wing and an all-new three-quarter monocoque/tube chassis which boasts increased stiffness and strength while weighing less".
The T330 started Lola's total domination of F5000. Although 1973 was the formula's most competitive season, with the Chevron B24, McRae GM1 and Trojan T101 winning races and leading championships, the T330 would emerge as the season's top car, with Jody Scheckter abandoning his Trojan for a T330 to narrowly beat Brian Redman's works-supported T330 in the US series. In all three major series, the T330 took 11 wins from 35 races. The other 24 fell to five manufacturers: Trojan with 8, Chevron 7, McRae 6, Elfin 2 and one for Matich. The modified version built for 1974, the T332, would win consecutive UK, US and Tasman series.
Lola used chassis numbers HU1 to HU26 for T330s but the HU13 number would not have been used. Of the 25 built, five or six were destroyed: the Penske HU5, Col Trengove's HU7, Eddie Miller's HU9, Tony Adamowicz' HU10, Dick Kantrud's HU15 and Alan Kayes' HU17. It is possible Kantrud's HU15 survived.
Of the 21 that should still exist, 14 have been located and resolved so far with another couple of "mystery cars" found but unresolved. At least one more, maybe three more, were wrecked later so that just leaves about three or four to find.
All and any help would be gratefully received. Please email Allen if you can add anything.
This research is based on the original work of Wolfgang Klopfer, and his help and boundless enthusiasm for the task are very gratefully acknowledged. Thanks also to Rob Hall, Chuck Haines, Terry Healy, Marcus Pye, Curt Bond, Mark Beasy, Shayne Windelburn, Ray Bell, Chris Townsend, Jerry Entin, Colin Pool, Tony Barry, John Hawkins, Andrew Simpson, Flavio Tullio, Lee Huls, Ron Ige, Peter Brennan and Martin Sampson for additional information. Also thanks to Roy Woods Racing and Kastner-Brophy team manager Kas Kastner. Particular thanks to three-time champion Brian Redman and to former F5000 and Can-Am drivers Gerre Payvis, Jim Hawes, Bruce Langson and James Gutfreund.
Chassis
History
Current owner
The 1973 mystery cars
The one mystery car in previous editions of this page is now known to be HU3.
Another mystery about 1973 is the advert in Autoweek on 17 Feb 1973, at a time when only the first ten T330s had even been built: "Lola T330 Formula 5000. Sacrifice price.". The phone number doesn't help, it was the Santa Ana area of Orange County, south-east of Los Angeles, where many F5000 teams were based.
The 1974 mystery cars
Just one T330 was used in the US in 1973 but unknown in 1974: the ex-Lazier HU20 which was briefly missing on its way to Koops. HU25 is also unexplained. Settember's 'OU-812' may therefore be HU25 but it is unclear why it would carry a non-standard chassis plate.
Chassis
History
Current owner
First raced by Tony Settember (for Hone Overdrive) at Mosport Park (R2) 1974. Tom Erwin observed the chassis number of this car at Watkins Glen 1974 to say "OU-812". Quite possibly HU25 but also possibly the original HU12. Raced by Settember throughout 1974 (#4). Advertised by Hone Overdrive (Whittier, California) in Autoweek 4 Jan 1975 ("Lola T330 as new 1974 - six Pro races only"). This suggests this is not one of the cars used in 1973 - pointing towards it being HU25 or an extensive rebuild of a crashed car - for example the original HU12 as suggested by the chassis number. The Hone Overdrive advert also says "parallel rear suspension as 332", suggesting a late T330 or an upgraded car.
In a previous version of this page, the next owner was identified as Arlon Koops, based on Tom Erwin's observation of the number 'OU-812' on the Koops car at Pocono 1975. However this number may just indicate a replacement chassis - "Oh, you ate one too" - and may not be unique. In October 1994, a previous owner of Andrew Simpson's Lola T330 was told by Tony Settember that Settember sold his car to Dick Workman. We also now know that Koops had HU20 and got his car from Lazier. Despite the 'OU-812' number being on Koops car in 1975, this information from Settember is more likely to be definitive. It is not possible that Koops and Workman shared a car as they were in different places on 10 August 1975: Workman at Westwood and Koops at Mid-Ohio.
To Dick Workman (San Francisco, California): not raced in Pro series but raced at Sears Point National 6 Apr 1975, won the Willow Springs National 13 Apr 1975, second at Riverside National (date unknown - car described as T332) and third at SCCA/CASC Westwood Nationals 10 Aug 1975 (car described as Workman Motors T330/2). Workman ended the 1975 SCCA season with 30 pts, easily winning the Northern Pacific Division FA title. He had a major accident in practice at Long Beach in September 1975 (see Autosport 2 Oct 1975 p11) which left Workman in hospital with broken ribs and second degree burns. Jim Hawes has suggested that Workman had the Gardner HU11 but Workman's first race in 1975 was before HU11 vanishes. However, it is possible that Workman bought HU11 to replace the car wrecked at Long Beach.
Raced by Workman in SCCA Nationals 1976 (6th in Northern Pacific Division with 17 pts). Sold to Bruce Langson 1977 or 1978, converted to Can-Am T333CS bodywork and used in SCCA Nationals. Stolen "in fall of 1979" and never recovered. Mentioned in 1980 Road America Can-Am program but this may have been using out-of-date material. Subsequent history unknown but possibly broken up and sold for spares.
Driven by: Tony Settember, Dick Workman and Bruce Langson. First race: Mosport Park (US R2), 15 Jun 1974. Total of 13 recorded races.
Missing
The 1975 mystery cars
All the 1975 mystery cars have now been resolved. The only T330 used in the US in 1973 or 1974 but then unknown in 1975 and 1976 is the mysterious HU25.
The F1 Register's 'Fact Book' on F5000 describes Garth Pollard having a T330 at Long Beach and Laguna Seca in 1975 and again at Riverside in 1976. It appeared at #73 both years. Pollard (of Cobble Hill, BC, Canada) advertised this car in Autoweek on 29 Nov 1975 and stated that it was a T300. When he advertised it again, still in F5000 form, on 5 Mar 1977, he stated it was the ex-Hobbs T300.
The 1976 mystery cars
It is worth reviewing where all the Lola T330s had got to by the middle of 1976. Firstly, the simple ones: HU1, HU7, HU8, HU22 and HU23 (B) were in New Zealand or Australia; HU6, HU17 and HU21 were still being raced in England; and HU5, HU9, HU10 had all been destroyed.
Of the 13 or 14 T330s based in North America, HU2 was bought by Horst Kroll in Canada in mid-1976, HU3 was with Bob Earl in California, HU4 and HU11 had both been advertised earlier in 1976 but were missing thereafter, HU12 was probably still with the Hogan team, HU14 was with Glenn Brown in Washington State, HU15 was with Gordy Oftedahl's team in Minnesota, HU16 had gone missing during 1975, HU18 was somewhere between the UK and Allen Karlberg in Oregon, HU19 was being raced by Gerre Payvis in Arizona, HU20 was with Arlon Koops in Colorado, HU24 was still owned by John Korn in northern California, HU25 remained a mystery, and HU26 was still being raced by John Benton in California.
One mystery car appears: Bob Lazier's car at Riverside in October 1976.
Chassis
History
Current owner
Bob Lazier (Vail, CO) raced a #12 Lola T330/332 at Riverside in October 1976. He had previously raced Gordy Oftedahl's orange T330 HU15 but Dick Kantrud had wrecked this car at Road America in August. Lazier qualified well down the grid at Riverside, 28th out of the 38 competitors, and retired from both his heat and from the final.
If Oftedahl was still involved with this entry, this might be the car that Oftedahl then had converted to Can-Am specification and entered in 1977 and 1978.
Driven by: Bob Lazier. First race: Riverside (US R7), 17 Oct 1976. Only one recorded race.
Unknown
Other mystery Lolas in 1976 include the T192s of Dean Vetrock and Larry McNeil (both at Hoosier National 18-19 Sep 1976 - Formula Dec 1976 p42). McNeil ran his T192M to second place at the Runoffs (Formula Jan 1977 p37) while Vetrock's T192 was fourth.
The 1977 mystery cars
Only a handful of T330s remained racing into 1977: Jerry Karl had a T330/T332 converted to Can-Am specification, and both Arlon Koops and Doug Correa ran their cars in SCCA Nationals. Other Lolas seen in 1977: the T192 of Leland Sheldon continued in the SCCA South Pacific Division and the three T192s of Larry McNeil , Dean Vetrock and Daniel Kampo were all at the Road America June Sprints (Formula Aug 1977 p41).
Other mystery cars
Chassis
History
Current owner
A mystery car. It has been suggested that it was first owned by Dan Dierking (Glendora, CA), and that it was raced by Tony Settember, driving for "the Tony Cisert team in Costa Mesa". Bills of sale with the car show that it was sold by Joseph Hernandez (Burbank, CA) to Frederick C. 'Rick' McLean in June 1983, and then to George Conway (Los Angeles, CA) in July 1984. It was later acquired by Chuck Haines (St Louis, MO), and he sold it to Mike Collins (Colorado) in 1995, who sold it to Andrew Simpson (Houston, TX) in 2001.
This car was at this stage very unusual in having aluminium bodywork and side radiators, suggesting it had been modified at some point for Can-Am. Simpson had the car rebuilt by Bud Bennett's RM Motorsport, and then ran it in CVAR events at TWS. It was next seen in 2007, when owned by Scott Monroe (Seabrook, TX), who stated on f5000registry.com that it had been restored by RM Motorsport for Andrew Simpson, and had been run recently at TWS. By 2009, it had been sold to Don Roose (Bainbridge Island, WA) and was now described as "Chassis HU14A", but the link to T330 HU14 did not correspond to the claimed history of Tony Settember and "Tony Cisert", that had been associated with the car since Simpson's ownership. It was sold by Roose via Symbolic Motors in December 2011 to Brad Hoyt (Wayzata, MN), and this would presumably be the "T332" that Hoyt raced at Road America in July 2012. The car was offered for sale by Bray Hoyt in December 2012. Raced by Hoyt at the Oulton Park Gold Cup in 2017.
Brad Hoyt (USA) 2017
Contrary to many reports, the Super Saloon "Skoda" of Mick Hill (Drayton, UK) and mechanic Charlie Harris, constructed early in 1979, used T330 suspension but not a T330 chassis. For full details of this very hairy vehicle, see Autosport 12 Apr 1979.
A huge array of sources have been used to construct these histories. Notable among these are the notebooks of Tom Erwin, kindly made available by Bill Green, and Autosport's 1973 F5000 Review, from their 24 Jan 1974 edition.
These histories last updated on .