Lola T332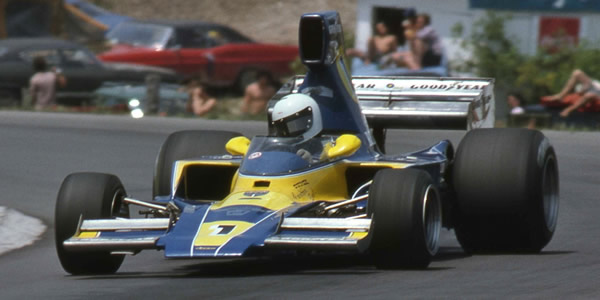 The 1973 Lola T330 had been the fastest Formula 5000 car yet and dominated the 1973 season, so the 1974 Lola T332 was only a refinement of the T330, with the new deformable structures required by the latest regulations, oil radiators relocated ahead of the water radiators, and lower parallel links in the rear suspension replacing the T330s lower wishbones. The T332 won the UK and US series in 1974, the Tasman and US series in 1975 and the US series in 1976. It would continue to win races in the early days of Can-Am alongside the purpose-built T333 variant. Even later still, it provided the basis of the highly successful Frissbee Can-Am car and was still running well in the final season of Can-Am in 1986 and even into the CAT series of 1987.
They were built in huge numbers so summarising the number found is very difficult. It looks like about 36 were built by Lola; at least three, probably many more, from replica tubs; and an unknown number from kits. So far, 31 have been located.
My thanks to Martin Krejci, Gerr Measures, Doug Waters, Randy Zimmer, Peter Austin, Fabrizio Bologna, Ron Lampley, Todd Reiners, RJ Nelkin, Michael Duncan, Marc Rauchfuss, Jay Braffett, Johan Woerheide, Richard Fried, Bryan Miller, Jim Gustafson, Phil Myers, Dick Lasselle, Jim Snelling, David Colpak, Kent Painter, Pete Brennan, Jim Rollins, Marcus Pye, Neil Glover, Dudley Cunningham, Stephen Murphy, Jeffrey Parsons, Randy Wright, John Korn and Todd Gerstenberger for their helping in getting this far. Much, much more is needed to make sense out of these cars. As the identification of the Lola T332s has been a massive task in itself, the notes covering the identification of each chassis have been separated out into this page.
All and any help would be gratefully received. Please email Allen if you can add anything.
1974 Lola T332 production
Chassis
History
Current owner
1974 mystery cars
The combination of Lola's invoice records, Tom Erwin's notebooks and a limited amount of information from Carl Haas' records has allowed all the T332s that ran in 1974 to be identified.
1975 Lola T332 production
The 1975 Lola F5000 was the T400 but this was a dismal flop, most owners replacing them with T332s at the earliest opportunity. Lola built two more T332s later in the season before building a new run of T332Cs in 1976.
As well as the two cars that appear in official Lola records, at least three more T332s were supplied to owners in 'kit' form, allowing them to build a complete car using parts of an unwanted T400. This process was done on the Vel's Parnelli Jones T400 (probably HU6), on John Morton's T400 HU12, and by Danny Ongais team using parts from T332 HU31 and their T400 HU10. These three cars are called 'K1', 'K2' and 'K3' in these histories.
Chassis
History
Current owner
Lola T332
HU53
BARA for Benny Scott US 1975 ... Converted to Can-Am specification and sold by Carl Haas to RJ Nelkin for Price Cobb: Can-Am 1979 (2 races: Road Atlanta 6 May 1979 and Charlotte 20 May 1979) - Charlie Kemp (Jackson, Miss): Can-Am 1979 (2 races: Laguna Seca 14 Oct 1979 and Riverside 28 Oct 1979). Sold to Gerre Payvis (Peoria, AZ) who owned three other similar cars around this time: T330 HU19, T330 HU24 and T332 HU49.
According to Joe Schultz III, who talked to Gerre Payvis about his cars in 2013, HU53 was the car Payvis raced in Can-Am from 1980 to 1983, and was then rebodied as a Frissbee for Drake Olsen for 1984. Appeared as the #31 Race Power Lola T332 with T333CS bodywork for Payvis at three races in 1980, and six races in 1981. Entered once in 1982 but did not appear. Appeared at three races in 1983, still with T333CS bodywork. Rebodied with Frissbee bodywork for 1984, still as the #31 Race Power entry, and raced by Drake Olson (Bridgewater, CT) at three events. Race Power had a spare car for Olson, built on T330 HU19 but also wearing #31 and with identical Frissbee bodywork.
Note that the car raced by T. Patrick McGonegle in 1982 was previously identified as HU53 on this page, but that car does not have a complete provenance and was identified as HU53 based on the number '53' on its SCCA log book. In the absence of stronger evidence, that car is now listed as the 1982 Patrick McGonegle car.
In 1984, Payvis's ex-Olson Frissbee was sold to Dave Nuding (San Diego, CA), but the degree to which Nuding actually owned it is unclear. In November 2003, the car was at Lance Nist's workshops when it was sold to John Odell (Newport Beach, CA). Odell received with it the SCCA log book showing Olson's races in 1984. Fully restored by Odell to Frissbee specification. Still with Odell in September 2013. In May 2016, it was being restored by Graham Collins and in the paint shop.
John Odell (USA) 2016
Lola T332
'K1 - the Parnelli car'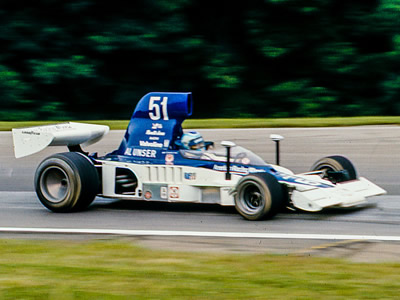 Converted T400. Vel's Parnelli Jones for Mario Andretti and Al Unser US 1975. This conversion was first seen at R6 Road Atlanta but was only ever used in practice. Then Unser's main car in 1976 (2nd at R3 Watkins Glen, 2nd at R4 Elkhart Lake, 4th at R5 Mid Ohio and won R7 Riverside). Presumably one of four T332s advertised by VPJ in Jan 1977. To Brad Frisselle 1979 and converted for Can-Am: Can-Am 1979 (raced just once in final race at Riverside); converted over winter as first Frissbee Can-Am; Can-Am 1980: driven by John Morton (3 races) and Al Unser (1 race: won at R9 Laguna Seca 19 Oct 1980). After the 1980 season, the car was stripped and reconstructed on a new monocoque fabricated by Joe Cavaglieri. The resulting car was the first true Frissbee, effectively a new car, and the history of this car continues below as Frissbee GR2.
The monocoque and other parts of the Unser T400/T332 were kept by Cavaglieri and may be the basis of the Steve Simpson car.
Unknown
Lola T332
'K2 - the Morton car'
Built by John Morton's team in September 1975, using a Lola T332 'kit' from the factory plus all the transferable components from his Lola T400: engine, gearbox, wheels, instruments, brakes and steering rack. Raced by Morton in the last three races of the 1975 US F5000 series. Morton spent much of 1976 racing co-driving Brad Frisselle's Datsun 240Z but returned to F5000 for the Riverside race at the end of that season.
Converted to Can-Am specification with the T333CS bodykit. After Brian Redman's car somersaulted at the opening Can-Am race at Mont-Tremblant, most Lola customers went back to using F5000 Lola T332 noses. For Morton, designer Trevor Harris made modifications to the stock T333CS nose, introducing air exits at the side and on top, a forerunner of his later Frissbee design. Morton only appeared four times that season, but finished third at the two end of season races in California. He was back for the opening race of the 1978 season, at Road Atlanta, but crashed in practice and the car was written off. Morton bought a new T333CS to continue the season.
Destroyed 1978
Lola T332
'K3 - the Ongais car'
Prior to the Long Beach Grand Prix in September 1975, Ed O'Brien's team built a new Lola T332 for Danny Ongais to replace the kitted T400 he'd used earlier in the season. The car was built around a new Lola tub supplied by Carl Haas, and used parts from the T332 HU42 that BJ Swanson had crashed at Mid-Ohio in August. It has been suggested that this car was HU54, but the invoice date for HU54 was not until the end of November. As Lola only supplied a monocoque, this might be seen as an unnumbered car. A logical identity would be 'K3', following the similar cars built up by Vel's Parnelli Jones and John Morton at around the same time. Ongais drove the car at Long Beach, Laguna Seca and Riverside, but it was damaged during the Riverside race. The team took the car to the SCCA Runoffs at Road Atlanta five days later, but Ongais did not consider the car safe due to the accident damage and did not start.
A new car (or new tub) was then acquired for the 1976 season, and the Long Beach monocoque was retained by Ed O'Brien. It was eventually acquired by Shayne Windelburn (Auckland, New Zealand) from O'Brien in July 2005. Shayne reskinned the monocoque and built it up as a complete car, using the chassis number "HU 42/2" until 2016, as it could have been viewed as a rebuild of HU42. It was sold to Roger Williams (Auckland, NZ) in October 2007, and raced by Williams in the 2007/08 Tasman Revival series, the 2008 USA Formula 5000 40th Anniversary Championship, the 2008/09 Tasman Revival and in the Formula 5000 Tasman Cup Revival at the Australian GP meeting 28 Mar 2009. Returned in Jan 2010 for the 2009/10 Tasman Revival series when Williams won the Lady Wigram Trophy, then at Hampton Downs Jan 2011, for most rounds of the 2011/12 Tasman Revival and again for the 2012/13 series. Sold to Stuart Lush (Auckland, NZ) in 2015. Raced by Andrew Higgins for Lush in the 2017/18 F5000 Tasman Revival series.
Stuart Lush (New Zealand) 2018
Lola T332
HU54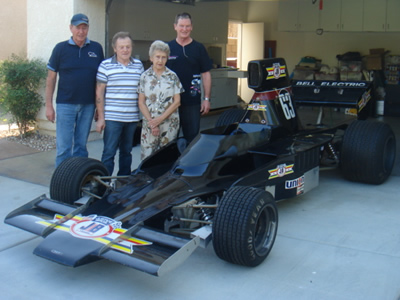 A black Lola T332 invoiced to Carl Haas in late November 1975, and likely to be the car bought by Interscope Racing for Danny Ongais to replace the car damaged by Ongais at Riverside (see T332 'K3'). This would be the T332-spec spare car used by Ongais alongside his new T332C in the US series in 1976. The spare car was "comprehensively written off" in practice at Elkhart Lake (see Autosport's F5000 review 25 Nov 1976 p25) but may well have been repaired and may be one of four T332s advertised by VPJ in January 1977.
This is believed to be the car deposited in the Justice Brothers Museum some time between 1977 and 1980 by Ed O'Brien, who had been closely involved with Interscope and may have part-owned one or more of Ongais's cars. The car remained in the museum until 2010 when it was acquired by NZ racing legend Ken Smith (Auckland, New Zealand), his chief crew Barry Miller and Phil Richardson. They discovered that it had the '76-63' stamping that would have been put onto Ongais main #63 entry for the 1976 season by SCCA tech inspectors. It also had all the T332C modifications and a single post rear wing. The car was prepared for racing and made its historic debut at the start of the 2011/12 series but Smith crashed it heavily at Manfeild in Nov 2011.
Rebuilt with a new monocoque by Miller and Richardson for the 2012/13 series. The old monocoque is attached to the wall of their workshop. The rebuilt car has been raced by Smith in the series every season from 2012/13 to 2017/18. Raced by Smith at the Skope Classic in February 2018.
Ken Smith and others (New Zealand) 2018
1976 Lola T332C production
Lola built a new run of updated T332s for Carl Haas in 1976 but surviving Lola records do not show the end customers of each car. The Bay Racing and Theodore cars are quite clear and both HU56 and HU58 are listed as Haas Racing. Apart from them, the recorded colour is the only clue. If John-David Briggs did acquire a new car in 1976, as some sources suggest, it would make sense that this was the Royal Blue HU59. Interscope's new car would have to be the Black HU60 on the same basis. This leaves Shirey with the White HU57, which makes plenty of sense.
Although no contemporary reports found so far mention Hogan having a new car for 1976, later Autoweek adverts suggest he did. If he did, then it must be HU58, the Haas team spare that was made redundant by the arrival of the Lola T430.
Chassis
History
Current owner
Lola T332C
HU55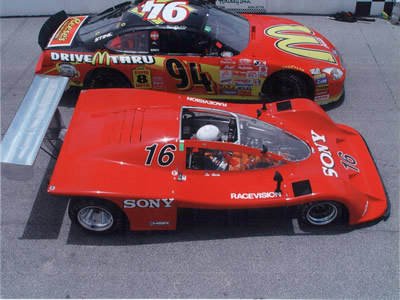 Bay Racing for Warwick Brown US 1976. A variety of sources say that an unused spare Bay Racing T332 went to Doug Schultz for 1977 and was used as the basis of the second Can-Am Schkee ('DB1/02'). Schultz Can-Am 1977. This car to Tom Spalding: Can-Am 1978 (6 races + 1 DNS); Can-Am 1979 (two races: raced by Spalding Road America 22 Jul 1979 and by Patrick Gaillard Laguna Seca 14 Oct 1979).
To Charles Willis (Tennessee) mid-1980s: partly converted for road use - Michael Duncan (Colchester, CT) 1988: restored to 1979 Patrick Galliard/Laguna Seca livery - Stan Wattles (Glen Cove, NY) 1992. Advertised from Florida 1996 and 1998. About this time, Wattles owned Metro Racing Systems (Stuart, FL), a historic racing car restoration company. (Advertised by dealer Chuck Haines from 1999.) Sold by Wattles (then living in Sewall's Point, FL) to Johan Woerheide (Atlanta, GA) 2003. Used in HSR events in 2004, winning twice in Group 7. Used regularly in US vintage racing since that time. Raced by Woerheide at Classic Motorsports Mitty at Road Atlanta Apr 2013. Still owned by Woerheide in November 2020.
Johan Woerheide (USA) 2020
Lola T332C
HU56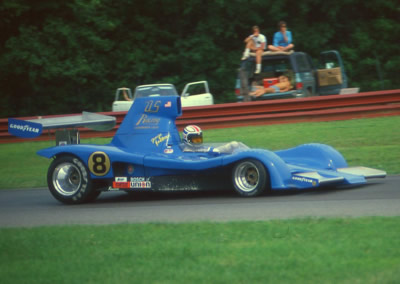 Haas Racing for Redman US 1976 - John Benton late 1976 - US Racing/Herb Caplan (Sacramento, CA) 1977: driven by George Follmer Can-Am 1977 (5 races, 2 second places at Mosport 21 Aug and Riverside 16 Oct). The car was rebodied for 1978 and renamed "Prophet"; for Follmer again Can-Am 1978 (4 races + 1 DNS, won at St Jovite 25 Jun 1978). Follmer set pole position at Laguna Seca but crashed heavily later in practice when the throttle stuck, and launched the car over a bank. Follmer suffered leg and spinal injuries, but returned to race for the team in 1979. The Prophet was rebuilt on a new chassis for 1979, thus ending its connection with HU56.
The battered tub from HU56, together with other parts including the Boraxo body and the chassis plate, were sold by Caplan to Rick McLean (Oceanside, CA), who bought up many crashed tubs and other bits during this period. However, McLean then ordered a new tub from Lola so that resulting car's links to the original HU56 now rely largely on the chassis plate. McLean hadn't put the car together when he sold it as a project to Rick Dittman (Mt Prospect, IL). Subsquent history unknown but Hal Whipple is believed to have owned it at some time.
A car with this number owned by former single-seat Can-Am racer Chuck 'Rick' Parsons (Inverness, IL) in 2008 and raced at 'The Kohler International Challenge with Brian Redman' at Road America July 2008. Also raced at the SVRA Vintage Grand Prix at Watkins Glen Sep 2009, Road America Jul 2012, SVRA Watkins Glen Sep 2012 and Road America July 2013. Raced at Road America in July 2015, and at the Monterey Pre-Reunion a month later, at Road America in July 2016, and at Road America in July 2017.
Destroyed.

Replacement car with Rick Parsons (USA) 2021
Lola T332C
HU58
Haas Racing for Brian Redman US 1976 as spare car at Pocono 1976. Lola T430 HU3 was later used as spare car so HU58 presumably became redundant at that point and may have been sold. Nothing more known.
Unknown
Lola T332C
HU59
This car was previously identified as having been sold to to John-David Briggs in 1976, based on a comment in the 1978 Surfers Paradise race program that his Can-Am Lola T333CS was believed to have been based on HU59. However, the SCCA registration dates of both of Briggs' cars are earlier than 1976, so this identification cannot be correct.
For the car later owned by Barry Blackmore and believed to be HU59, see the first Barry Blackmore car.
Unknown
Lola T332C
HU60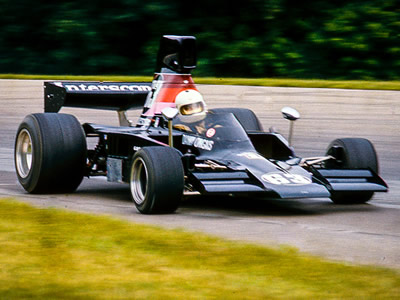 Interscope Racing for Danny Ongais US 1976. Presumably one of four T332s advertised by VPJ in Jan 1977. Reported to have remained with Ongais, passing from Interscope into Ongais' ownership in 1978. To Vasek Polak 1981 - Todd Gerstenberger (Manhattan Beach, CA) 1997: restored and raced in historics. VARA F5000 champion 2000. Todd continued to race the car in historics over the next decade and raced it a couple of times in 2012. Still with Todd in December 2016.
Todd Gerstenberger (USA) 2016
Lola T332C
HU61
New to Theodore Racing and used in the US series. Raced by Derek Bell at Road America in August, and by Alan Jones at Riverside in October. Then taken out for the 1977 Australian Internationals and raced by Jones at Oran Park, but then crashed in practice R2 Surfers Paradise 13 Feb 1977 and written off. Described by Autoweek as "a total loss".
This car may have been rebuilt some time later. See the Arnold Glass car.
Written off 1977
1976 mystery cars
The identification of at least one of the 1976 T332Cs is tentative: Shirey's car is probably HU57.
One extra T332 appears in 1976: Ed Polley's car, which was built outside the factory. The missing cars include Redman's 1975 championship winning HU45 which appears to have spent the year in the hands of Max Mizejewski, and Jerry Karl's HU49 which may in fact have stayed with Karl until 1977.
Chassis
History
Current owner
Lola T332C
'the Richard Shirey car'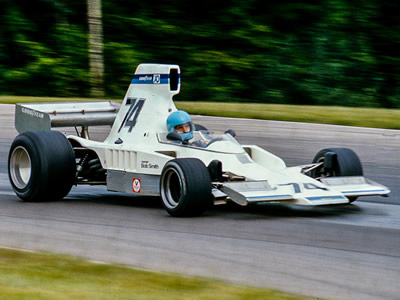 New to Bob Smith for Richard Shirey (Huntington Beach, CA) US 1976 (three races and 1 DNA; debut at Mosport Park 20 Jun 1976). Hired by Theodore Racing for Alan Jones to race at Elkhart Lake 25 Jul 1976. Did not appear at the final race. Advertised by Bob Smith March 1977. Subsequent history unknown.
Unknown
Lola T332
'the Ed Polley car'
Peter Clarke for Ed Polley (Inglewood, CA) US 1976 (#13, three races; debut at Elkhart Lake 25 Jul 1976). This is the same car raced as the "Polley EP1" by Polley for Clarke in Australian Internationals Feb 1977. Next seen with Merle Brennan (Reno, NV), when he returned to competition after his accident at Laguna Seca's June Sprints in 1979. He first raced the Lola in a Regional at Laguna Seca 13 July 1980, and also appeared in the Can-Am race at Laguna Seca 19 Oct 1980. Raced in 1981 in SCCA and Can-Am (2 races only: Riverside DNS and Laguna Seca); Can-Am 1982 (2 races only: Riverside and Laguna Seca); Can-Am 1983 (1 race only: Sears Point); Can-Am 1984 (1 race only: Sears Point; DNA at Riverside). This car had Frissbee bodywork in 1981.
Brennan was one of two owners of this car between Polley and Chuck Haines but the order of events is not yet clear. Haines (St Louis, MO) later sold the car to Les Loushin (Humble, TX). The chassis has the John Timmanus scrutineer's serial number, "76-13". Loushin was restoring the car in 2003. Raced by Loushin as a Can-Am car at the Legends of Motorsports Sebring Finale Dec 2010. Les still owned the car in April 2021.
Les Loushin (USA) 2021
1977 Lola T332C production
For 1997, the SCCA killed off F5000 and replaced it with Can-Am, for which single-seat 5-litre cars were eligible as long as they had a sports car body. So the T332 carried on. As well as the "T333CS" body from Haas and Lola, kits were also produced for Bob Nagel by Bob Riley, the famed US race car designer behind everything from AJ Foyt's Coyote Indy cars to the enormously successful Riley & Scott endurance racers of the late 1990's.
Only one production car was built in 1977, chassis HU62 for Len Gibbs to run in G8 in the UK.
Chassis
History
Current owner
Lola T332C
HU62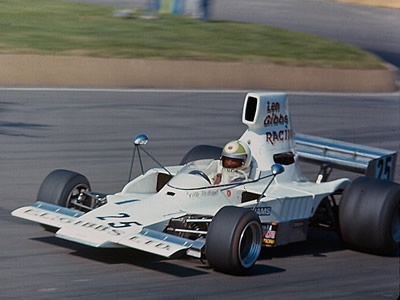 Len Gibbs Racing (Kent): UK Shellsport G8 series 1977 driven by Keith Holland (7 races) and then Damien Magee (5 races) - John Hinley (Kineton) 1978: used in UK Sprints - Bob Penzer: British Sprint Championship 1979 (one Top-10 only: 8th at R11 Wroughton 20 Sep 1979) ... Mike Connor (Cirencester, Gloucestershire) early 1982: raced at Castle Combe libre 30 May 1983 (4th), Mallory Park BRSCC libre 19 Jul 1983 (5th) - Nick Crocker (Bedford) 1983 - Mark Hales (Gainsburgh, Lincolnshire) 1984: raced in 1984 McLaren Open Championship (BRSCC libre) - Bill Hall (Sheffield) 1987 - Bobby Howlings (Cheshire) 1989 - Bobby Brown (New York) 1990: raced in vintage racing, e.g. at HSR Mid-Ohio Aug 1993 - Keith Baldwin (UK) 2000 - Neil Glover (Ansty, West Sussex) 2009. Glover already owned a T330/T332, HU23(B) but HU62 was raced by Mark Dwyer at Oulton Park Gold Cup Aug 2009 and then taken along with Glover's regular HU23(B) to New Zealand for the 2009/10 Tasman Revival series. Raced by Dwyer at Hampton Downs in Jan 2010. Sold to Richard Davies (Arlingham, Gloucestershire) Sep/Oct 2010 and had an initial outing in it at Mallory Park, only for the engine to blow up. Then unused until sold in 2013 to Max Wakefield (London).
Max Wakefield (UK) 2021
1977 mystery cars
F5000 was now dead in the US, at least outside SCCA Nationals, but the T332s and T332Cs continued as Single-Seat Can-Am cars. Most of these used the Lola/Haas conversion kit but a handful used the Riley bodies; Oftedahl's mystery car was one of these as was Nagel's HU33. Tex Arnold's HU49, which raced in 1978 appears to have been a third.
Chassis
History
Current owner
1978 mystery cars
A second season of Can-Am saw one more mystery Lola, either a converted T332 or a brand new T333CS for Tom Frank. Bob Hoff's car, previously listed here, is now known to be Lola T332 HU45.
Chassis
History
Current owner
Lola T332 or T333
'the Frank car'
(1978-1985)
Unknown before 1978. Thomas E Frank (Anaheim, CA), the 37-year-old founder of Executive Motorhomes, raced a Lola T333 (or converted T332) in Can-Am at the end of 1978 (2 races: Laguna Seca 8 Oct 1978 and Riverside 15 Oct 1978). Sold to Herb Caplan (Sacramento, CA) for his U.S. Racing team in 1979, initially as spare car. Rebuilt for 1980 with new ground-effects body as "Prophet 3", and raced in the 1980 Can-Am series by Bobby Rahal. Rahal was third at R1 Sears Point, and took pole position at R2 Mid-Ohio after crew chief Dave Evans decided to remove the car's skirts. Then crashed at R3 Mosport on 22 Jun 1980. The old side-radiator 1979 'Prophet 2' was brought back out for Watkins Glen in July but the new car was repaired in time for Road America on 20 July.
For 1981 the Caplan team abandoned the Prophet design, and had the 1980 Prophet "Frissbee-ized". As the car Bob Danzi acquired from the team for 1981 is now firmly identified as the older 1979 Prophet', we can be confident that it was this newer 1980 Prophet that was "Frissbee-ized" for 1981. The Prophet-Frissbee was driven in Can-Am 1981 by David Kennedy, John Morton and Tom Klausler.
To Robb Woltring (Roseville, CA) for 1982, and raced still in Caplan's 1981 livery. The car Woltring used at Sears Point in February 1982, at Sears Point again 8-9 May 1982 ("Lola"), at the 13 June Portland National ("Frissbee") and at Laguna Seca 13 days later ("Lola") is thought to be his earlier T333CS/Frissbee. He raced the ex-Prophet-Frissbee at Trois-Rivières in September 1982, at Mosport Park a week later, and at Riverside in early October. Ken Dunn drove Woltring's earlier car at these races.
A "2 car package" was advertised by 'Gary' of Western Fleet (Sacramento area, CA) in Autoweek in November 1982. It consisted of the #48 Lola Frissbee with fresh Falconer engine and the #49 Lola with modified Whipple body. Advertised by Woltring in April 1983 as 'Frissbee Can-Am or ASR - 1 of 3 built", again with a 'fresh Falconer engine'. Woltring told Doug Waters that he sold two Lolas, a T330 and a T333, to Don Walker, and Doug Waters identifies the former Prophet-Frissbee as the car entered by Norwood-Walker Racing for Phil Compton at Mosport Park in June 1983. Waters adds that Walker leased the car back to Woltring for the Sears Point Can-Am race in 1983.
Sold to Steve Foster (San Antonio, TX), and raced in Can-Am in 1984 (2 races: Sears Point 30 Sep and Green Valley 28 Oct). Sold to Bruce Langson (Fort North, TX) and raced in Can-Am in 1985 (5 races). Langson recalls Foster telling him that he bought the car from John Morton, and that the bumps in the bodywork evident on pictures of Foster and Langson in this car, were to accommodate Morton's large feet. However, photographs of Morton's T333CS/Frissbee do not show the same modification, but Woltring's do. Langson then rebuilt the car as the Langson LR002 and ultimately LR003 for Can-Am 1986 (3 races) and CAT 1987 (2 races). Parts used in the construction of Langson's LR004 which was completed after the end of the 1987 season and did not race. Langson still had the LR003 and the LR004 plus the original Frissbee body from the Foster car. Still owned by Bruce Langson in February 2002.
Bruce Langson (USA) 2002
1979 mystery cars
One complete new car appeared in the US in 1979: a new Lola chassis used to built a replacement Prophet Can-Am car.
Chassis
History
Current owner
Prophet 1979
'79-188'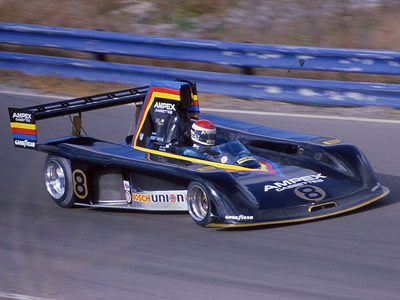 Rebuilt for 1979 from remains of original Prophet (based on T332C HU56) but with 'a brand new tub from England': driven by John Morton (1 race), George Follmer (2 races) and Bobby Rahal (six races, won at Laguna Seca 14 Oct 1979); replaced by new "Prophet 3" for 1980 but raced by Rahal at Watkins Glen July 1980 after the newer car was damaged at Mosport. Sold to Bob Danzi (Rohnert Park, CA) for ASR racing, also appearing Can-Am at Laguna Seca in 1981, where he was a DNQ. Subsequently sold by Danzi to Hal Whipple (Carmichael, CA), who had also owned Caplan's earlier McLaren M8D. Then via Chuck Haines (St Louis, MO) and Tom Frederick to Warren Snodgrass (San Francisco, CA) 1987 who also bought the original 1979 Prophet bodywork from Herb Caplan at the same time, the Danzi car being fitted with a hybrid 1980 bodywork. Restored to 1979 condition but not raced in historics as there was no suitable West Coast class. To Jeff Gentry 1997 - Ken Constandine 1999 - Mark Butters 2001 - Richard  Lasselle (Saratoga Springs, NY) Nov 2004. The car carries SCCA serial number 79-188. Fully restored to original (i.e. Prophet) condition and livery for historic racing in 2005.
Entered by Lasselle Enterprises for Rick Bell (Salisbury, CT): at Road America July 2005, Watkins Glen Sep 2005, at Watkins Glen again Sep 2006, at Road Atlanta Oct 2006, at Watkins Glen again Sep 2007 and at Lime Rock Sep 2009. Bell won his group at the SVRA US Vintage Grand Prix at Watkins Glen September 2014. Still owned by Dick Lasselle in November 2017.
Dick Lasselle (USA) 2017
The "Lola T332" (as previously identified in the Can-Am section of this site) driven by Patrick Gaillard at Laguna Seca 14 Oct 1979 was actually the Schkee DB1/2. My thanks to Fabrizio Bologna for spotting a picture in Auto Sprint that identified this.
Previous versions of this page referred to a mystery Lola T332 raced by Pat McGonegle at Watkins Glen in 1979. Doug Waters' Can-Am research reveals that McGonegle had rented Gerry Payvis's Lola T332 HU49. Also, the T332 raced by Rick Knoop for Don Weber's team has been identified as HU46, and the car run by Bob Penzer in sprints and hillcimbs in the UK has been identified as T332C HU62.
1980 mystery cars
Another Can-Am design, the "Intrepid GB-1" appeared in 1980 based, as usual, on a Lola T332 chassis. The origins of the car remain unclear as a usually reliable period source disagrees with evidence found on what is said to be the former Intrepid today.
Chassis
History
Current owner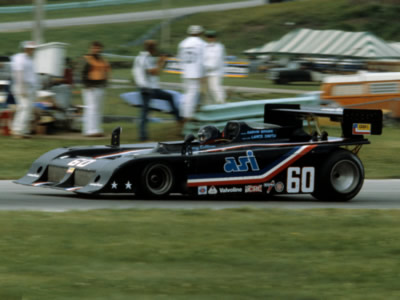 Garvin Brown Racing for Danny Sullivan Can-Am 1980 (4 races + 1 DNS, debut Sears Point 24 May 1980; best result 2nd at Watkins Glen 6 Jul 1980). Designed by Lance Smith, who had previously contributed to the Prophet and Spyder Can-Am cars and based, like those, on a Lola T332. Despite the inherited second place at Watkins Glen, the Intrepid was regarded as a failure by the team and the Lance brothers were dropped. A new Lola T530 had arrived before Watkins Glen. The Intrepid was later bought from Dave White, who was crew chief for Garvin Brown in 1981, and was now selling the car for him, by Lance Nist (Santa Ana, CA) and converted to F5000 specification for vintage racing. Nist won at Palm Springs in November 1990 in this car, and raced it in VARA events in 1996.
Still with Lance in August 2003.
Lance Nist (USA) 2003
Intermission - the Frissbees
After the success of Brad Frisselle's Lola T332-based Frissbee winning at Laguna Seca at the end of the 1980 season, two all-new Frissbees were built on newly fabricated monocoques for 1981. The first of these was built on a Jack Smith monocoque for Rocky Moran, and it was followed by the US Racing/Herb Caplan Prophet which was "Frissbee-ized" in time for Watkins Glen in July. Three more Frissbees appeared at Riverside in October, one built by John Morton using a T333CS monocoque, Robb Woltring had one on an unknown T332, and Merle Brennan had Frissbee-copy bodywork on top of his ex-Ed Polley T332. Brad Frisselle's original Frissbee returned to competition at Laguna Seca a week later but it was actually an all-new car with a monocoque fabricated by Joey Cavaglieri.
Chassis
History
Current owner
1981 mystery cars
In 1981, the first of the Frissbee-Lolas appeared: all cars with Lola or replica Lola chassis plus Frissbee bodywork kits acquired from Brad Friselle Racing or 'bootleg' copies. The first to appear were a car with a Jack Smith tub for Rocky Moran replacing his T332 HU29; the Frissbee-ised version of the Prophet; and John Morton's Lola T333CS also fully converted. By the end of that season, other Lolas had been updated: at the Laguna Seca race near the end of the 1981 season, Autoweek noted that Robb Woltring's T333CS, Clive Bush's 'Conquest' and Merle Brennan's T332 "all sport copies of the Frissbee bodywork without all the good stuff underneath".
Chassis
History
Current owner
"Frissbee"
'the Woltring car'
(1981-1982)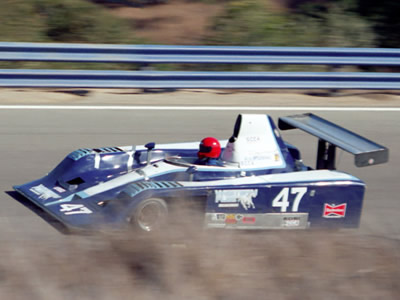 Raced by Robb Woltring (Roseville, CA) in Can-Am late 1981 as a Western Fleet entry, when it was described as a Lola T333CS "sporting a copy of the Frissbee bodywork without all the good stuff underneath". Woltring told Doug Waters that he acquired it from John Morton. Raced by Woltring in the Can-Am races at Riverside, Laguna Seca and Caesars Palace in 1981. Presumably the car Woltring earlier drove in an SCCA National at Riverside 24 May 1981, and later at Sears Point on 28 March 1982, at Sears Point 8-9 May 1982, at the 13 June Portland National, and at Laguna Seca later that month. Woltring then acquired the Prophet-Frissbee which he ran as a #48 entry during 1982, so this earlier T332CS/Frissbee is presumably the #49 Western Fleet entry for Ken Dunn (Cupertino, CA) at three late-season 1982 Can-Am races.
A "2 car package" was advertised by 'Gary' of Western Fleet (Sacramento area, CA) in Autoweek in November 1982. It consisted of the #48 Lola Frissbee with fresh Falconer engine and the #49 Lola with modified Whipple body. The 'fresh Falconer engine' is the same phrase as used by Woltring when he advertised his own car in April 1983. Subsequent history unknown, but Woltring told Doug Waters that he exchanged a pair of Lolas for a Ferrari Boxer with Dallas realtor Don Walker. The #26 Frissbee-Lola raced by Phil Compton in Can-Am at the start of 1983 would be Woltring's newer former Prophet-Frissbee, but the subsequent history of this earlier Frissbee is unknown.
Unknown
Robert Meyer was previously listed here with a mystery Lola T332 in Spyder NF-11 configuration. That is now known to be the ex-Randolph Townsend Spyder, built on Lola T332 HU48. Meyer wrote off that car, then bought a second Spyder NF-11, only to write that one off as well. He returned in 1983 with a new Frissbee, which is covered above.
1982 mystery cars
John Kalagian made his debut in 1982 with a 'new' Frissbee. Over these next six seasons, most remaining Can-Am Lola T332s were converted to Frissbee specification.
Chassis
History
Current owner
"Frissbee"
'the Kalagian car'
(1982-)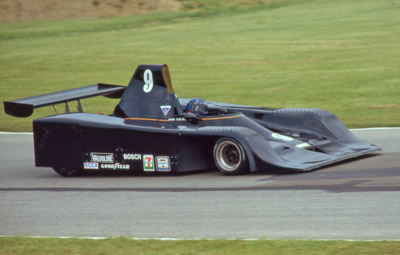 In 1981, John Morton bought "all of Roy Woods Racing's Lola 332 stuff", which included a T333 tub and a brown F5000 Lola T332 as well as a huge amount of parts. This would have been from Cooke-Wood Racing who had campaigned an ex-Haas Lola T333CS in 1980. The F5000-spec T332 was sold quickly to John Kalagian who built a "bootleg" Frissbee with the car and raced it in Can-Am in 1982 (full season). It was registered by the SCCA as a "Lola T333-CS Frissbee" in May 1982 with log book number '82-242' but no identifying numbers were given on the log book.
To Charlie Monk (Canada), who traded the unique March 77S for it. Raced by Monk as the #30 Wolf Power Tools entry in the 1983 Can-Am series, and as a "Frissbee/Lola T333" in four races in Can-Am in 1984. To Rodolfo Cusumano (Summit, NJ): Can-Am 1985 (2 races) as the #7 Will Petroleum-RCG Financial Special. Cusumano crashed the car at St. Louis, the fifth round of the 1985 series, presumably in practice as he does not appear on the grid sheet or in results. After the accident, the car was dismantled and usable parts sold off to fellow competitor John Macaluso. According to Doug Waters, Macaluso used the Frissbee bodywork on a Lola T333 chassis, and later sold Cusumano's crashed monocoque to Rick McLean (Oceanside, CA).
Many years later, Johan Woerheide (Atlanta, GA) acquired an old Lola T33x tub recovered from the undergrowth at Road Atlanta which was said by corner workers to be ex-Monk, ex-Cusumano. According to Fran Larkin, this tub had been acquired after Cusumano's accident by Jay Puskinales (or Jay Peskenales), for training flag marshalls, and and was taken to Road Atlanta when he moved to Georgia. This chassis was bought from Woerheide by Chuck Haines of Can-Am Cars Ltd (St. Louis, MO) who advertised it in 2008. The car was still listed on the Can-Am Cars Ltd web site in Sep 2013.
Sold by Chuck Haines and Chuck Parsons to a client of Steve Farthing (Wren Classics, Shaftesbury, Dorset, England) in January 2014. By February 2015, the car had been rebuilt as a Lola T332 in Chuck Jones Racing livery. Raced by Farthing in HSCC events in 2016 and 2017. Run by Farthing in the blizzard at the 2018 Goodwood Members Meeting.
Steve Farthing (UK) 2018
Lola "T333CS"
'the 1982 McGonegle car'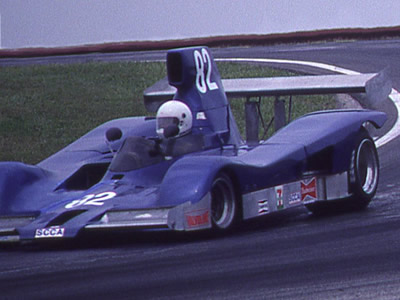 T. Patrick McGonegle (Cincinnati, OH) appeared with a Can-Am "Lola T333CS" at Mid-Ohio 27 Jun 1982 and at Road America 25 Jul 1982. The car was logbooked by the SCCA as "82-238" and its identifying number was given as '53', implying HU53. In 1983, McGonegle advertised a car, presumably this one, as "Lola T-333CS ex-Allan Jones Can-Am Championship car".
The log book shows that it then went to Frank Sanchez (Spring Grove, PA) and was at the Can-Am 1985 (2 entries only: both DNAs) - Robert Goulet 1986: CAT series 1987 (1 race only: R6 Phoenix 1 Nov 1987). Retained by Goulet until his death in 2004. At the time, it was believed to be an ex-Haas car, raced by Patrick Tambay or Alan Jones, but was usually entered as a T332. When Goulet first owned it, he entered it once as a Frissbee.
Sold to Johan Woerheide (Atlanta, GA) in May 2006 and still with him in March 2008. In 2012, Johan sold HU53 to David Wild who in turn sold it to James Howe (Brackley, Northamptonshire) in England. In May 2016, this car was still in the process of restoration.
James Howe (UK) 2016
Previous versions of this page showed Ken Dunn in a mystery Frissbee-bodied Lola, now known to have been Robb Woltring's first Frissbee.
1983-1987 mystery cars
On previous versions of this page, there were quite a few mystery Frissbees between 1983 and 1987, all of which have been resolved thanks to the meticulous research of Doug Waters. The first of these was the "Frisbee" entered by Norwood-Walker Racing for Phil Compton at Mosport Park in June 1983, which is now identified as the former Frissbee-Prophet. The car raced by John Macaluso in 1983 is now known to be HU45. The "ex-Morton" car for Steve Foster in 1984 is now identified as that same former Frissbee-Prophet, and the Drake Olsen "Frisbee" from 1984 has been identified as Lola T332 HU53.
Also in 1984, Jerry Kehoe (Santa Rosa, CA) drove a "Frissbee" in Can-Am (R8 Sears Point and R9 Riverside) and a previous version of this page supposed that it may have had a Lola T332 basis. Remarkably, this car was built around the Brabham BT29 [11] that Kehoe had run in FB; then, with an FVC engine, in FA; then in the 2-litre Can-Am class and then, with a 3.5-litre Oldsmobile V8, in the 5-litre class. The final refinement, for 1984, was the addition of a Frissbee body. This amazing vehicle contained little of its Brabham BT29 origins by 1984.
The Frissbee raced by Peter Dragffy at St Petersburg in 1985 is now known to be the ex-Jerry Hansen Lola T333CS, fitted with a Frissbee body by Roy Hayman when he rebuilt it for Peter Austin after Claude Gou's crash at Lime Rock in 1983. The Frissbee raced by Diego Montoya in 1985 was the Conte 1982 backup car. The Frissbee raced by John Macaluso in the 1987 CAT series is now known to have been built using the ex-Bobby Brown, ex-Bruce McInnes Lola T333CS, using Frissbee bodywork left from the T333CS that Rod Cusumano crashed at St Louis in 1985. The Frissbee raced by Chuck McConnell in 1987 was the John Morton Frissbee.
Other mystery cars
A number of other cars are known but cannot yet be connected to the histories above.
Chassis
History
Current owner
Lola T332
'the Arnold Glass car'
(1982-)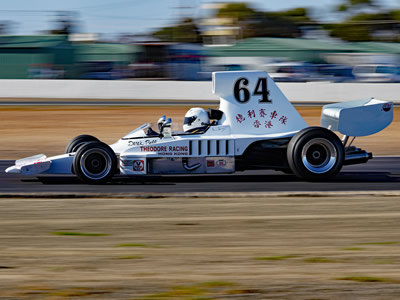 Allan McCall mentioned to Shayne Windelburn that, in the late 1970s, he had put together a T332 using a tub they had acquired from Theodore and new parts from Lola. McCall's partner Kerry Adams also recalls that it came from Sid Taylor (then team manager of Theodore). It was intended for Arnold Glass but he found the driving experience to be bad for his dry cleaning bill and sold the car on. This is presumably the car that Glass races to fifth place in a libre at Mallory Park 21 Jun 1981.
Advertised by Colin Bennett Racing Ltd (Warrington, Cheshire) in August 1982 and again in Feb 1983. In the August 1982 advert, it was described as "ex-Alan Jones Theodore Lola T332" but the advert was illustrated by a picture of the ex-McKechnie HU36. In 1983, it was again described as "ex-Alan Jones" but was in "as-new condition, with many new parts including the monocoque", and had all new red bodywork. Colin recalls that it went to Adams McCall, and then to the US.
According to Marc Rauchfuss's research, the car was sold via dealer Bobby Howlings to Murray Smith (Amagonsett, NY/Washington, DC) who sold it via Tony Dutton of Northumberland Engineering (Southampton, NY). The next owner was either a Mr Vanelli or a Mr Strackosh. In the early 1990s James Swartzbaugh (Southern California) owned the car and sold it in 1993 to Dave Carlson (Rubicon, Wisconsin) who ran it at the Elkhart Lake Vintage Festival 25 Sept 1993 but it was then unused until Carlson sold it to Marc Rauchfuss (Simi Valley, CA) in the late summer of 2008. Still with Marc in February 2016 but disassembled. (Marc regards this car as T332C HU61 on a replacement tub.) Sold to Cameron Akhurst (Adelaide, Australia) in late 2016. Raced by Adrian Akhurst at Sandown in November 2017, at Phillip Island, Mallala and Sandown in 2018, and at Mallala in April 2019.
Cameron Akhurst (Australia) 2019
Lola T332
'the Mark Rose/Scott Cattell car'
(1983-)
A mystery car bought from Mark Rose (Fort Worth, TX) in 1983 by Scott Cattell (Sebastopol, CA), who started a long-term restoration. Before the restoration was complete, he sold the car to Todd Reiners (Sacramento, CA) in 2000, and the pair completed it together. The bodywork on the car is ex-Guy Edwards/Embassy but the origins of the tub are not yet known. Since its restoration, Todd has used the T332 in US vintage racing. Photographs show that this is also the car raced by Tom Dyer in US Vintage racing in 2008. Still owned by Reiners in 2015.
Todd Reiners (USA) 2015
Lola T332
'the Steve Simpson car'
(c1984-)
In early 1981, Brad Frisselle's team rebuilt their Frissbee Can-Am car using a new monocoque fabricated by Joe Cavaglieri (Sherman Oaks, CA). The old monocoque was restored with its original Al Unser bodywork and suspension back to F5000 Lola T332 by Cavaglieri and sold to Don Walker's Dallas Motorsports in Texas. Not long after this, Walker filled for Chapter 11 bankruptcy but Dallas Motorsports remained outside this, being renamed American Motor-Sports in 1986 to compete in IMSA. The Lola T332 was sold in 1985 or 1986 to George Nuse (Norcross, Georgia), and George recalls that it had been restored by Cavaglieri and "retained the original painted bodywork from when it was driven by Al Sr". George sold it some time in 1987 to Steve Simpson (Atlanta, GA) of Simpson Racing.
This would be the #61 Lola T332 raced by Simpson at the Chicago Historic Races at Road America 31 Jul 1988, and also the #51 Unser Lola T332 that was at the Walter Mitty Challenge in the late 1980s. Simpson had an 'ex-Unser' #51 '76 Lola F5000' at SVRA Road Atlanta late 1990 (as #5), at HSR Mid-Ohio in August 1993 and at HSR Mid-Ohio in July 1994. Appeared also at Road America July 1997, but did not start. Raced again at Road America July 1998 (#51).
Sold by Simpson to Rick Parsons about 2015. Sold to Kirt Bennett (Clarkston, Michigan) about 2016. Simpson told Bennett in 2016 that "the chassis did not have a Lola chassis plate" but he understood the car to be HU35. Al Unser had two cars in 1976, HU35 which was his spare car, and his 'kitted' T332 'K1', which was his primary car and is believed to have become the Frissbee. Raced by Bennett at the WeatherTech International Challenge at Road America in July 2018. Still with Kirt in August 2021.
Kirt Bennett (USA) 2021
Lola T332
'the TART/Bruce Langson car'
(1985-)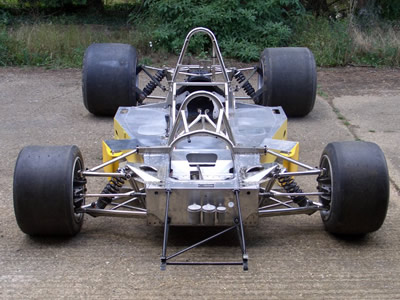 A mystery car bought from "TART" by Bruce Langson in 1985 and Bruce recalls that it had Frissbee bodywork at that time. He donated to Aerospace school at Texas A&M University to do aerodynamic studies for a new Can-Am car, and it remained at Texas A&M in a dilapidated state until January 2002 when it returned to Langson. Sold by Langson to Chris Perkins (Ashbourne Derbyshire) about 2003, who restored it with Frissbee bodywork over the next four years. Chris ran out of enthusiasm for the project and sold it on to Graham Earl in mid-2007. Graham reports that the car has the chassis plate HU50. Still with Graham in May 2016.
Graham Earl (UK) 2016
Lola T332
'the Garry Hobbs "HU37"'
(1991-)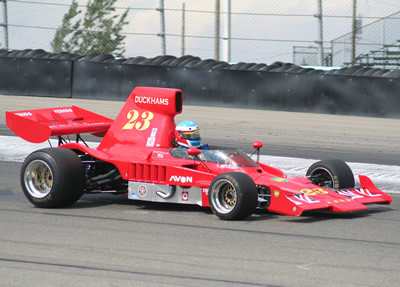 "Chassis #37" advertised in Victory Lane November 1991 from Burbank, CA "ground up restoration". Five years later, "Chassis 37" was advertised in Victory Lane Dec 1996 from a Los Angeles, CA area code as "fully sorted" and "race ready" after a "total 1995 restoration". It had been the "winner of first prestiguous show in California". Next seen when Garry Hobbs owned "HU37" at the June 1999 Watkins HSR meeting. Sold to Larry Neviaser (Easton, Maryland) March 2002. The car is in livery from when it raced in Australia at some point but this (see picture, right) does not match the red BP Theodore Racing livery used by Schuppan in 1976 nor even the orange-and-black livery of Jon Davison's ex-Theodore HU34 when it was last seen. More work is needed to positively identify this car.
Sold by Neviaser to Michael Schryver (UK) 2008; later to Richard Piper (Greenwich, London) 2009, and then Neil Daws (UK) 2010. Raced by Daws at HSCC Brands Hatch July 2010 and Silverstone October 2012, but crashed and badly damaged at the Silverstone Classic July 2013. Returned to racing at the HSCC Super Prix, Brands Hatch in July 2015. Raced again at Brands Hatch in June 2016.
Neil Daws (UK) 2016
Lola T332
'the Dick Marconi car'
(c1993-)
At HSR Mid-Ohio Aug 1993, Dick Marconi (Orange County, CA) drove an 'ex-Boraxo' Redman '75 T-332 C'. In 1994, this car was said to be Redman's 1975 Long Beach winning car, which would be T332 HU45. Redman ran Marconi's car in a demo to celebrate the 20th Long Beach GP in 1994. It has also been suggested that Marconi's car is actually one of the ex-VDS Lola T333CS Can-Am cars, as converted to T332 F5000 specification for Warwick Brown to use in the Australian Rothmans International series, but both of those cars are now said to be in New Zealand, so that must be considered unlikely. The Lola was listed on www.marconimuseum.org as being part of the Marconi Automotive Collection (Tustin, CA) in January 2010, with a statement that it was raced in the inaugural Long Beach GP in 1975. The car was still on display in the museum in August 2015, with a board saying that it had won the first Long Beach GP.
Dick Marconi (USA) 2015
Lola T332
'the Mel Spillman/
Mike Sheehan car'
(c1999-)
Effectively a brand new car advertised by Michael Sheehan (CA, US) in 2002. This was "a 100% rebuild" of an old, crashed, car but the identity of the crashed car was unknown to Sheehan. According to later owner Marc Rauchfuss, it was built by Mel Spillman (San Antonio, TX) in the late 1990s using T332 parts acquired from Evan Noyes team. Marc saw this car raced for the first time by Spillman at Road America in 1999. The car uses the chassis number "HU 32B" but no connection to HU32 has been demonstrated. To John Mann (New Zealand) 2002 and raced in the Tasman Revival Series. To Tony Richards (Christchurch, NZ) 2005. Raced by Richards in the Formula 5000 Tasman Cup Revival at the Australian GP meeting 28 Mar 2009, and appeared regularly in Tasman Revival races until February 2014. Advertised by Richards as "HU32b, ex Evan Noyes" in 2015, and sold to Marc Rauchfuss (Simi Valley, CA). Repainted in Noyes' livery and advertised by Rauchfuss in February 2016. Raced by Rauchfuss at the WeatherTech International Challenge at Road America in July 2018. Sold by Rauchfuss to Don Koester (Chelan, WA) in early 2019.
Don Koester (USA) 2019
Lola T332
'the Rick McLean/
Steve Tillack car'
(c2003-)
In 2003, dealer Steve Tillack bought a Lola T332 from Rick McLean who had owned it since 1991, McLean told Tillack that he bought the car from Peter Austin of Westmont, Quebec, Canada in September 1991. Tillack's research determined that the car had been acquired by Austin from Robb Woltring and that Woltring had acquired it from a California car sales operation called "Big Boys Toys", owned by Jerry Siemons. Ed Superfond (sp), who ran this operation for Siemons, told Tillack that the T332 came from Francesco Mir, who had owned HU48. This may mean that this car was HU48 but it clashes with that car's history as a Spyder Can-Am car.
Steve Tillack subsequently sold the car to Stuart McDonnell (Hamilton, NZ) in June 2003 and McDonnell reported that it was being restored. Nothing more known.
Stuart McDonnell (New Zealand) 2003
Lola T332
'the Chuck Haines/
Ian Clements car'
(2007-)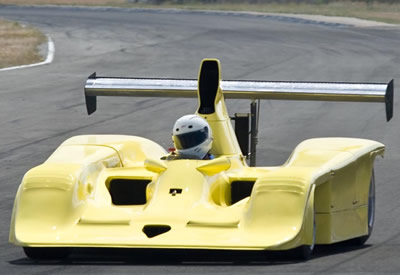 After selling his original T332 HU38(A) to Sefton Gibb in 2007, Ian Clements (Christchurch, NZ) bought a yellow Frissbee Can-Am car from Chuck Haines (St Louis, MO) in the US. The car was said to be "ex-John Morton", and its identity was given by Haines as "HU48R", but the origins of the car have not yet been determined.
The car was converted to Lola T332 specification by John Crawford's Motorsport Solutions NZ Ltd (Christchurch, NZ). Clements had his first race in the red-and-white #30 Lola T332 at Sandown Park in November 2008, and was then a regular in the F5000 Tasman Revival from 2008/09 to 2017/18. Sold to Kevin Ingram in early 2018.
Kevin Ingram (New Zealand) 2018
The Barry Blackmore cars
Chassis
History
Current owner
Lola T332
the first Barry Blackmore car
(2005-)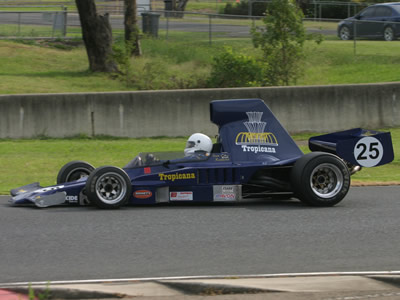 In the late 1980s or early 1990s, Don Devine bought "a disassembled pile of pieces and tub". He bought the package sight unseen and was told it was a T332. He never saw the package and sold it all to Tony Mistretta who, according to Don, took it to Marc Bahner "to have a second tub built so they could have one as a 5000 car and one in single seat Can Am". Barry Blackmore (Glendale, CA) bought one or other of these from Bahner in February 1996 and restored the car to F5000 specification. He raced the car in US vintage racing from 2005 onwards. Blackmore's understanding was that he had HU59.
In 2009, Blackmore sold this car to Stan Redmond (Christchurch, NZ) and shipped to New Zealand to race in the Tasman Revival series. First appeared at Wigram in Jan 2010 but DNS and raced for the first time at Phillip Island in March 2010. Retained for the 2010/11 series but crashed at Oulton Park on a visit to the UK in July 2011. Raced by Redmond in the 2011/12 Tasman Revival but crashed heavily at Phillip Island in March 2012. Redmond then acquired the ex-Warwick Brown T333CS for the 2012/13 series. Redmond died after an accident at Teretonga in the T333CS in February 2013. The T332 was reported to still be with his family in April 2016.
Phil Redmond (New Zealand) 2019
Lola T332
the second Barry Blackmore car
(2012-)
Barry Blackmore (Glendale, CA) has raced several Lola T332s in US vintage racing. After he sold his first car to Stan Redmond in New Zealand in 2009, Blackmore appeared in a second T332 starting in 2011. According to the car's VARA logbook, Blackmore first raced it at Mont Tremblant in July 2011. He crashed this car at Road America in July 2012 and the damaged car was advertised in September 2013. By mid-2014, it had been acquired by an Australian, who has asked that his ownership of the car is not publicised.
Australia 2018
Lola T332
the third Barry Blackmore car
(2013-)
After Barry Blackmore (Glendale, CA) crashed his Lola T332 at Road America in 2012, that car was sold to Australia. Blackmore has subsequently raced yet another T332 in US vintage racing. This car is in the colours of Richard Shirey's Lola T332C. Raced at the 2013 Classic Motorsports Mitty, at Mid-Ohio June 2014, at Road America July 2015, at Road America in July 2017, at COTA in November 2017, and the WeatherTech International Challenge at Road America in July 2018. Blackmore was driving this car at Road America in July 2020 when he crashed very heavily, destroying the car and leaving Blackmore with life-altering injuries.
Destroyed 2020
Other T332 advertisments as yet unexplained include:
"Stan" (Wyoming) "totally restored" Victory Lane and Autoweek Sep 1996;
Jan or Pat (California), "restored" Autoweek Feb 1996;
Les White acquired parts from the crashed HU36 in 1983 which implies he had a T332 at this time.
David M. Kane (Scottsdale, AZ) had a severely bent Lola T332 tub in 2005. This had been the tub used as a template when the Mel Spillman/Mike Sheehan car was created in the late 1990s. Kane sold the tub to Don Sills (then Incline Village, NV) in 2006.
Last, but not least, Phil Myers recalls Ray Reimer having a damaged T332 tub hanging on the wall of a barn for some time. Ray sold it to John Welsh (Chicago, IL) who intended to restore it. Phil believes it may have been John who sold it to Ray in the first place.
These histories last updated on 2 February, 2022 .