Franklen - Palliser - Mildren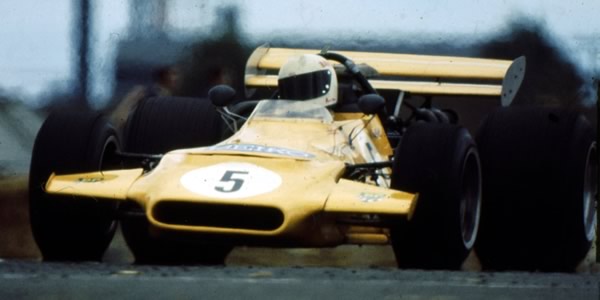 Born as the Franklen, bought by Palliser and sold by them to Alex Mildren, this car was on its third name before it even raced.
Late in 1968, Ford designer Len Bailey had designed a one-off monocoque single-seater for Alec Mildren to take his 2.5-litre Alfa Romeo V8 engine for the 1969 Tasman series. The car was built by Alan Mann Racing, who were then campaigning the Bailey-designed Ford sports prototypes. A key member of the Alan Mann Racing team was Frank Gardner, the team's lead driver in sports racing and in saloon car racing, where he won the 1967 British title in AMR's Ford Falcon. When Alan Mann retired at the end of 1969, Gardner set up Motor Racing Research with ex-Mann employees and the Ford-employed Bailey. One of their projects was a Ford-backed F5000 car and Bailey based his monocoque on the Mildren-Alfa.
Before the car was raced, Gardner decided that the Ford Boss 302 ci engine was not cut out for F5000 and the project was passed on to Palliser Racing Cars. Here it was renamed the Palliser WDA1 and was advertised late in 1970 but no production cars were built. The ex-Franklen itself was the only car sold, going to Alec Mildren, for whom it was a natural progression as Australia had now changed from the 2.5-litre 'Tasman formula' to F5000.
The car was entered at the November 1970 Australian GP for Mildren's regular lead driver Kevin Bartlett. He qualified it in a promising fifth position, third of the six F5000 cars present but behind two 2.5-litre Tasman Formula cars. He retired at mid-distance with electrical problems. When the Tasman series started six weeks later in New Zealand, Bartlett found the Mildren F5000 was a much less competitive proposition than the Mildren-Alfa and Mildren-Waggott that he had driven in preceding seasons and his only results of note in the series were fourth at Teretonga Park and third at Warwick Farm in February. He crashed the car in practice at Surfers Paradise and it was not seen again. Bartlett then ran his own McLaren M10B in the 1971 Gold Star season and Mildren closed down his team later in the season.
The car was reported to have returned to Britain after the Tasman series but nothing was seen of it and it is more likely that it remained in Mildren's possession in Australia. The Franklen was acquired from the team by John F 'Jack' Wortmeyer in 1972 and entered in occasional events for local hill climb star Erol Richardson as the "Wortmeyer SCV", its fourth name. It appeared in two later Tasman races, Warwick Farm in 1973 and Oran Park in 1974 when the accelerator pedal fell off after five laps. Wortmeyer took the car home and stripped it, not wanting anyone else to drive a car that had acquired a dreadful reputation.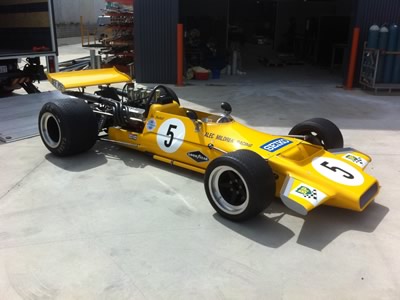 Jack and Mae Wortmeyer retained the car until their deaths within a few days of each other in 2005 after which the car was retained by their family for several more years. In 2011, Matt Veal (Hume, ACT, Australia) wrote to Australian Muscle Car magazine to reveal that he had located the Mildren F5000 car in a shed in 2006 or 2007 and had now acquired it with the intention of restoring it and racing in the 2012 Tasman Revival series. By July 2015, the car was complete bar a few remaining items.
Sources
Sources include Erol Richardson, a feature on Frank Gardner in Autosport 9 Jul 1970 pp24-25, Motor Racing Directory, the 1970 Autosport F5000 review, a Palliser article in Motor Sport Mar 1971 p219, Autosport 1 Apr 1971 p3, Autosport 7 Mar 1974 p12, Autosport 14 Feb 1974 p8 and current owner Matt Veal. All and any help would be gratefully received. Please email Allen at allen@oldracingcars.com if you can add anything.
These histories last updated on 24 November, 2018.