Lola T192 car-by-car histories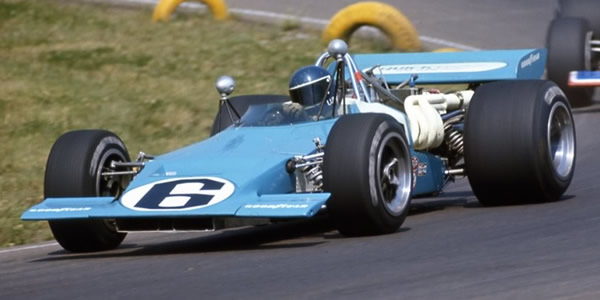 Lola developed their T190 design into the T192 for 1971. After the disappointment of the T190, only twelve were sold and the car achieved limited success
During 1970, Frank Gardner had been Lola's main development driver on the T190, and after his lengthened T190 won back-to-back races in August, it was the basis of a revised T192 design. In September 1970 the production T192 was delivered to Roger Penske in the US for Marc Donohue to drive, and it won first time out at Mosport. A second car appeared a week later for Mike Hailwood in the UK, and this was followed by a car for Gardner to drive in the 1971 Tasman series, but this does not appear in invoice records and is almost certainly an extra car.
In 1971, the main competition to the T192 came from the McLaren M18 and Surtees TS8, both new designs that did not quite live up to level set by their respective predecessors. Through the main 1971 championships, the T192 won one Tasman race, three UK races and one US race. The TS8 won four in Europe and one in the US and the M18 just won two races in the US. It was the old McLaren M10B that beat all the new designs, winning six Tasman rounds, six US rounds and three UK rounds. With competition between the three constructors so even, it was the brand new Lola T300, appearing at the very end of the year, that would take advantage.
Thanks to Wolfgang Klopfer, Chris Townsend, Chuck Haines, Ted Walker, Tom Schultz, Bryan Miller, Michael Ferner, David McKinney and others for getting these histories this far. All and any help would be gratefully received. Please email Allen at allen@oldracingcars.com if you can add anything.
Chassis
History
Current owner
The unidentified cars
In the US in 1971, Lunger had HU19, Negley HU20, Dittemore HU22, Sell and Hansen HU23, Woods HU24, Sherman HU27 and Eiteljorg HU29. It seems very likely that Roy Woods had HU30. We also know HU21 and HU25 were sold to the US. The unidentified T192s in 1971 North American races are the cars owned by Bud Morley and Jim Matuska, and these are likely to have been HU21 and HU25. Spencer Stoddard's "T192", previously listed here, is likely to have been his 1970 T190 rebuilt.
Chassis
History
Current owner
New to Jim Matuska and entered by Competition Developments/Paul Newman for Bob Bondurant at Questor GP Mar 1971 (where it was listed as "T192/2". Raced in the US Pro series by Eric Haga (Seattle, WA), appearing at Riverside on 25 April and Laguna Seca on 2 May before crashing in the first heat at Seattle 23 May. Not seen again.
Advertised by Matuska 2 Jun 1973 "New for Bob Bondurant in Questor GP - only 3 races run - zero hours on complete chassis rebuild" which would match if it was the Haga car. Subsequent history unknown.
Driven by: Bob Bondurant and Eric Haga. First race: Ontario Motor Speedway, 28 Mar 1971. Total of 4 recorded races.
Unknown
New to Bernard "Bud" Morley (Denver, CO), and entered in the 1971 US series by Thor International Racing, but was crashed in Heat 1 at the first race, Riverside 25 April, and Autoweek reported it as a write-off. Morley did not appear again until Mid-Ohio on 5 July when Autoweek described his car as "new". However, this is likely to have been rebuilt with a new monocoque than a whole new car.
After Mid-Ohio, Morley raced the car at Road America and at Edmonton on 1 August, but in Heat 2 of the latter race, had another accident leaving the tub "badly mangled". Morley, a Denver attorney, had previously raced in Can-Am and at Indy, and at 40 was one of the oldest drivers in the series. He did not race again after the Edmonton crash, and the Lola was presumably written off.
Driven by: Bud Morley. First race: Riverside (US R1), 25 Apr 1971. Total of 4 recorded races.
Wrecked 1971
The 1972 mystery cars
Five new T192 combinations appear in 1972 for Colin Hyams ("HU14" over from Australia), Larry McNeil (HU19), Bob Ferro (believed to be HU24), Randy Johnston (HU27) and Gregg Peterson. Of those, only Peterson's car remains a mystery. Jim Moffat's "T192" appears in documentation of the first two 1972 races but there is no evidence the car actually appeared.
Of the other cars, Negley still had HU20 in June, HU22 was still with Kastner-Brophy in July, HU23 is a puzzle, 'HU28' (Gardner's "HU27") was with Nappi Racing until September, HU29 was with Eiteljorg until October, and the car we believe was HU30 remained with Roy Wood Racing until July at least. This leaves HU21 and HU25, likely to be the two 1971 mystery cars of Bud Morley and Jim Matuska. Morley's was wrecked (twice) but Matuska's was rebuilt and advertised after Haga's Seattle accident, so this is the most likely candidate to be Gregg Peterson's car. Another possibility is that Doug Hardwick's HU26 had crossed the Atlantic after the 1971 season.
Chassis
History
Current owner
Jim Moffat (Santa Monica, CA) US 1972 (DNA at R1 Laguna Seca 7 May; DNP at R2 Edmonton 4 Jun). Nothing more known.
Driven by: Jim Moffatt. First appearance: Edmonton (US R2), 4 Jun 1972.
Unknown
Gregg Peterson (Sunnyvale, CA) and used in the US series in 1972. It first raced at R2 Edmonton 4 Jun, after which Peterson advertised it as having raced once on a new chassis. A spare tub was included in the advert. This suggests that it was one of the cars crashed in 1971. Peterson next raced it at R8 Riverside 24 Sep. Retained for the 1973 US series (1 race + 1 DNS). Heavily damaged at Sears Point SCCA National 15-16 Sep 1973. Not seen again and presumed destroyed.
If this was the ex-Hardwick HU26, then it went to Bay Racing for 1974. However, Rick Vendl recalls that the T192 bought by Bay Racing was already numbered #42 when they bought it; Peterson had used #86.
Driven by: Gregg Peterson. First race: Edmonton (US R2), 4 Jun 1972. Total of 5 recorded races.
Wrecked 1973
The 1973 mystery cars
By 1973, McNeil continued to race HU19, Hansen was driving HU23 again, Dan Furey raced "HU14" and Petersen still had his car from 1972. As many as nine others (HU20, HU21, HU22, HU24, HU25, HU27, HU28, HU29 and HU30) have vanished into the mists of time. Of these, it would be reasonable to assume five or six were still intact.
Two new T192 drivers appeared in 1973: John Ransom and Bill Tempero.
Chassis
History
Current owner
Bill Tempero (Fort Collins, CO) US 1973 (2 races). Also won the SCCA Midwest Division in 1973. Sold to Dean Vetrock (Racine, WI) and raced in SCCA events from 1975, mainly at Blackhawk Farms. Raced at the 1975 Runoffs. Later at the Hoosier National 18-19 Sep 1976 (Formula Dec 1976 p42). Vetrock's T192 was fourth at the 1976 Runoffs (Formula Jan 1977 p37). Also at 1977 Road America June Sprints (Formula Aug 1977 p41) and at Nelson Ledges in May 1978.
Dean sold the car to four gentlemen from Chicago who ran it in CenDiv SCCA racing. Subsequent history unknown.
Driven by: Bill Tempero and Dean Vetrock. First race: Phoenix International Raceway, 25 Feb 1973. Total of 19 recorded races.
Unknown
John F. Ransom, Jr (Portland, OR) ran a Lola T192 in two Pro F5000 races at the start of the 1973 season: at R1 Riverside on 29 Apr where he did not qualify from the heats, and at R2 Laguna Seca on 6 May where he did not start. He was also on the entry list for an SCCA National at Portland five weeks later. Ransom entered his car as #89 in Pro races or #99 in Nationals, and it may be relevant that Spence Stoddard's Lola "T192" in (relatively) nearby Seattle, WA wore #99 during 1972. Subsequent history unknown.
Driven by: John F Ransom. First race: Riverside (US R1), 29 Apr 1973. Only one recorded race.
Unknown
The 1974 mystery cars
McNeil raced HU19 and Furey raced "HU14" in 1974, and two new T192 drivers appeared, BJ Swanson and Al Stanchfield.
Chassis
History
Current owner
Al Stanchfield (Fresno, CA) raced a Lola in Formula A in west coast SCCA racing in 1974. It was not mentioned often, but appears to have been a T192. Stanchfield appeared again in the car at Riverside in 1976, and made an entry for a race at Riverside in May 1978. Nothing more known.
Driven by: Al Stanchfield. First race: Riverside, 9 Feb 1974. Total of 7 recorded races.
Unknown
Robert D 'Bob' Bay of Bay Racing Enterprises (Elkhart, IN) bought a Lola T192 for 1974 which was initially raced in SCCA Nationals by Rick Vendl (South Bend, IN). After the Road America June Sprints, it appears that the drive was taken over by BJ Swanson (Bristol, IN), who qualified for the Runoffs but crashed the T192 at Road Atlanta. See HU26 above.
Driven by: BJ Swanson. First race: Indianapolis Raceway Park, 30 Jun 1974. Total of 5 recorded races.
Unknown
1975-1976
All four T192 drivers from 1974, McNeil, Furey, Stanchfield and Swanson, disappear in 1975 although both McNeil and Stanchfield would reappear in 1976. Dean Vetrock was the only new T192 driver in 1975, using the ex-Tempero car. In 1976, this group were joined by Leland Sheldon, in an unidentified T192.
Chassis
History
Current owner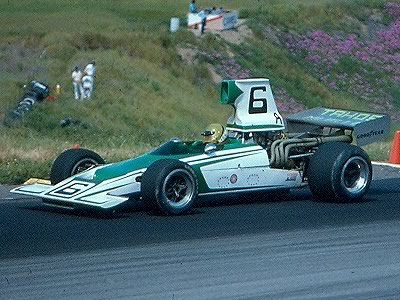 Leland Sheldon drove a T192 in SCCA South Pacific Division events. Leland recalls buying the car as a rolling chassis in Sacramento, CA, from a racing car dealer, trading a Lotus 20 Formula C and cash for the Lola. The Lola was blue with polished aluminum tub and wings. The rear wing had Sahara Tahoe written on it and the front wings had Daycoa Lighting. He fitted a 305 ci Chevrolet and raced it for two seasons in West Coast SCCA events until a race at Laguna Seca where a rear tyre blow, spinning the Lola into the rail and damaging the rear suspension. Somebody in the Midwest made him an offer for the car which he readily accepted. He cannot remember the buyer.
Driven by: Leland Sheldon. First race: Portland International Raceways, 29 Aug 1976. Total of 5 recorded races.
Unknown
1977
In 1977, although F5000 had been discontinued at 'Pro' level, some T192s continued in SCCA events. McNeil continued to race HU19, Vetrock his ex-Tempero car and Leland Sheldon his unidentified car, and these three were joined by Daniel Kampo, presumably driving the ex-Hansen HU23.
More recent mystery cars
Chassis
History
Current owner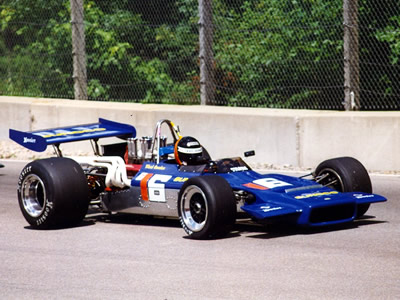 A "ex-Donohue" Lola T192 has been within the orbit of Bud Bennett (Wixom, MI) and his company RM Motorsports Inc since 1992 or earlier. Joe Wally, who was co-owner of a Lola T163 with Bud Bennett, raced his "ex-Donohue" 1970 Lola T192 at the SVRA "Spring Fling" early in 1992, and at the Chicago Historic Races at Road America in July 1993 and July 1994. An 'ex-Donohue' 1971 Lola T192 was driven by Bud's son Craig Bennett at HSR Mid-Ohio Aug 1993 and by Bud Bennett at HSR Mid-Ohio July 1994. This car was reportedly restored by Bud in 1996, and raced by Craig Bennett at HSR Mid-Ohio in 1996. Joe Wally drove a '1970' T192 in HSR events in 2000. This car was sold by RM Auctions in August 2000, when it was described as being "reputed to be ex-Penske/Donohue, then Brett Lunger and Larry McNeil".
Jim Oppenheimer (Chicago, IL) won at Road America in May 2001 in a Lola T192 and ran a '70' T192 in the 2002 SVRA series. Photographs on Oppenheimer's website show a "ex Mark Donohue Lola T-192" that is almost identical to the car raced by Craig Bennett in 1996. Craig Bennett prepared Oppenheimer's cars so it is likely that this is the same car.
The same car, visually identical but now with a slightly neglected look, was on display at The Collings Foundation's Automotive Collection (Stow, MA) by October 2009. Still in The Collings Foundation in April 2016.
The Collings Foundation (USA) 2016
Ted Walker was in touch on 20 May 2003 to advise that John Harper had bought a T192 'complete and ready to go', Ted says it is the 'works Frank Gardner' car. As of 2005, Bob Barton had owned a T192 for a long time.
A note on chassis number identification
Not all sources for chassis numbers agree. The records above are constructed using Lola invoice records, the numbers quoted in Motoring News' Questor GP report and other direct period observations from Tom Erwin and David McKinney. For comparison, the numbers are shown below:
| First driver | Lola records | Source |
| --- | --- | --- |
| Mark Donohue | T192 HU19 | Lola invoice dated 28 Aug 1970 and sold to Penske. Called "T192/1" at Questor GP and in some other reports. Tom Erwin's notebook mention that Larry McNeil's 1972 car was "ex-Lunger". |
| | T192 HU20 | Number observed on Negley's car at Lime Rock 1971 by Tom Erwin. |
| Gardner (Tasman) | not mentioned | David McKinney saw the "190/F1/6" plate on this car in New Zealand 1971. Tom Erwin saw the "T192 HU14" plate on it at Watkins Glen 1972. The T190 plate was presumably borrowed for carnet purposes. It still wears the "T192 HU14" chassis plate today. |
| | T192 HU21 | Identification uncertain. |
| Al Unser | T192 HU22 | 'T192/22' according toMotoring News's report on the 1971 Questor GP (1 Apr 1971) |
| Lou Sell | T192 HU23 | 'T192/23' according toMotoring News's report on the 1971 Questor GP (1 Apr 1971) |
| Tony Adamowicz | T192 HU24 | 'T192/24' according toMotoring News's report on the 1971 Questor GP (1 Apr 1971) |
| | T192 HU25 | Identification uncertain. |
| | T192 HU26 | Invoice identifies this car as the Doug Hardwick car and this identity is also given in contemporary magazines. The identification of HU26 in the US later only comes from a bill of sale when Chuck Haines sold the car in 1979. |
| | T192 HU27 | Observed by Tom Erwin on Sherman's car at Lime Rock 1971 and ARRC 1971. This number also appears in magazine reports of Frank Gardner's UK car but it seems far more likely that this car was HU28; see below. |
| | T192 HU28 | Lola invoice records show this car being sold by Carl Haas late in 1971, implying that it was Gardner's works-assisted UK car first. An advert for the Team Nappi car 9 Sep 1972 calls it the "Frank Gardner's European Championship car" reinforcing the idea that Gardner's car was sold to the US late in 1971. |
| | T192 HU29 | Eiteljorg (Tom Erwin's notebook for Watkins Glen 1972). |
| | T192 HU30 | Identification uncertain. |
These histories last updated on .