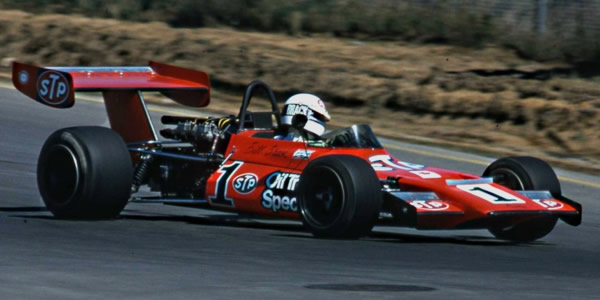 Canadian Formula Atlantic 1974
Three big changes affected the Canadian championship for 1974. Firstly, the rules were changed from Formula B, which had been inherited from the SCCA, to Formula Atlantic which, along with Formula 5000, was now officially recognised by the FIA as an International Formula. The main difference was that Formula Atlantic allowed the Cosworth-designed Ford BDA engine which immediately became the dominant engine and left the American SCCA Formula B runners uncompetitive. The second change was to allow non-Canadians to score points and therefore to compete directly for the championship, removing the nonsensical situation in 1973 when Bill Brack didn't need to compete with Alan Lader for overall race victories. The third change was that Brabham had stopped building customer cars so Fred Opert moved quickly to ensure his other dealership, Chevron, was in position to take over.
Bill Brack retained his Canadian Drivers title by winning four races, three in his heavily modified Lotus 59 and one in a Fred Opert Racing Chevron B27. His main competition came from the talented but underfunded Tom Klausler in a Lola T360. Alan Lader won the opening round at Westwood in May in George Sabin's Chevron B27 but this turned out to be just a a guest appearance.
Neither Chevron nor Lola had made any real impact in 1973 but were back at the front of the grids in 1974 thanks to energetic support from importers Fred Opert and Carl Haas respectively.
The races
26 May 1974 > Westwood
02 Jun 1974 > Edmonton
16 Jun 1974 > Gimli
01 Jul 1974 > Mosport Park
14 Jul 1974 > Sanair
27 Jul 1974 > St Johns
18 Aug 1974 > Halifax
01 Sep 1974 > Grand Prix de Trois-Rivières
Players CASC Formula Atlantic Championship events shown in bold
1974 Players CASC Formula Atlantic Championship table
1
Bill Brack
Lotus 59/69 - Ford BDA Hart
Chevron B27 - Ford BDA Hart
128 pts
4 wins
2
Tom Klausler
Lola T360 - Ford BDA Smith
117 pts
2 wins
3
Bobby Brown
March 74B - Ford BDA Smith
Chevron B27 - Ford BDA Smith
72 pts
4
Hugh "Wink" Bancroft
Chevron B27 - Ford BDA Hart
69 pts
5
Bertil Roos
Chevron B27 - Ford BDA Hart
63 pts
6
Bruce Jensen
March 74B - Ford BDA Hart
55 pts
7
James King
Chevron B27 - Ford BDA Nicholson
50 pts
8
Craig Hill
Brabham BT40 - Ford BDA Hart
48 pts
9
Chip Mead
Chevron B27 - Ford BDA Nicholson
40 pts
10
Howdy Holmes
Chevron B27 - Ford BDA Hart
39 pts
The Chevron B27 was the dominant car of 1974, scoring 396 points in a hypothetical championship of makes and models. Second would have been the March 74B on 202 pts, then the Lola T360 on 117, the Lotus 59 on 98 and the Brabham BT40 on 73. Across all races, including the non-championship Trois-Rivières race, March built 66 starters, Chevron 61, Brabham 30, Rondel 21 and Lola 14.