Rondel M1 car-by-car histories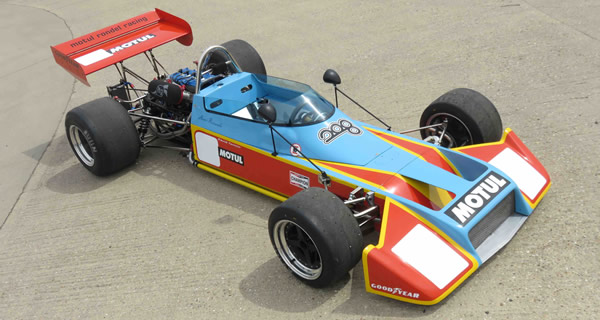 The Rondel M1 was usually known as the Motul M1, in deference to Rondel Racing's main sponsor. It was used in F2 in 1973, winning two races, before Motul pulled out and Rondel closed down.
Ron Dennis and Neil Trundle formed Rondel Racing in 1971, running Brabham BT36s in Formula 2 for drivers Graham Hill and Tim Schenken. Later that season, Bob Wollek joined the team in a third BT36, bringing all-important sponsorship from French oil company Motul. Rondel were Brabham's main customer in 1972, running BT38s for Schenken, Wollek, Carlos Reutemann and Henri Pescarolo, with Jean-Pierre Beltoise, Ronnie Peterson and others guest driving at some events. The team was very professionally run and impeccably presented, and results were good, with Hill winning one race in 1971 and both Pescarolo and Schenken winning races in 1972. The team operated out of an equally immaculate base at Feltham, near Heathrow, and Dennis had brought in City of London ship-broker Tony Vlassopulos to chair the company.
Rondel had an increasingly difficult relationship with Brabham constructors MRD, which was by now fully owned by Bernie Ecclestone since Ron Tauranac's departure, and for 1973, Dennis and Trundle decided to build their own cars, recruiting Brabham's talented aerodynamicist Ray Jessop to design a Formula 2 car for 1973, which would then be followed by a F1 car for 1974. The resulting 'Motul M1', named after the team's title sponsor, was ready by October 1972 and was tested at Goodwood by Schenken, already smartly turned out in the livery of Motul and Radio Luxembourg. The M1 was a very straightforward and orthodox car, with a bathtub monocoque constructed from 16-gauge and 18-gauge NS4 aluminium, with strengthening around the drivers legs, and a tubular engine bay. The main radiator was housed in a wide bluff nose, suspension was outboard all round, and brakes were outboard at the front and inboard at the rear. It was initially tested with an alloy block Ford BDA engine built by Race Engine Services (RES) and mated to a modified Hewland FT200 gearbox. The biggest problem for Rondel at the start of the season was the choice of engine, as March had an exclusive contract for the new BMW M12 engine which would prove dominant. Rondel started out using Alan Smith's Cosworth FVD and Cosworth's iron block BDG engines, but also tried alloy block BDA engines from suppliers RES and Racing Services, as well as Cosworth's iron block BDF engines prepared by Rondel's own engine shop, overseen by Yoshiatsu Itoh. A six-car team was planned for 1973, and at the opening races the drivers were Schenken, Pescarolo, Wollek, Jean-Pierre Jaussaud and Jody Scheckter. After Scheckter headed off to the US for his planned F5000 season, Tom Pryce took over his car with sponorship from Chris Meek's Titan Properties.
Despite not being able to keep up with the March-BMWs in practice, Rondel finished 1-2 at Thruxton in April thanks to Pescarolo and Wollek, after which Schenken had a string of podium finishes culminating in a win at the Norisring in September, where Rondels finished 1-2-3. The team only just completed the season due to financial constraints, as an expected second major sponsor never materialised and the team overspent by £30,000 to £40,000. The oil crisis that started in October 1973 was one factor in Rondel losing Motul's sponorship at the end of the season, but this was not the whole story, as in January 1974, it was announced that Motul would be sponsoring the BRM F1 team in 1974, taking Pescarolo with them. Schenken, who had stayed out of F1 in 1973 in the hope of driving the Rondel F1 car, jumped ship to rejoin Tauranac in the new Trojan F1 team, leaving Pryce to be tipped as the driver of the F1 car, which was then expected to be ready by mid-March. However, the finance could not be found and before the F1 car was even ready, Chris Meek took over the project with sponsors Tony Vlassopulo and Ken Grob giving the project its new name: Token. Trundle and Jessop stayed on board, but Ron Dennis spent a low-key 1974 running a team of F2 Surtees TS15As for a pair of Marlboro-sponsored Ecuadorians.
Further information about the Rondel M1s would be gratefully received. Did you own one? Race one? Please email Allen at allen@oldracingcars.com if you can add anything.
Chassis
History
Current owner
The Rondel M1s in 1974
Of the eight Rondel M1s known to have been built and raced in 1973, seven were used by Rondel's F2 team and the other by Chris Meek in Formula Atlantic. In October 1973, Rondel were preparing for their 1974 Formula 1 project and all the team Rondel M1s were advertised for sale. Four weeks later, a follow-up advert headed "6 down and 2 to go" listed "Bob Wollek's 1973 team car" and "one new Motul M1 F2 car". The picture on that second advert showed a car wearing #47, which was Wollek's car at Thruxton, but as the same picture had been used for the first advert, this might not be significant. Chris Meek's Formula Atlantic car and six of the seven F2 cars all appear to have been sold to US dealer Fred Opert, leaving just one car in the UK where it was sold to Iain McLaren for Scottish libre races. The ninth M1 chassis remained in England and formed the basis of the Safir F2 car in 1975.
The Rondel M1s were very popular for Canadian Formula Atlantic in 1974, where Chris O'Brien (204), Al Justason (206?), Seb Barone (207) and Roger Seacrist (208) were all regulars in the series. The other three went into SCCA Formula B, where a Ford twin cam engine would have been required. Mike Rand (201) was second in Northeast Division, Peter Symonds in John Plaisted's car (203) was also in NEDiv but with a lower profile, and little was seen of the car of David Ralston until highly-rated youngster Bobby Rahal bought it later in the 1974 season for his first experience of single-seaters and won a SCCA National at IRP first time out.
Motoring News printed chassis numbers for the F2 cars in 1973, but identifying the chassis number of each of the second-hand cars has required a variety of clues, some quite tenuous. Firstly, Randy Zimmer's car has been identified as 201 by its chassis plate which Zimmer still owns, Chris Meek's car is believed to be 202 as that was the only chassis number not mentioned as being part of Rondel's F2 team, Mike Rand's car is then identified as being 202 as its was in the same unique white livery, Seb Barone's car was called "ex-Wollek" and also identified as 207 by a later owner, and Roger Seacrist helpfully referred to his car as 208 in an advert. John Plaisted's car, said to be ex-Schenken, still has its original 203 chassis plate, and Chris O'Brien's car can be identified as chassis 204 from a very precise description of its ex-Scheckter/ex-Pryce history in the Canadian press in early 1974. Two more can be tentatively identified only by references to the cars' previous drivers: Al Justason's as 206 from the Pescarolo bodywork with which it originally arrived in Canada, and Iain McLaren's libre car as chassis 205 from an Ingliston programme refering to it being "ex-Jaussaud". The identification of David Ralston's car is weaker still, as it was just referred to as the first F2 car.
Chassis
History
Current owner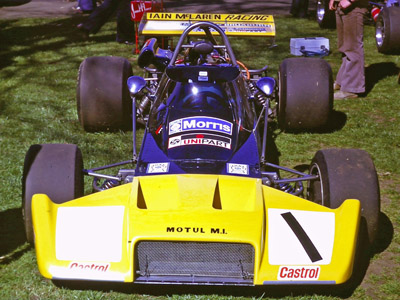 Iain McLaren drove a "Motul M1" in libre racing in Scotland and the north of England in 1974. A race programme described it as ex-Jean-Pierre Jaussaud, implying it was chassis 205, the only Rondel Jaussaud is known to have raced. The car was not seen in 1975 or 1976, but the "ex-McLaren Motul M1" rolling chassis was advertised from an Edinburgh number in April 1976. For 1977 it was sold to American expat Chris Landrum, who raced in libre in the north of England. It was also raced by Doug Thomson in a sprint at Knockhill in July, and by Ted Dzierzek at Knockhill in August. Landrum then returned home after a season working on the North Sea oil rigs, and shipped the Rondel with him. It was converted to Formula Atlantic specification, and was raced by Landrum in SCAC Nationals, appearing in a race at TWS in July 1978, when Landrum was living in Houma, LA, and one at Riverside in early 1979. Chris Townsend advises that he raced it in Cal Club SCCA Nationals up to 1980.
Driven by: Iain McLaren, Chris Landrum, Doug Thomson and Ted Dzierzek. First race: Croft, 10 Mar 1974. Total of 30 recorded races.
Unknown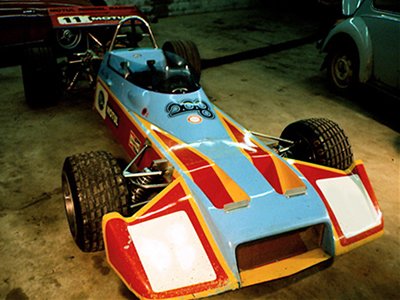 Al Justason (Toronto, Ontario, Canada) raced a Rondel M1 in the Canadian Formula Atlantic series in 1974. According to Chris Townsend, when this car arrived, it was still in the Rondel colour scheme with Pescarolo's name on it, implying it was chassis 206, although Justason had no record of the chassis number himself. When Justason "retired" at the end of the 1974 season, he rented the car to Bob Beyea for a couple of Canadian Formula Atlantic races in 1975. He recalls that he later sold the car to Bill Bovenizer in Toronto, and Bill's recollection is that he sold it about 1982 to Jeremy Hill who wanted the engine for his Formula Atlantic March. Subsequent history unknown. Subsequent history unknown.
Driven by: Al Justason and Bob Beyea. First race: Westwood (R1), 26 May 1974. Total of 12 recorded races.
Unknown
A Rondel M1 sold via Fred Opert to airline pilot David Ralston (Elmhurst, IL) for SCCA FB in 1974. Sold to up-and-coming local youngster Bobby Rahal (Glen Ellyn, IL) late 1974, and raced in the SCCA National in September, and then the Watkins Glen FB race in October. Subsequently to Tim Fortner and Butch Owsley (San Jose, CA) for 1975 and 1976, and Fortner later told Rahal that he thought it then went to Dwight Zillig (Novato, CA). Zillig advertised the car in March 1978 saying he had only raced it once in two years. Then to Jim Vawter (Pasadena, CA) later in 1978, who had his first race after completing Drivers School at Riverside in August. He is thought to have raced the car until 1980 at least. After Vawter, the car was acquired by Jerry Smith, and raced once for him at Riverside by Paul Decker, usually a DSR driver. Smith then had the Rondel converted to CSR by Jim Langan using a widened and stretched LeGrand body. Decker does not know what happened to the Rondel after its CSR career. Subsequent history unknown.
Driven by: Bobby Rahal, Butch Owsley, Dwight Zillig and Jim Vawter. First race: Indianapolis Raceway Park, 22 Sep 1974. Total of 15 recorded races.
Unknown
The Rondel M1s from 1975 onwards
In the two seasons after 1974, Mike Rand's car went to Ron Ignatowski; Bobby Rahal's car went to Tim Fortner and Butch Owsley; John Plaisted retained 203; Chris O'Brien's 204 went to Dean Lundgreen; Iain McLaren kept his 205(?); Alistair Justason's 206(?) went to Bob Beyea; Seb Barone's 207 went to Peter Stowe; Roger Seacrist kept 208 until March 1976 at least; and 209 remained in England.
The next mystery Rondel appears in SCCA race results in 1977, when Chicago Region member Greg Sun drove one in a SCCA Regional at Mid America Raceway, and then Walter Modelski, whose company Model Machine Company was based in Bensenville, IL, within the Chicago area, owned and raced a Rondel in Midwest Council events by 1978. This sounds like it would be the same Walt who logged into 10 Tenths briefly in August 2005 to say that he had two Rondels, one complete and one 75% complete, one of which he had raced "for ten years (1978-1988)" in SCCA and Midwestern Council (Midwestern Council of Sports Car Clubs) events "based out of Northern Illinois". It appears likely that both Sun and Modelski had the ex-Roger Seacrist chassis 208.
In addition to the above, unknown Rondel M1s were driven by Greg Sun and Walt Modelski.
Acknowledgements
Thanks to Chris Townsend for his initial hard work on these cars, to David McKinney for his notes, to former owners Bobby Rahal, Randy Zimmer, Al Justason, Chris O'Brien, Mike Rand, Greg Dauterman, Bill Boveniser and Richard Parkin for their help, to current owners Seann Burgess, Steve Worrad and Bob Connearney, to Jim Langan and Paul Decker for their help tracing the ex-Jim Vawter car that became a sports racer, and to Bobby, Al, Chris, Ted Walker, Steve Wilkinson, Iain Nicolson, Vincent Puleo and Peter Watson for kindly allowing me to use their photographs. The initial description of the Motul M1 appeared in Autosport 19 October 1972 p2.
All and any help would be gratefully received. Please email Allen at allen@oldracingcars.com if you can add anything.
These histories last updated on .